Location
Saltford Brass Mill is situated on the banks of the River Avon in the village of Saltford, 5 miles west of the City of Bath in the South West of England. Its postal address is Saltford Brassmill, The Shallows, Saltford, BS31 3EY. However, there are some specific details that will be of interest to radio hams:
Lat/Long (Brassmill): 51.401219°,-2.451116°
IARU: IO81sj
IOTA: EU005 (UK Mainland)
WAB: ST66 – England
The Operation
So it's May and Mills on the Air is once again with us. Mills marks the start of the Clubs Special Event season. It presents its own special challenges but gives us an opportunity to ensure that equipment is available and operational, something that was to take us by surprise this year as you will see.
We have a new Special Events Manager this year, Mark M0SKV now handles our Special Events although historically this one has always been the province of one of our members, David G7BYN, who was taking a break having organised this event for more than 10 years, the last 4 years for the Club and prior to that as an independent operation with Don G0NQJ (sk)
David had very kindly allowed us to use the same Special Event callsign GB0SBM that he normally applied for and Andy G7KNA had made the application as Mark had only obtained his full licence allowing NoVs following the May 12 Advanced Exam.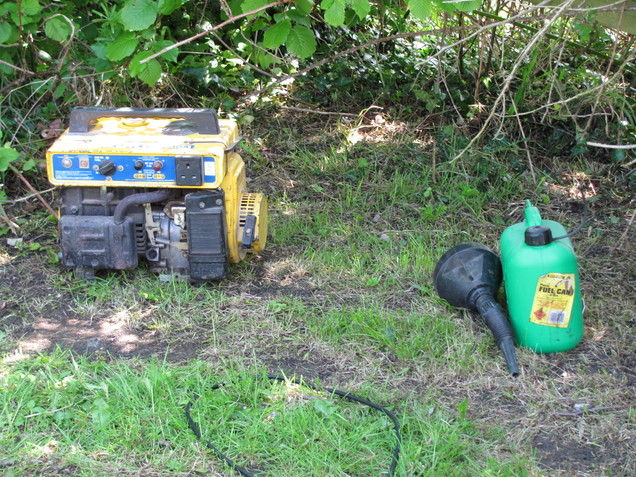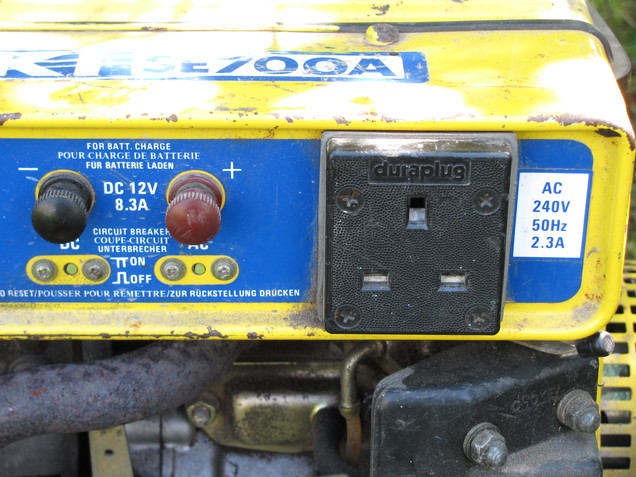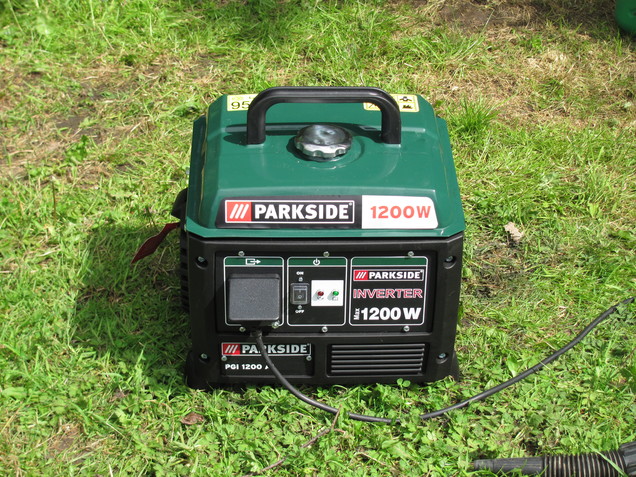 The event started with a bang, quite literally. John M6GTT along with Martin M0JEA, Mark M0SKV and Andy G7KNA were on site somewhere around 10:00 and had set up Johns caravan, the antenna and the generator which had been loaned by another Club member. Everything was ready, the genny was started and the switch mode PSU was turned on. At which point there was a rapid crackling and popping sound as incendiary sparks leapt from the back of the PSU – oops!
Fortunately the IC7000 had not been turned on at the time but the PSU was toast (to use a technical term). Consternation ensued, the genny was checked and to our horror was producing something in the region of 350V.
What now? Clearly we needed a new PSU but more importantly we couldn't plug the new PSU into the genny for fear of the same result. A second PSU was available but no second generator was on site. John M6GTT kindly volunteered to return home and bring his unit as a replacement, in the meantime there was some charge in the caravan, oops shack, leisure battery so that we could get on air in a limited fashion until the replacement genny was sourced.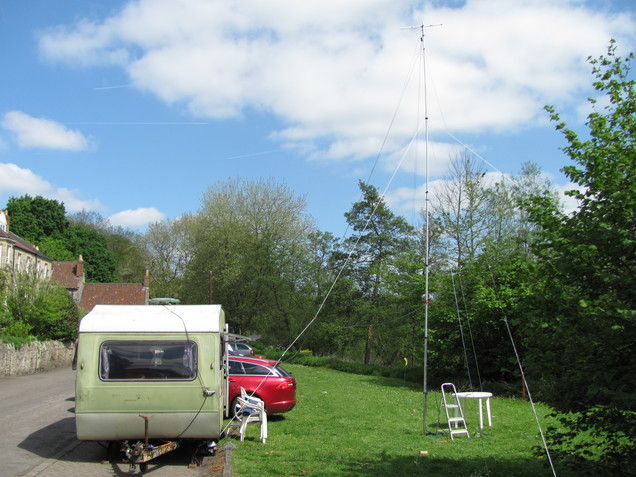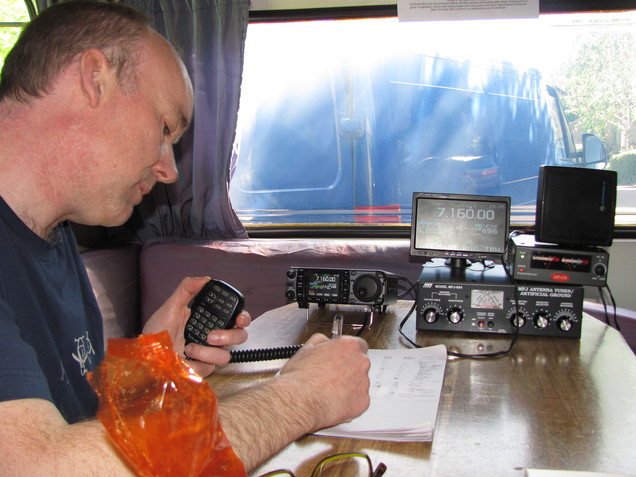 Our station was reasonably simple, if slightly different from previous years:
22A Switch mode power supply
Icom IC7000 multimode HF/VHF/UHF transceiver with external monitor and speaker
MFJ Manual ATU
20m/40m fan dipole coax fed to a 4:1 balun at the feedpoint suspended in an inverted vee configuration with the feedpoint about 10m above ground
A 2m half wave dipole
On the Sunday we swapped out the 2m dipole for a 3 element beam but there was enough HF activity to make this more or less redundant.
Getting back to the Saturday, working on the shacks leisure battery we struggled with propagation for the first couple of hours with little or none inter-G working that we had hoped for. We switched around the bands and worked a number of European stations including Finland on 50MHz which was a first for all of us. Around 12:30 or so the UK started to be workable on 40m. After that it was reasonably good working around 55 stations throughout the afternoon.
During the day we were visited by Cyril G3XED our Club President who gave us lots of encouragement and advice and as the only fluent Morse operator decoded one or two Morse messages we came across. With no key or PC on site we were unable to respond in kind, or more accurately Cyril was unable to reply on our behalf.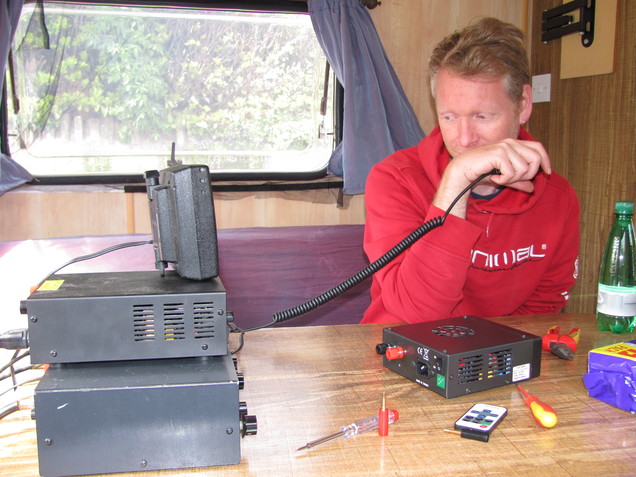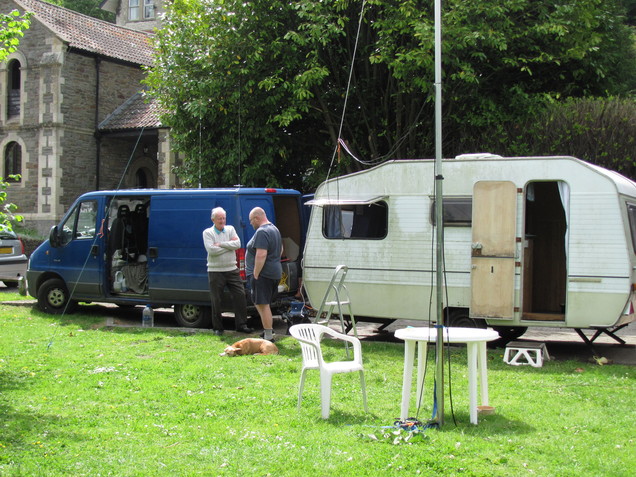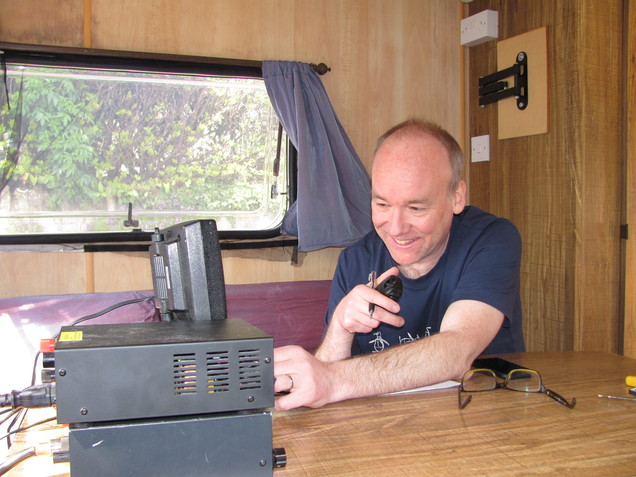 Sunday followed a similar pattern with the early propagation favouring European contacts until around lunchtime when the inter-G came in. By the end of the weekend we had worked 106 stations including 19 GB Special Event Stations.
Logbook
GB0SBM – South Bristol ARC (Operating from Saltford Brassmill)
Date (UTC)
Time (UTC)
Station Worked
Band or Frequency
Mode
RST
Operators Name
QTH
Notes
Sent
Rec'd
14/05/16
10:12
PI4ZHE
14.1930
USB
59
59
14/05/16
10:16
9A70IA
20m
USB
59
59
Zagreb
14/05/16
10:26
GB1CWM
40m
LSB
55
59
14/05/16
10:54
GB2MBB
40m
LSB
55
55
Hans
14/05/16
11:04
SA7LOO/P
21.2640
USB
59
59
14/05/16
11:16
OH2FNR
50.1500
USB
59
59
Jake
Finland
14/05/16
11:59
GB2RAF
40m
LSB
58
Norfolk
14/05/16
12:03
G8HBS
7.1650
LSB
Peter
14/05/16
12:06
DL8FQ
7.1650
LSB
59
59
Rolf
14/05/16
12:10
M6MQZ/P
7.1650
LSB
45
56
14/05/16
12:15
PA2EON
7.1650
LSB
57
53
14/05/16
12:18
GB2WMS
7.1650
LSB
59
59
Art
14/05/16
12:22
F4VPL/P
7.1650
LSB
58
58
Dave
Southern Brittany
14/05/16
12:26
GB1WML
7.1650
LSB
59
59
Geoff G6YPJ
14/05/16
12:34
GB1CWM
7.1650
LSB
59
59
Tom
14/05/16
12:38
2M0WTN
7.1650
LSB
57
57
14/05/16
12:42
M0MPT
7.1650
LSB
59
59
Mike
Southampton
14/05/16
12:52
G0GRI
7.1650
LSB
59
59
Ian
Bradford-on-Avon
14/05/16
12:55
M0TWB
7.1650
LSB
59
59
Tony
Blackburn
14/05/16
12:57
MX0VQJ
7.1650
LSB
59
59
Geoff
Holmpton
14/05/16
12:59
GB0SCW
7.1650
LSB
59
59
Keith G1FBH
14/05/16
13:02
2E0TGF
7.1650
LSB
59
59
Alistair
14/05/16
13:04
G4OBE
7.1650
LSB
59
59
Robert
Enfield
14/05/16
13:05
G0HLL
7.1650
LSB
59
59
Ron
14/05/16
13:07
GB1WW
7.1650
LSB
57
57
John
14/05/16
13:09
G4RAC
7.1650
LSB
59
59
John
Burton-upon-Trent
14/05/16
13:11
GB2GG
7.1650
LSB
59
59
Robin
14/05/16
13:16
G0WGP
7.1650
LSB
59
59
Ron
Brighton
14/05/16
13:20
M0RSD
7.1650
LSB
59
59
14/05/16
13:21
G3PRI
7.1650
LSB
59
59
Dave
Bishops Stortford
14/05/16
13:24
2E0JEF
7.1650
LSB
53
Jeff
South East London
14/05/16
13:26
PA7GMU
7.1650
LSB
59
59
Gerard
Beist Netherlands
14/05/16
13:29
G0NBI
7.1650
LSB
59
59
Graham
Bromsgrove
14/05/16
13:32
EI2NCR/P
7.1650
LSB
59
59
Ben
14/05/16
13:37
2W0KBO
7.1650
LSB
59
59
Snowdonia
14/05/16
13:40
EI5DD
7.1650
LSB
59
59
Steve
Galway
14/05/16
13:44
F6AML
7.1650
LSB
59
59
Sam
South East Paris
14/05/16
13:45
2E0GHM
7.1650
LSB
59
59
Graham
Wirral
14/05/16
13:47
G0VEO
7.1650
LSB
59
59
Russ
Liverpool
14/05/16
13:50
G0KYB/M
7.1650
LSB
59
59
Mike
Morecombe Bay
14/05/16
13:56
GM4JYB
7.1650
LSB
49
58
Brian
14/05/16
13:59
PI4WFL
7.1650
LSB
59
59
Johan
14/05/16
14:01
2E0TWQ
7.1650
LSB
58
55
John
Great Yarmouth
14/05/16
14:04
G4NTN/M
7.1650
LSB
59
59
Peter
Norfolk
14/05/16
14:08
GB2ERW
7.1650
LSB
59
59
Ken
14/05/16
14:17
MM0GGI
7.1650
LSB
59
59
John
Sutherland
14/05/16
14:20
G0FVH
7.1650
LSB
59
59
14/05/16
14:36
PE4BAS
7.1650
LSB
59
57
Bas
14/05/16
14:42
MM6FCN/P
7.1650
LSB
44
14/05/16
14:46
PE1KXY/P
7.1650
LSB
57
58
14/05/16
14:48
PA4MRS
7.1650
LSB
57
55
Martin
14/05/16
14:51
DL1BSH
7.1650
LSB
58
58
Frank
14/05/16
14:56
PA6MILL
7.1650
LSB
56
Peter
QRM/QSB
14/05/16
15:02
GI4CBG
7.1650
LSB
57
59
Ray
Belfast
14/05/16
15:05
GM6KON
7.1650
LSB
59
59
Tom
John O'Groats
15/05/16
10:22
PE2HF
7.1490
LSB
59
15/05/16
10:24
MI0TMW
7.1490
LSB
56
57
15/05/16
10:29
DF9OO
7.1490
LSB
59
59
Hanover
15/05/16
10:31
PA2NJC
7.1490
LSB
57
59
Nick
South East Netherlands
15/05/16
10:36
M6TEP/P
7.1490
LSB
55
Tracey
Westbury Wiltshire
15/05/16
10:43
PA1MV
7.1490
LSB
55
57
15/05/16
10:48
SK6NP
7.1490
LSB
44
59
15/05/16
10:52
DK8EQ
7.1490
LSB
56
58
Uli
15/05/16
10:59
HB9FEG
7.1490
LSB
45
47
Jakob
15/05/16
11:04
PA3GSA
7.1490
LSB
15/05/16
11:06
PA1AT
7.1490
LSB
58
59
Terry
15/05/16
11:22
F4VRE
7.1490
LSB
45
57
Stephen
La Rochelle
15/05/16
11:33
G3PXT
7.1490
LSB
57
59
Gordon
15/05/16
11:34
HB9BQR
7.1490
LSB
57
58
Roland
15/05/16
11:36
G8HBS
7.1490
LSB
44
59
Julian
15/05/16
11:43
PE7URK
7.1490
LSB
57
59
Peter
Urk
15/05/16
11:50
PE1ECO/P
7.1490
LSB
47
59
Hans
15/05/16
12:30
F8KHU/P
7.1490
LSB
59
59
15/05/16
13:04
HB9OK/P
7.1490
LSB
59
59
Claudia
15/05/16
13:07
G7ENA
7.1430
LSB
59
59
Daphne
Louth Lincolnshire
15/05/16
13:14
F4GZU
7.1430
LSB
59
59
Michael
15/05/16
13:19
GB0KLM
7.1430
LSB
55
59
Tim
Pennines
15/05/16
13:24
2E0EBM
7.1430
LSB
59
59
Bob
Essex
15/05/16
13:30
GB2WTM
7.1430
LSB
59
59
David
Suffolk
15/05/16
13:35
G0XTA
7.1430
LSB
59
59
Ray
Cambridgeshire
15/05/16
13:43
G0MGU
7.1430
LSB
59
58
Colin
15/05/16
13:49
GB2TMI
7.1430
LSB
59
59
Robert
Leeds
15/05/16
13:56
GB0HSM
7.1430
LSB
59
59
Pete
15/05/16
14:00
GB0SIU
7.1430
LSB
57
59
Brian
Shoreham by Sea
15/05/16
14:05
M0ZSS
7.1430
LSB
59
59
Mark
15/05/16
14:07
GB2WWM
7.1430
LSB
59
59
John
Leicester
15/05/16
14:16
2E0EII
7.1430
LSB
59
59
John
Leicester
15/05/16
14:19
GB0SM
7.1430
LSB
59
Mike
Kingston-upon-Hull
15/05/16
14:23
GB2PW
7.1430
LSB
59
59
Tony
15/05/16
14:28
G3TGB
7.1430
LSB
59
59
Brian
Braintree
15/05/16
14:31
G4TZX
7.1430
LSB
59
59
Gordon
Rodney Marsh
15/05/16
14:33
G0RKT
7.1430
LSB
59
59
David
Busckstone Derbyshire
15/05/16
14:36
GB8WW
7.1430
LSB
57
57
Peter
Ashford Kent
15/05/16
14:39
GB2WM
7.1430
LSB
58
Ian
Sandwich Kent
15/05/16
14:42
M0BJX
7.1430
LSB
56
Robert
Middlesborough
15/05/16
14:45
G7HNG
7.1430
LSB
59
Andy
Chesterfield
15/05/16
14:49
GB2ERW
7.1430
LSB
59
59
Barry
East Runton Cromer
15/05/16
14:55
G4NYC
7.1430
LSB
59
59
Jerry
15/05/16
14:59
GJ3WMR
7.1430
LSB
Frank
Jersey
15/05/16
15:02
G7SYW
7.1430
LSB
58
59
Roger
Exeter
15/05/16
15:04
M1EQA
7.1430
LSB
55
59
Nigel
Falmouth
15/05/16
15:07
DK2AY
7.1430
LSB
59
59
Brand
North Germany
15/05/16
15:11
GJ7LJJ
7.1430
LSB
55
58
Nigel
15/05/16
15:16
PE1OCC
7.1430
LSB
58
57
Philip
15/05/16
15:20
M0RBM
7.1430
LSB
59
58
Rodney
Bude
15/05/16
15:23
DL0DF
7.1430
LSB
59
59
Joerg
Witten