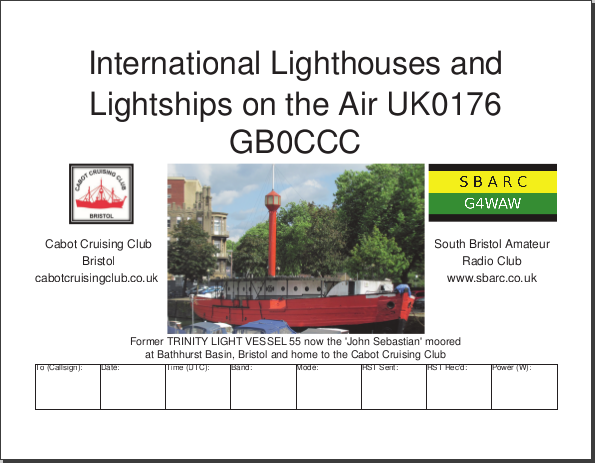 Introduction
Former TRINITY LIGHT VESSEL 55, now renamed the 'John Sebastian' in honour of Bristols famous explorers, is moored in Bathurst Basin in the centre of Bristol and has her own postal address, namely: 'The John Sebastian, Bathurst Basin, Bristol BS1 4RL'. She is now the home to the Cabot Cruising Club who have produced an interesting history document covering her past service. However, there are some specific details that will be of interest to radio hams:
Lat/Long (WGS84 Geoid): 51.446579°,-2.595022°
IARU: IO81qk
IOTA: EU005 (UK Mainland)
WAB: ST57 – England
OSGR: ST587721
ILLW Reference: UK0176
Location
Operation
August; summer and the country has been languishing under a heat wave. Things were looking good, on the Thursday before the weekend Mark M0SKV had organised the equipment from the Club into his car for transport to the site on Saturday.
And then the plan had first contact with the enemy and everyone who has ever organised anything will know that no plan ever survives first contact with the enemy. Mark M0SKV had a work crisis that was going to require him to attend a customers premises on Saturday morning. This, in and of itself, wasn't major since there were others who could set-up and operate until Mark turned up in the afternoon having attended to his customer. The problem was, of course, that he had all of the equipment and therefore any delay in getting Mark M0SKV to the site was going to translate into late set-up and late starting, not great!
Fortunately Mark M0SKV was able to get into Bristol on Friday afternoon and was able to transfer the equipment to Andy G7KNA at the latters place of work which is, ironically, only about 0.5 miles from the John Sebastian.
Back on plan, or at least back on plan B, there was only one other minor hiccup which is that Andy G7KNA forgot to bring the extension lead and had to turn back and return to his home QTH to retrieve it. This made him about 20 minutes late and Dave 2E0GZO was already on site having been given directions to the John Sebastian by Andy G7KNA via GB3ZB as Andy G7KNA drove into the Bristol.
As it transpired the Cruising Club had fitted external weather proof power sockets on the deck so ironically the extension lead proved unnecessary, although had Andy G7KNA not returned home and brought a lead it would, naturally, have been required and we'd have been scratching around trying to get a suitable lead!
Once on site, set-up proceeded without any major problems. The location is a very good one from an operating point of view, the recently refurbished lantern tower has now had a flag pole fitted to its top extending the height of the lantern tower. It is also very easy to pull up the doublets feedpoint since the flagpole is fitted with the obligatory lanyard so there is no messing around trying to put telescopic masts up and securing them in place.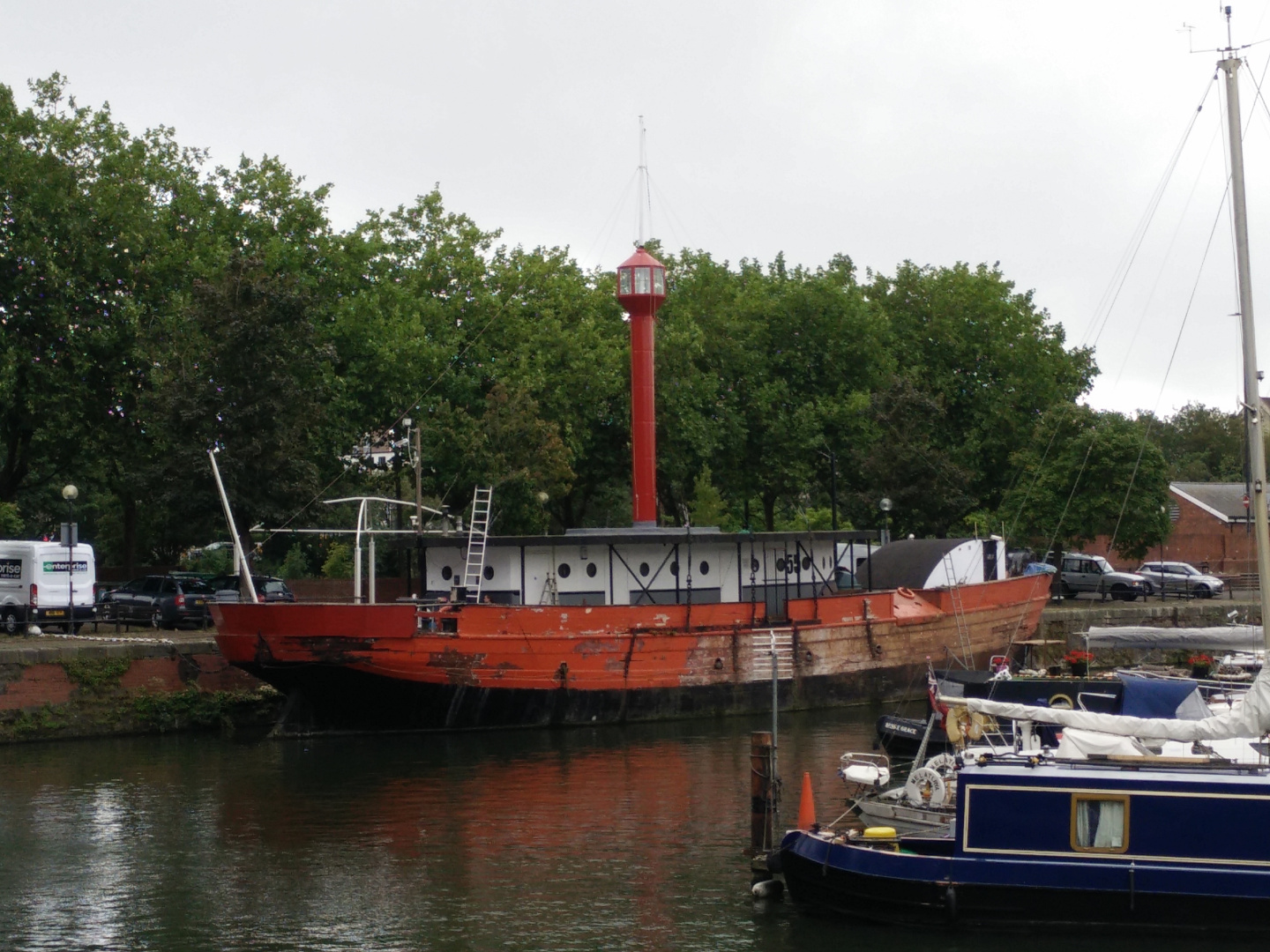 The antenna is the, by now ubiquitous, 80m doublet, in this operation it is set up in an inverted vee configuration with the feed point hoisted to the top of the flag pole above the lantern giving some 40 feet or more above the roof of the ship and sufficiently high that the ends of the antenna could be secured to the bow and stern of the ship in a very traditional maritime setup.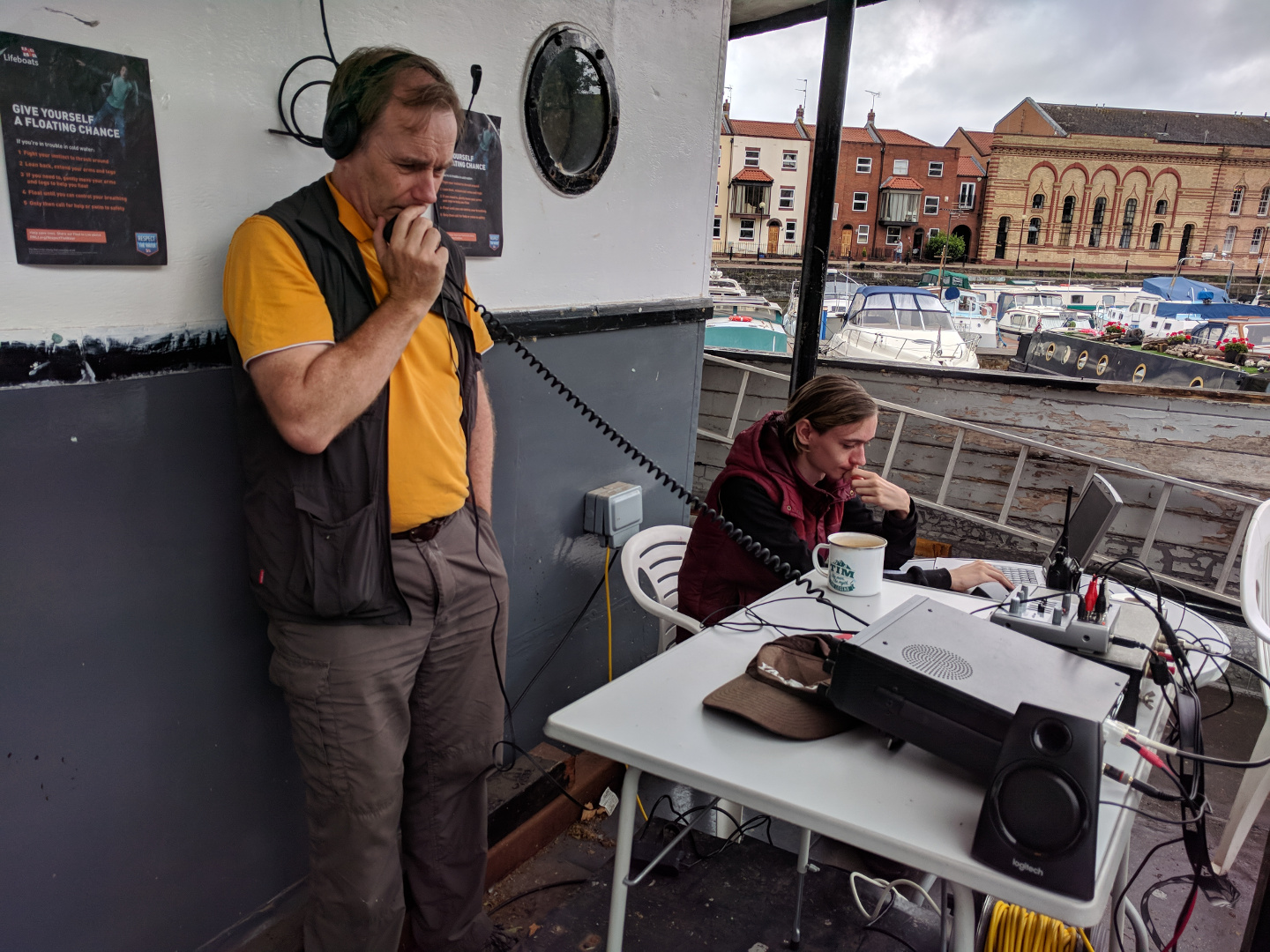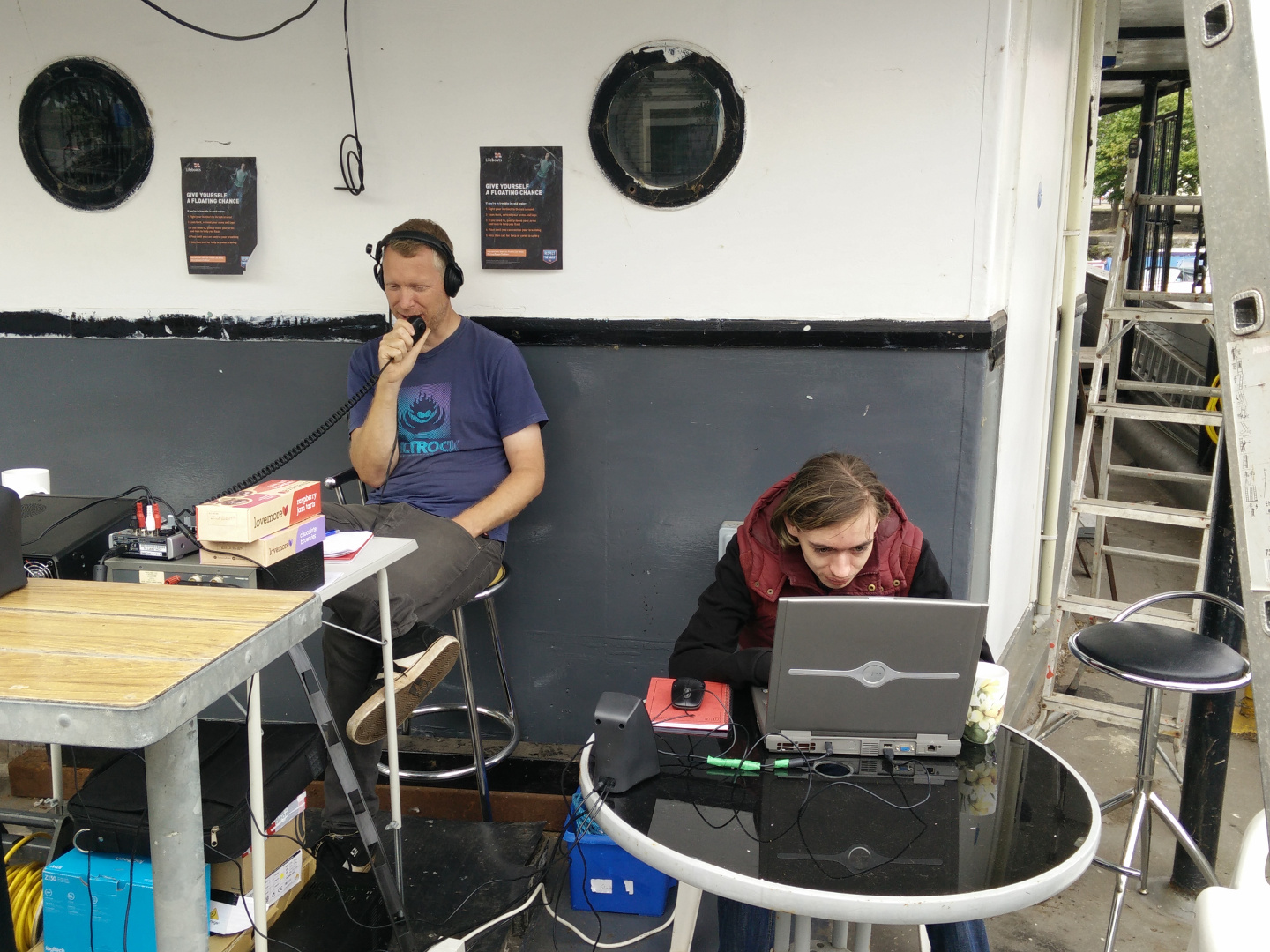 The antenna went up easily and was convinced to provide a respectable SWR on 80m and 40m to the FT991 thanks to an external tuner incorporating a balun and we were away.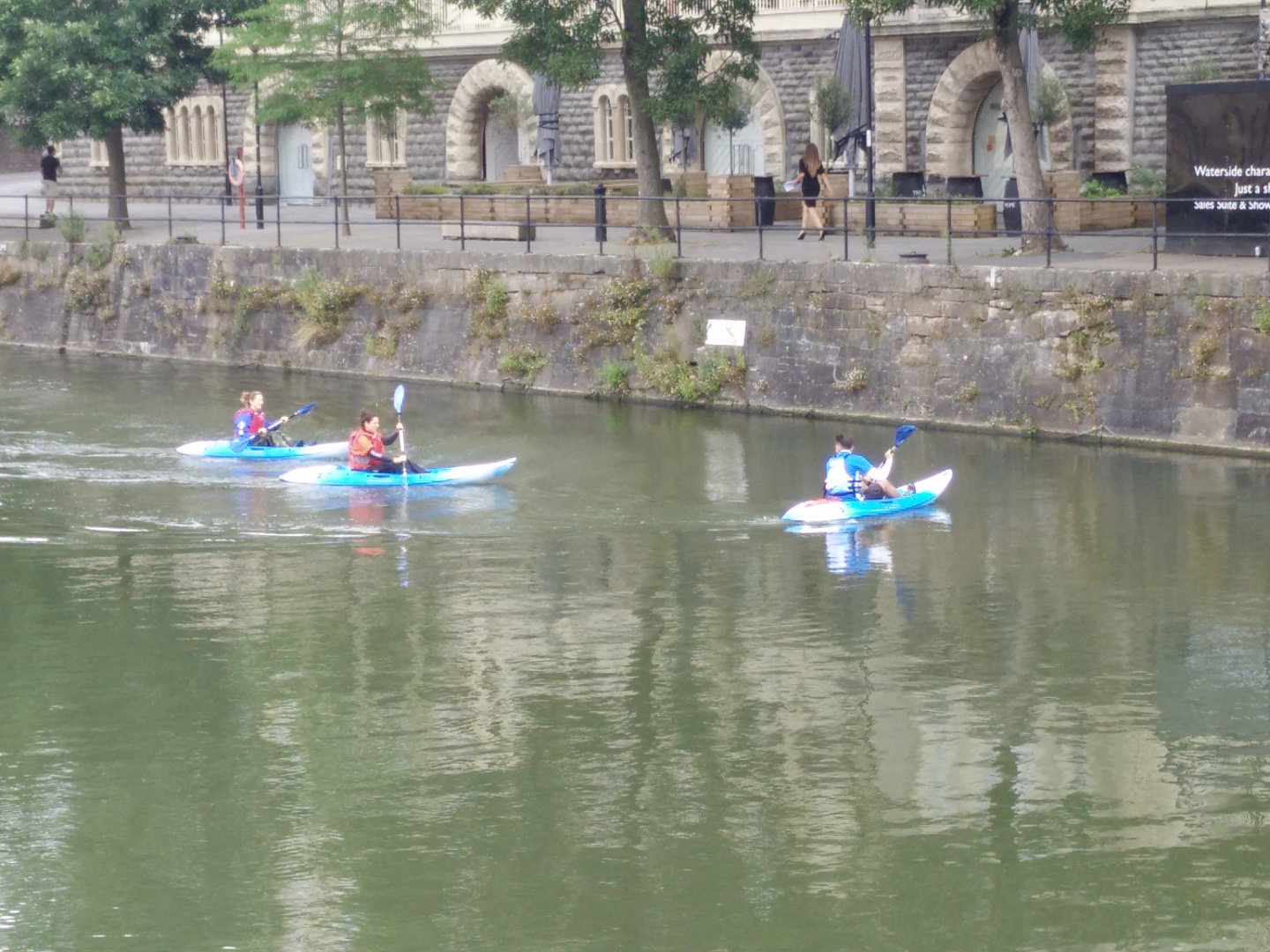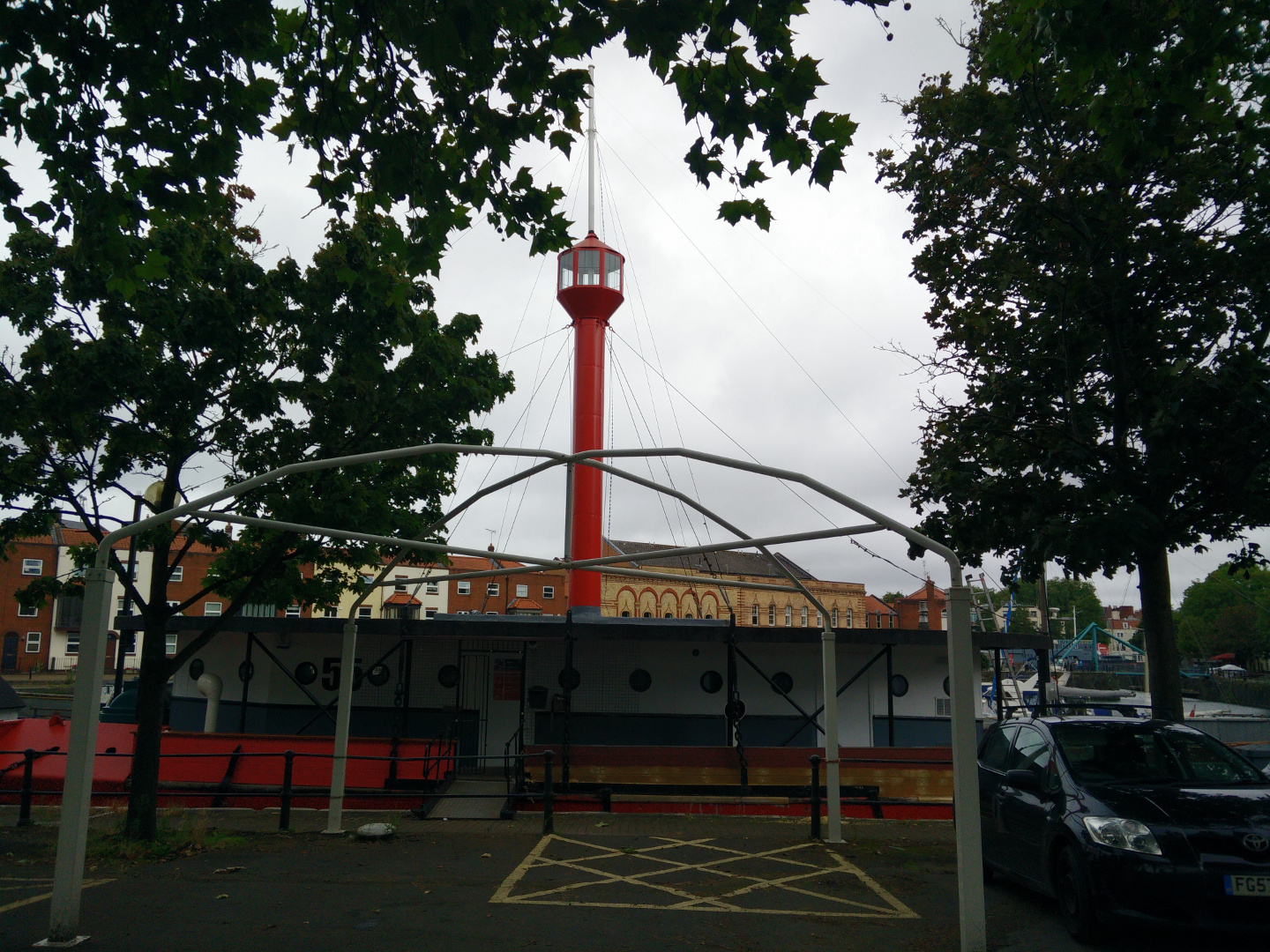 We opened on 80m, but were surprised to find it quiet, there were a couple of regular nets taking place with the usual mix of strong and weak signals. We called CQ and were rewarded with a contact into Coventry but little else was heard or worked.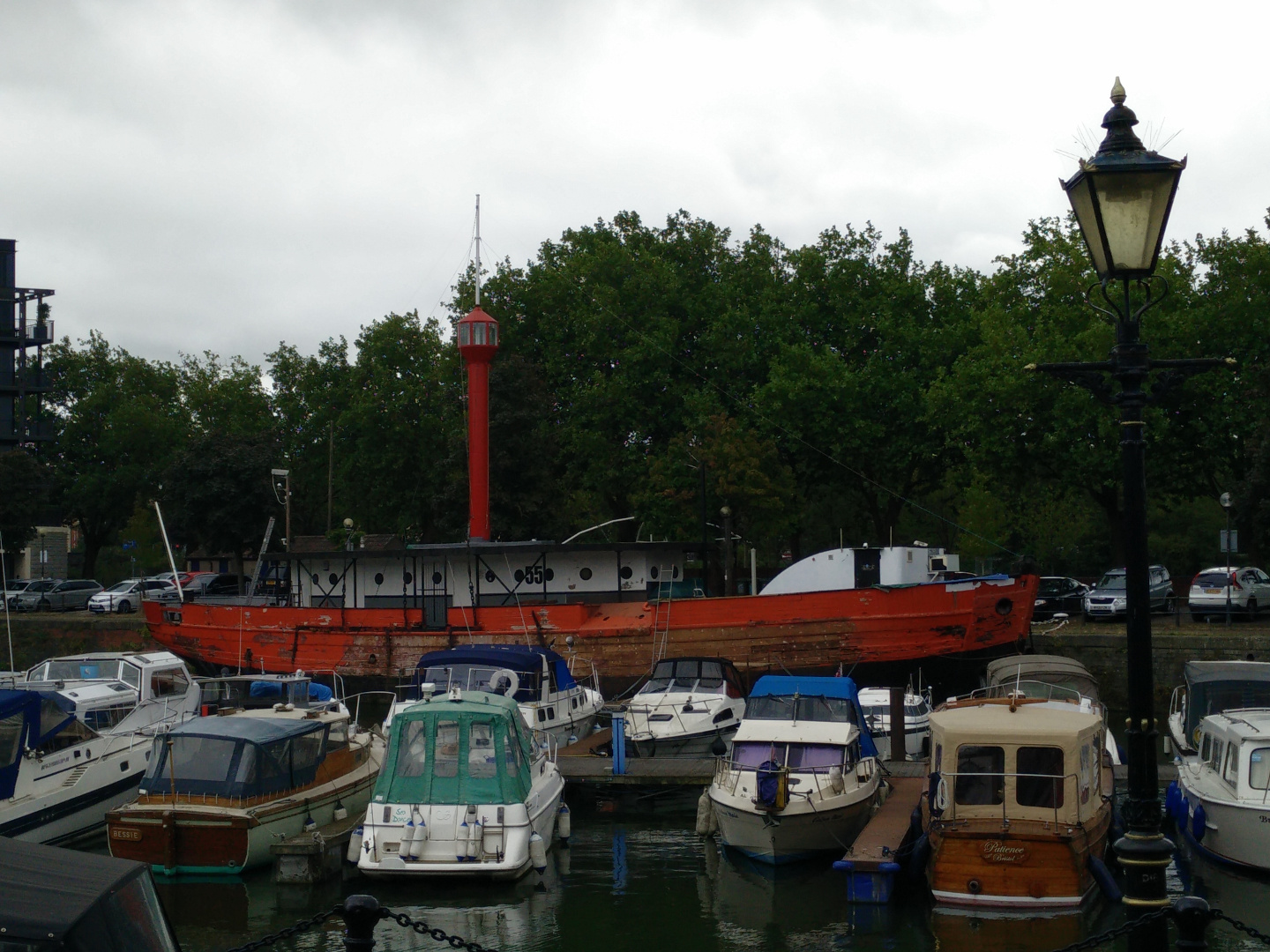 We moved up to 40m where there was more activity. 40m was giving longer inter-G and the usual European coverage and we picked up a number of lighthouses. On Sunday we stayed with 40m but also explored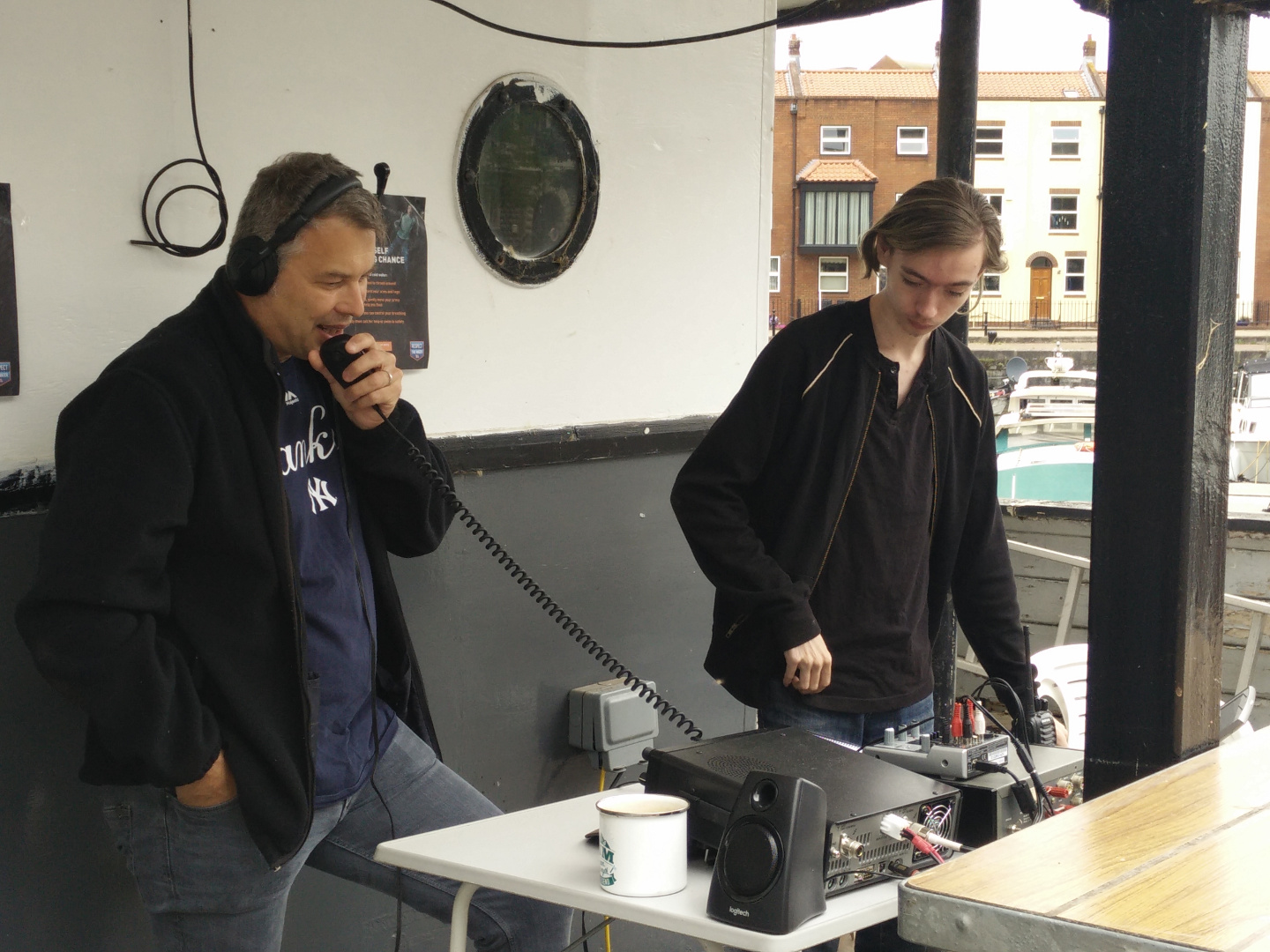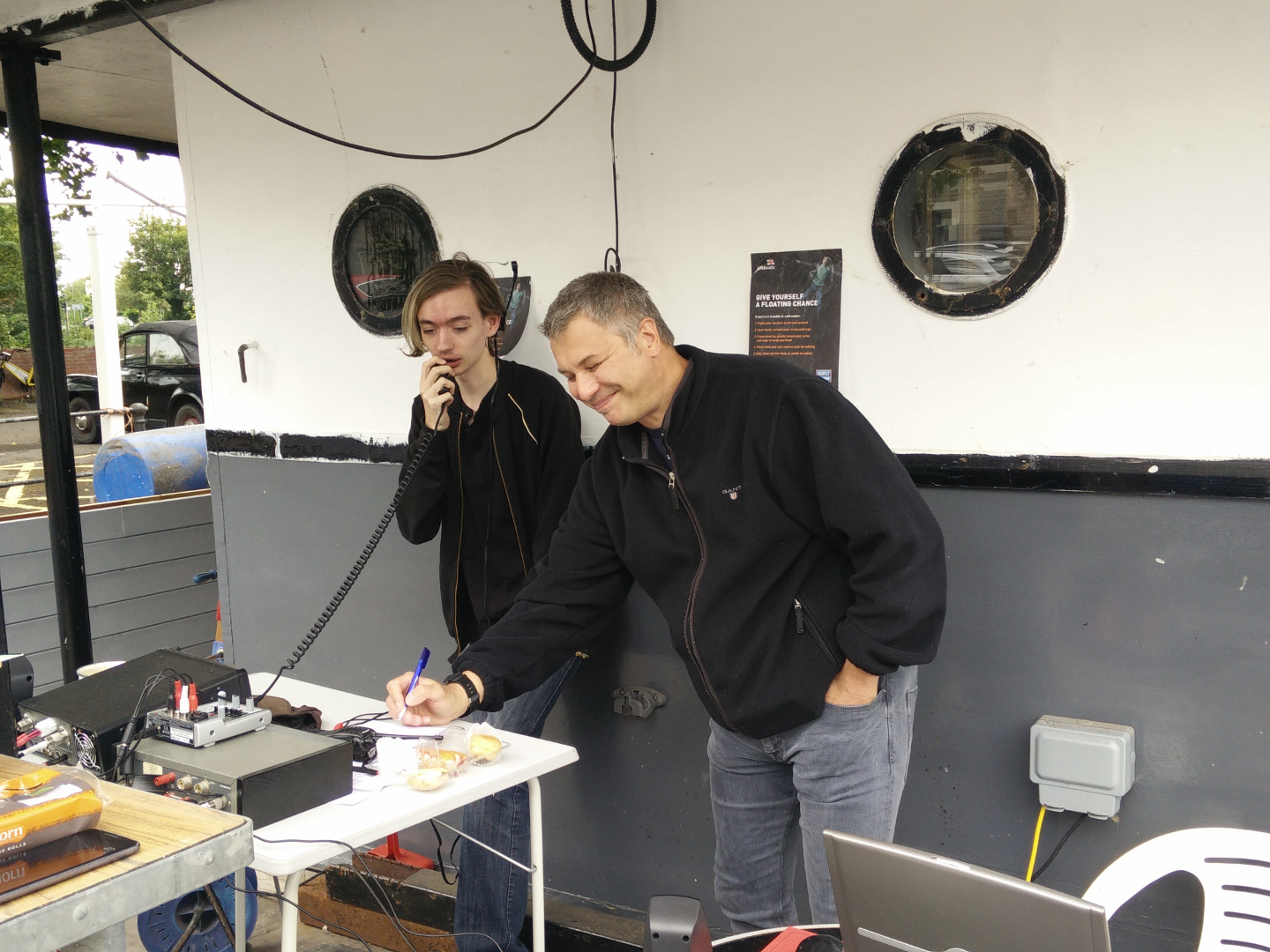 On Saturday we had Andy G7KNA, Ken SWL, Dave 2E0GZO, Jason and Mark M0SKV. On Sunday although Dave 2E0GZO couldn't make it we still had a good turn out with much of the same team turning up. Ken, our SWL who is currently undergoing Foundation Training with the Club had the opportunity to get on air and made a number of the contacts on Sunday afternoon. Many thanks to all those stations who worked us when Ken was operating who were very patient and helped him to gain confidence on air and in QSO.
Our best DX for the weekend was probably the Canary Islands on Saturday afternoon for 2850km (1780 miles). We also worked Muckle Flugga Lighthouse which is the United Kingdom's most northerly lighthouse and was activated as a QRP station.
GB0CCC Log
Date (UTC)
Time (UTC)
Station Worked
Band or Frequency
Mode
RST
Operators Name
QTH
Notes
Sent
Rec'd
18/08/18
10:35
G8ALS
80m
SSB
59
59
Mike
Coventry
18/08/18
10:48
DC1PM
40m
SSB
59
59
Matthieu
Kalterherberg
18/08/18
10:49
GB2SJ
40m
SSB
59
59
Whitburn
UK0026 – Souter Lighthouse
18/08/18
10:52
EI8CE
40m
SSB
59
59
Aiden
Waterford
18/08/18
10:52
GI3UBA
40m
SSB
59
59
Alex
Bangor
18/08/18
11:01
PI4WAL
40m
SSB
57
59
Westkapelle
NL0017 – Westkapelle High Lighthouse
18/08/18
11:23
GB4EUL
40m
SSB
59
59
Rich
Usk
UK0159 – East Usk Lighthouse
18/08/18
11:32
GB8SL
40m
SSB
59
59
Pete
Shoreham-by-Sea
UK0023 – Shoreham Lighthouse
18/08/18
11:54
GB0GPF
40m
SSB
59
59
David
Belfast Loch
Grey Point Fort Amateur Radio Society
18/08/18
11:59
GB0HLH
40m
SSB
59
59
Stan
Hartlepool
UK0188 – Hartlepool Lighthouse (The Heugh)
18/08/18
12:02
M0BZZ
40m
SSB
59
59
Bob
Birkenhead
18/08/18
12:03
M0SQU/M
40m
SSB
59
59
Mark
18/08/18
12:06
M6ENS
40m
SSB
59
59
Dave
Lancashire
18/08/18
12:09
GW6STK
40m
SSB
59
59
Robert
Colwyn Bay
18/08/18
12:11
G2ABR
40m
SSB
59
59
Chris
Harwich
18/08/18
12:12
G4GTX
40m
SSB
58
59
Stuart
Sunderland
18/08/18
12:17
MI0JST
40m
SSB
59
59
Victor
Bushmills
18/08/18
12:18
ON4CB
40m
SSB
59
59
Kirt
Putte
18/08/18
12:20
M3GJA
40m
SSB
59
59
Trevor
Kings Lynn
18/08/18
12:22
G8UHV
40m
SSB
59
59
Glyn
North England
18/08/18
12:24
G0BFJ
40m
SSB
59
59
Brian
Huddersfield
18/08/18
12:26
GB2TD
40m
SSB
59
59
Alan
Anglesey
UK0047 – Penmon/Trwyn Du
18/08/18
12:27
2M0GVB
40m
SSB
33
59
Buddon
UK0207/UK0208 – Buddon Ness High and Low
18/08/18
12:32
MI0TGO
40m
SSB
59
59
Brian
Belfast
18/08/18
12:39
G3YQD
40m
SSB
59
59
Dave
Manchester
18/08/18
13:02
EI7HDB
40m
SSB
59
59
Dale
Co Carlow
18/08/18
13:03
2I0YBH
40m
SSB
59
59
James
Dungannon
18/08/18
13:05
M0XLT
40m
SSB
59
59
Kevin
Skipton
18/08/18
13:19
GB0PLL
40m
SSB
59
59
Alan
Llaneilian
UK0222 – Point Lynas Lighthouse
18/08/18
13:29
F4UPL
40m
SSB
59
59
Dave
18/08/18
13:30
EI3JB
40m
SSB
59
59
Nicky
Waterford
18/08/18
13:32
G1PIE
40m
SSB
59
59
Mark
Preston Lancashire
18/08/18
13:36
GM4MTI
40m
SSB
59
59
Stuart
Oban
18/08/18
13:38
G0GWL
40m
SSB
59
59
David
Co Durham
18/08/18
13:40
M0LJT
40m
SSB
59
59
Eddie
Bristol
18/08/18
13:42
GI4TAJ
40m
SSB
59
59
Joe
Ballyclare
18/08/18
13:44
G0AJJ
40m
SSB
59
59
Lynda
North Walsham
18/08/18
13:46
G0TSH
40m
SSB
59
59
Keith
York
18/08/18
13:48
M0OBU
40m
SSB
59
59
John
Stoke on Trent
18/08/18
13:50
G7VKP
40m
SSB
59
59
Adrian
Chesterfield
18/08/18
13:55
G4RAC
40m
SSB
59
59
John
Burton on Trent
18/08/18
13:56
M3HJH
40m
SSB
59
59
Harry
18/08/18
13:58
F/G6CKB/P
40m
SSB
59
59
David
18/08/18
14:00
M6KCI
40m
SSB
59
59
Dave
Oldham
18/08/18
14:04
M0ALD
40m
SSB
59
59
John
Leeds
18/08/18
14:07
M5AJB
40m
SSB
57
59
Halstead
18/08/18
14:08
G0EWV
40m
SSB
59
59
Trevor
Bolton
18/08/18
14:09
M0GGR
40m
SSB
59
59
Andy
West Yorkshire
18/08/18
14:13
2E0ETS
40m
SSB
57
59
John
18/08/18
14:14
2E0PPF
40m
SSB
59
58
Steve
Chard
18/08/18
14:15
M0UCB
40m
SSB
59
59
George
Morpeth
18/08/18
14:18
G8GWK
40m
SSB
59
59
Chris
Luton
18/08/18
14:20
G0JPS
40m
SSB
59
59
Chris
Bristol
18/08/18
14:25
2E0MNG
40m
SSB
59
57
Neal
Derby
18/08/18
14:27
DL5XU
40m
SSB
59
59
Mat
Eisenach
18/08/18
14:28
M0YOB
40m
SSB
55
55
Dave
Liverpool
18/08/18
14:30
F8DVD
40m
SSB
57
57
Frank
Macon East France
18/08/18
14:32
DJ8VC
40m
SSB
57
59
Alfons
Emsdetten
18/08/18
14:34
G1BBY
40m
SSB
58
59
Walter
Morpeth
18/08/18
14:35
F9LM
40m
SSB
59
59
Maurice
Maurens
18/08/18
14:37
IU1CYA
40m
SSB
43
59
Giuseppe
Torino
18/08/18
14:39
EI9JU
40m
SSB
59
59
Gerry
Lifford
18/08/18
14:45
ON6OO
40m
SSB
59
59
Dirk
Westmeerbeek
18/08/18
14:46
F5CBU
40m
SSB
59
59
Yves
Plancoet
18/08/18
14:48
MM6CXJ
40m
SSB
57
59
Robin
Skirza
18/08/18
15:03
OJ0C
20m
SSB
59
59
Market Reef Lighthouse
18/08/18
15:06
EA8BUV
20m
SSB
57
53
Harry
Canary Islands
18/08/18
15:10
IW5BNL
20m
SSB
53
57
David
19/08/18
22:47
G0GWY
80m
SSB
59
59
Geoff
Scunthorpe
WAB Square SE90
19/08/18
23:51
M0WDE
80m
SSB
59
59
Eddie
Stegness
19/08/18
23:58
G4ZTQ
80m
CW
59
59
John
Chichester
19/08/18
10:08
G3OKA
80m
SSB
59
59
John
Merseyside
19/08/18
10:14
2E0GYW
80m
SSB
55
57
Thomas
Bradford
19/08/18
10:15
M6ENS
80m
SSB
55
55
Dave
Lancashire
19/08/18
10:17
M6IZF
80m
SSB
57
57
Charlie
Glouscester
19/08/18
10:20
2E0RIP
80m
SSB
59
59
Bob
Plymouth
19/08/18
10:26
GW0FGO
80m
SSB
55
59
Bill
Cwmbran
19/08/18
10:30
GW4GNY
80m
SSB
59
59
Martin
Welshpool
19/08/18
10:42
G0FOG
80m
SSB
58
57
Colin
Nottingham
QSO Heard by DH5FA
19/08/18
10:48
G3RKF
80m
SSB
57
58
Terry
Manchester
19/08/18
10:53
G0BFJ
80m
SSB
59
58
Brian
Huddersfield
19/08/18
10:55
M0ZAE
80m
SSB
58
56
Henry
Bedford
19/08/18
10:57
G7KWH
80m
SSB
59
58
Paul
Nottingham
19/08/18
11:01
G4LOE
80m
SSB
57
58
Garry
Solihull
19/08/18
11:07
G3LUA
80m
SSB
58
59
Alan
Solihull
19/08/18
11:13
M0LJT
80m
SSB
59
59
Eddie
Bristol
19/08/18
11:17
G0ALI
80m
SSB
59
57
Alison
Kingswinford
19/08/18
11:50
GB1OL
40m
SSB
59
59
Glenn
North Ronaldsay
UK0082/UK0083 – North Ronaldsay Old and New
19/08/18
12:30
GB2LBN
40m
SSB
59
59
Gary
Dunbar
UK0034 – Barns Ness Lighthouse
19/08/18
12:40
DF1LEO
40m
SSB
43
55
Henrik
Ratzeburg
19/08/18
12:41
M6GBO
40m
SSB
59
Bruce
Plymouth
19/08/18
12:47
PE1OAD
40m
SSB
59
59
Michael
Breezand
19/08/18
12:49
EI5AL
40m
SSB
Paul
Cork
19/08/18
12:51
MM3PDM/M
40m
SSB
59
Peter
Peterhead
19/08/18
12:57
MI0RUR
40m
SSB
57
56
David
Belfast
19/08/18
13:08
EI2WRC
40m
SSB
59
59
Roger
Churchtown Co Wexford
IE0003 – Hook Head Lighthouse
19/08/18
13:09
GB0NFL
40m
SSB
59
59
Ian
North Foreland Lighthouse
UK0128 – North Foreland Lighthouse
19/08/18
13:12
M6EJO/P
40m
SSB
53
59
19/08/18
13:17
EI4KM
40m
SSB
55
Steve
Co Wexford
19/08/18
13:22
G0WAB
40m
SSB
59
59
Terry
Wirral Peninsula
19/08/18
13:23
M0SHK
40m
SSB
57
59
Ken
Sherringham
19/08/18
13:27
DB3LBG
40m
SSB
Bjorn
Frankenfeld
19/08/18
13:28
2E0KHI
40m
SSB
59
59
Keith
Liverpool
19/08/18
13:29
GB6SL
40m
SSB
59
59
Mike
Kingston upon Hull
19/08/18
13:31
G4ZRP
40m
SSB
57
57
Brian
Wirral Penninsula
WAB SJ28
19/08/18
13:33
M0ZAW
40m
SSB
59
59
Neil
Cornwall
19/08/18
13:37
M0VCB
40m
SSB
59
59
Conrad
Scarborough
19/08/18
13:41
M0WPJ
40m
SSB
59
58
Peter
Canterbury
19/08/18
13:42
M0PER
40m
SSB
59
59
Alan
Chester
19/08/18
13:46
2E0DYM
40m
SSB
59
59
Peter
North Devon
19/08/18
13:50
2E0GBK
40m
SSB
55
57
Keith
Leatherhead
WAB TQ15
19/08/18
13:52
GM0KET
40m
SSB
57
59
Ray
Aberdeenshire
19/08/18
13:58
GI4SAM
40m
SSB
45
55
Sam
Belfast
19/08/18
14:02
M0KED
40m
SSB
59
59
Andy
Lincoln
19/08/18
14:09
GW4RLP
40m
SSB
59
59
Terry
Carnarfon
19/08/18
14:18
G8IQA
40m
SSB
59
59
Fred
Sheffield
19/08/18
14:20
M1DHA/P
40m
SSB
59
59
Alan
Lancashire
19/08/18
14:23
F4LTS
40m
SSB
57
59
Eric
Quemeneven
19/08/18
14:27
G4WIA
40m
SSB
57
59+
Ivan
Lizard
19/08/18
14:30
M0BJX
40m
SSB
57
59
Robert
Middlesborough
19/08/18
14:30
GB2MUC
40m
SSB
55
55
Euan
Shetland
UK0219 – Muckle Flugga Lighthouse
19/08/18
14:34
M6WHH
40m
SSB
59
59
Alan
Brighton
19/08/18
14:38
G1KPS
40m
SSB
57
52
Brighton
Canvey Island
19/08/18
14:41
GB0NL
40m
SSB
57
57
Aaron
Newhaven
UK0190 – Newhaven Lighthouse
19/08/18
14:44
G4NUJ
40m
SSB
59
59
Ken
Westward Ho!
19/08/18
14:46
DK1TBL/P
40m
SSB
53
59
Thomas
Neunkirchen
19/08/18
14:48
M0TRJ
40m
SSB
57
55
Simon
Great Yarmouth
19/08/18
14:49
M0BUI
40m
SSB
53
55
Les
Bude
19/08/18
14:51
M0GWD
40m
SSB
59
59
Mick
Portsmouth
19/08/18
14:53
M0WTR
40m
SSB
59
59
Tony
Warrington
19/08/18
14:55
G0EWV
40m
SSB
55
59+20
Trevor
Bolton
19/08/18
14:56
DH1PAL
40m
SSB
55
59
Werner
Cologne
19/08/18
14:58
ON3BMW
40m
SSB
57
55
Arnauld
La Louviere
19/08/18
15:01
G3KAF
40m
SSB
59
59
Jim
Manchester