Introduction
Former TRINITY LIGHT VESSEL 55, the 'John Sebastian', is moored in Bathurst Basin in the centre of Bristol and has her own postal address, namely: 'The John Sebastian, Bathurst Basin, Bristol BS1 4RL'. However, there are some specific details that will be of interest to radio hams:
Lat/Long: 51.446579°,-2.595022°
IARU: IO81qk
IOTA: EU005 (UK Mainland)
WAB: ST57 – England
ILLW Reference: UK0176
Location
Operation
This was to be our first foray into this particular special event, and although we are reasonably well versed in temporary operations from our activities at Saltford for Mills on the Air, Midsomer Norton for Railways on the Air and naturally VHF National Field Day each event holds its own particular challenges and problems that need to be overcome. For us therefore 2013 was to be something of a "proof of concept" undertaking with the hope that we would be able to add this to our calendar of regular events.
Our first problem to overcome was to locate a suitable venue. Naturally given the event this meant we had to find a local lighthouse or lightship. Surprisingly, given our coastal location and Bristols maritime heritage, the number of potential venues was thin on the ground and those that were within a suitable travel radius often were bereft of any kind of facilities such as: power, sanitation etc.
We were on the verge of dropping this as a possible event when Don G0NQJ (sk) chanced upon someone at the Cabot Cruising Club in Bathurst Basin in the centre of Bristol.
The Cabot Cruising Club own and maintain the Former Light Vessel 55 as their Clubhouse, although it is now called the 'John Sebastian' in honour of Bristols famous mariners.
Full details of its history and how the vessel came to be in the hands of the Cabot Cruising Club can be found on the Cabot Cruising Club website, but in summary Light Vessel 55 (aka the 'John Sebastian') entered service in 1885 and served for 68 years before being sold for scrap by Trinity House in 1953. She was stationed on Newarp Station, Swarte Bank Station, Owers Station and finally was stationed on the East and West Grounds Station in the Bristol Channel from 1939 to 1953 except for a period of overhaul and storage from 1942 – 1947.
She is believed to one of, if not, the oldest wooden hulled Lightship still afloat although there are a couple of other vessels challenging for this title.
This venue had a number of advantages but also its own share of disadvantages as follows:
Pros
Cons

Central Location
Power
Sanitary facilities both in the Club House and on the shore
Lanyards to assist with hanging HF antennas
Parking (all be it limited)
High profile deck location with cover
Wi-Fi and Mobile 'phone coverage

Low elevation
City centre with possibility of significant QRM
No free parking outside of Cruising Clubs Car Park
Limited take off where basin is hemmed in with buildings
Overall however, we felt the location was viable provided that:
We could get agreement and approval from the Cabot Cruising Club to operate there over the ILLW weekend; and
The ILLW organisers were prepared to accept the former Light Vessel 55 as a valid location given its present use as a Club House
Fortunately we were lucky in both cases: The Cruising Club were more than willing to let us operate and went out of their way to accommodate us, and the ILLW organisers recognised the former Light Vessel allocating her the unique reference within their system of UK0176.
A Brief History of Light Vessel 55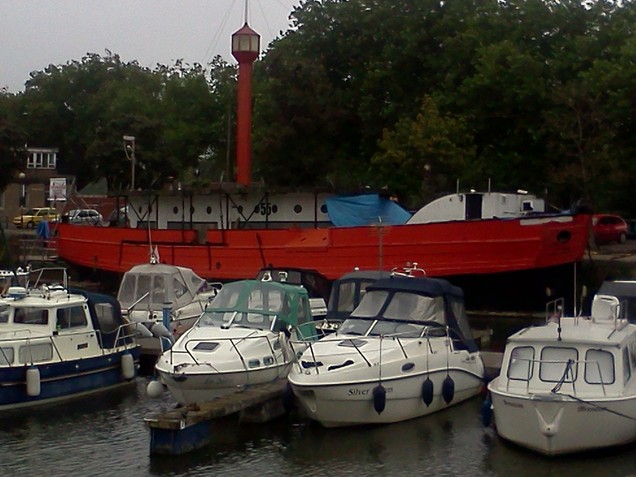 Trinity House Light Vessel No. 55;
Built in 1885 Builder's Tonnage 274tons;
Length 103ft Beam 24ft;
Sold out of Trinty House Service 1953;
On Newarp Stations October 14th – December 15th 1914;
On Swarte Bank Station 1922 temporarily, during November of which she withstood terrible gales, and, in the Master's own words "shipped a terrific green 'un, filled herself to the rail, flooded the engine room, carried away skylights, ladders and everything else on deck, and strained her back, so that when moved to Cross Sand Station off the Norfolk Coast soon after (where she was for a very long time) had to be pumped out night and morning";
Moved to Owers Station (off Selsey Bill) on 15th March 1937 until 17th May 1939;
Put on East and West Grounds Station in Bristol Channel on 14th July 1939 where she was until 18th January 1942;
Then taken to Milford Haven for overhaul and lay in Holyhead Harbour as a spare until 18th March 1947;
Put back on East and West Grounds until 1st September 1953 when she was sold out of the service to breakers;
Equipment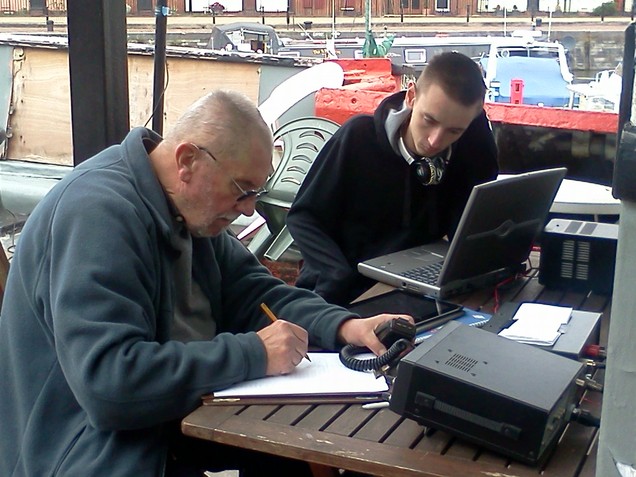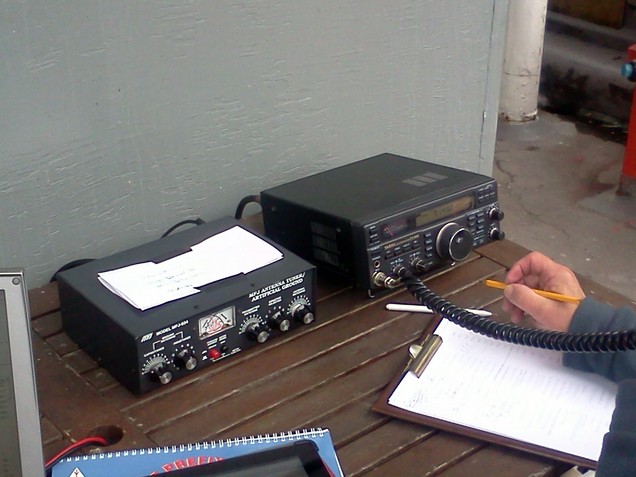 We took along the clubs equipment, this having proven its worth in Special Events such as Railways on the Air, namely:
Yaesu FT 840 100W multi-mode HF Transceiver
MFJ 934 Manual ATU
Manson EP-925 25Amp PSU
Club laptop running Ham Radio Deluxe for logging only
Half Size G5RV Antenna
Don G0NQJ brought an iPad which thanks to the Cabot Cruising Clubs Wi-Fi allowed us to use the ILLW on-line entrants list to confirm details of other Lighthouse/Lightship stations
Setup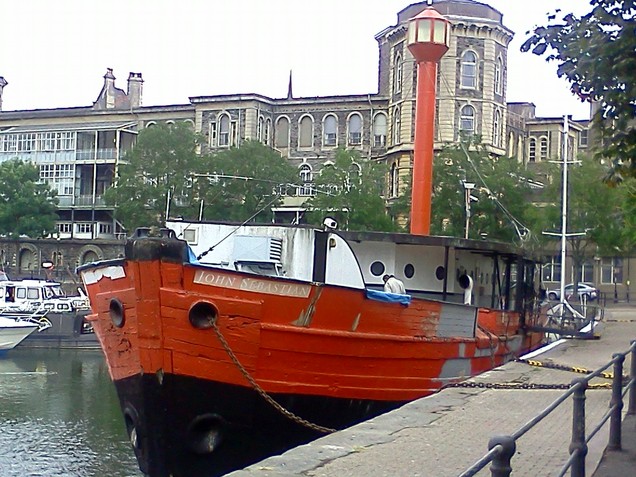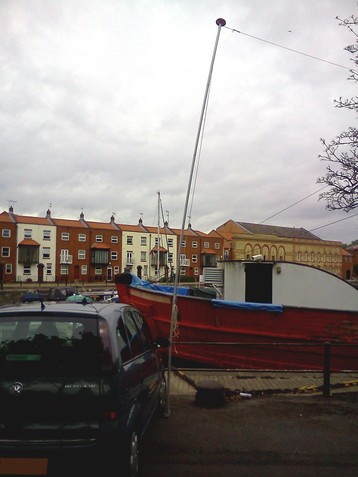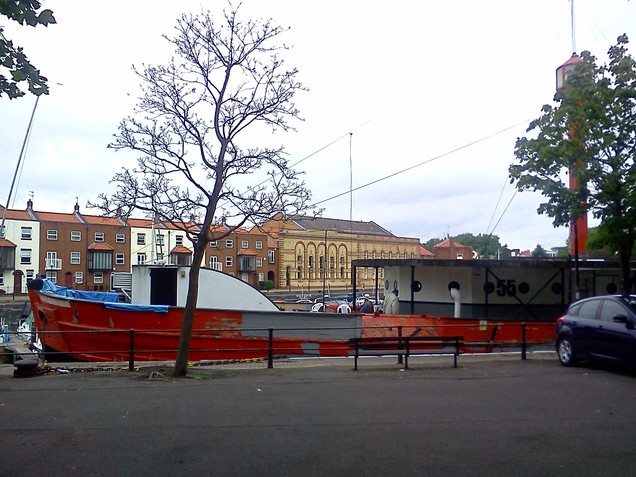 The operating position towards the bow of the ship placed us more or less directly beneath the mid point of our half size G5RV which was attached at one end to the Cabot Cruising Clubs Lanyards fixed to the light and at the other end to a flagpole fixed to a drive on car mount in the car park.
On the Saturday we noticed that there was quite a lot of force causing the flagpole to bend so on the Sunday we tied it back to the trees on the far side of the car park.
Quite by chance the antenna was setup more or less east-west giving us best propagation to the north and south.
Operating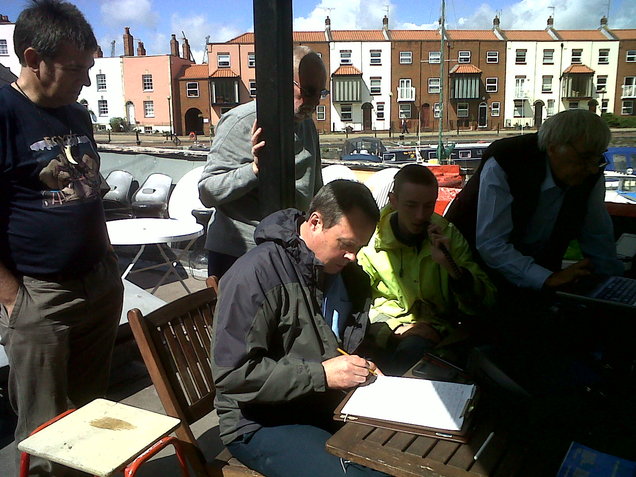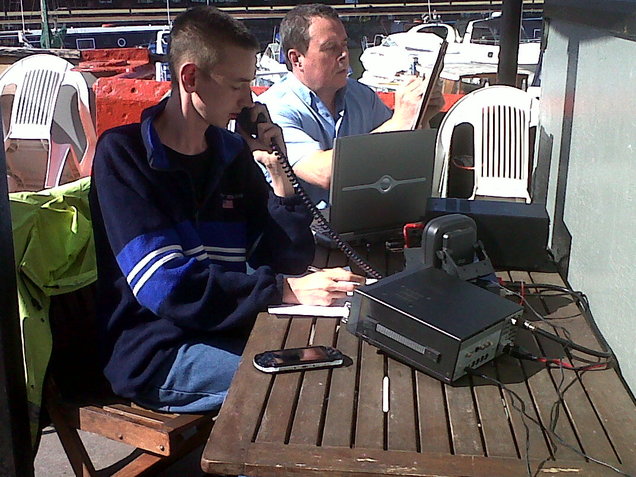 The event proved popular with the members and we were lucky enough to see a steady trickle of people who took turns at operating, logging, chatting and drinking tea.
We feel this event was a successful outing for the club and a very definite "Proof of Concept". Assuming that the Cabot Cruising Club will allow us back in 2014 we plan to get involved in the ILLW again perhaps this time using a Special Event Callsign such as GB0JSB (John Sebastian Bristol) or GB0CCC (Cabot Cruising Club).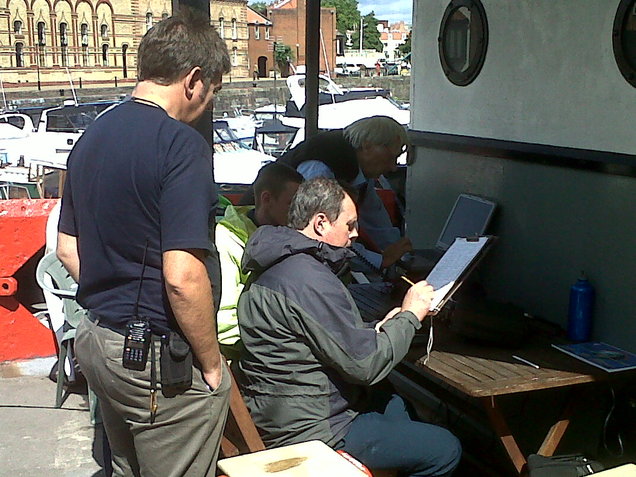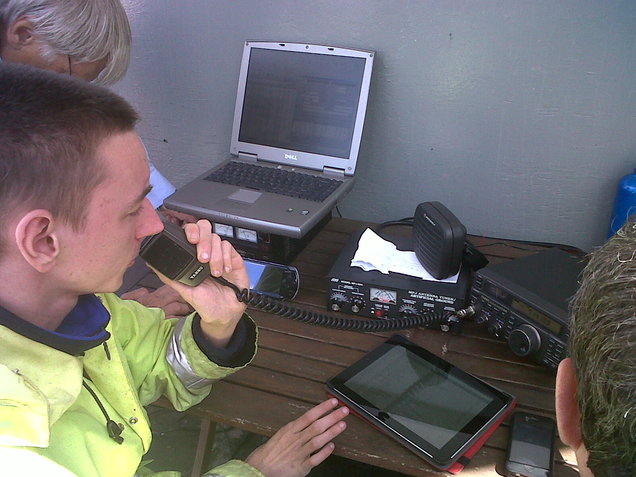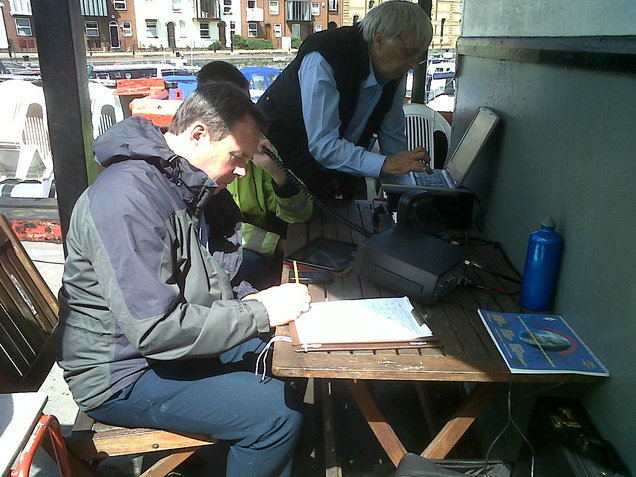 Logbook
Date (UTC)
Time (UTC)
Station Worked
Band or Frequency
Mode
RST
Operators Name
QTH
Notes
Sent
Rec'd
17/08/13
09:43
DK0RZ
40m
LSB
59
59
DE0024 – Pellworm
17/08/13
09:49
DL4ABB
40m
LSB
59
59
DE0098 – Buesum
17/08/13
10:06
GB0NHL
40m
LSB
59
59
UK0039 – Noss Head Lighthouse
17/08/13
10:10
EI0LHL
40m
LSB
59
59
IE0009 – Loop Head Lighthouse
17/08/13
10:15
GS0IYP
40m
LSB
59
59
UK0151 – Tarbatness Lighthouse
17/08/13
10:18
GB2TLG
40m
LSB
59
59
UK0093 – Tynemouth North Pier
17/08/13
10:28
GB2LBN
40m
LSB
59
59
UK0034 – Barnes Ness
17/08/13
10:38
GB4FL
40m
LSB
59
57
UK0006 – Flamborough Head
17/08/13
11:16
GB4WIL
40m
LSB
59
59+
UK0160 – Walney Island Lighthouse
17/08/13
11:43
DL0SY/P
20m
LSB
59
DE0102 – List Ost
17/08/13
12:29
II1L
20m
USB
57
57
Mario
IT0005 – La Lanterna
17/08/13
13:09
ON4OS/LH
40m
LSB
59
57
Chris
BE0008 – Lange Nelle
17/08/13
13:17
GB0THL
40m
LSB
59
Dave
Tiumpan Head
UK0171 – Tiumpan Head
17/08/13
13:30
M0HEM
40m
LSB
57
59
John
17/08/13
13:47
M0BGS
40m
LSB
59
59
17/08/13
13:50
G0WKN
40m
LSB
59
59
Ken
Lutton South Linconshire
17/08/13
13:59
M0XVF
40m
LSB
59
59+
Jeremy
Durham N E England
17/08/13
14:03
OO7EH
40m
LSB
55
56
17/08/13
14:05
DL5MU
40m
LSB
59
57
17/08/13
14:08
F4VPL
40m
LSB
59
57
Dave
South Brittany
17/08/13
14:09
M3AOC
40m
LSB
58
59
Derek
Redcar
17/08/13
14:13
DL8AAM
40m
LSB
53
Tom
17/08/13
14:26
DL6ABN
40m
LSB
59
58
Mike
17/08/13
14:27
OZ3FS
40m
LSB
55
56
17/08/13
14:31
FG4IWO/P
40m
LSB
57
57
17/08/13
14:34
PA0CAH
40m
LSB
59
58
Ad
17/08/13
15:15
GM4GRC/P
40m
LSB
59
59
Bill
E. Coast of Scotland
UK0155 – Elie Ness
18/08/13
09:51
GB4FCL
40m
LSB
59
59
Mick
Flamborough Chalk & Head Lights
UK0005 – Flamborough Chalk and Head Lights
18/08/13
10:06
GB0REL
40m
LSB
59
59+
John
Rathlin East High (Altacarry Head)
UK0055 – Rathlin East High (Alatacarry Head)
18/08/13
10:15
GB0TBW
40m
LSB
59
59
John
UK0030 – Trinity Buoy Wharf
18/08/13
10:22
GB2LK
40m
LSB
59
59
Ellis
Killantringan Scotland
UK0164 – Killantringan
18/08/13
10:31
GW100RSGB
40m
LSB
59
59
Bob
North Wales
18/08/13
10:47
GB2SBL
40m
LSB
57
59
Steve (G7IZZ)
British Legion Special Event
18/08/13
10:52
GC4BRS
40m
LSB
59
59
Paul
Nash Point Lighthouse (Low)
UK0072 – Nash Point Low
18/08/13
11:25
G4LGX
40m
LSB
59
57
John
Haringate North Yorkshire
18/08/13
11:29
MN0VFW
40m
LSB
56
57
UK0114 – Haulbowline
18/08/13
11:31
2E0DRU
40m
LSB
18/08/13
11:33
G0CAM
40m
LSB
59+
59
Cam
Cornwall
18/08/13
11:35
M0DDXT/P
40m
LSB
59
59
Bill
Cumbria
UK0152 – Maryport
18/08/13
11:37
2E0BNI
40m
LSB
59+
18/08/13
11:38
MM0DNX
40m
LSB
59
59
Dennis
Glasgow
18/08/13
11:40
G3VCG
40m
LSB
59
59
Don
Chelmsford Essex
18/08/13
11:42
G0FUO/P
40m
LSB
59
59
Darrel
S Yorkshire
18/08/13
11:44
2E0NOC
40m
LSB
59
59
Colin
Ashford West London
18/08/13
11:46
M0XDX
40m
LSB
59
57
Paul
Mablethorp
18/08/13
11:47
M0WMO
40m
LSB
59
59
Doug
18/08/13
11:49
G8XTJ
40m
LSB
57
58
High Wickham
18/08/13
11:50
G7BGA
40m
LSB
58
Geoff
Shrewsbury
18/08/13
11:52
GM4NNH
40m
LSB
59
Jim
18/08/13
11:54
OO7TWA/M
40m
LSB
55
57
Gert
18/08/13
11:56
G3MDM
40m
LSB
59
59+
Steve
Windsor
18/08/13
11:58
GN0LIX/P
40m
LSB
58
59
Andy
Co Antrim
UK0033 – Chaine Memorial Tower
18/08/13
12:00
2E0FPC
40m
LSB
59+
59
Paul
Stoke on Trent
18/08/13
12:02
G0CIW
40m
LSB
53
58
Dennis
Epsom Downd
18/08/13
12:05
TM0LHG
40m
LSB
51
58
Peter
FR0002 – Petit-Fort-Phillippe (Gravelines)
18/08/13
12:06
G0HXT
40m
LSB
57
59+
Andy
Godlming
18/08/13
12:08
G0FDU
40m
LSB
58
58
Ray
Dartford Kent
18/08/13
12:10
GB5PSL
40m
LSB
57
59
Phil
6m Nth Blackpool
UK018 – Polver Scar Lighthouse
18/08/13
12:12
M6NOJ
40m
LSB
59
59
Clive
Cumbria
18/08/13
12:13
G6LKB
40m
LSB
58
57
David
Ulverston
18/08/13
12:15
F5PTI
40m
LSB
55
58
Domi
Cognac
18/08/13
12:33
YU/IZ1VUC
20m
USB
57
59
Tamis River West
18/08/13
12:47
DL0HGW
20m
USB
55
55
Cape Arkona
DE0123 – Cape Arkona (Old)
18/08/13
12:54
S51LGT
20m
LSB
59
59
Milos
Cape Madona
SI0001 – Cape Madona Lighthouse Piran
18/08/13
13:04
GB2AL
20m
LSB
59
58
Fred
Ardnamurchan Lighthouse
UK0117 – Ardnamurchan Lighthouse
18/08/13
13:51
EI1NC/P
40m
LSB
Roche's Point
IE0010 – Roche's Point
18/08/13
13:59
GB2MYA
40m
LSB
59
59
Terry
Lanchishire
18/08/13
14:16
G4ROJ/P
40m
LSB
59
Rodger
Kite Antenna
18/08/13
14:23
G0GNI
40m
LSB
59
59
Mike
Isle of White
18/08/13
14:28
GB0NLH
40m
LSB
59
59
Malcolm
Isle of White
UK0067 – The Needles Isle of Wight
18/08/13
14:33
M3ZLI
40m
LSB
59
59
Paul
18/08/13
14:36
G0IIQ
40m
LSB
59
59
Dave
Grimsby
18/08/13
14:38
M1EYA
40m
LSB
43
59
Richard
18/08/13
14:39
M0ZAE
40m
LSB
57
57
Henry
18/08/13
14:41
9VDG7MM
40m
LSB
59
59
Maritime Mobile @ Artic Circle
18/08/13
14:43
G4YOH
40m
LSB
57
57
Essex
18/08/13
14:44
G3YUN
40m
LSB
55
59
Ian
Wigan
QRP running 9W
18/08/13
14:46
GM3YBQ
40m
LSB
57
59
Ken
100 W
18/08/13
14:49
PI4DX
40m
LSB
59
59
Erik
18/08/13
14:50
GM7ESM/P
40m
LSB
59
59
Howard
Aberdeen
18/08/13
14:57
EI3JM
40m
LSB
57
51
Westport Co. Mayo Northern Ireland
18/08/13
15:07
MI6NID
40m
LSB
59
59
Peter
18/08/13
15:08
GI0SSA
40m
LSB
59+
Kieth
18/08/13
15:08
PA0AKN
40m
LSB
59
59
Don
18/08/13
15:10
GB0NHL
40m
LSB
59
57
Rian
UK0039 – Noss Head Lighthouse
18/08/13
15:11
G3VCN
40m
LSB
59
58
Paul
Plymouth
18/08/13
15:11
DJ7PI
40m
LSB
59
59
18/08/13
15:13
PA4JV
40m
LSB
59
59
Jack
North Sea Coast
18/08/13
15:14
M0XLD
40m
LSB
59+
59
Kevin
Yorkshire
18/08/13
15:15
F8DVD
40m
LSB
59
59+
Frank
Macon East France
18/08/13
15:16
G0ABY
40m
LSB
55
59
Phil
Stockton on Tees
18/08/13
15:17
M3AOC
40m
LSB
59
59+
Derek
Redcar
18/08/13
15:19
G0TRB
40m
LSB
58
59
Roger
18/08/13
15:21
EI3HBB
40m
LSB
59+
59+
Chris
Cork
18/08/13
15:22
G3XMM
40m
LSB
59+
59
Tom
Gloucester
18/08/13
15:24
MI0MVP
40m
LSB
59+
59+
Alex
Tandraee Nr Belfast
18/08/13
15:25
M6KVJ
40m
LSB
59+
59+
David
Sydmouth
18/08/13
15:26
M6DWE
40m
LSB
57
59+
David
TL16
18/08/13
15:28
GW0MHK
40m
LSB
59
59
Len
Nth Wales
18/08/13
15:29
G4PZW
40m
LSB
59+
57
Ely Cambridge
18/08/13
15:31
G8HXT
40m
LSB
59
57
Paul
18/08/13
15:32
G0WWD
40m
LSB
59
59
David
SW UK
18/08/13
15:33
GW1DPL
40m
LSB
59
59
Martin
Swansea
Total Stations Worked
104
Total Number of Lighthouses/Lightships Worked
31
30%