Location
Lat/Long: 51.281077°,-2.482759°
IARU: IO81sg
IOTA: EU005 (UK Mainland)
WAB: ST65 – England
Introduction
The weekend of 23 – 24 September 2017 was fair weather wise, reminiscent of our first outing to this site all the way back in 2011. The plan was simple and based on our years of experience of operating Special Event and portable stations as well as our long association with this site.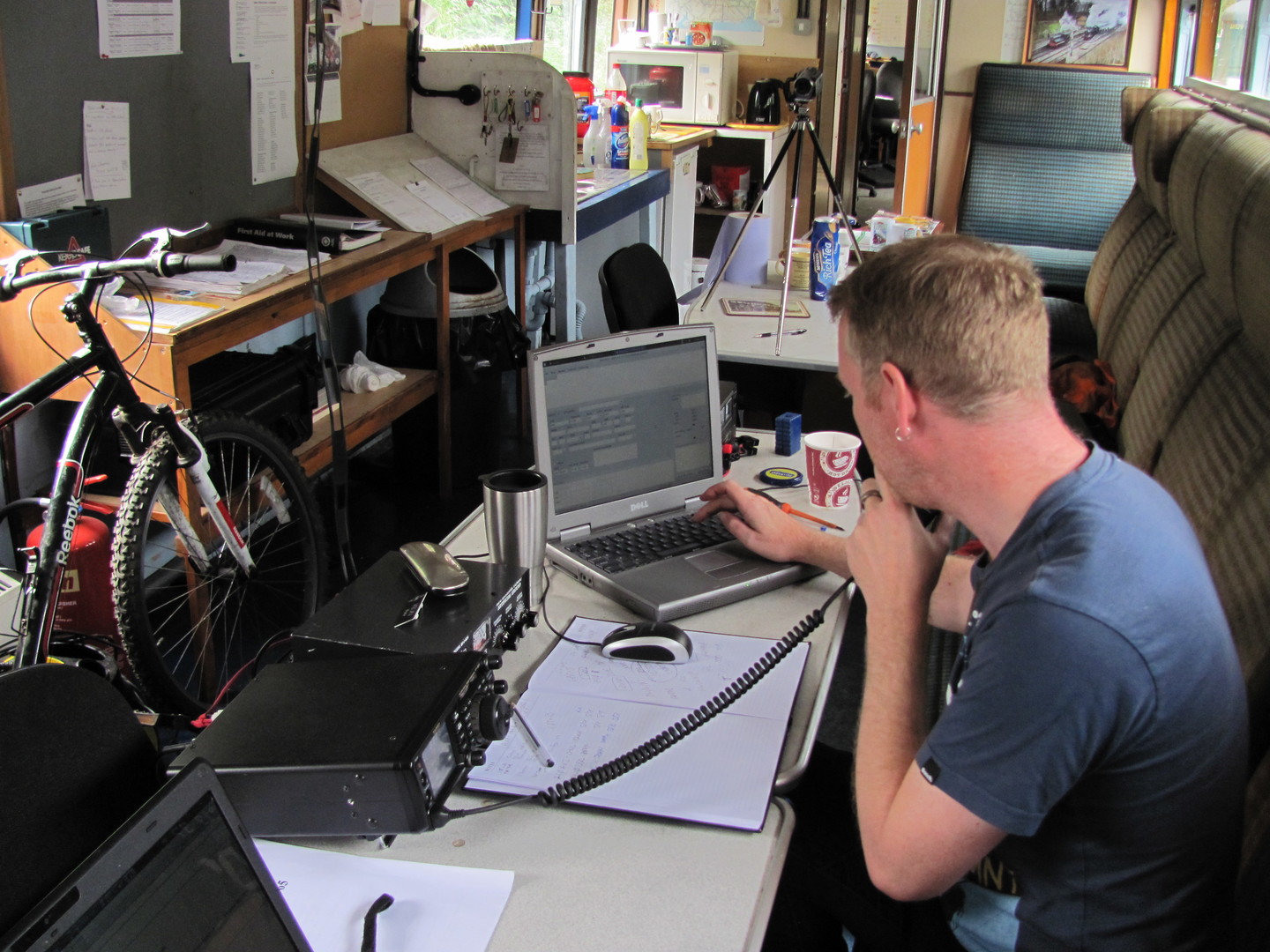 Equipment comprised:
Club Yaesu FT-991 multimode transceiver for SSB
Yaesu Ft-857D multimode transceiver for Digimodes (mainly PSK31)
Club Manson EP-925 25A linear power supply for SSB station
Watson Power Mite NF switch mode power supply for digimodes station
Club MFJ-934 Manual ATU for SSb station
LDG Z11 Auto ATU for digimodes station
Diamond SX-600 SWR/Power meter for digimodes station
Signalink USB data modem for digimodes station
Club Dell laptop running XUbuntu 16.04 LTS and CQRLog
Toshiba laptop running XUbuntu 16.04 LTS and FLDigi
We were once again billeted in the railway carriage adjacent to the buffet car allowing visitors to the site and buffet car users to observe and take part in activities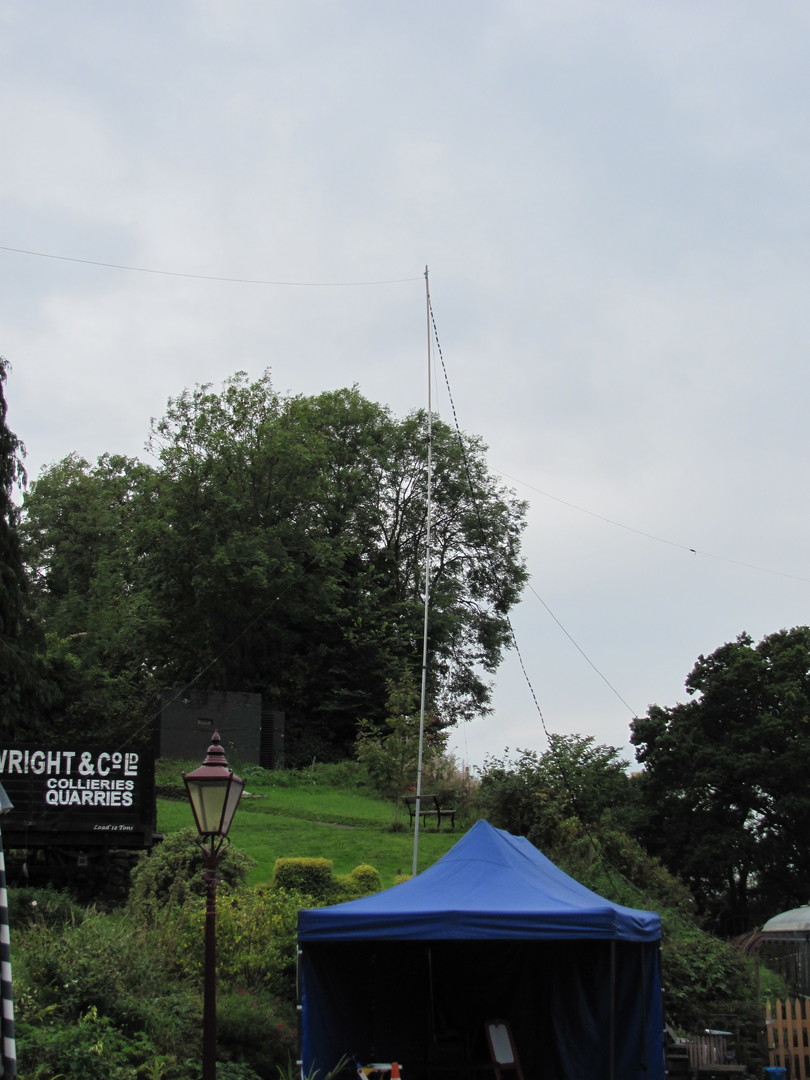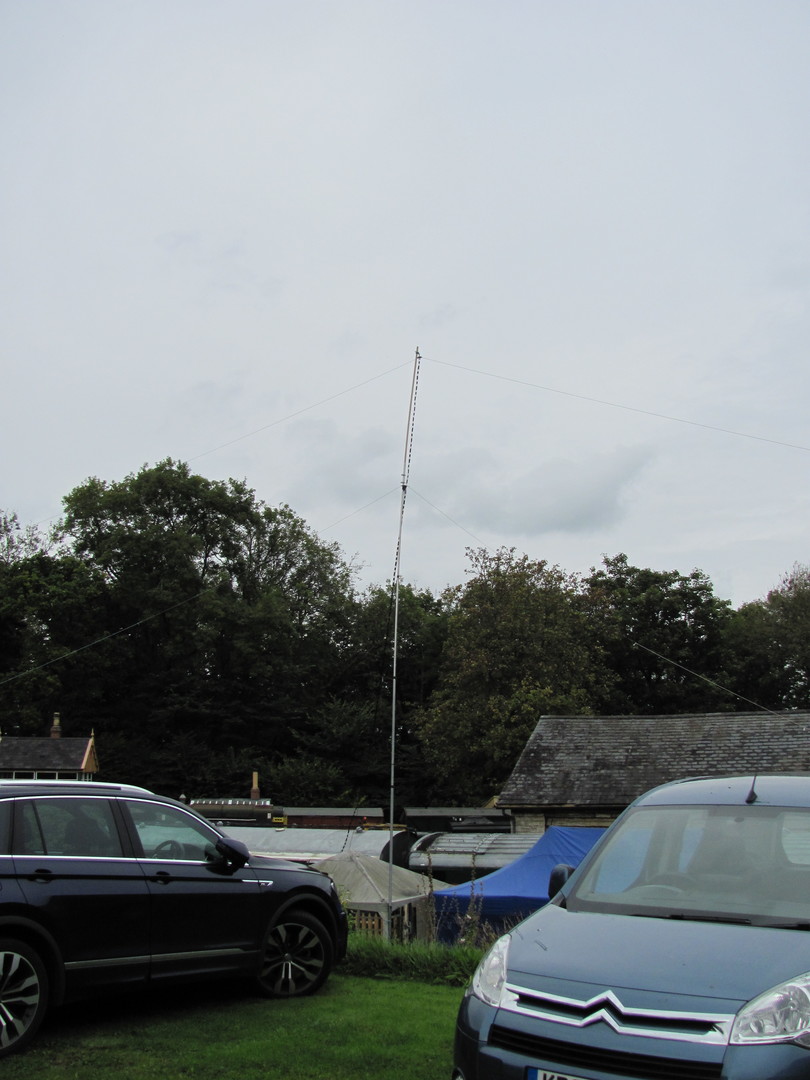 Our antennas were simple dipoles and doublets suspended from a central pole about 10m above the ground in an inverted vee configuration. We had an 80m doublet fed with ladder line, hence the need for an external tuner to provide conversion from unbalanced coax to balanced feeder, which was used for the SSB station and could be operated on 80m, 40m or other bands that the ATU could match for us and a 20m half wave dipole used by the data station. The dipole was slightly off resonance in this particular configuration hence the requirement for an ATU.
On Saturday we had little or no feedpoint separation and whilst both stations could operate there were effects of having the two antennas in such close proximity despite the 90° directional differences. On Sunday an additional wooden pole was used to provide more separation reducing the problems. We also had some difficulties with RF getting into both laptops at various times which would render the trackpads useless. External USB mice solved that one.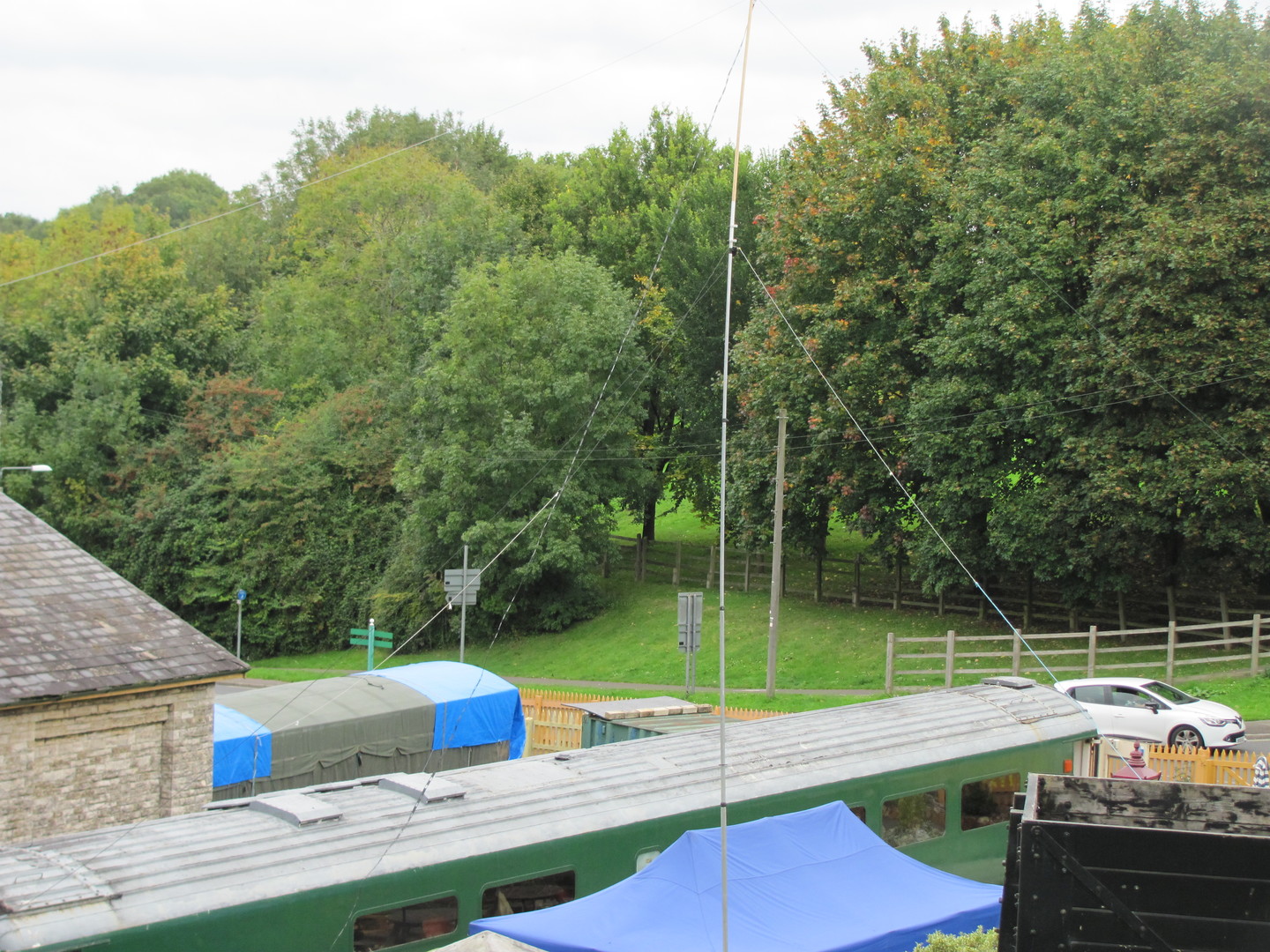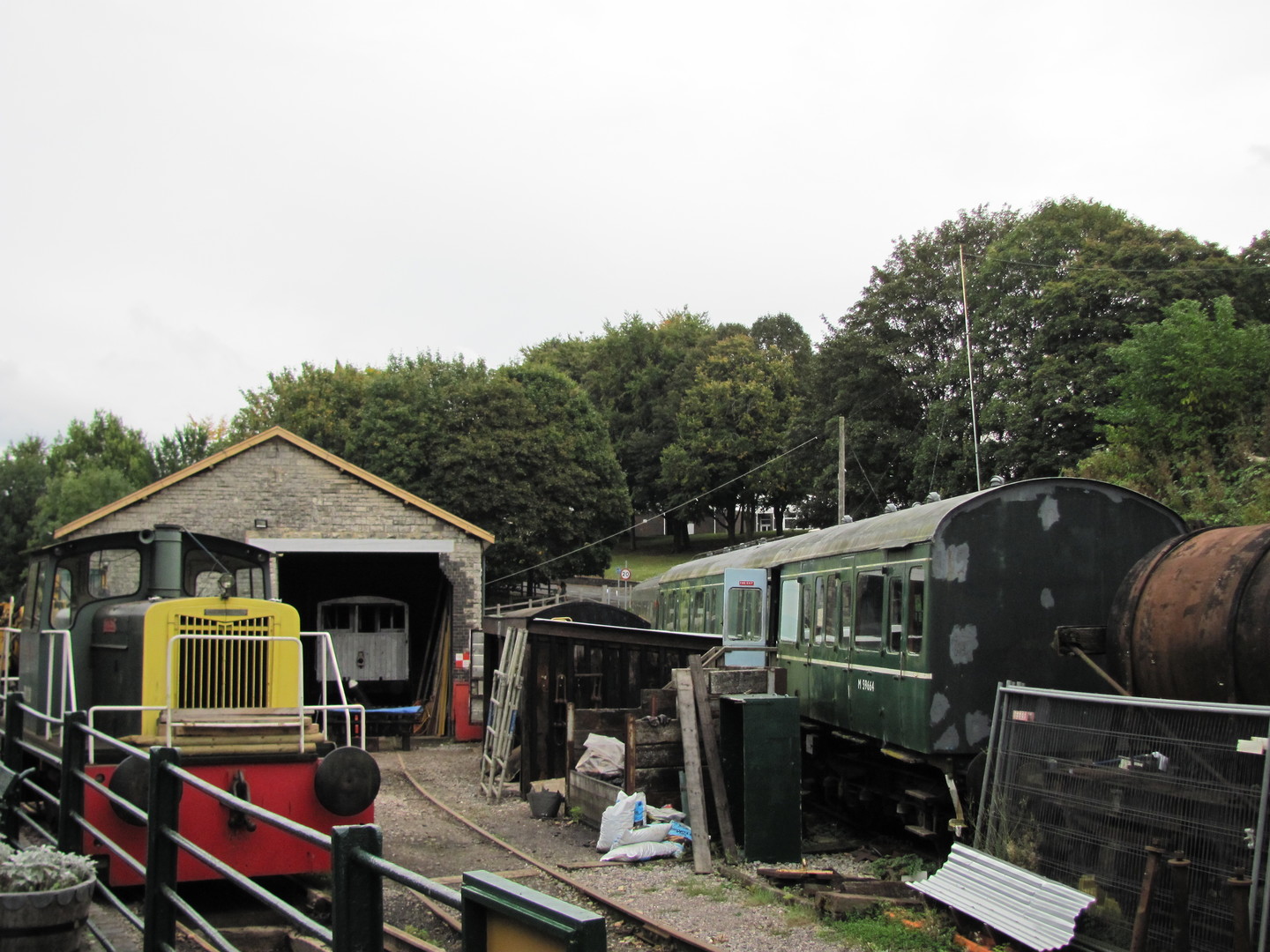 Setup was reasonably straightforward, or at least it is assumed that setup was reasonably straightforward as Andy G7KNA managed to delay his arrival on site until after most of the hard work had been completed. His excuse was that he was coning to site from a short break in Devon and clearing up on the day of departure had taken longer than expected! A likely story. He did at least have the courtesy to speak to Mark M0SKV via GB3WR on his way north to the site once he was within range so his late arrival was not the subject of doubt about his attendance.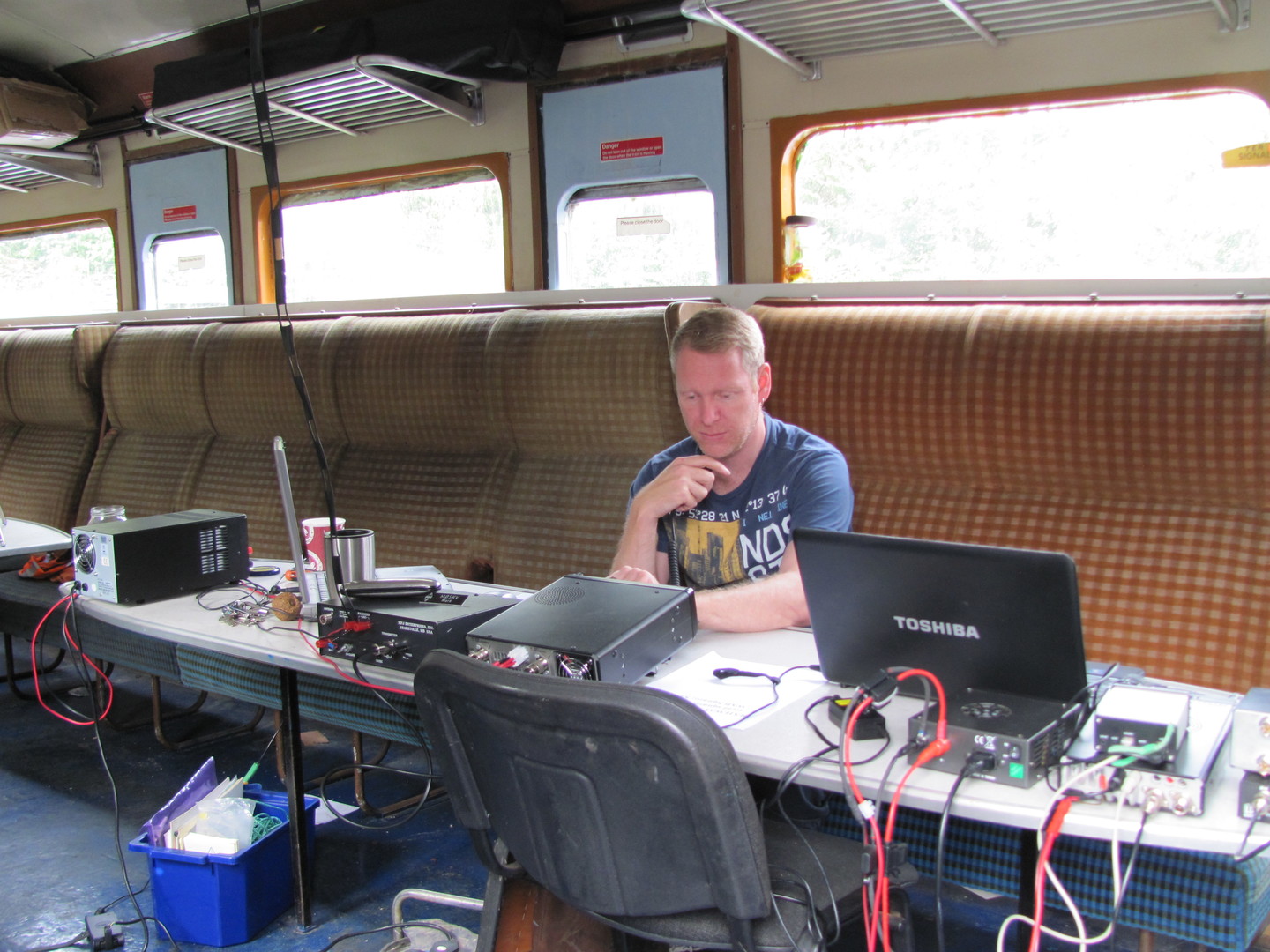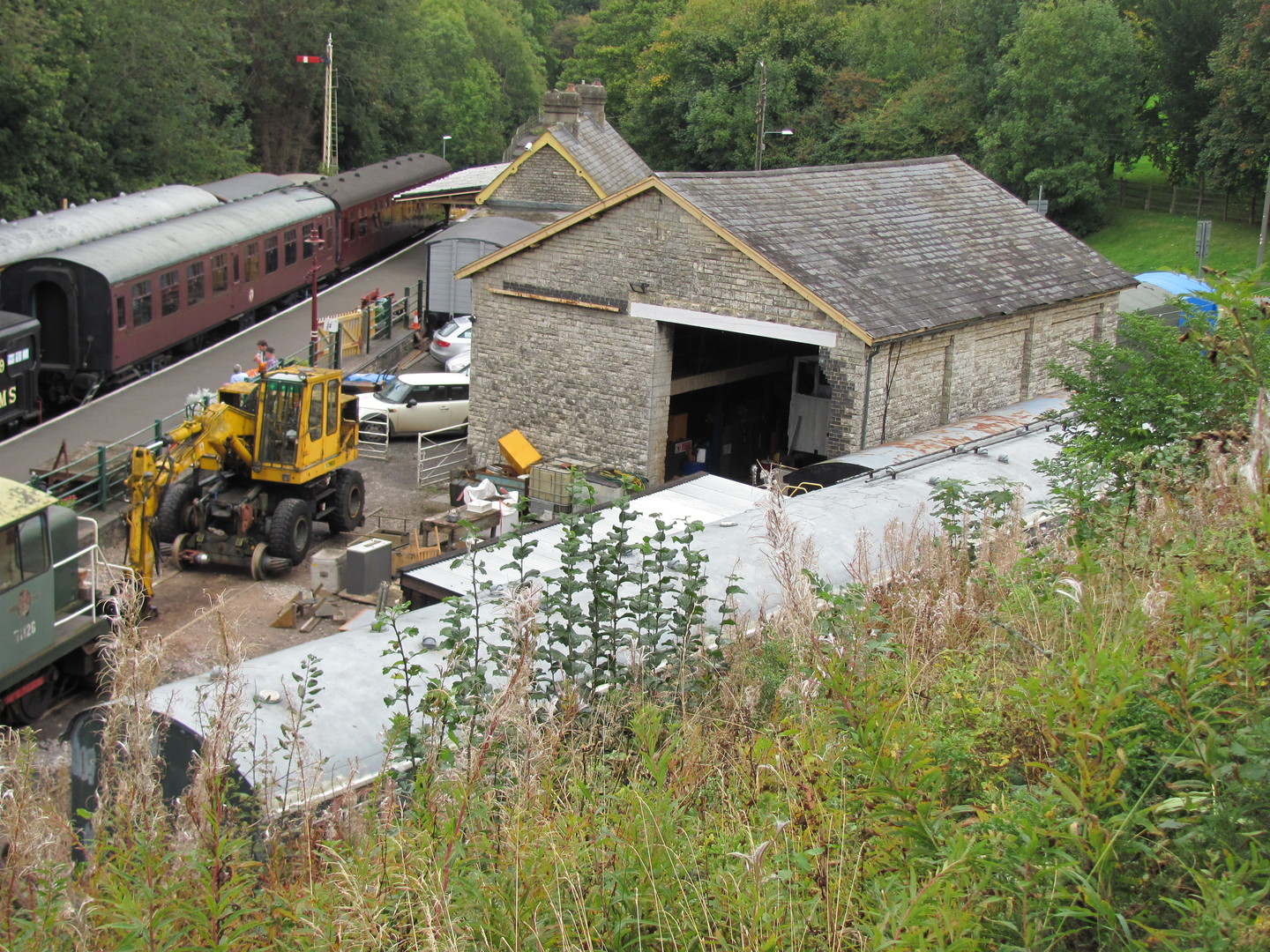 So by the time that Andy G7KNA arrived all that he had to do was to connect his equipment to the antenna, configure FLDigi for the Special Event and get on air. His first contact was IN3GNV Giovanni, always an interesting QSO as Giovanni is more or less unique in not wanting to have a macro based exchange. Instead of the "rubber stamp" name, locator, QTH, 599 exchange he always wants to have a free form keyboard to keyboard exchange which took up a good 15 – 20 minutes.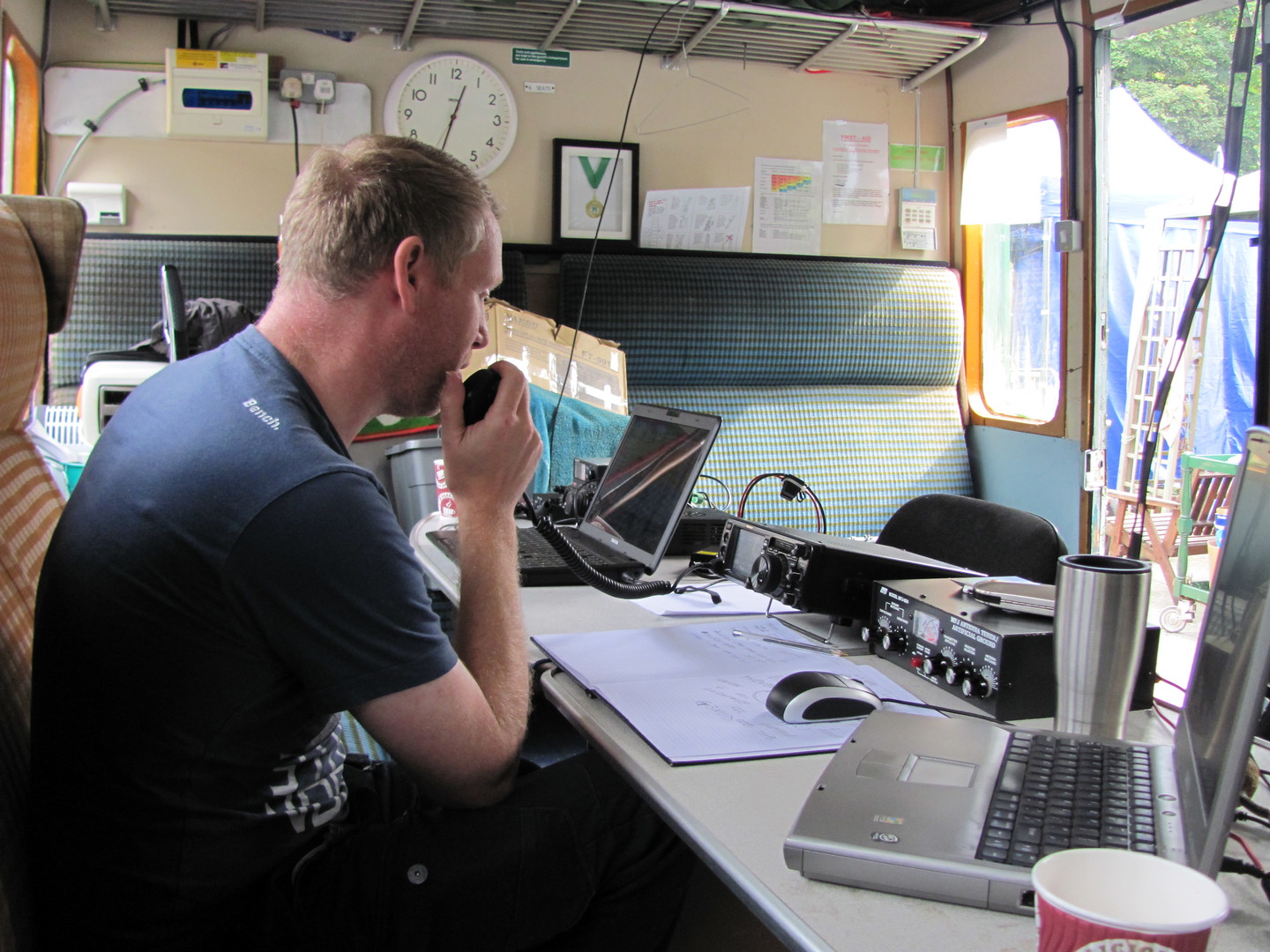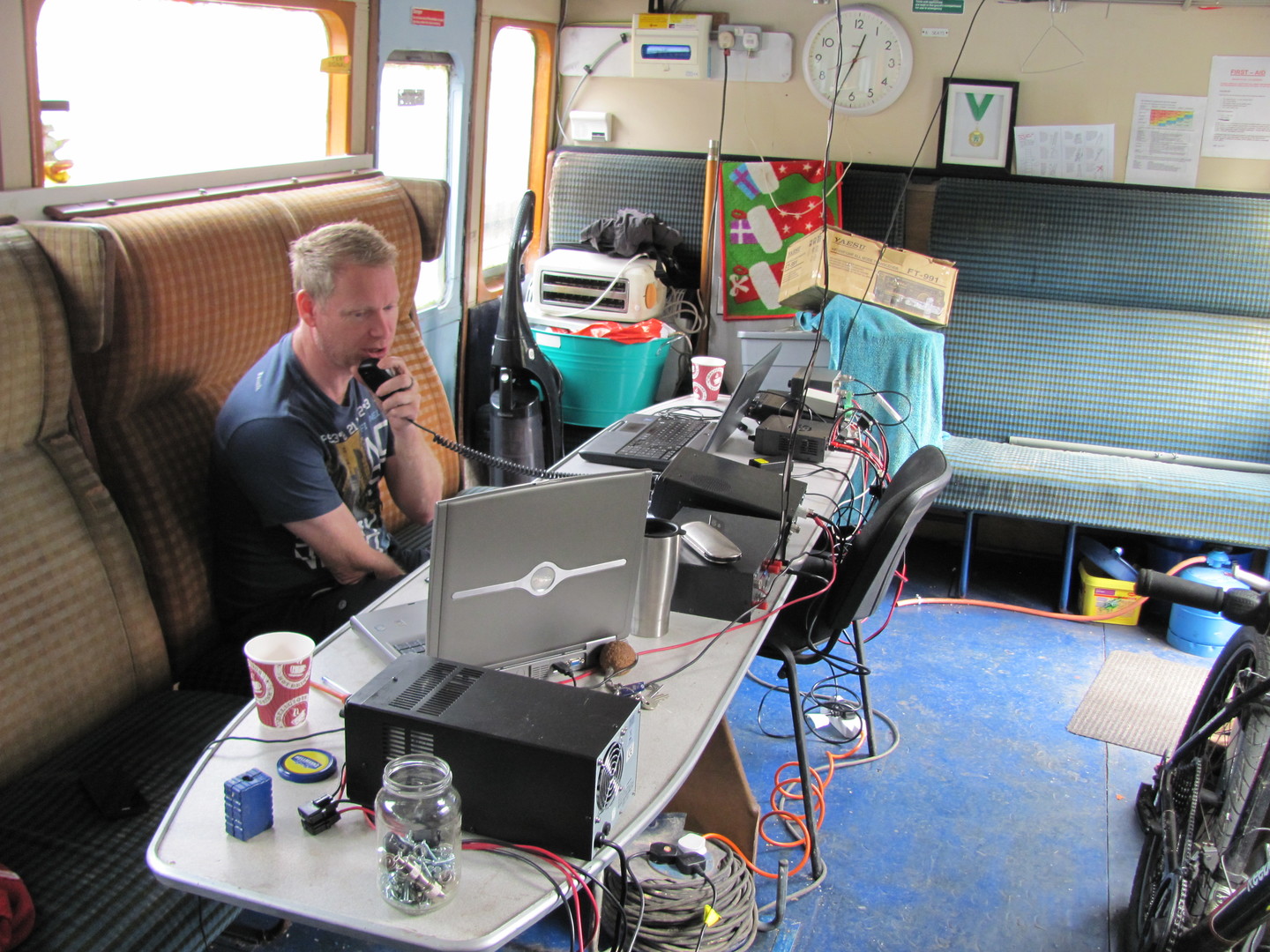 SSB operations were a mix of 40m and 80m the latter being most successful in obtaining inter-G contacts and we worked the bulk of our 17 other Railways on the Air activations on 80m. We made multiple contacts with the Flight Refuelling ARS operating from the Shillingstone Railway Project as they were trying to put someone at their end in contact with one of the Somerset and Dorset Trust members. Sadly despite having a good contact each time we spoke we never managed to get the two people into the same place at the same time. Despite this we made 17 unique Railway to Railway contacts within our 121 contacts for the weekend.
If we worked you then thank you we will be uploading our log to eQSL and QRZ.com. If you didn't get through to us and we were the target of a pile up at various times then our apologies but we have every intention of being back on the air in this event next year.
GB0SDR Log
Date (UTC)
Time (UTC)
Station Worked
Band or Frequency
Mode
RST
Operators Name
QTH
Notes
Sent
Rec'd
23/09/17
10:47
IN3GNV
14.0719
PSK31
599
599
Giovanni
23/09/17
10:56
G6UUR
40m
SSB
59
59
Sam
South of Birmingham
23/09/17
11:00
G3KAG
40m
SSB
57
58
Tony
Royston Derbyshire
23/09/17
11:00
GB0CMR
40m
SSB
55
59
Coventry
Coventry Amateur Radio Society – Coventry Model Railway Society
23/09/17
11:11
SP9AJM
14.0716
PSK31
599
599
Alojzy
Nowy Sacz
KN09IO
23/09/17
11:13
G4EHT
40m
SSB
59
59
Bill
Lichfield
23/09/17
11:18
G4ADR
40m
SSB
59
59
Nigel
Oxfordshire
23/09/17
11:22
GW4GNY
40m
SSB
59
59
Martin
Welshpool
23/09/17
11:24
G3OKA
40m
SSB
59
59
John
Wirral Liverpool
23/09/17
11:26
GB0SRP
40m
SSB
57
59
Richard
Shillingstone
Flight Refuelling Amateur Radio Society – Shillingstone Railway Project
23/09/17
11:27
HA/OE3RAP
14.0716
PSK31
544
András
Balatonmáriafürdö
JN86QQ
23/09/17
11:33
M0JZH
40m
SSB
59
59
John
Telford
23/09/17
11:34
M3ZKB
40m
SSB
45
58
Ken
Lincolnshire
23/09/17
11:39
G3VCG
40m
SSB
59
59
Don
Chelmsford Essex
23/09/17
11:42
GB0EVR
40m
SSB
55
57
Martin
Derby
Derby and District Amateur Radio Society – Ecclesbourne Valley Railway
23/09/17
11:49
G3YZY
40m
SSB
59
59
Howard
Portsmouth
23/09/17
11:52
SM7HZK
14.0715
PSK31
599
599
23/09/17
11:53
G4MFK
40m
SSB
59
59
Glyn
Evesham
23/09/17
11:58
GB4HMR
80m
SSB
57
59
Mike
Southgate Amateur Radio Club – Hoddesdon Model and Railway Club
23/09/17
12:03
OK1AW
14.0715
PSK31
599
Pavel
Nejdek
JO60IH
23/09/17
12:06
GB0CVR
80m
SSB
59
59
Martin
Castle Headingham
Braintree and District Amateur Radio Society – Colne Valley Railway
23/09/17
12:13
DK6GY
14.0714
PSK31
599
599
Rolf
Maulburg
JN37VP
23/09/17
12:13
M0SWL
80m
SSB
59
59
Brian
Pewsey
23/09/17
12:21
2E0LMR
80m
SSB
59
59
Gaz
Northamptonshire
Woodford Halse Grate Central Railway
23/09/17
12:28
G3TPQ
80m
SSB
59
59
Jeff
23/09/17
12:36
M3JIV
80m
SSB
59
59
Richard
23/09/17
12:41
M0AIA
80m
SSB
57
59
Paul
West Yorkshire
23/09/17
12:45
M3IGN
80m
SSB
59
59
Ian
Box
23/09/17
12:49
G0WGP
80m
SSB
59
59
Ron
Brighton
23/09/17
12:57
G8VEN
80m
SSB
59
59
Harold
23/09/17
13:02
OM3DA
14.0715
PSK31
599
Ruda
Poprad
KN09DB
23/09/17
13:04
M0JCE
80m
SSB
59
59
Julian
Weston-super-Mare
23/09/17
13:11
G3LUA
80m
SSB
59
59
Alan
23/09/17
13:13
SP3BGP
14.0715
PSK31
599
23/09/17
13:17
GB0NVR
80m
SSB
59
59
Merv
Peterborough
Huntingdonshire Amateur Radio Society – Nene Valley Railway
23/09/17
13:18
DM4ZPJ
14.0715
PSK31
599
599
Rolf
Greiz
JO60DR
23/09/17
13:23
M0DFW
80m
SSB
59
59
Dave
Cambridge
23/09/17
13:27
GB4MHR
80m
SSB
59
59
Chris
Medstead Alton
Horndean and District Amateur Radio Club – Mid-Hants Railway (Watercress Line)
23/09/17
13:31
G0HVN
80m
SSB
59
59
David
Birmingham
23/09/17
13:34
SQ7RAD
14.0715
PSK31
599
599
Radek
23/09/17
13:36
GW0AGZ
80m
SSB
59
59
John
Oswestry
23/09/17
13:41
G0JMZ
80m
SSB
59
59
Peter
23/09/17
13:46
M3CHE
80m
SSB
59
59
Che
Exeter
23/09/17
13:52
DL1TKI
14.0715
PSK31
599
Thomas
Jueterbog near Berlin
JO62NA
23/09/17
13:54
G4UHJ
80m
SSB
59
59
Dave
Forest of Dean
23/09/17
13:58
G7HEU
80m
SSB
59
59
Steve
Swindon
23/09/17
13:59
RK4PR
14.0715
PSK31
599
599
Vladimir
Leninogorsk
LO64FO
23/09/17
14:00
GW2HFR/P
80m
SSB
59
59
Jonathon
23/09/17
14:04
G4AAH
80m
SSB
59
59
Keith
Mansfield
23/09/17
14:06
HA7FP
14.0714
PSK31
599
599
Peter
Szigetszentmiklos near Budapest
JN97MI
23/09/17
14:09
MW0WYN
80m
SSB
58
59
Dulyn
23/09/17
14:11
G0GWY
80m
SSB
59
59
Geoff
Scunthorp
23/09/17
14:15
M0CGL
80m
SSB
59
59
Graham
Lincolnshire
23/09/17
14:19
G0UOO
80m
SSB
59
59
Rob
Kent
23/09/17
14:22
HF27PLI
14.0713
PSK31
599
599
SPECIAL CALL 27th Anniversary of the Activation of the First Internet Link in Poland. ALL INFO ON :QRZ
23/09/17
14:22
M0CIW/QRP
80m
SSB
57
59
Howard
Abingdon
23/09/17
14:23
GB4SRM
80m
SSB
57
59
Tom
York
Wearside Electronics Amateur Radio Society – National Railway Museum
23/09/17
14:27
ES0OU
14.0714
PSK31
599
599
Veljo
Saaremaa Isl
KO18IJ
23/09/17
14:33
G4UAQ
80m
SSB
59
59
Ian
Kent
23/09/17
14:34
G8MNY
80m
SSB
59
59
John
23/09/17
14:37
GB2HSC
80m
SSB
59
59
David
Liphook Hampshire
Tooth Radio Group – Hollycombe Steam Collection
23/09/17
14:44
G3TGB
80m
SSB
59
59
Brian
Braintree
23/09/17
14:49
G0NBI
80m
SSB
57
59
Graham
Bromsgrove
23/09/17
14:53
M0FAQ
80m
SSB
58
59
Martin
Braintree
23/09/17
15:00
G3MSL
80m
SSB
59
59
Bob
Fleet Hampshire
23/09/17
15:06
G0JNT
80m
SSB
59
59
Les
Grimsby
24/09/17
09:16
GB0SCR
80m
SSB
59
59
Collin
Blunsdon Station
Operated by Colin G4GBP – Swindon Cricklade Railway
24/09/17
09:24
CT4VB
14.0711
PSK31
599
599
Jose
Carnaxide near Lisbon Portugal
IM58jr
24/09/17
09:57
G4TXF
80m
SSB
59
59
Colin
Pershore
24/09/17
10:04
2E0AXZ
80m
SSB
59
59
Chris
Ipswich
24/09/17
10:20
G4RAC
80m
SSB
57
58
John
Burton on Trent
24/09/17
10:34
GB0FLR
80m
SSB
59
59
Mike
Stoke on Trent
Moorlands and District Amateur Radio Society – Foxfield Light Railway
24/09/17
10:49
EG5RCB
14.0712
PSK31
599
Carthagineses and Romanos 2017
24/09/17
10:52
G4XPE
80m
SSB
57
59
24/09/17
10:57
SQ8AQO
14.0717
PSK31
599
599
Jacek
Skrzyszow
KO00SC
24/09/17
10:57
MW0LGE
80m
SSB
59
59
Rich
24/09/17
10:58
M0TWB
80m
SSB
59
58
Tony
Lancashire
24/09/17
11:05
M0LJT
80m
SSB
59
59
Eddie
Bristol
24/09/17
11:07
II0ENG
14.0716
PSK31
599
599
Enigma Reloaded Award
24/09/17
11:12
IZ8DGR
14.0714
PSK31
599
599
Mario
Napoli
JN70CT
24/09/17
11:22
OE6GND
14.0714
PSK31
599
599
Gerhard
Gamlitz
JN76SR
24/09/17
11:25
G4GEW
80m
SSB
56
59
Peter
Croydon
24/09/17
11:26
G6RQA
80m
SSB
57
57
David
Norfolk
24/09/17
11:33
GB0SRP
80m
SSB
59
59
Richard
Shillingstone
Flight Refuelling Amateur Radio Society – Shillingstone Railway Project
24/09/17
11:34
MX0OMC
80m
SSB
57
59
Jim
Okehampton
Holsworthy Amateur Radio Club
24/09/17
11:41
G3NKS
80m
SSB
59
59
Derrek
Cheltenham
24/09/17
11:48
M6MQM
80m
SSB
59
59
Mike
24/09/17
11:52
M0SHM
80m
SSB
45
59
Steve
Preston
24/09/17
11:54
G8HBS
80m
SSB
55
53
Peter
Great Yarmouth
24/09/17
11:57
SQ9JJX
14.0715
PSK31
599
Jozek
Wieckowice
JO90VD
24/09/17
11:59
GB0ROA
80m
SSB
55
59
Dave
Bitton
North Bristol Amateur Radio Club – Avon Valley Railway
24/09/17
12:18
GW3UEP
80m
SSB
59
59
Rog
24/09/17
12:21
G3CRH
80m
SSB
59
59
Hugh
24/09/17
12:24
2E0LMR
80m
SSB
59
59
Gaz
Northamptonshire
Woodford Halse Grate Central Railway – Woodford Halse Grate Central Railway
24/09/17
12:33
G3FVO
80m
SSB
44
59
24/09/17
12:42
G3XYD
80m
SSB
59
59
Tony
Swindon
24/09/17
12:44
G4XIB
80m
SSB
59
59
Dave
Swindon
24/09/17
12:54
G4OJD
80m
SSB
59
59
Buddy
24/09/17
12:56
M0CCW
80m
SSB
44
59
Martin
Lincolnshire
24/09/17
13:08
M0BGS
80m
SSB
59
59
Geoff
Leeds
24/09/17
13:10
GX6ZME/P
80m
SSB
59
59
John
Bog Shropshire
Telford Amateur Radio Club
24/09/17
13:21
G0SDD
80m
SSB
59
59
Chris
24/09/17
13:25
M0EAU/P
80m
SSB
58
59
Darryl
Kite 200ft
24/09/17
13:30
M1FCV
80m
SSB
58
59
Clive
Stroud
24/09/17
13:36
G0AHM
80m
SSB
58
59
Paul
Cornwall
24/09/17
13:45
G7LMF
80m
SSB
58
59
Graham
24/09/17
13:53
M0ZAE/P
80m
SSB
57
59
Henry
Norwich
24/09/17
13:58
RA9SUQ
14.0715
PSK31
599
599
Vlad
Novotroitsk
LO91DE
24/09/17
13:58
GW0AZB/P
80m
SSB
57
59
Ian
Horseshoe Pass North Wales
24/09/17
13:59
GW0AZA/P
80m
SSB
59
59
Horseshoe Pass North Wales
24/09/17
14:10
G0SYF
80m
SSB
59
59
Bob
Wotton under Edge
24/09/17
14:16
GB0EOR
80m
SSB
59
59
Colin
North Weald
Harlow and District Amateur Radio Club – Epping and Ongar Railway
24/09/17
14:19
M6IXJ
80m
SSB
59
58
Rob
Okehampton
Dartmoor Railway
24/09/17
14:25
G7UHT
80m
SSB
59
59
Carl
Ryde
24/09/17
14:31
G0XTA
80m
SSB
59
59
Ray
Wisbech
24/09/17
14:31
GB0SRP
80m
SSB
59
59
Richard
Shillingstone
Flight Refuelling Amateur Radio Society – Shillingstone Railway Project
24/09/17
14:38
GB2EVR
80m
SSB
55
59
Ian
Warcop Cumbria
Bishop Aukland Amateur Radio Club – Eden Valley Railway
24/09/17
14:40
G4HMC
80m
SSB
59
59
David
Whiteleaf Buckinghamshire
24/09/17
14:44
G7CHB
80m
SSB
58
59
Roy
24/09/17
14:49
M0MCL
80m
SSB
58
59
Kevin
West Sussex
24/09/17
14:51
G0UYN
80m
SSB
59
59+10
Malcolm
Isle of Wight