Location
Saltford Brass Mill is situated on the banks of the River Avon in the village of Saltford, 5 miles west of the City of Bath in the South West of England. Its postal address is Saltford Brassmill, The Shallows, Saltford, BS31 3EY. However, there are some specific details that will be of interest to radio hams:
Lat/Long (Brassmill): 51.401219°,-2.451116°
IARU: IO81sj
IOTA: EU005 (UK Mainland)
WAB: ST66 – England
The Operation
We registered with Denby Dales website, receiving the confirmation below:
From: g8put@domain
Date: 13 May 2017 at 15:32
Subject: Thanks for registering with Denby Dales ARC's Mills on the air
To: address@sbarc.co.uk
Thank You for registering with Mills on the Air
Your details are listed below:
Callsign: GB0SBM
WAB Area: ST66
Mill Name: Saltford Brass Mill
Contact Email: address@sbarc.co.uk
Password: *********
Please keep this email safe. If you need to change any of your mill details, you'll need your password to be able to log in and change things.
Thanks again for registering.
Armed with our registration and Notice of Variation we descended upon Saltford for the weekend of Mills on the Air. We were blessed with good weather on both days which always goes a long way to making Special Events more enjoyable and encouraging a larger turnout.
Saturdays team comprised in no particular order:
Joe 2E0EIC, having only recently passed his Intermediate Course with us;
Cyril G3XED, Club President;
Mark M0SKV, Club Special Events Coordinator;
John 2E0VTT;
Julian M0JCE;
Nigel M6RUU; and
Eddie M0LJT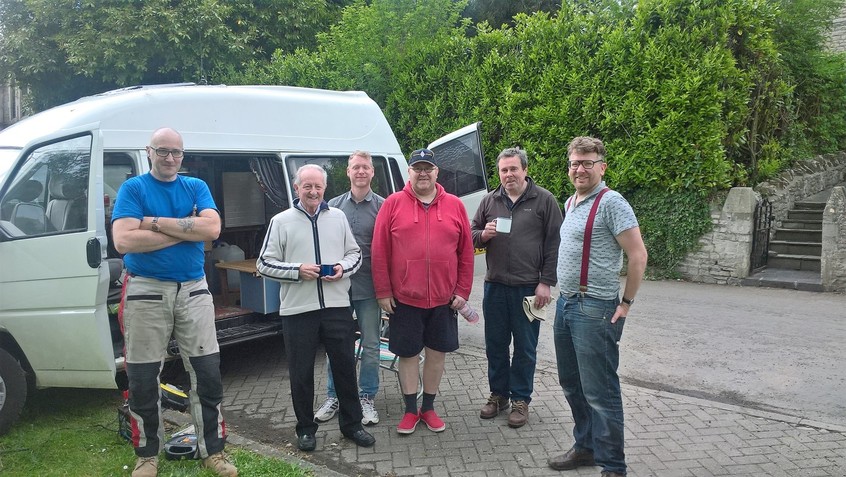 The photo above shows from left to right: Joe 2E0EIC, Cyril G3XED, Mark M0SKV, John 2E0VTT, Julian M0JCE and Nigel M6RUU. Eddie M0LJT is behind the camera taking the photo.
In the background can be seen Nigel M6RUU's VW T4 Camper that he kindly brought to site on both days to act as our base of operations. We are currently discussing with the Mill staff options to allow us to operate from inside the Mill in future years.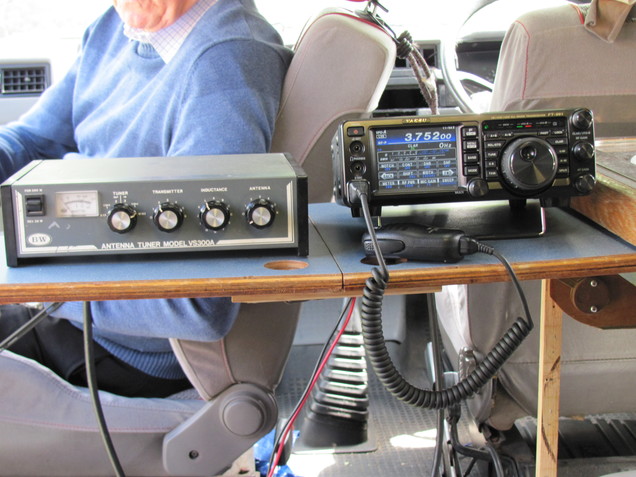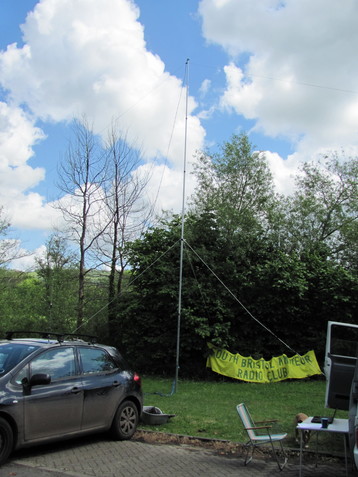 Our equipment was relatively simple, as befits a temporary operation, we deployed:
Transceiver: Yeasu FT-991 HF/VHF/UHF Multi-mode transceiver;
ATU: Barker and Williamson VS300A;
PSU: 12V 85AHr leisure battery trickle charged from 2 stroke 720W generator;
Antenna: 80m wire doublet in an inverted vee configuration fed with 300Ω ladder line, feed point circa 10m above ground; and
Logging: Laptop computer running Linux Mint and CQRLog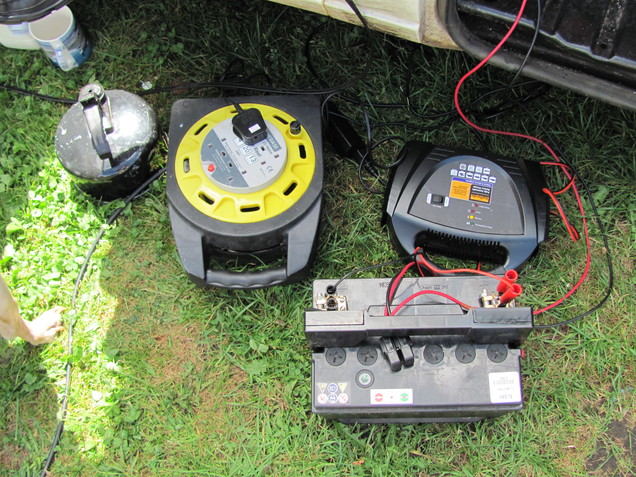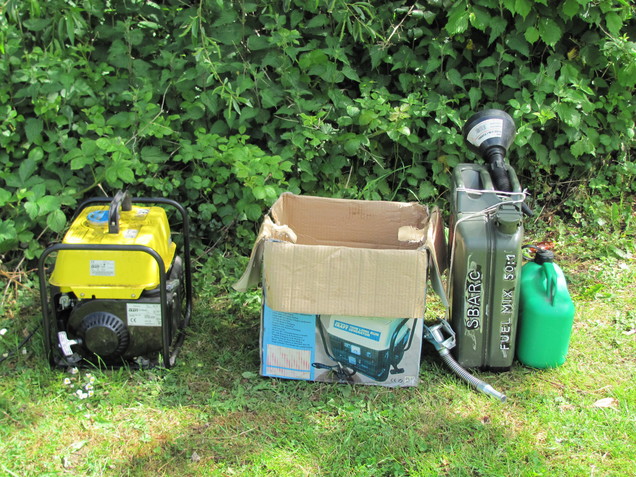 Setting up was reasonably straight forward and we were on the air around 11:00 following about 1 hour of setting up. 40m was not conducive to inter-G activity at this time and we spent the early part of the operation on 80m where we were rewarded with a steady trickle of contacts. Our first Special Event station, Burcott Mill, was snagged about 40 minutes after starting operations and our first registered Mills on the Air station around 60 minutes after starting operations.
In the first couple of hours we made 25 contacts averaging one QSO every 4 minutes and including 5 registered Mills on the Air stations and one other Special Event station. We managed to work our sister club, North Bristol ARC, during this time although it took us a few minutes to realise they were a registered mill as they had registered as M0NBC but were operating as MX0NBC/P!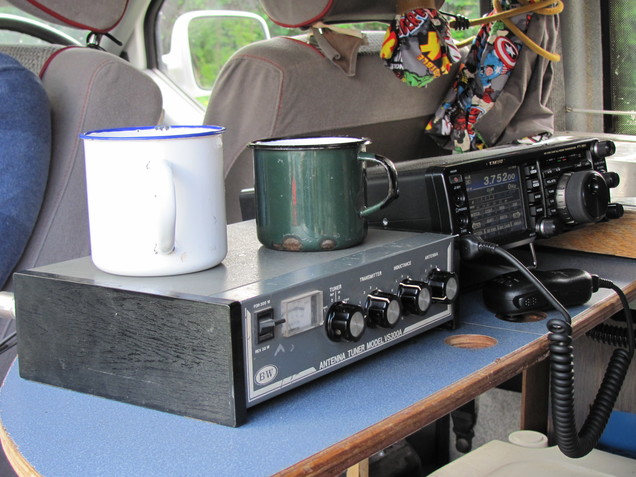 Around lunchtime 40m became usable and we QSY'd to see who else was persevering on the band. After about an hour and half and 9 QSOs including 1 registered Mills on the Air station and 2 other Special Event stations we returned to 80m feeling that the 40m band had closed again.
We spent the remainder of the afternoon on 80m making a further 16 QSOs before shutting down around quarter past four. By the end of the day we had achieved 50 QSOs including 11 registered Mills on the Air stations and a further 3 Special Event stations.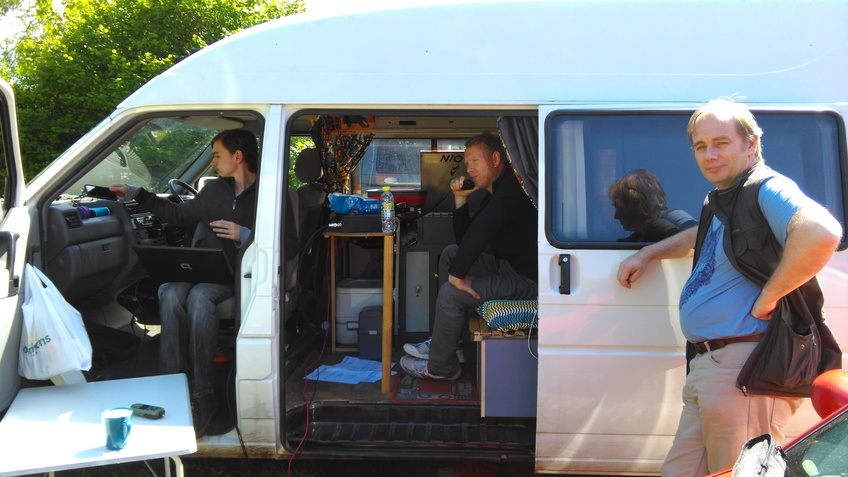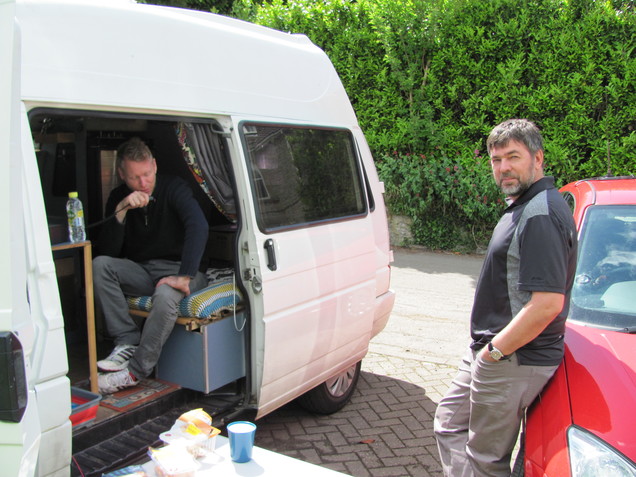 Sunday saw a different line up of operators, again in no particular order:
Mark M0SKV, the Clubs Special Events Coordinator and NoV holder returned to allow the NoV to be used;
Nigel M6RUU returned with his camper van as our base of operations;
Cyril G3XED, the Club President;
Henryk M0HTB;
Andy G7KNA, the Club Secretary; and
Kenneth SWL, who logged many of Sundays QSOs and we hope will want to take his Foundation exam in due course.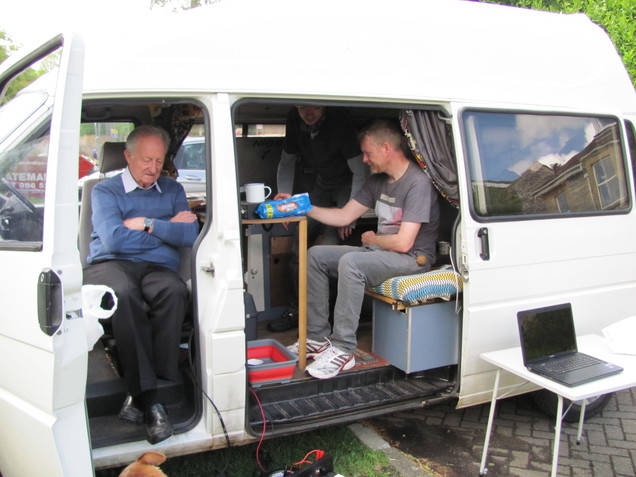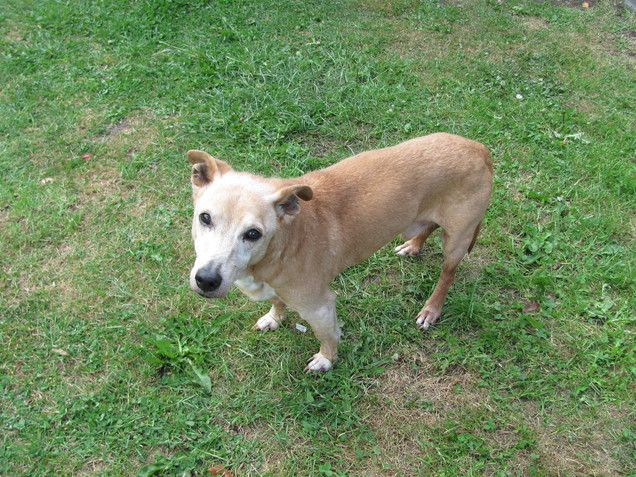 The bands were flatter today than yesterday, at times it was a struggle to work anything at all. Never the less, we persevered even giving away a couple of contacts in the WAB 40m phone contest that took place between 10:00 – 14:00 UTC and managed to bag a further 31 QSOs including 6 more registered Mills on the Air stations and 2 other Special Event stations bringing our haul for the weekend to 81 QSOs logged including 17 Registered Mills on the Air stations and 5 other Special Event stations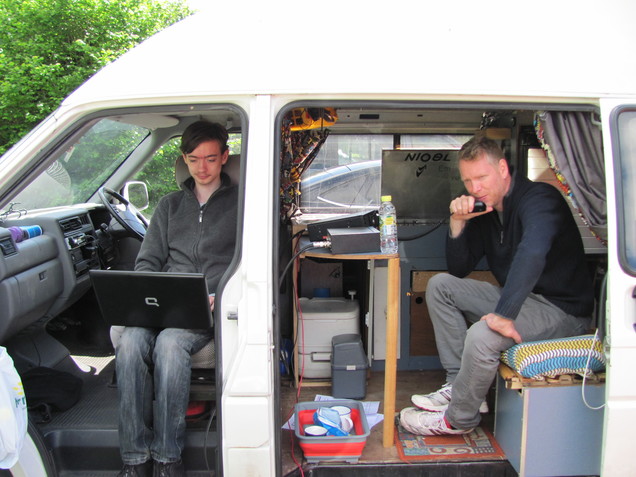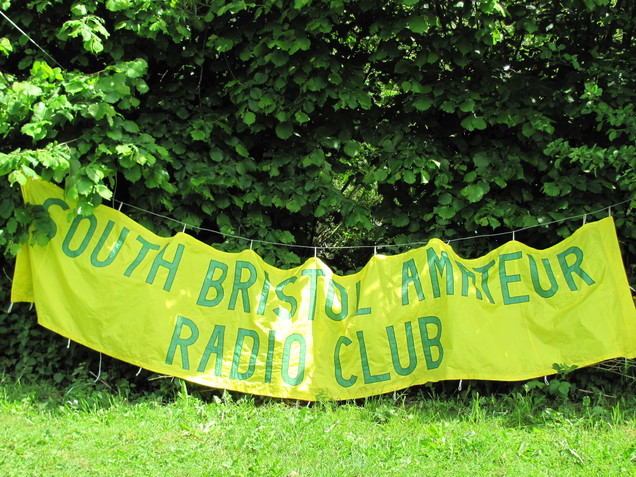 The area we were operating from is a popular walking and cycling route along with many water sports enthusiasts. This gave us the opportunity to speak to members of the public who were interested in what we were doing. Having "spare" operators allowed some of us to talk to the visiting public explaining the equipment and the hobby and giving out free pamphlets about Amateur Radio.
Logbook
GB0SBM – South Bristol ARC (Operating from Saltford Brassmill)
Date (UTC)
Time (UTC)
Station Worked
Band or Frequency
Mode
RST
Operators Name
QTH
Notes
Sent
Rec'd
13/05/17
10:08
MW0BGQ
3.700
SSB
58
58
Dave
Mid Wales
13/05/17
10:10
GW6EWX
3.700
SSB
58
58
13/05/17
10:19
G1HCM
3.740
SSB
55
55
Fred
Isle of White
13/05/17
10:25
G3TGB
3.740
SSB
57
57
Brian
Braintree
13/05/17
10:32
M0BAW
3.740
SSB
59
59
Don
Brentwood
13/05/17
10:35
2E0KFR
3.740
SSB
59
59
Chris
Dorset
13/05/17
10:38
M0ATB
3.740
SSB
59
59
Bob
Poole
13/05/17
10:41
M0CVP
3.740
SSB
59
59
Bruce
Chester
13/05/17
10:46
G8QZ
3.740
SSB
57
59
David
Derby
13/05/17
10:47
GB0BM
3.740
SSB
57
58
David
Wookey
Special Event Station: Burcott Mill
13/05/17
10:51
G4PEK
3.740
SSB
59
59
Lesle
Cornwall
13/05/17
10:54
G0SYF
3.740
SSB
58
58
Bob
Wotton under Edge
13/05/17
10:58
G6EED
3.740
SSB
59
59
Nigel
Somerset
13/05/17
11:01
G4TXF
3.740
SSB
59
59
Colin
Pershore
13/05/17
11:03
G3TQD
3.740
SSB
59
59
Roger
Redditch
13/05/17
11:07
GB0CHW
3.740
SSB
59
59
Bob
Mill on List: Chailey Heritage Windmill operated by Downland Radio Group
13/05/17
11:09
G0NEV
3.740
SSB
59
59
Mike
Weymouth
13/05/17
11:11
MX0NBC/P
3.740
SSB
59
59
Tony
Mill on List: Snuff Mills Bristol operated by North Bristol ARC
13/05/17
11:19
GB1WML
3.740
SSB
59
59
Martin
Dorset
Mill on List: White Mill Dorset operated by Christchurch ARS
13/05/17
11:20
2E0PPF
3.740
SSB
59
59
Steve
Chard
13/05/17
11:22
G0CXP/M
3.740
SSB
59
59
Keith
13/05/17
11:25
GB2TMI
3.740
SSB
59
59
Geoff
Leeds
Mill on List: Thwaites Watermill operated by Denby Dale ARS
13/05/17
11:30
G4ZJO
3.740
SSB
32
55
13/05/17
11:35
GB0CMW
3.740
SSB
59
59
David
Willingham
Mill on List: Cattells Mill Willingham operated by Cambridge and District ARC
13/05/17
11:47
2E0SBH
3.740
SSB
59
59
Stev
13/05/17
11:57
GB4HCM
7.025
SSB
57
57
Chris
Mill on List: Heron Corn Mill operated by Sands Amateur Radio CG
13/05/17
12:00
M6VKM
7.025
SSB
59
59
Kevin
Norfolk
13/05/17
12:08
DL1GWW
7.145
SSB
52
Wolf
Germany
13/05/17
12:27
GB0DWM
7.175
SSB
59
59
Merv
Special Event Station: Dulow Mill
13/05/17
12:40
GB2RGM
7.175
SSB
53
57
Marc
Special Event Station: Royal Gunpowder Mill
13/05/17
12:44
GB6CFM
7.175
SSB
59
59
John
Mill on List: Cheddleton Flint Mill operated by Staffordshire Portable ARG
13/05/17
13:08
G3IAZ/M
7.133
SSB
59
59
Alex
Beachey Head
13/05/17
13:17
G4PWO/P
7.133
SSB
59
59
Phil
London
13/05/17
13:21
G4HRP
7.133
SSB
59
59
Ken
East London
13/05/17
14:10
M0DFW
3.755
SSB
59
59
Dave
Cambridge
13/05/17
14:26
GW4GMY
3.755
SSB
59
59
Martin
Welshpool
13/05/17
14:28
M0BAW
3.755
SSB
59
59
Don
Brentwood
13/05/17
14:42
GW0AVW
3.755
SSB
59
59
Terry
Caerphilly
13/05/17
14:46
G0XAE
3.755
SSB
59
59
Mike
Forest of Dean
13/05/17
14:51
GB0BWM
3.755
SSB
59
59
Matt
Buckinghamshire
Mill on List: Brill Windmill operated by Chesham and District ARS
13/05/17
14:57
2E0WEK
3.755
SSB
59
59
Keith
Horsham
13/05/17
14:59
M0LJT
3.755
SSB
59
59
Eddie
Bristol
13/05/17
15:00
GW7VJK
3.755
SSB
59
59
Nigel
Llandovery
13/05/17
15:02
GB0CMW
3.755
SSB
59
59
David
Willingham
Mill on List: Cattells Mill Willingham operated by Cambridge and District ARC
13/05/17
15:04
GB0JAJ
3.755
SSB
59
59
Chris
Brighton
Mill on List: Jill Post Windmill operated by Mid Sussex ARS
13/05/17
15:05
G0DTX
3.755
SSB
59
59
John
Glossop
13/05/17
15:07
G0WYD
3.755
SSB
59
59
Bob
Tidworth
13/05/17
15:08
MW0GMH
3.755
SSB
59
59
Owen
Brecon
13/05/17
15:10
F4VPL/P
3.755
SSB
59
59
Dave
Brittany
Mill on List: St Jacut les Pins Windmill operated by David F4VPL
13/05/17
15:12
G4LJG
3.755
SSB
59
59
Dave
Rushden
14/05/17
10:04
MW0ZVR
7.149
SSB
59
59
14/05/17
10:06
GB2GGM
7.149
SSB
59
57
Ant
Blackwood
Mill on List: Gelligroes Mill operated by Andrew MW0LAO
14/05/17
10:07
2W0LLT
7.149
SSB
57
57
Lloyd
Cardigan
Museum of Power
14/05/17
10:12
GB2WBM
7.149
SSB
59
59
Keith
East Sussex
Special Event Station: Brighton and Hove
14/05/17
10:14
GB1WML
7.149
SSB
59
59
Martin
Wimborne
Mill on List: White Mill Dorset operated by Christchurch ARS
14/05/17
10:15
G4YOH
7.149
SSB
59+10
59+20
Wayne
Chard Somerset
14/05/17
10:17
GB4WMM
7.149
SSB
57
57
Jerry
Warsborough Mill
Mill on List: Worsbrough Mill operated by Denby Dale ARS
14/05/17
10:19
DL8FQ
7.149
SSB
57
57
Rolf
14/05/17
10:21
M0PER
7.149
SSB
41
55
Alan
Chester
14/05/17
10:24
MM0AUP/P
7.149
SSB
53
57
Orkney
14/05/17
10:28
MW0BYT
7.149
SSB
59
59
Ross
Bangor
14/05/17
10:32
MM0VEG/M
7.149
SSB
53
57
Serial 005 Recd Serial 001 Sent
14/05/17
10:36
G3WBB
7.149
SSB
56
56
Ted
Blackpool
14/05/17
10:40
G4PEK
7.149
SSB
59
59
Lesle
Cornwall
14/05/17
11:02
G3PWY
7.149
SSB
59
59
David
High Wycombe
14/05/17
11:03
GB4NHM
7.149
SSB
58
58
Rob 2E0ZAP
Sutton Coldfield
Mill on List: New Hall Mill operated by Sutton Coldfield RS
14/05/17
11:17
GB0BWM
3.766
SSB
59
59
Terry
Buckinghamshire
Mill on List: Brill Windmill operated by Chesham and District ARS
14/05/17
11:20
G2IIM
3.766
SSB
59
59
Mike
14/05/17
12:23
G4NFS
3.766
SSB
58
58
Norman
14/05/17
12:29
G0UYN
3.766
SSB
59
59
Malcom
14/05/17
12:31
G4NVL
3.766
SSB
57
57
Steve
14/05/17
12:47
G4PCE
3.766
SSB
59
59
Richard
Solihull
14/05/17
13:09
GB6CW
3.775
SSB
57
55
Rob
Cromer
Mill on List: Cromer Windmill operated by Stevenage and District ARS
14/05/17
13:46
GB2MGM
3.775
SSB
59
59
David
Special Event Station:
14/05/17
13:50
G0RGB
3.775
SSB
59
59
14/05/17
13:59
2E0HVJ/M
3.775
SSB
59
59
14/05/17
14:02
M0JCE
3.775
SSB
55
55
Julian
14/05/17
14:42
G3YZY
3.745
SSB
59
58
Howard
Waterlooville Portsmouth
14/05/17
14:44
GW0AGZ
3.745
SSB
57
56
John
Oswestry
14/05/17
14:52
M0CIW
3.745
SSB
59+10
59
Howard
Abingdon
Icom 707 parallel dipoles 20m/40m/80m
14/05/17
14:58
GW4XKE
3.745
SSB
55
Dennis
Cardiff