Location
Lat/Long: 51.281077°,-2.482759°
IARU: IO81sg
IOTA: EU005 (UK Mainland)
WAB: ST65 – England
Introduction
On Saturday morning members of the South Bristol Amateur Radio Club were stirring and preparing for a weekend of operation from the Somerset and Dorset Railway Heritage Trust in Midsomer Norton. Naturally some stirred earlier than others, Mark M0SKV for example lives only about 4 miles from the Trust and therefore had less travelling than say Martin M0JEA or Andy G7KNA who was hindered by the fact that his normal route had been closed for roadworks and the signposted diversion took him through the wilds of deepest darkest Somerset. Convinced he could hear banjos twanging he steadfastly pushed on until rejoining civilisation at Midsomer Norton.
Mark M0SKV, Martin M0JEA and Andy G7KNA were joined by Paul 2E0GHT who had travelled the 6 miles from his home QTH to offer support to this endeavour.
The setup followed the pattern of recent previous years. We were allowed to occupy the carriage next to the buffet car which provides a dry, warm, lit and powered position with tables and chairs to set up both the SSB station and the data station. These stations comprised:
| Equipment | SSB Station | Data Station |
| --- | --- | --- |
| Transceiver | Icom IC-7000 | Yaesu FT-857D |
| Power Supply | Manson EP-925 | Watson Power Mite NF-25 |
| ATU | BW VS300A | LDG Z11 Pro Mk1 (when not operating a resonant antenna) |
| SWR Meter | Built into ATU | Diamond SX600 |
| Data Interface | N/A | Signalink USB |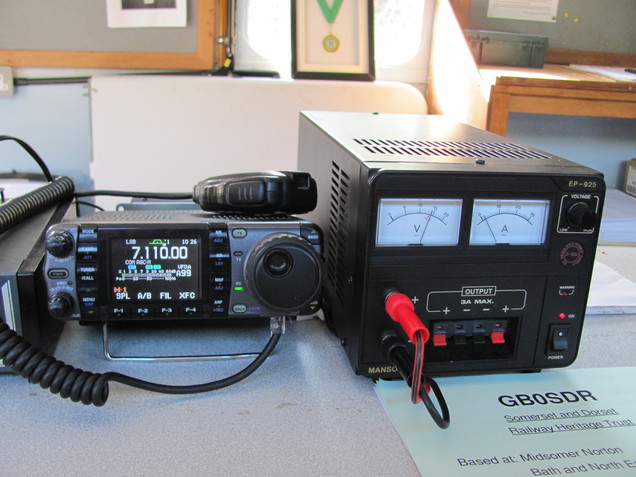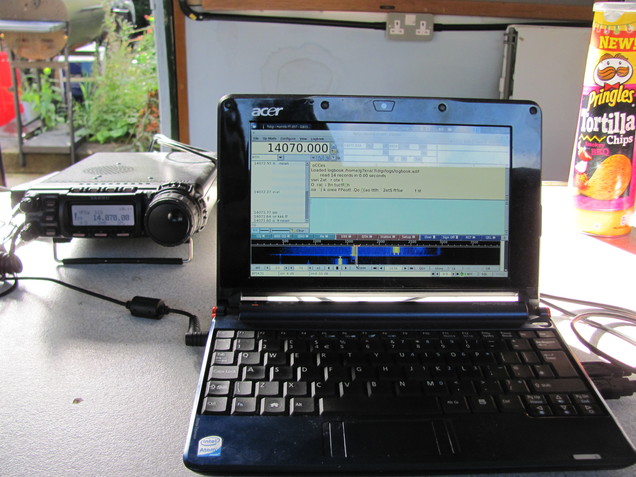 Antennas can often be a challenge at Special Event stations where often there can be limited space, height restrictions or a lack of anchor points. The Somerset and Dorset Heritage Trust site is blessed in this respect, they have ample open space that is not immediately in the way of the public and plenty of opportunities to anchor the legs of horizontal antennas to.
We have found horizontal antennas, when they are possible and practical, offer good general performance with low noise floors, this year we erected 2 antennas, one for each station. The SSB station was connected by twin feeder to an 80m doublet in an inverted vee configuration with the centre supported on a telescopic mast. The data station was fed by coax via a balun to a 20m half wave dipole which was suspended from the same mast as the doublet, all be it slightly lower for practical rigging reasons, and rotated 90 degrees to the doublet. This meant that the doublet was orientated east-west giving best radiation north-south whilst the half wave dipole was orientated north-south giving best radiation east-west. Given that we were looking for inter-G on 40m/80m for the SSB station whilst knowing that the data station would be operating 20m into Europe mainly this seemed a good arrangement.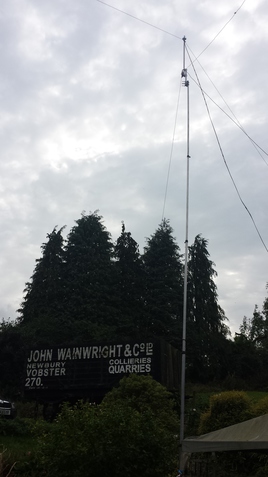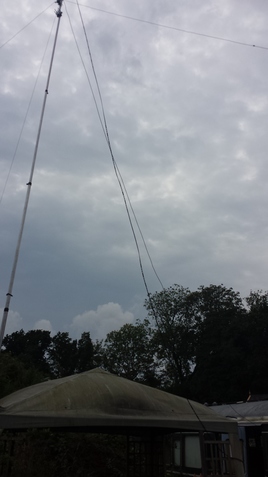 This year we put both stations on air for both days, in previous years the data station had been something of an experimental setup, although the data station was periodically unmanned as duties such as photography, videography, conversations with the visiting public and of course the obligatory buffet car runs took precedence over operating!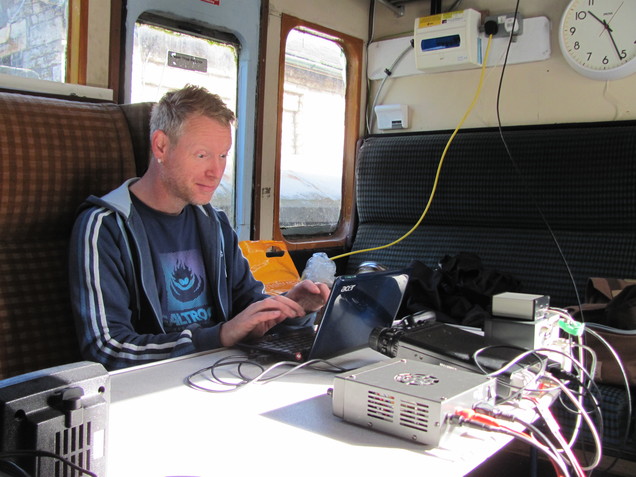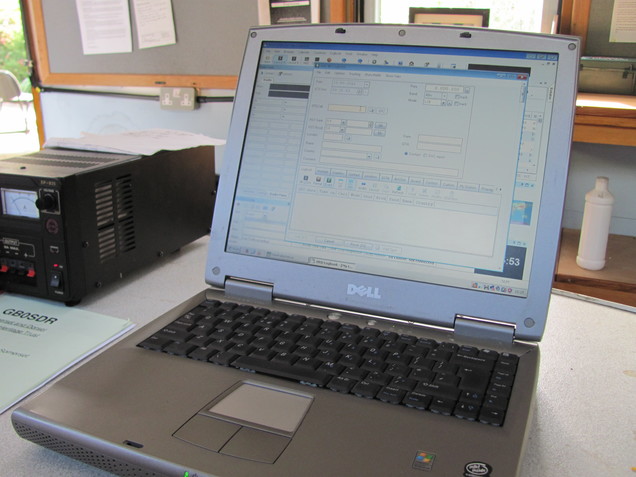 The weekend went very well, there was interest in what we were doing and although Sundays weather included some periods of intense rain there was good turn out and activity both locally and on the bands.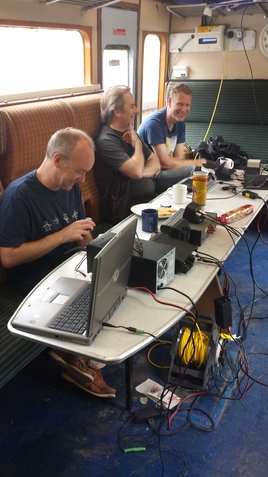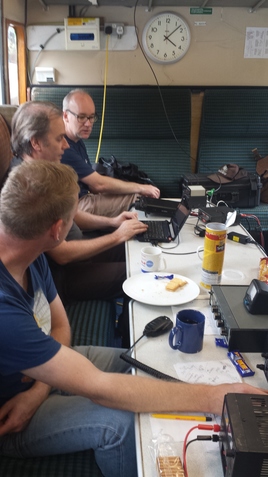 It is difficult to pick out the QSO of the weekend given that we worked so many, on PSK without a doubt this award should go to Giovanni IN3GNV who we have worked before both from GB0SDR and from Lundy Island as GB2BLE. His insistence on operating in English via the keyboard without a single macro has to be unique amongst PSK operators and is most refreshing. Working Dave M0DFW was socially important; Dave is a member of the Somerset and Dorset Railway Heritage Trust although having moved from the area he is no longer able to attend. Despite this he was instrumental in introducing us to the Trust in 2011 and we have operated from here each year since then. Catching up with Mike F5VIG who is a former member of the South Bristol Amateur Radio Club now living in France was nice and of course the Battle of Jutland centenary station isn't something you can work every year.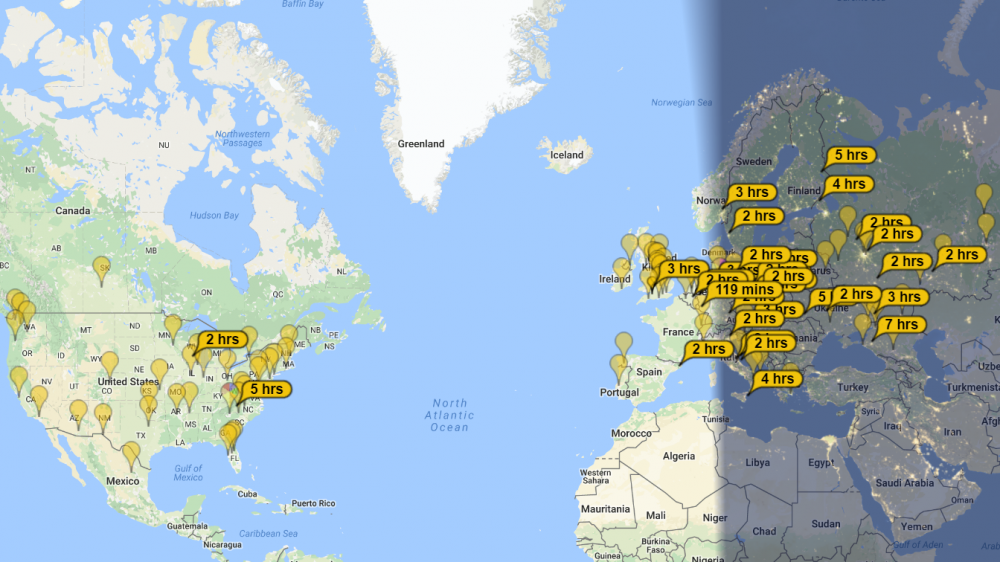 We hope to be back in this event next year and look forward to meeting you in person or on air.
GB0SDR Log
Date (UTC)
Time (UTC)
Station Worked
Band or Frequency
Mode
RST
Operators Name
QTH
Notes
Sent
Rec'd
24/09/16
10:53
GB4OST
40m
SSB
59
59
Rich
England
RotA – Old Station Tintern (Newport ARS) WAB – SO50
24/09/16
10:58
G0UEN/P
40m
SSB
59
59
Karl
England
24/09/16
11:02
G2XV
40m
SSB
59
59
Cambridge – England
24/09/16
11:05
M3OIG
40m
SSB
59
59
England
24/09/16
11:09
M0SWL
40m
SSB
59
59
Brian
Pewsey – England
24/09/16
11:12
G8PJQ
40m
SSB
59
59
Chris
Yatley North Hampshire – England
24/09/16
11:16
G3MSL
40m
SSB
59
59
Bob
Fleet Hampshire – England
24/09/16
11:26
GB0CVR
40m
SSB
59
59
Jeff
Castle Headingham – England
RotA – Colne Valley Railway (Braintree and District ARS)
24/09/16
11:30
G4AQA
40m
SSB
59
59
Peter
Hull – England
24/09/16
11:35
G8ISI
40m
SSB
59
59
Francis
Liphook North East Hampshire – England
24/09/16
11:42
2E0MTR
40m
SSB
59
59
Mike
Folkstone – England
24/09/16
11:42
2E0VTT
40m
SSB
59
59
John
Bristol – England
24/09/16
11:45
G3LSX
40m
SSB
59
59
Mike
East Barnet – England
24/09/16
11:50
GW6STK
40m
SSB
59
59
Robert
Colwyn Bay – Wales
24/09/16
11:54
G6OAY
40m
SSB
59
59
Steve
Merseyside – England
24/09/16
12:00
G2DJ
40m
SSB
59
59
Clive
England
RotA – Midlands Railway (Derby and District ARS)
24/09/16
12:05
M6JFS
40m
SSB
59
59
Rich
England
24/09/16
12:08
G0MNN
40m
SSB
59
59
Ben
Bridlington – England
24/09/16
12:11
GB0BR
40m
SSB
59
59
Chris
England
RotA – Bluebell Railway (Downland Radio Group)
24/09/16
12:15
GB0FLR
40m
SSB
59
59
Ian
England
RotA – Foxfield Light Railway (Moorlands and District ARS)
24/09/16
12:16
OH0KCE
14.068
PSK31
599
599
Leif
Aland-Islands – Finland
24/09/16
12:23
G4GTX
40m
SSB
59
59
Stuart
Sunderland – England
24/09/16
12:24
G2BUP
40m
SSB
59
59
England
24/09/16
12:27
GB2EVR
40m
SSB
59
59
Ian
Cumbria – England
RotA – Eden Valley Railway (Bishop Aukland Radio Amateurs Club)
24/09/16
12:30
EA7SZ
14.069
PSK31
599
599
Jose
Sevilla – Spain
24/09/16
12:31
G8YPL
40m
SSB
59
59
Pete
Liverpool – England
Use eQSL or QSL card
24/09/16
12:37
HA1BF
14.069
PSK31
599
599
Feri
Bocfolde – Hungary
JN86ks
24/09/16
12:38
GB4OZG
40m
SSB
59
59
England
24/09/16
12:41
G4LMR
40m
SSB
59
59
England
24/09/16
12:46
GB0EOR
40m
SSB
59
59
Sid
England
RotA – Epping and Ongar Railway (G6UT)
24/09/16
12:51
G1DFN
40m
SSB
59
59
Fred
Darlington – England
24/09/16
12:55
GB4HMR
40m
SSB
59
58
England
RotA – Hoddesdon Model and Railway Club (Southgate ARC)
24/09/16
12:59
OK2WMC
14.068
PSK31
599
599
Michal
Ostrava – Czech Republic
JN99cs
24/09/16
12:59
GB2OCG
40m
SSB
59
54
Tony
England
RotA – Eastbourne Miniture Steam Railway (Old Codgers Group)
24/09/16
13:04
EW3DU
14.068
PSK31
599
599
Victor
Kobrin – Belarus
24/09/16
13:04
2E0FVL
40m
SSB
59
59
Peter
England
24/09/16
13:06
GB4MHR
40m
SSB
59
59
Chris
England
RotA – MidHants (Watercress Line)
24/09/16
13:11
G4FYF
40m
SSB
57
56
Martin
England
24/09/16
13:13
G4BZV
40m
SSB
59
59
Norman
England
24/09/16
13:18
GM4EIW
40m
SSB
59
59
John
Glasgow – Scotland
24/09/16
13:20
G3PRI
40m
SSB
59
55
John
Bishop Stortford – England
24/09/16
13:23
OK1ZCF
14.068
PSK31
599
599
Eugene
Techonin – Czech Republic
JO80hb
24/09/16
13:25
G4ING
40m
SSB
59
59+10dB
John
Hyde – England
24/09/16
13:29
GB2MGN
40m
SSB
57
57
Adam
England
RotA – Whitwell and Reepham Station (Bittern DX Group)
24/09/16
13:32
M3OPW
40m
SSB
59
59
Harold
England
24/09/16
13:33
G3MKU
40m
SSB
59
59+20dB
Bert
England
24/09/16
13:36
F4VPL
40m
SSB
59
59
Dave
Brittany – France
24/09/16
13:37
OE4OJB
14.069
PSK31
599
599
Otto
Bad Sauerbrunn – Austria
JN87ds
24/09/16
13:39
EI7CC
40m
SSB
57
53
Pete
Dublin – Ireland
24/09/16
13:41
G8MIA
40m
SSB
59
58
Andy
England
24/09/16
13:44
G4AQB
40m
SSB
59
59
Steve
Boulton – England
24/09/16
13:45
YU7HC
14.069
PSK31
599
599
Jan
Etrovec – Serbia
JN95ti
24/09/16
13:46
M0WRI
40m
SSB
57
59
Peter
England
24/09/16
13:49
G0EJQ
40m
SSB
57
57
Jim
England
24/09/16
13:52
F6FHPP/M
40m
SSB
59
59+10dB
Laurent
France
24/09/16
13:54
M3INO
40m
SSB
59
55
Gareth
Berwick Upon Tweed – England
24/09/16
13:56
2E0GBK
40m
SSB
59
51
Keith
Leatherhead – England
24/09/16
13:58
DD2VO
40m
SSB
59
59
Renay
Fed. Republic Of Germany
24/09/16
14:01
2E0NHR
40m
SSB
59
59
Steven
England
24/09/16
14:04
UT8NT
14.068
PSK31
599
599
Slava
Vinnitsa – Ukraine
KN49ff
24/09/16
14:05
GM4MTI
40m
SSB
59
59+10dB
Stuart
Oban – Scotland
QRM
24/09/16
14:07
SQ7MRR
14.069
PSK31
599
599
Vieslav
Zgierz – Poland
JO91qu
24/09/16
14:09
G0EVV
40m
SSB
59
59
David
30 Miles North Of Newcastle Upon Tyne – England
24/09/16
14:13
DL8ARJ
40m
SSB
51
51
Fed. Republic Of Germany
24/09/16
14:16
M0PER
40m
SSB
59
59
Alan
Chester – England
24/09/16
14:19
IZ6CLN
14.07
PSK31
599
599
Peppino
Corropoli – Italy
JN62wt
24/09/16
14:21
PA1MV
40m
SSB
57
59
Jaap
Delt – Netherlands
24/09/16
14:23
OH6XB
14.069
PSK31
599
599
Jyvaskyla – Finland
KP21uw
24/09/16
14:37
MK0ZGY
40m
SSB
59
59
Gerry
Saltash – England
24/09/16
14:51
GB4BOJ
80m
SSB
59
59
Dennis
Cornwall – England
Centenary of the Battle of Jutland 1916 – 2016
24/09/16
14:58
SP6LUP
14.069
PSK31
599
599
Henryk
Krapkowice – Poland
JO80xl
24/09/16
15:13
IZ6CLN
14.07
PSK31
599
599
Peppino
Corropoli – Italy
JN62wt
25/09/16
09:41
SP3QYJ
14.07
PSK31
599
599
Maciej
Rawicz – Poland
JO81kp
25/09/16
09:47
G4CKH
40m
SSB
59
58
Graham
Lowestoft – England
25/09/16
10:02
MS0TGH/P
40m
SSB
59
59
Ian
Scotland
RotA – Keith and Dufftown Railway (Grampian Hilltoppers)
25/09/16
10:16
IW0EXP
14.071
PSK31
599
Roberto
Rieti – Italy
JN62kj
25/09/16
10:16
GB2RDR
40m
SSB
59
59
Eddie
Banchory – England
RotA – Royal Deeside Railway (Aberdeen Amateur Radio Society)
25/09/16
10:21
GB5RSR
40m
SSB
59+10dB
59+10dB
Bob
Preston Lancashire – England
RotA – Ribble Steam Railway (Central Lancs ARC)
25/09/16
10:22
IZ8OYV
14.073
PSK31
599
599
Daniele
Tito – Italy
JN70un
25/09/16
10:29
4O/LB9N
14.072
PSK31
599
599
Oskar
Igalo – Montenego
JN92gl
25/09/16
10:34
UA9XH
14.072
PSK31
599
599
Oleg
Syktyvkar – Russia
LP51jq
25/09/16
10:42
G1MZD
40m
SSB
59
59
Dave
England
25/09/16
10:45
SO8FH
14.071
PSK31
599
599
Frits
Lezajsk – Poland
KO10fg
25/09/16
10:49
G6RQA
40m
SSB
59
59
David
Norfolk – England
25/09/16
10:52
G0AYZ
40m
SSB
59
59
Andy
Gosport Hampshire – England
QRP
25/09/16
10:56
M6OOL
40m
SSB
59
53
Stefan
Nottinghamshire – England
25/09/16
10:58
G3VCG
40m
SSB
59
59
Don
Chelmsford Essex – England
25/09/16
11:01
G8XTJ
40m
SSB
59
59
John
High Wycombe – England
25/09/16
11:04
IS0YHV
14.072
PSK31
599
599
Antonio
Uta – Sardinia
JM49lg
pSE YOUR AWARD VIA MY MAIL ANTONIODESOGUS@TISCALI.IT
25/09/16
11:04
PA3MA
40m
SSB
59
59
Mario
Netherlands
25/09/16
11:05
G1DFN
40m
SSB
59
59
Fred
Darlington – England
25/09/16
11:11
GB0GPF
40m
SSB
59
59
Thomas
Grey Point Fort Helens Bay Crawfordsburn – Northern Ireland
WW1 and 2 Coastal Defence Fort – QSL Direct Only via MI0MOD
25/09/16
11:15
MI0WWB
40m
SSB
59
59
William
Northern Ireland
25/09/16
11:20
F5VIG
40m
SSB
59
59
Mike
Brittany – France
Former SBARC Member
25/09/16
11:24
SQ9EJ
14.072
PSK31
599
599
Jozef
Zywiec – Poland
JN99or
25/09/16
11:31
LY1CZ
14.072
PSK31
599
599
Valdas
Lithuania
KO14wv
25/09/16
11:36
G4CCC
40m
SSB
59
59
Chris
Reading – England
25/09/16
11:37
SQ9KPB
14.072
PSK31
599
599
Anirzej
Czestochowa – Poland
JO90nu
25/09/16
11:38
M6IBH
40m
SSB
55
59
Cliff
England
25/09/16
11:39
M6KVK
40m
SSB
59
59
Gary
England
25/09/16
11:42
G4DXW
40m
SSB
59
59
Ron
England
25/09/16
11:44
HA6ZX
14.072
PSK31
599
599
Istvan
Hatvan – Hungary
JN97tp
25/09/16
11:52
G7BYN
40m
SSB
56
59
Dave
England
25/09/16
11:55
GW7VJK
40m
SSB
59
59
Nigel
Wales
25/09/16
12:02
GB0SBS
40m
SSB
55
59
Geoff
England
25/09/16
12:06
SQ7NHR
14.071
PSK31
599
Grzegorz
Lodz – Poland
JO91ss
25/09/16
12:07
G4NAQ
40m
SSB
55
55
Clive
England
25/09/16
12:11
RN4HEP
14.071
PSK31
599
599
Gennady
Samara – Russia
LO43kc
25/09/16
12:11
2E0VRX
40m
SSB
59
59
Craig
Skipton – England
25/09/16
12:16
G3UBB
40m
SSB
59
59
David
England
25/09/16
12:21
G7HSA
40m
SSB
57
59
Adrian
England
25/09/16
12:23
MC0WIW
40m
SSB
57
57
Ceri
Wales
25/09/16
12:24
SQ6NDL
14.071
PSK31
599
599
Grzegorz
Strzelce – Poland
JO90dm
25/09/16
12:29
M6GOU
40m
SSB
59
59
Richard
Burton On Trent – England
25/09/16
12:32
GW1FKY
40m
SSB
59
59
Ken
Bridgend – Wales
25/09/16
12:34
G8HBS
40m
SSB
59
59
Peter
Great Yarmouth – England
25/09/16
12:36
MK3FEH/QRP
40m
SSB
59
59
Karl
England
25/09/16
12:40
M6KVV
40m
SSB
59
59
Graham
England
25/09/16
12:44
EI2WSVR
40m
SSB
59
59
David
Ireland
RotA – Waterford and Suir Valley Railway (South Eastern ARG)
25/09/16
12:45
G6SSN
40m
SSB
59
59
Kevin
England
25/09/16
12:51
2E1AFC
40m
SSB
59
59
Geoff
Bodmin – England
25/09/16
12:54
G7AKJ
40m
SSB
59
59
Bill
Otterton Devon – England
25/09/16
12:55
G0JNJ
40m
SSB
59
59
Alan
England
25/09/16
12:56
G3TPP
40m
SSB
59
59
Barry
England
25/09/16
12:58
HB9BQR
40m
SSB
55
55
Roland
Switzerland
25/09/16
12:59
ON4DNW
40m
SSB
59
59
Willy
Belgium
25/09/16
13:01
OZ3FS
40m
SSB
59
59
Frank
Denmark
25/09/16
13:03
M0XXJ
40m
SSB
59
59
Jonathon
England
25/09/16
13:05
G0FVH
40m
SSB
59
59
David
Poole – England
25/09/16
13:09
G0HEU
40m
SSB
57
57
Paul
England
25/09/16
13:11
M6DTT
40m
SSB
59
59
Derrick
Yate – England
25/09/16
13:13
G3NKS
40m
SSB
59
59
Derrek
England
25/09/16
13:15
G1BBY
40m
SSB
59
59
Walter
England
25/09/16
13:19
M0KVF
40m
SSB
59
59
Kay
England
25/09/16
13:22
G4RAC
40m
SSB
59
59
John
Burton On Trent – England
25/09/16
13:24
G0RTH
40m
SSB
59
59
Alan
Essex – England
25/09/16
13:27
2E0MKH
40m
SSB
59
59
Mike
Blackpool – England
25/09/16
13:29
2E0ZAP
40m
SSB
59
59
Rob
Tamworth – England
25/09/16
13:35
SM4/DK2HX
14.071
PSK31
599
599
Heinz
Motala – Sweden
JO78lr
eQSL Only
25/09/16
13:35
M6HVM
40m
SSB
59
59
Paul
England
25/09/16
13:46
MW3GWZ
40m
SSB
59
59
Phillip
Newport – Wales
25/09/16
13:47
CT2FPY
14.071
PSK31
599
Leonel
Vessada – Portugal
IN50qn
25/09/16
13:50
G8JBP
40m
SSB
59
59
George
Stourbridge – England
25/09/16
13:55
IZ0UIJ
14.071
PSK31
599
599
Roberto
Antrodoco – Italy
JN62mk
25/09/16
13:56
M0DFW
40m
SSB
59
59
Dave
England
25/09/16
14:01
SP3AM
14.071
PSK31
599
599
Andrzej
Wezyska – Poland
JO72la
25/09/16
14:03
M0RBM
40m
SSB
59
59
Rodney
Bude – England
25/09/16
14:05
EI3CTB
40m
SSB
59
59
Justin
Dublin – Ireland
25/09/16
14:08
G0VHT
40m
SSB
59
59
Paul
England
25/09/16
14:11
M0JZH
40m
SSB
59
59
John
Telford – England
25/09/16
14:14
RX4CD
14.071
PSK31
599
579
Sergey
Petrovsk – Russia
LO22qh
25/09/16
14:16
EI7FYB
40m
SSB
59
59
David
Ireland
25/09/16
14:17
MI0HWG
40m
SSB
59
59
Peter
Belfast – Northern Ireland
25/09/16
14:20
IN3GNV
14.071
PSK31
599
459
Giovanni
Bolzano – Italy
JN56pl
25/09/16
14:21
G3KAG
40m
SSB
59+10dB
59
Tony
Royston Derbyshire – England
25/09/16
14:25
G4VFG
40m
SSB
59
59
Peter
England
25/09/16
14:27
GK7KFQ
40m
SSB
59
59
Nick
England
25/09/16
14:31
MI0GDO
40m
SSB
59
59
Robert
Northern Ireland
25/09/16
14:33
MW0LGE
40m
SSB
59+10dB
59
Rich
Wales
25/09/16
14:35
G7IIO
40m
SSB
59
59
Brian
England
25/09/16
14:39
IV3VOU
14.072
PSK31
599
599
Renato
Verzegnis – Italy
JN66lj
25/09/16
14:39
G0MJY
40m
SSB
59+10dB
59+10dB
Dave
Kidderminster – England
25/09/16
14:41
G3ZCC
40m
SSB
59+10dB
59+20dB
Mike
Watford – England
25/09/16
14:43
M0CRY
40m
SSB
59+10dB
59+20dB
Rob
Kent – England
25/09/16
14:45
F4VPL
40m
SSB
59
59
Dave
Brittany – France
25/09/16
14:46
G7CSM
40m
SSB
59
59
Rob
Gloucestershire – England
25/09/16
14:48
G3THM
40m
SSB
59
59
Les
Kent – England
25/09/16
14:49
UA3ASJ
14.072
PSK31
599
599
Evgeny
Moscow – Russia
KO85so
25/09/16
14:51
MK6EJV
40m
SSB
59
59
Mike
Bude – England
25/09/16
14:55
SQ6MIZ
14.072
PSK31
599
599
Zbigniew
Wroclaw – Poland
JO81mc
25/09/16
14:55
OP7M
40m
SSB
59
59
Marnix
Belgium
25/09/16
14:57
MW1EGX/P
40m
SSB
59
59
Maynard
Conwy – Wales
25/09/16
15:01
G1HZI
40m
SSB
59
59
Ian
Hexham – England
25/09/16
15:02
US5QGL
14.072
PSK31
599
579
Igor
Berdyansk – Russia
KN86js
25/09/16
15:05
G8AGR
40m
SSB
59
59
Steve
Durham – England
25/09/16
15:08
MW0OZI
40m
SSB
59+10dB
59+10dB
Colin
Wales
25/09/16
15:09
MW0BYT
40m
SSB
59
59
Ross
Bangor – Wales
25/09/16
15:11
G4WOD
40m
SSB
59
59
John
Bristol – England
25/09/16
15:12
M0WYZ
40m
SSB
59
59
Dudley – England
25/09/16
15:13
M0KEB
40m
SSB
59
59
Kevin
England
25/09/16
15:15
2E0NER
40m
SSB
59
59
Mike
Wakefield – England
25/09/16
15:17
M0HCT
40m
SSB
59
59
Martin
Nailsea – England
25/09/16
15:19
G4FLY
40m
SSB
59+10dB
59+10dB
Gary
Reading – England