Location
Introduction
Oh the best laid plans of mice and men. This year has been a disaster. This is a natural disaster I would hasten to add; our planning was again up to its usual standard of readiness but this year the elements have conspired against us. I doubt we are alone, initial communications indicate that other operations have had to rapidly relocate to less waterlogged sites. This wasn't an option for us.
Weather Reports
On Saturday 7 July 2012 the Met Office issued an Amber Weather Warning of Heavy Rain for South West England, East of England, North West England, Wales, London & South East England, East Midlands, Yorkshire & Humber, West Midlands, North East England, Grampian, Central, Tayside & Fife, Strathclyde, Northern Ireland, SW Scotland, Lothian Borders.
Further heavy showers or longer periods of rain are expected today, with large totals in places.
The public should be prepared for the likelihood of surface water flooding and some disruption to travel and outdoor activities, particularly in the amber warning area.
The red warning that was in force for parts of south Devon and west Cornwall has now been removed as the worst of the rain here has eased, although impacts of rain that has fallen continue to be significant locally.
These conditions are on top of prolonged rainfall, the Met Office provisional figures released on 2 July 2012 show that for June 2012 double the average amount of rain has fallen, making it the wettest June since records began in 1910.
This is the second record breaking month of rainfall this year, with April 2012 also topping the rankings. The period from April 2012 to June 2012 is also the wettest recorded for the UK.
2012 continues to set records, as June 2012 is also the second dullest June on record with just 119.2 hours of sunshine, narrowly missing out on the record of 115.4 hours set in 1987. To complete the disappointing picture, June 2012 has also been the coolest June since 1991 with a mean temperature of 12.3 °C.
Unsettled weather has never been far from the UK during April 2012 to June 2012, with only the latter half of May 2012 seeing a spell of prolonged fine weather.
Movements in the track of the jet stream, a narrow band of fast flowing westerly winds high in the atmosphere, have contributed to the weather we have seen.
June 2012 has seen periods of heavy and prolonged rain, as well as short but exceptionally heavy showers.
The total UK rainfall in June 2012 was 145.3 mm – exactly twice as much as you would normally expect compared to the 1971-2000 average. This beats the previous record of 136.2 mm set in 2007.
Looking at individual countries, June 2012 has been the wettest on record for Wales and Northern Ireland, the second wettest in England, and the eighth wettest in Scotland.
Many areas have seen extremely high rainfall – with 83 (out of 237) observation sites marking their wettest June on record. Some of these aren't significant as they have very short recording histories, just a year in some cases, but others have been operating much longer – Otterbourne in Hampshire, for example, has been operating for 119 years.
One of the key features of June 2012 has been that the far north west of the UK, traditionally the wettest part of the country, has been remarkably dry.
Up until quite late in June 2012, a few stations in this area were below their record lowest rainfall amounts – but they just missed the record books with rain falling in the last few days of the month.
Met Office Provisional June 2012 Figures
Location
Mean Temperature
Sunshine Duration
Rainfall
Actual
(°C)
Difference from 1971-2000 average
(°C)
Actual
(hours)
% of 1971-2000 average
(%)
Actual
(mm)
% of 1971-2000 Average
(%)
UK
12.3
-0.3
119.2
70
145.3
200
England
13.4
-0.2
121.0
67
142.6
227
Wales
12.7
0.0
120.6
71
205.0
238
Scotland
10.4
-0.6
119.4
77
129.4
152
N Ireland
12.0
-0.4
97.4
64
169.2
235
England & Wales
13.3
-0.2
121.0
68
151.2
229
England N
12.5
-0.3
105.9
63
162.5
234
England S
13.9
-0.2
129.0
69
132.1
222
Current or previous wettest years on record are:
UK: (Previous) 136.2 mm in 2007
England: 146.0 mm in 2007
Wales: (Previous) 183.1 mm in 1998
Scotland: 155.0 mm in 1938
Northern Ireland: (Previous) 152.6 mm in 1912.
Average UK conditions (1971-2000):
Mean temperature: 12.6 °C
Rainfall: 72.6 mm
Sunshine: 169.4 hours
Practical Implications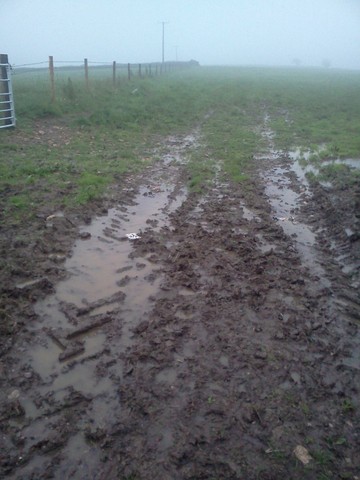 Whatever the figures might or might not reveal the practical upshot is that despite being sited at the top of a hill and with relatively shallow underlying stone the ground was saturated and already badly churned up by both farming plant and the livestock that normally inhabit the field.
Given both the conditions and the forecast which was for further heavy rain on Saturday and showers on Sunday we decided:
Getting cars, particularly 2 wheel drive, and the caravans that usually form our base of operations onto the site was going to be problematic at best;
Getting off again at the end of a weekend with further rain and therefore no time for the ground to improve was going to be even harder;
The potential damage that our operation would cause to the already saturated and fragile field would take a long time to heal given the likelihood of further wet periods;
Mains generators and trailing power leads through wet sodden grass with standing water was not conducive to safe operation;
Everything was going to end up getting wet and muddy including: tents, awnings, caravans, cars, kit and of course the operators themselves.
Consequently we felt that discretion was the better part of valour and have decided not to challenge this year. Naturally we wish all of those brave hardy souls fortunate enough to have a stable base of operations all the best and we hope to see you in the 2013 contest. Until then 73.