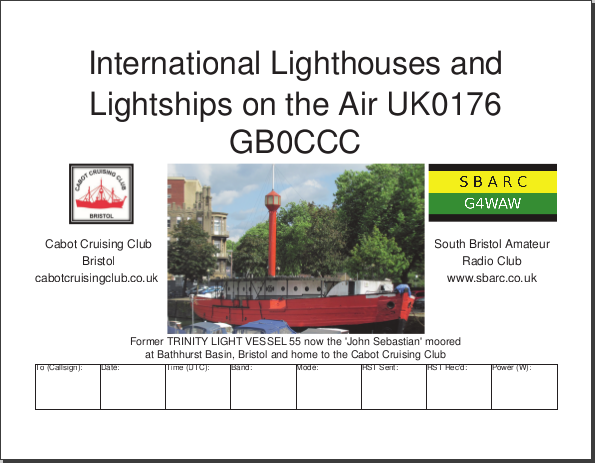 Introduction
Former TRINITY LIGHT VESSEL 55, now renamed the 'John Sebastian' in honour of Bristol's famous explorers, is moored in Bathurst Basin in the centre of Bristol and has her own postal address, namely: "The John Sebastian, Bathurst Basin, Bristol BS1 4RL". She is now the home to the Cabot Cruising Club who have produced an interesting history document covering her past service. However, there are some specific details that will be of interest to radio hams:
Lat/Long (WGS84 Geoid): 51.446530°,-2.594221°
IARU: IO81qk
IOTA: EU005 (UK Mainland)
WAB: ST57 – England
ILLW Reference: UK0176
///visa.forget.fluid
Location
Operation
Following a hiatus in 2020 as a direct result of the COVID pandemic it was pleasing to be able to return to our friends at the Cabot Cruising Club to once again activate Former Lightvessel 55 as UK0176 in the International Lighthouses and Lighships on the Air weekend coinciding with the Association of Lighthouse Keepers International Lighthouse Heritage Weekend.
Equipment wise, not a lot has changed from previous outings:
Nissei DPS-300 30A linear power supply
Yaesu FT-991 HF/VHF/UHF 100W multi-mode transceiver
MFJ 993 IntelliTuner
80m doublet antenna fed with 450Ω ladder line
Behringer Xenyx 302 USB audio mixer
Logitech amplified speakers
Acer Aspire 8942 Laptop running KLog under Ubuntu Studio 21.04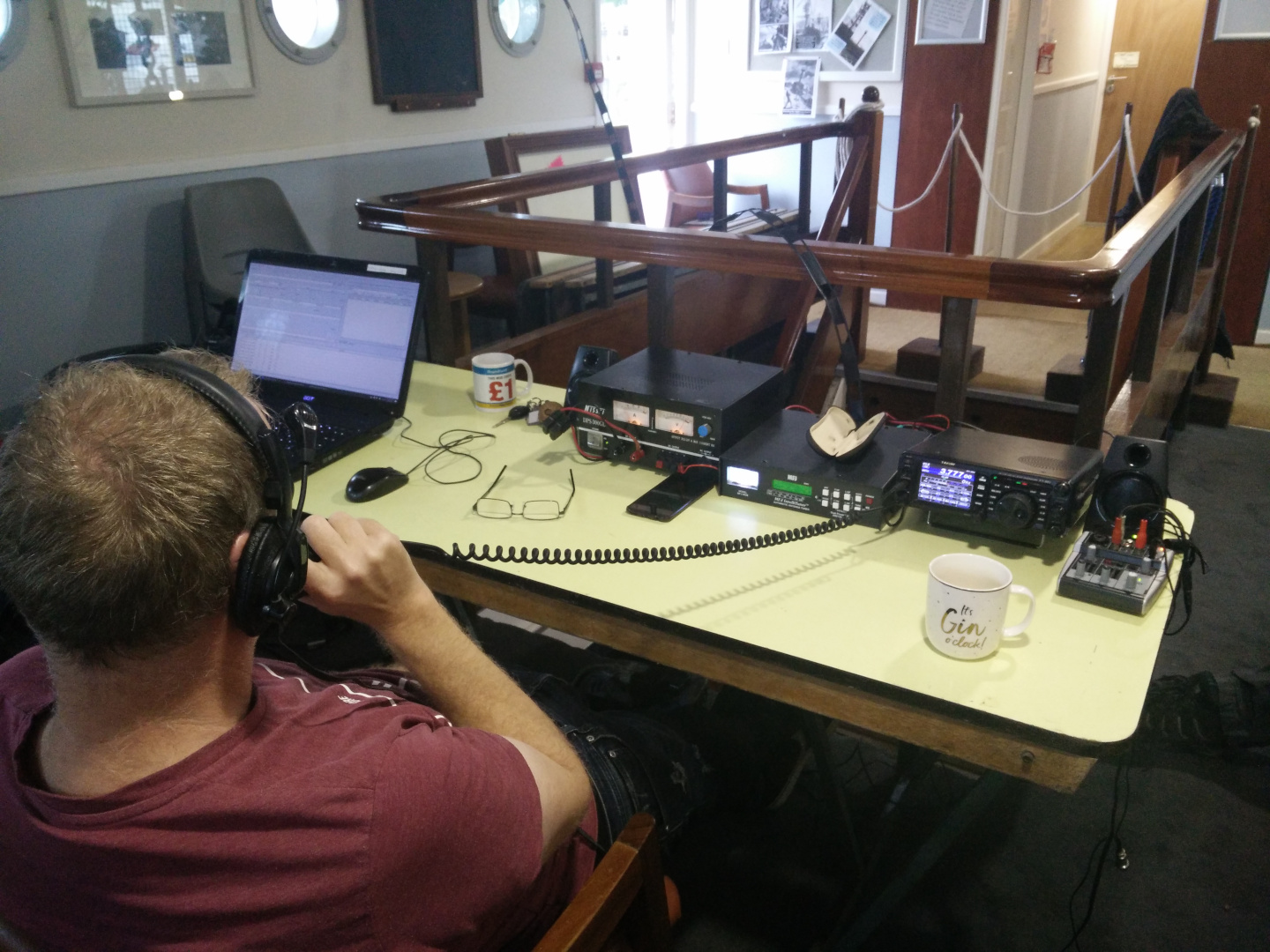 The purpose of the mixer is to isolate the person operating the transceiver from the surrounding discussions. We have found over the course of many Special Event operations that as soon as a few people gather around the radio and hold a discussion or have the set-up and operation explained to them that the person operating the radio can no longer concentrate on the QSO or struggles to hear weak signals over the local chatter in the operating post.
Whilst a pair of headphones allows the operator to be isolated from the surrounding conversation should this prove necessary it also removes one side of the QSO from the observer and, significantly, requires the person logging to also wear headphones or rely on scribbled notes from the person operating. Either situation is undesirable particularly when the onlookers can't hear half of the exchange. The mixer allows the transceivers headphone output to be fed into the mixer and a separate headphone feed to be sent to the operator with a master output going to the powered speakers. Both have separate volume controls and now the operator can, when necessary, isolate themselves from the surrounding environment but those in the surrounding environment, especially the person logging, can still hear the incoming signals. We use a similar arrangement on Field Day but in this case when two separate operating posts are in close proximity both outputs are fed to separate headphones for the operator and the logger.
The weather forecast wasn't looking great on the lead-up to the ILLW weekend, however the forecast of Friday suggested that the predicted heavy rain would arrive in the west country overnight and move eastward so that by the time we were expecting to setup on Saturday morning we should, at worst, only experience the tail end of the rainfall.
Wrong! The anticipated heavy rain arrived in the morning, possibly around 06:00 and continued with periods of apocalyptic intensities right through our set-up. For those of us setting up the indoor station this wasn't so terrible, however both Mark M0SKV and Joe 2E0EIC braved the heaviest of the rain to get the 80m doublet in position getting seriously soaked in the process. So much so that Mark suggested we should go on line and apply for a new SES Callsign of GB0SSS (soggy soggy soggy or triple soggy) instead of GB0CCC (Cabot Cruising Club)! Kudos to both gentlemen for their dedication to the cause.
It is hoped that Sunday will be drier but as this section is being composed around 19:00 BST on Saturday 21 August 2021 the heavens have once again opened so we might very well have to operate from within the cabin on Sunday rather than returning to our usual external operating position.
We were graced with a number of members throughout the Saturday, in no particular order:
Joe 2E0EIC
Dave G0DPW
Dave G4ULV
Ken G4XCB
Andy G7KNA
Eddie M0LJT
Dave M7BBN
Greg M7BUF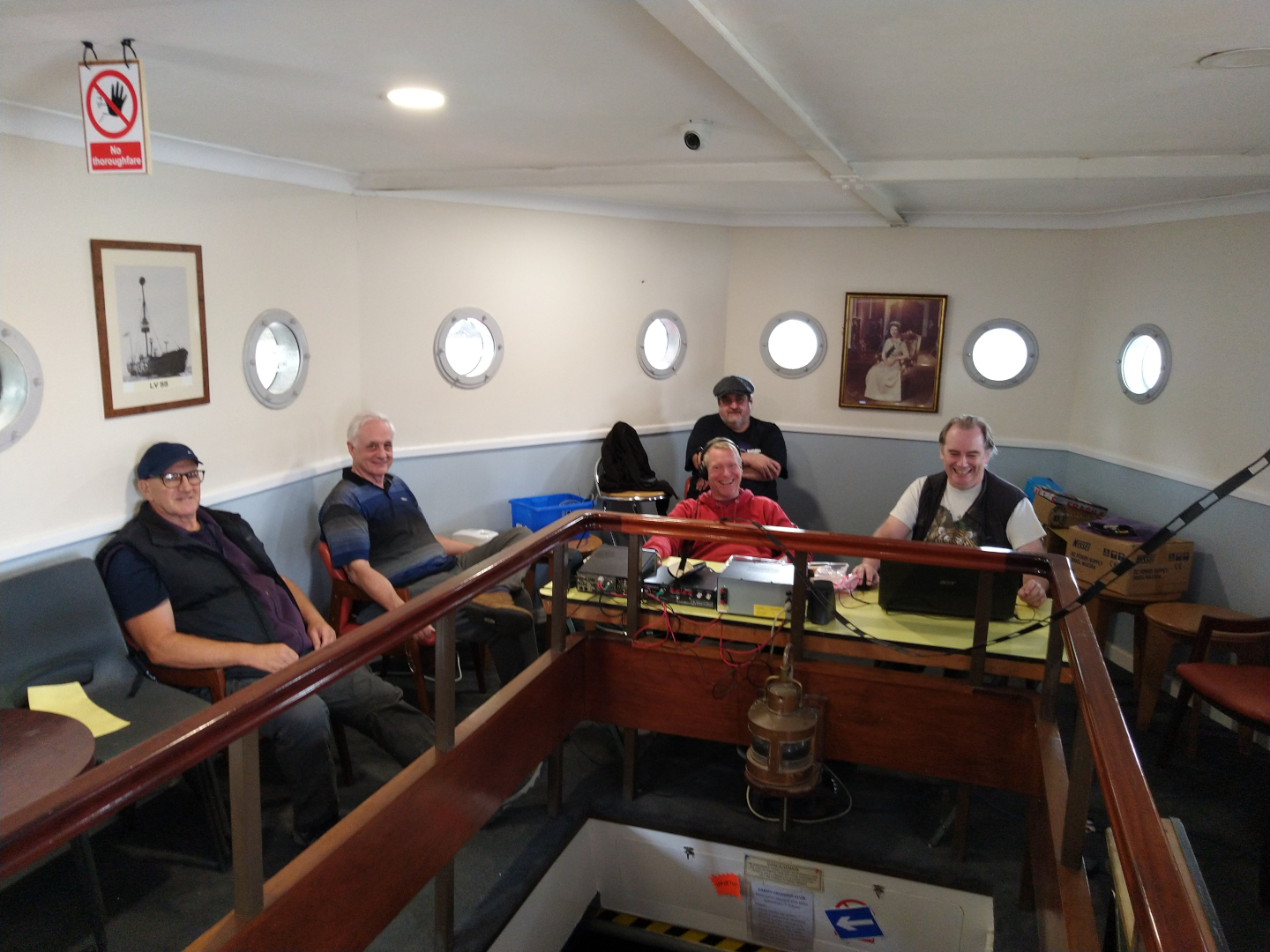 We also managed to work club members: Eddie M0LJT and Ray G3IOI on ground wave during the morning. We made 55 contacts on the Saturday on a mix of 80m, 40m and 20m. We did experiment with a couple of other bands such as 10m and 17m but these were not favouring us with propagation, were sparsely populated or weren't very efficient with our antenna. As well as the usual inter-G traffic we also worked into Europe and made a couple of contacts into the USA.
Sunday did indeed see finer weather and we gambled on setting up in our regular external location on the stern of the boat. Although the weather was really conducive to outdoor "al fresco" dining some aspects didn't work as well as they had indoors yesterday. Amongst these were the following:
The little and much vaunted colour touch screen on the FT-991 was more or less unreadable in sunlight, this situation might have improved as the sun changed position during the day but it was a problem. In fact this is clearly a design flaw in a rig that is the obvious descendant of the much loved FT-897D and is clearly intended for casual picnic table operation to have a screen that is unreadable in direct sunlight, and especially when the screen forms such an integral part of the operation of the rig is quite simply incomprehensible. We hope Icom have considered this situation in the recently launched IC-705!
The laptop screen was suffering a similar situation, it is noticeable that "ruggedised" laptops such as the venerable Panasonic Toughbook have much increased display brightness to allow operation in sunlight conditions. A typical laptop might have a screen brightness of around 200 nits whereas the Toughbook, designed for outdoor use runs 1100 nits and has coatings to reduce reflections. Would we like a Panasonic Toughbook, of course we would but our current Acer was gifted to us by a responsible local business (thank you Clarkebond) and therefore we work with what we have! This of course harks back to point 1 above, perhaps Yaesu could take a leaf out of Panasonic's book when they next upgrade the FT-991A.
Perhaps most significantly we noticed that the noise floor was much higher than on Saturday. Working from inside the lightship we were blessed on Saturday with a low noise floor, only around an S2. Today saw us battling with S5 noise levels. By no means debilitating but of interest. We played with the routing of the 450Ω ladder line different ways from the lantern tower with limited effect and we wondered if the CCTV camera, Wi-Fi antenna and metal mast were contributing to the problem. A decision was taken to re-site the station back inside the upper deck saloon to replicate Saturday's set-up which was swiftly completed but there was very little discernible difference so we concluded that:

The CCTV camera wasn't contributing to the noise floor on the stern of the vessel;
The Wi-Fi antenna wasn't contributing to the noise floor on the stern of the vessel;
The metal mast that these items were attached to wasn't unbalancing the ladder line feeder; and
Whatever we were experiencing was most probably atmospheric
Despite the good weather we decided not to reverse our decision to move indoors and eschewed life in the open air and "al fresco" operating in general and continued to operate from the upper saloon.
On Sunday some of the Saturday Team returned and we were joined by some who were unable to attend on the Saturday, in no particular order on site were:
Joe 2E0EIC
Ken G4XCB
Andy G7KNA
Dave M7BBN
Greg M7BUF
Ken M7MYU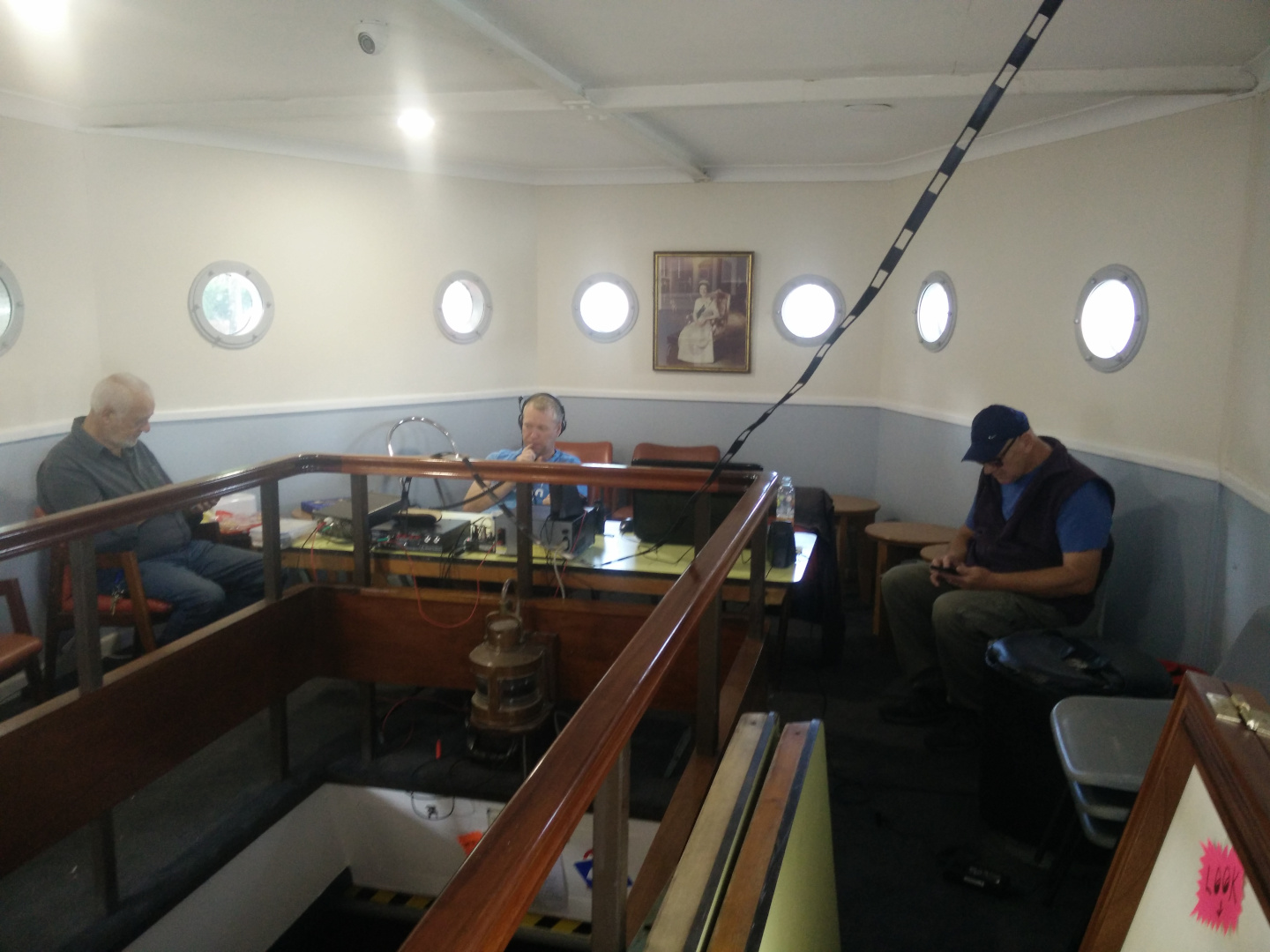 GB0CCC Log 2021
Date (UTC)
Time (UTC)
Station Worked
Band or Frequency
Mode
RST
Name
QTH
Notes
Sent
Rec'd
21/08/21
10:08
G4JXK
80m
SSB
59
59
Dave
21/08/21
10:10
G0UYN
80m
SSB
59
59
Malcolm
Isle of Wight
21/08/21
10:20
M0PTZ
80m
SSB
59
59
20 miles north of Southampton
21/08/21
10:22
2E0UAC
80m
SSB
59
59
Martin
Coventry
21/08/21
10:28
GW0KIG
80m
SSB
59
59
Kevin
Merthyr Tydfill
21/08/21
10:32
M0FAQ/M
80m
SSB
59
59
Martin
21/08/21
10:35
M7BUE
80m
SSB
59
59
Ian
Stoke
21/08/21
10:37
G0BFG
80m
SSB
59
59
Brian
West Yorkshire
21/08/21
10:44
G7RSO
80m
SSB
59
59
Keith
Salisbury
21/08/21
10:46
M6OVN
80m
SSB
59
59
Glyn
Salisbury
21/08/21
10:48
G3TOI
80m
SSB
57
59
Mike
Bournemouth
21/08/21
10:58
GW4FOI
80m
SSB
59
59
John
21/08/21
10:59
G0NEV
80m
SSB
59
59
Michael
Weymouth
21/08/21
11:02
G6ASK
80m
SSB
59
59
Jon
25 miles west of Taunton
21/08/21
11:07
G3IOI
80m
SSB
59
59
Ray
Bristol
21/08/21
11:13
G0NED
80m
SSB
59
59
Eric
Stoke on Trent
21/08/21
11:14
M0NMI
80m
SSB
59
59
David
10 miles north of Swindon
21/08/21
11:18
G4AHO
80m
SSB
58
59
Ken
Bromsgrove
21/08/21
11:27
G1KTM
80m
SSB
59
59
Dave
Melton Mowbry
21/08/21
11:31
M0RMW
80m
SSB
55
52
Roger
Selby
21/08/21
11:33
G4UIX
80m
SSB
59
59
Pete
Weymouth
21/08/21
11:36
M0OYH
80m
SSB
59
59
21/08/21
11:48
GB2TNL
40m
SSB
59
59
Angus
Tarbat Ness
UK0151
21/08/21
11:55
GB5BL
40m
SSB
59
59
Dave
Blackhead Light
UK0032
21/08/21
12:14
GD1JNB
40m
SSB
59
59
Peter
Douglas
21/08/21
12:22
PA6URK
80m
SSB
59
59
Ari
Urk lighthouse
NL0013
21/08/21
12:26
DL4YAR
20m
SSB
55
57
21/08/21
12:29
GB0CSL
20m
SSB
59
59
William
Covesea Skerries Light
UK0204
21/08/21
12:35
N8II
20m
SSB
53
56
West Virgina
21/08/21
12:36
GM1YQH
20m
SSB
59
59
Mike
Isle of Orkney
21/08/21
12:43
GM1BAN
20m
SSB
59
59
21/08/21
12:47
GM0OTS
20m
SSB
59
59
Bill
Murry Firth
21/08/21
12:51
IZ2XDK
20m
SSB
59
59
Pier
North Italy
21/08/21
12:52
DL1BSH
20m
SSB
57
59
21/08/21
12:53
OS8D
20m
SSB
59
59
Brussels International Airport
21/08/21
12:56
LA6IRA
20m
SSB
59
59
Karl
Stavangah
21/08/21
12:58
OE2KGL
20m
SSB
55
57
21/08/21
13:00
YL2SW
20m
SSB
59
59
Val
21/08/21
13:01
DL8BDT
20m
SSB
57
58
Hamburg
21/08/21
13:03
AA1VX
20m
SSB
53
55
Dave
Massatusists
21/08/21
13:05
RX3AMI
20m
SSB
53
21/08/21
13:07
MM3UBB
20m
SSB
57
59
21/08/21
13:14
HB9CCL
20m
SSB
59
59
Rudy
21/08/21
13:19
M0LJT
20m
SSB
59
59
Eddie
Bristol
21/08/21
13:22
IK3VUT
20m
SSB
57
59
Luca
NE Italy
21/08/21
13:23
DC3SW
20m
SSB
55
58
Horst
21/08/21
13:26
HB9CYN
20m
SSB
55
59
Martin
Bern
21/08/21
13:36
IK8HEE
20m
SSB
58
59
Tonion
Naples
21/08/21
13:41
G4EJH
20m
SSB
59
59
Keith
Portishead
21/08/21
14:36
M0IOC
40m
SSB
59
59
Steve
County of Durham
21/08/21
14:39
GB0CSL
40m
SSB
59
59
William
Covesea Skerries Light
UK0204
21/08/21
14:43
GI4DQT
40m
SSB
59
59
Sean
Belfast
21/08/21
14:44
DL1BFR
40m
SSB
59
59
21/08/21
14:48
GB0NHL
40m
SSB
59
59
Noss Head
UK0039
21/08/21
14:52
GM0VXA
40m
SSB
59
58
Paul
Motherwell
22/08/21
00:25
IQ6SB
20m
SSB
59
59
San Benedetto del Tronto
IT0009
22/08/21
10:16
G4ZIB
80m
SSB
59
59
Tony
Worcestershire
22/08/21
10:20
GW0JLX
80m
SSB
59
59
Eddie
West Wales
22/08/21
10:47
G1YOY
40m
SSB
59
59
Jason
22/08/21
10:50
PA/DL1KVN
40m
SSB
59
57
Old Kraggenburg
NL0010
22/08/21
10:52
DJ2FL
40m
SSB
57
58
Cologne
22/08/21
10:54
GB2ELH
40m
SSB
59
59
Tony
Eshaness Lighthouse
UK0058
22/08/21
10:59
ON4CCC
40m
SSB
59
59
Mark
22/08/21
11:01
F8IGD
40m
SSB
59
59
22/08/21
11:02
M0LJT
40m
SSB
59
59
Eddie
BRISTOL
22/08/21
11:03
MM3PDM/M
40m
SSB
59
59
22/08/21
11:05
MM7JMI
40m
SSB
59
58
Davy
22/08/21
11:07
GM0IFM
40m
SSB
59
59
22/08/21
11:09
DB8BG
40m
SSB
59
59
22/08/21
11:11
DL1YAR
40m
SSB
59
59
22/08/21
11:13
GM5JET
40m
SSB
59
59
Duncan
22/08/21
11:15
G4FJH
40m
SSB
59
59
Dave
HANHAM
22/08/21
11:17
DJ1BWH
40m
SSB
59
59
Bridgitte
HEMER
22/08/21
11:20
GM0NAE
40m
SSB
59
59
Jim
22/08/21
11:22
EI0SW
40m
SSB
59
59
Old Head of Kinsale
IE0007
22/08/21
11:26
M0KMI
40m
SSB
59
59
Ken
Bristol
22/08/21
11:29
MM7CEH
40m
SSB
59
59
Clark
22/08/21
11:33
GM4JYB
40m
SSB
59
59
Brian
Wick
22/08/21
11:35
G8HBS
40m
SSB
57
59
Peter
GREAT YARMOUTH
22/08/21
11:37
DL2JX
40m
SSB
57
58
22/08/21
11:39
DL7CO
40m
SSB
57
57
22/08/21
11:44
DL8FQ
40m
SSB
59
58
Rolf
Homburg
22/08/21
11:46
GM8ZEQ
40m
SSB
59
59
Margaret
Aberdeen
22/08/21
11:48
PA6FUN
40m
SSB
59
59
HARLINGEN LIGHTHOUSE
22/08/21
11:54
GD3ZZN
40m
SSB
59
59
Martyn
Port Erin
22/08/21
11:57
EI6JK
40m
SSB
59
59
Mark
Galway
22/08/21
12:03
PD3RL
40m
SSB
59
59
Alex
Northern part of Netherlands
22/08/21
12:06
M0HEM
40m
SSB
43
57
John
DAGENHAM ESSEX
22/08/21
12:33
DK0RA
40m
SSB
59
59
Altenbruch Unterfeuer Old / Dicke Berta
DE0050
22/08/21
12:39
F4IPT
40m
SSB
57
58
Didier
22/08/21
12:57
9A5O
20m
SSB
59
59
Sado
North West Croatia
22/08/21
13:06
IP1T
20m
SSB
59
59
Sanvenerio
IT0021
22/08/21
13:27
IQ4RA
20m
SSB
59
59
Marco
Marina di Ravenna
IT0028
22/08/21
13:45
DC3CC
40m
SSB
59
59
Frank
West Germany
22/08/21
13:53
EO70RUL
40m
SSB
59
59
Yuri
Chernigov
22/08/21
14:07
M0RCE
40m
SSB
59
59
Gary
22/08/21
14:18
IK8GCZ
20m
SSB
59
59
22/08/21
14:20
LY5O
20m
SSB
55
55
Bro
22/08/21
14:24
EA5XV
20m
SSB
59
59
22/08/21
14:31
OH3GZ
20m
SSB
59
59
Jack

All Original Website Content is licensed under a Creative Commons Attribution-NonCommercial-ShareAlike 4.0 International License.