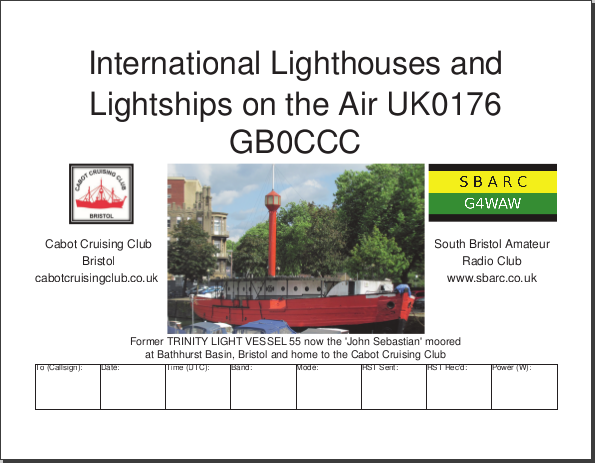 Introduction
Former TRINITY LIGHT VESSEL 55, the 'John Sebastian', is moored in Bathurst Basin in the centre of Bristol and has her own postal address, namely: 'The John Sebastian, Bathurst Basin, Bristol BS1 4RL'. However, there are some specific details that will be of interest to radio hams:
Lat/Long: 51.446579°,-2.595022°
IARU: IO81qk
IOTA: EU005 (UK Mainland)
WAB: ST57 – England
ILLW Reference: UK0176
Location
Operation
This years International Lighthouses and Lightships on the Air weekend took place over the 16/17 August. Once again we were fortunate to be guests of the Cabot Cruising Club on the John Sebastian (Former Light Vessel 55) in Bathurst Basin, part of Bristols historic City Docks.
Our operation followed the principles of last years operation with the following equipment being employed:
Yaesu FT 840 100W HF Transceiver
MFJ 934 Manual ATU
Manson EP-925 25Amp PSU
Club laptop running Ham Radio Deluxe for logging only
20m Full Wave Delta Loop
Changes from last year were more from the point of view of practicality than any particular operational requirement. The main change being the substitution of a Delta Loop antenna in place of last years half size G5RV, the main reason for this being that we were not able to tether the far end of the G5RV, and with a limited turnout the Delta Loop is more easily erected, especially as the deck had a convenient metal eye screwed into the gunwhale to take the foot of the single roach pole used for support.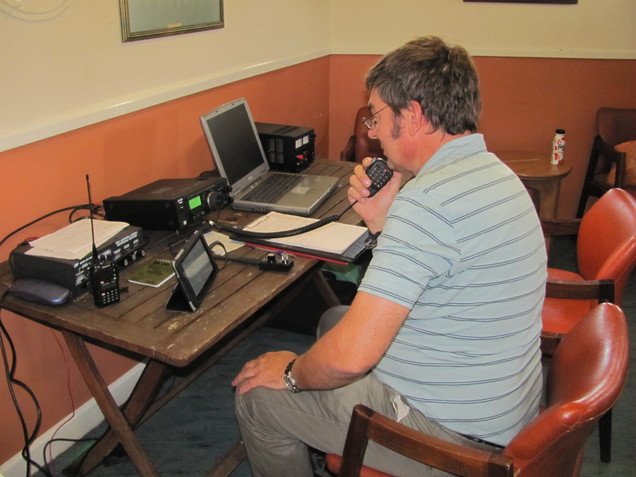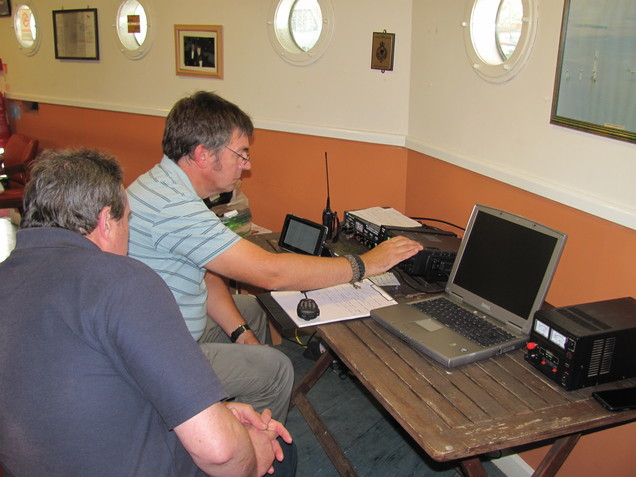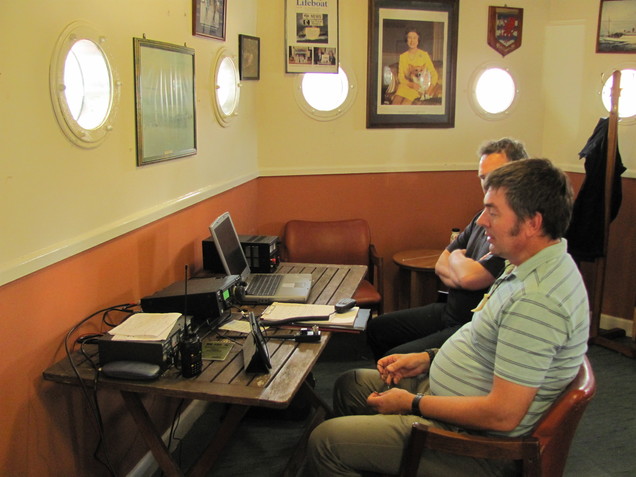 Saturdays operation took place from the foredeck, very similar in arrangements to last year. On Sunday however, early morning rain caused a retreat to the interior of the John Sebastian.
We were slow off the mark on Saturday, not getting on air until about 11:30 local time. Our first log entry was Dungerness Lighthouses giving us 2 for the price of 1. Following a brief chat with Gert operating PA1200PA we secured Loop Head in Ireland. This was followed by a quick contact into Anglesey before spending about 1.5 hours bagging a string of UK, Dutch and Irish lighthouses.
By the end of the day we had contacted 54 other stations including 16 (30% of our contacts) with other lighthouses in the UK and Europe.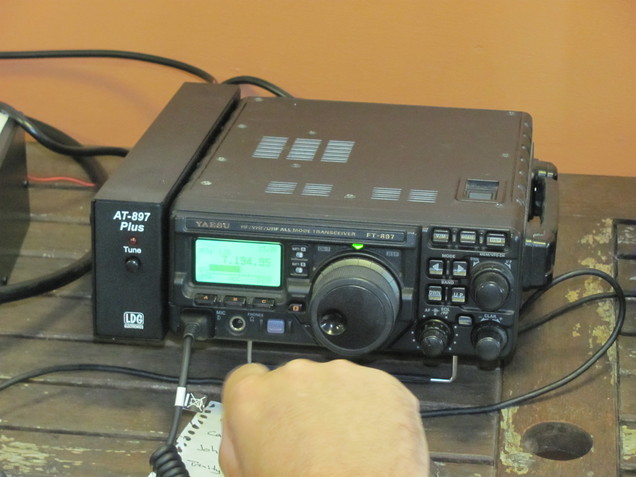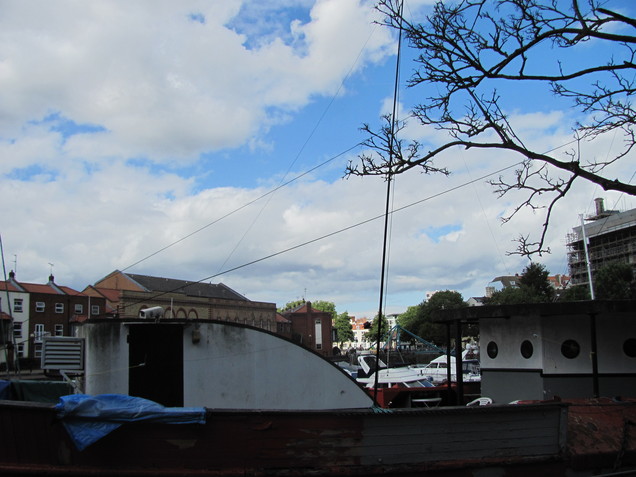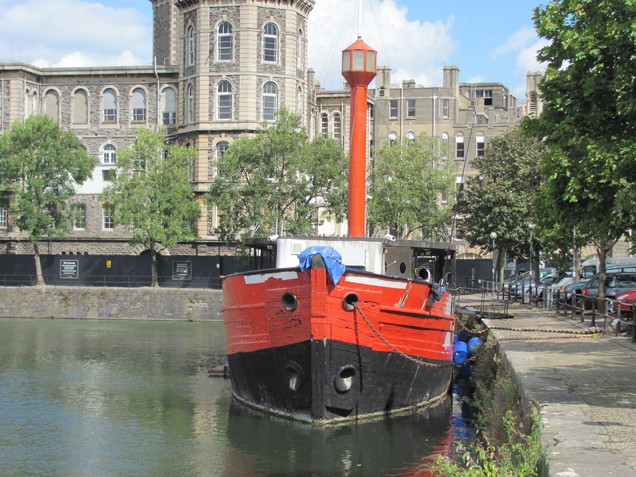 There was a momentary lapse of reason or some other cosmic perturbation on Sunday which slowed us down for some reason. We suddnely found ourselves with a dead band, the causes of which remain something of a mystery but over the course of a couple of hours we:
Swapped the feeder;
Switched the club FT-840 for an FT-897 brought by a club member;
Put up a second delta loop antenna and connector box;
Tried out a FT-857 and ATAS 120 in a members car which promptly stopped auto tuning the antenna.
As we said the reasons remain unclear, but at the end of about 1.5 hours we were back on air. This setback, however drastically reduced our QSO count for the Sunday. As a result Sunday closed with only an additional 13 contacts of which 10 (77%) were other participating lighthouses.
Overall, therefore, we managed 67 contacts as GB0CCC of which 26 (39%) were participating lighthouses. Based on the entrants list for ILLW 2014, there were a total of 543 participating stations, although some of these are noted as cancelled on the entrants list. This means we managed only 5% of the possible entrants. UK and Ireland participants accounted for 80 stations of which we managed to contact 22 or 28%.
Logbook
Date (UTC)
Time (UTC)
Station Worked
Band or Frequency
Mode
RST
Operators Name
QTH
Notes
Sent
Rec'd
17/08/14
15:05
DL0RWE
40m
LSB
59
59
Essen Germany
DE0046 – Alter Leuchtturn Borkum
16/08/14
10:38
GB1DLH
40m
LSB
59+10
59
Phil
Dungeness
UK0059 and UK0060 – Dungerness Lighthouses
16/08/14
10:47
PA1200PA
40m
LSB
59
57/59
Gert
Netherlands
16/08/14
10:53
EI0LHL
40m
LSB
59
59
John
Eire
IE009 – Loop Head
WAL Square Q64
16/08/14
10:55
GB2TD
40m
LSB
59
45
Alan
Anglesey
16/08/14
11:03
GC4BRS/P
40m
LSB
59+
59
Ken
Wales
UK0072 – Nash Point Low
WAB SS96
16/08/14
11:11
GB8SL
40m
LSB
58
58
Pete
Shoreham
UK0023 – Shoreham (Kingston Buci)
16/08/14
11:21
GB4EUL
40m
LSB
59
59
David
Newport
UK0159 – East Usk Lighthouse
ST38
16/08/14
11:24
PA9M
40m
LSB
59
59
Netherlands
NL0026 – Blokzijl
16/08/14
11:31
GB0NFL
40m
LSB
57
57
Ian
Broadstairs
UK0128 – North Foreland Lighthouse
16/08/14
11:47
GB6HPL
40m
LSB
59+10
59
Karl
Hartlepool
UK0188 – Hartlepool Lighthouse
16/08/14
11:51
GB0NLH
40m
LSB
59
59
Dave
Isle of Wight
UK0067 – Needles Lighthouse
16/08/14
12:03
GB4WIL
40m
LSB
59
59+10
Chris
Barrow in Furness
UK0160 – Wlaney Island Lighthouse
SD26
16/08/14
12:18
EI2WRC/P
40m
LSB
58
David
Eire
IE0003 – Hook Head Lighthouse
16/08/14
12:28
PD1JFB
40m
LSB
59
53
Frisel
Netherlands
NL0035 – De Ven
16/08/14
12:34
OT6A/P
40m
LSB
59+
Andenne Belgium
ONFF425
16/08/14
12:38
ON4OS
40m
LSB
59+10
59
Luc
Oostende Belgium
BE0008 – Lange Nelle Oostende
16/08/14
12:55
GB4SPL
40m
LSB
57
59
Graham
Sea Palling Norfolk
40 years of Palling Lifeboat (QRZ.com)
16/08/14
13:00
PA/DL3SFK/M
40m
LSB
56
59
Bea
16/08/14
13:03
ON4ACJ
40m
LSB
59+10
59
Marcel
Wilsele Belgium
25km East of Brussels
16/08/14
13:07
GM4VUG
40m
LSB
59
59
John
Kinross
16/08/14
13:10
G0UZL
40m
LSB
59
58
Chris
Blandford Forum
16/08/14
13:15
PA1MV
40m
LSB
57
57/59
Jaap
Delf
16/08/14
13:17
G3PXT
40m
LSB
59+10
57
Gordan
Norwich
16/08/14
13:20
G0FEX
40m
LSB
59
58/59
Ken
Leicester
16/08/14
13:22
2E0LJT
40m
LSB
59+10
59
Eddie
Bristol
16/08/14
13:27
G0WWD
40m
LSB
56/57
57
David
SW UK
16/08/14
13:28
M1EYA
40m
LSB
57
Richard
Hinkley
16/08/14
13:34
G3TKF
40m
LSB
59
47
Robin
Kelston Bath
16/08/14
13:46
G8YPL
40m
LSB
59
59
Pete
Liverpool
16/08/14
13:56
GB2LSH
40m
LSB
Wales
UK0049 – Stumble Head
16/08/14
14:13
MU0GSY
40m
LSB
59
58
Lionel
Gurnsey
16/08/14
14:16
M0PBZ
40m
LSB
59
59
Phil
Swindon
16/08/14
14:19
EI4HBB
40m
LSB
57
45
Galway
16/08/14
14:20
G0TRB
40m
LSB
59
57
Roger
Tamworth
16/08/14
14:21
G4SQA
40m
LSB
59
59
Dave
Peterborough
16/08/14
14:22
DL2EF
40m
LSB
59
58
Frank
Kerfeld Germany
16/08/14
14:25
2E0GBK
40m
LSB
59
56
Keith
Leatherhead
16/08/14
14:26
ON4IZ
40m
LSB
59
59
Dek
Ghent
16/08/14
14:27
MOPER
40m
LSB
59
59
Alan
Chester
16/08/14
14:29
ON3ND
40m
LSB
59
57
Jack
Charleroi Belgium
16/08/14
14:31
PD1CW
40m
LSB
59
59
Patrick
AE Hulst Netherlands
16/08/14
14:32
G1PIE
40m
LSB
59
42
Mark Procter
Preston Lancashire
16/08/14
14:34
G6JVT
40m
LSB
59
59
Colin
Worthing
16/08/14
14:36
G1YRV
40m
LSB
57
57
Rob
Bromley Kent
16/08/14
14:38
DL5MU
40m
LSB
55
55
Ilsenburg Germany
16/08/14
14:41
F/G0PLA/M
40m
LSB
59
57
Tim
Vendee France
16/08/14
14:43
EI8CE
40m
LSB
59
59
Aiden
Waterford
16/08/14
14:44
DL1BFR
40m
LSB
59+10
59
Georgsdorf Germany
16/08/14
14:48
EA1ATH
40m
LSB
56
55
A Coruna Spain
16/08/14
14:48
DL1BL
40m
LSB
59
59
Schmelz Germany
16/08/14
14:51
GB5BL
40m
LSB
55
59
David
Carrick Fergus
UK0032 – Blackhead Lighthouse
16/08/14
14:54
GM0GOV
40m
LSB
59
59
Fred
Glasgow
16/08/14
14:58
HB9BQR
40m
LSB
55
47
Roland
Switzerland
16/08/14
15:17
GB0TNL
40m
LSB
57
53
Jack
Inverness
UK0151 – Tarbet Ness Lighthouse
17/08/14
10:55
GB0BMB
40m
LSB
55
58
Rod
River Beaulieu
UK0002 – Beaulieu Millennium Beacon
17/08/14
11:13
EI1K
40m
LSB
59
59
Billy
Eire West Coast
17/08/14
11:30
GB2LBN
40m
LSB
59
59
Billy
Scotland
UK0034 – Barns Ness Lighthouse
17/08/14
11:36
GC6BRC
40m
LSB
59
59
Ken
Wales
UK0071 – Nash Point High
17/08/14
11:52
GB2LK
40m
LSB
59
59
David
Scotland
UK0164 – Killantringan
17/08/14
12:09
GB0HL
40m
LSB
59
57
Jack
Norfolk
UK0007 – Happisborough Lighthouse
17/08/14
12:25
GB0NL
40m
LSB
Barry
Newhaven
UK0190 – Newhaven Lighthouse
17/08/14
12:43
G8HBS
40m
LSB
55
Great Yarmouth
17/08/14
14:19
GB6HPL
40m
LSB
59
59
Karl
Hartlepool
UK0188 – Hartlepool Lighthouse
17/08/14
14:26
DL/ON6EF/P
40m
LSB
59
57
Eddy
DLFF003
17/08/14
14:32
GB2WLH
40m
LSB
59
59
David
Yorkshire
UK0013 – Withernsea
Local Museum Lighthouse
17/08/14
14:55
EI1NC
40m
LSB
59
Co Cork Eire
IE0010 – Roches Point