Location
The Somerset and Dorset Railway Heritage Trust are based at the former Midsomer Norton South Railway Station. The postal address is Midsomer Norton Station, Silver Street, Midsomer Norton, BA3 2EY. However, there are some specific details that will be of interest to radio hams:
Lat/Long: 51.281077°,-2.482759°
IARU: IO81sg
IOTA: EU005 (UK Mainland)
WAB: ST65 – England
Equipment Used
We've been undertaking our Special Events for a number of years now and have gradually fine tuned our equipment and setup over time. Railways on the Air is one of our favourite events and the only one where we regularly operate both SSB and Data. In the future our data might have to be FT8 in place of our preferred PSK as the number of PSK operators appears to have diminished since the advent of FT8, time will tell if this switch is permanent or not.
This year we used:
Nissei DPS300GL power supply;
Yaesu FT991 HF/6m/2m/70cm multi-mode transceiver;
MFJ 993 auto atu;
80m doublet fed with 450Ω ladder line;
Data Station:
Watson PowerMite NF power supply;
Yaesu FT857D HF/6m/2m/70cm multi-mode transceiver;
MFJ-971 Portable Manual ATU;
Multi-band (40m, 30m, 20m, 15m) delta loop antenna;
Tigertronics Signalink USB data interface; and
The Operation
We can't describe a Special Event in 2020 without making reference to the COVID-19/Coronavirus pandemic. The conditions under which the Club has had to operate for the bulk of the year are unlike any that have been known in living memory, and the living memory of some of our members is very long! Usually the final Special Event of the year for us this year with everything ahead of it having been cancelled or drastically altered by the restrictions we found ourselves in the position where this years Railways on the Air event was both the first and the last Special Event of the year.
We took sensible precautions, members of the Club who are in vulnerable groups or whose households contain people in vulnerable groups did not attend, we met with the Trust before the event and agreed limits on the number of people and other measures. We were only on site on a non-public day to limit the overall number of people on site and in fact we only had three people on site from the Club and one from the Trust when opening up or locking up. Within the carriage that we were allowed to operate from we maintained such distancing as was operationally practical and sanitised microphones and keyboards when different people operated.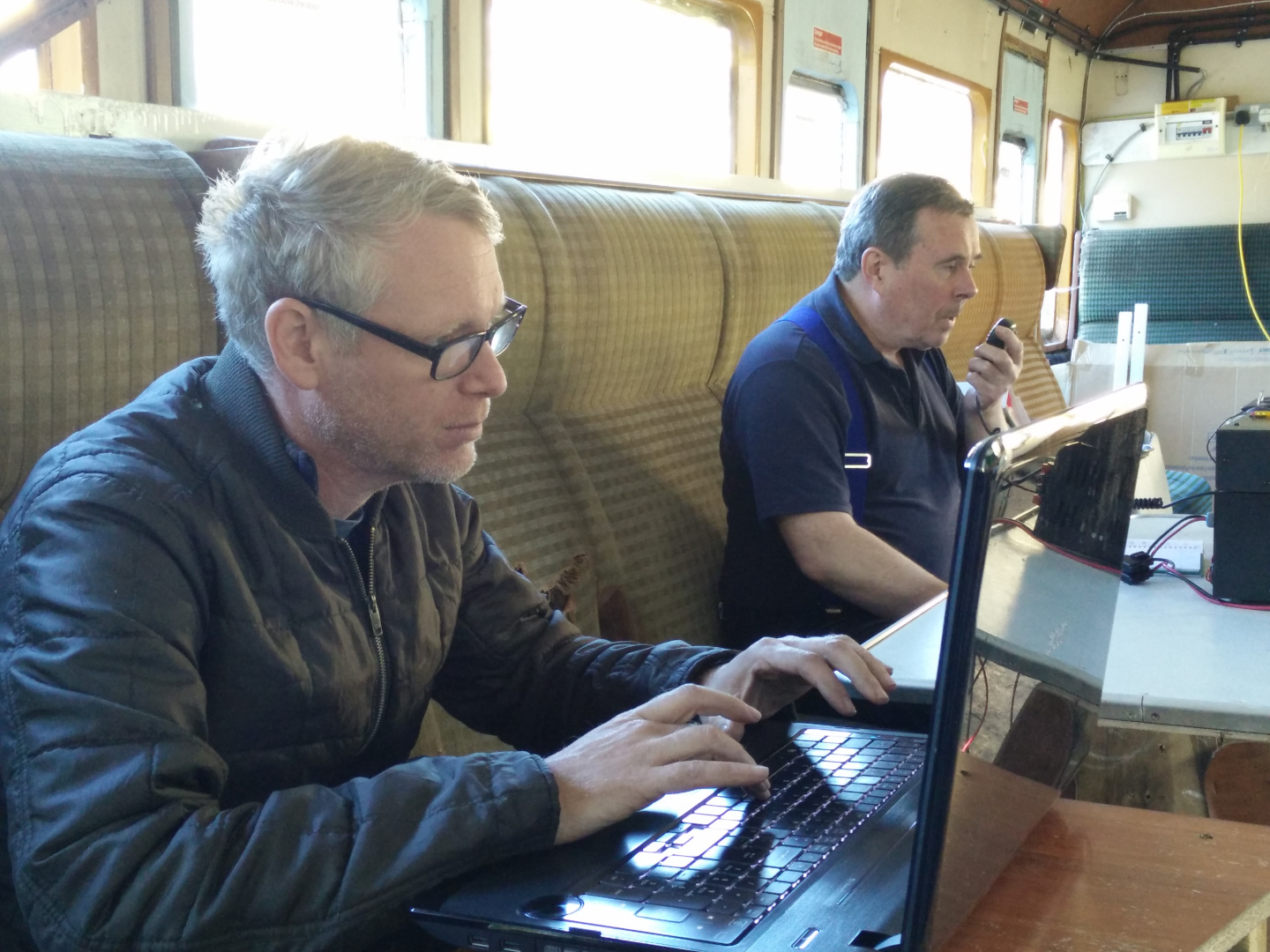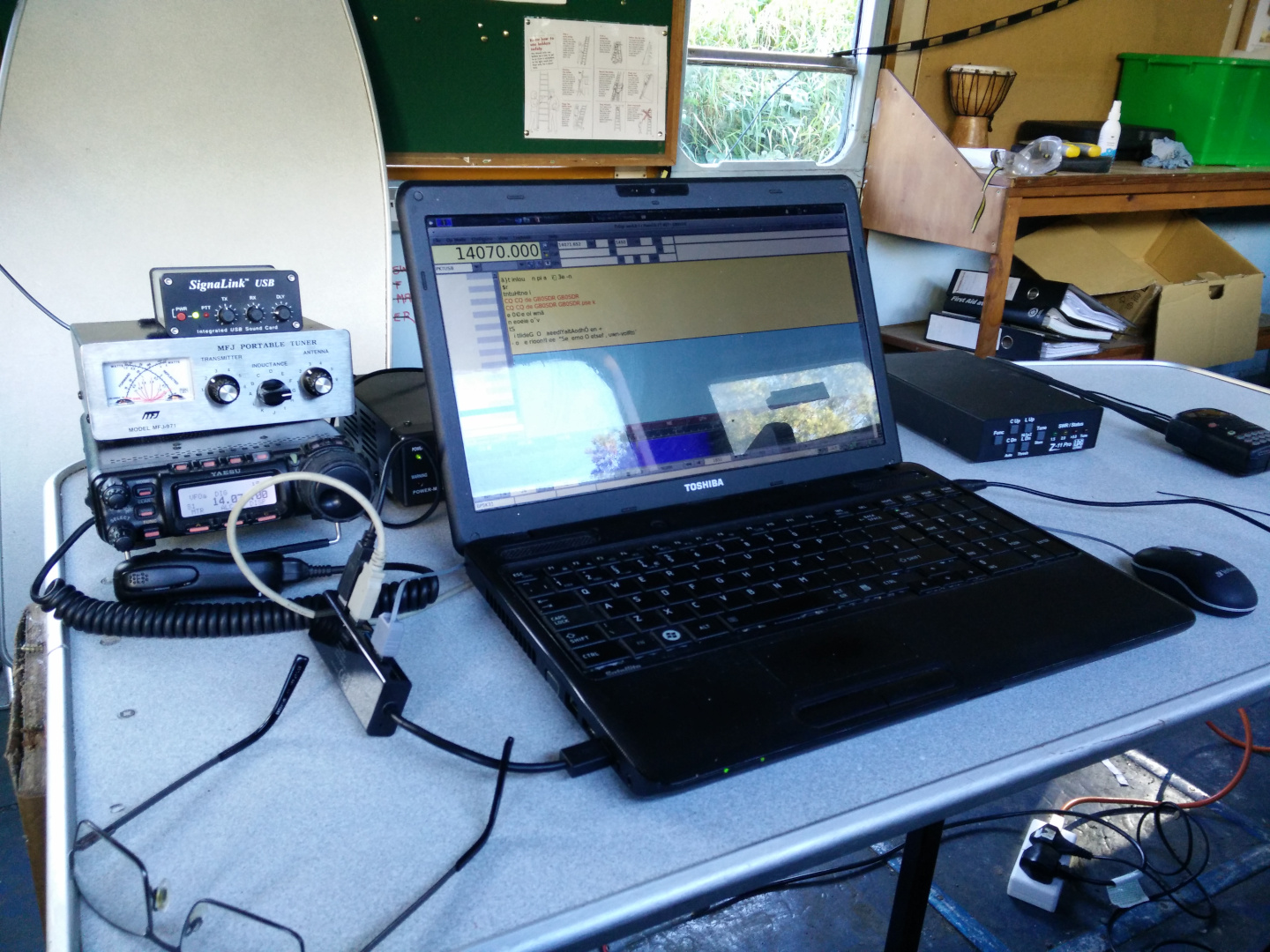 The day started when Mark M0SKV and Andy G7KNA got to site around 09:30, well that is Andy G7KNA was on site by 09:30 but Mark M0SKV was delayed because in order to get to sleep the previous night he had put in earplugs to reduce the disturbance from a neighbours party meaning that he didn't wake when his alarm went off and overslept, which explains why repeated calls for M0SKV by G7KNA on the local repeater went unanswered during the drive to site.
Once Mark M0SKV arrived the antenna errection could begin, and the two were joined by Chris M7CSL arrived and was able to lend a much needed hand putting up both the 80m doublet and the 20m delta loop antenna as well as setting up the 2 stations within the carriage.
There were one or two problems, nothing major but it dealyed both stations getting on air. A glitch in the logging software where each keystroke was duplicated as two characters had to be resolved and was traced to IBus which had possibly been installed on the Club laptop when a ZOOM client was added. Removal of IBus (and ZOOM) followed by a restart restored normal keyboard entry and coincidentally seemed to fix a database error in the log at the same time although there is no reason why it should have achieved that.
Once the two stations were operational it was noted that transmissions on 80m SSB were causing the 20m data station's MFJ Z-11 automatic ATU to retune, separation of the feeders reduced but did not resolve the problem and ultimately the original Auto ATU was replaced with a manual ATU. For a short duration operation the issue could be tolerated, but there was obvious interaction so we might have to review antenna locations next year.
80m SSB activity was reasonably constant throughout the day with a number of the stations we worked thanking us for putting a Special Event Station on. 35 clubs or individuals had registered to participate in Railways on the Air this year which is understandably down on 2019, although how many actually operated given the pandemic and the imposition of local lockdowns in some parts of the country is unclear.
PSK31 activity was very sparse and only a handful of PSK contacts were made and unfortunately a syncronisation error between logs resulted in the loss of the recorded contacts, we'll fix that for next time.
In the afternoon, Chris M7CSL had to get to a prior engagement and left but was replaced by Julian M0JCE who operated through the afternoon and helped with the dismantling of the station.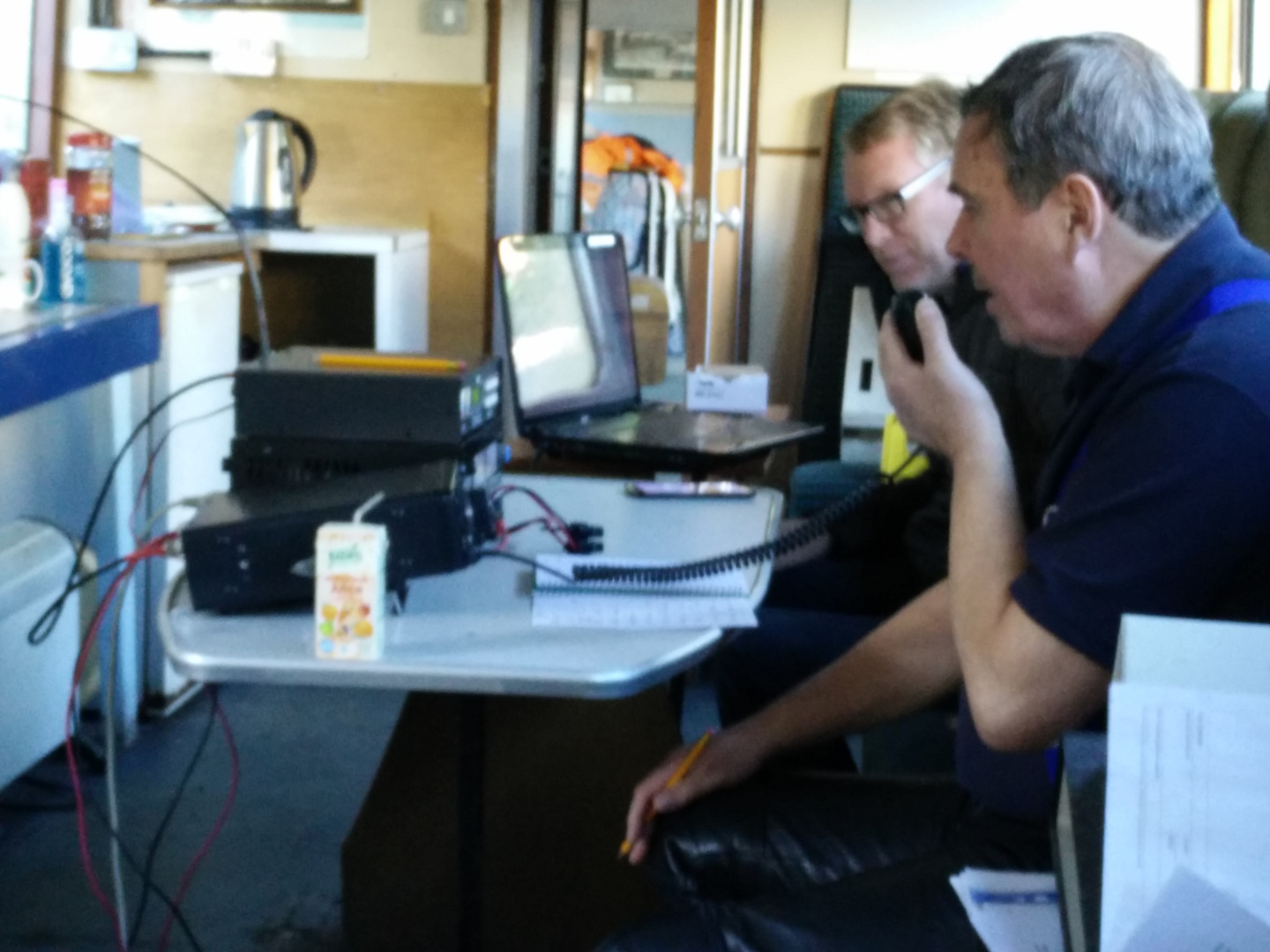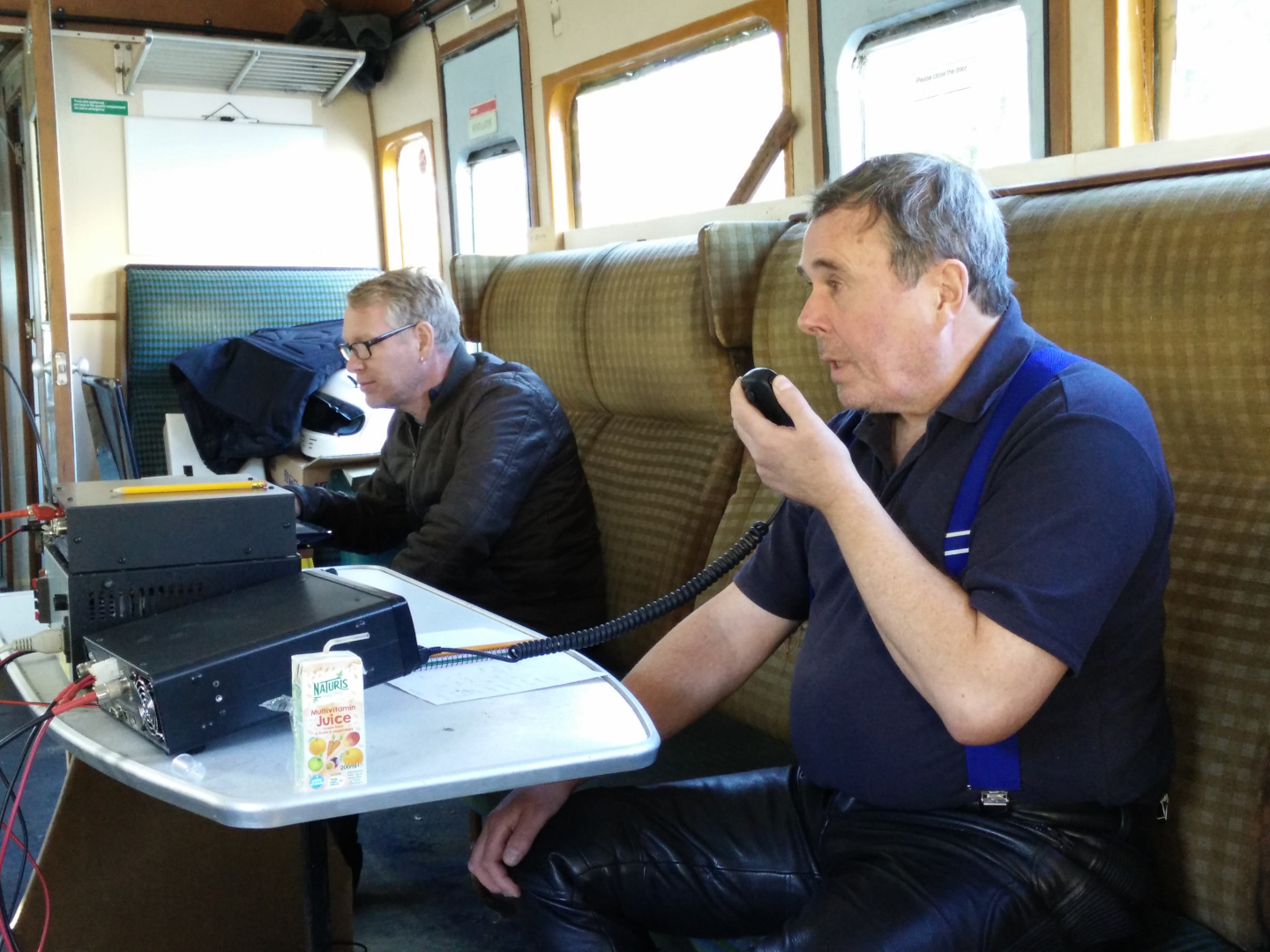 It was a very low key event compared to our previous outings, it was the first and only outing we are going to get this year, it was only for part of the Activity weekend but we did put a Special Event Station on this year and had fun operating it safely.
We would like to thank the Somerset & Dorset Railway Heritage Trust for allowing us access to their premises to operate this Special Event Station and hope that we can put on a more inclusive event with them next year.
Our Log
Date (UTC)
Time (UTC)
Station Worked
Band or Frequency
Mode
RST
Operators Name
QTH
Gridsquare
Notes
Sent
Rec'd
26/09/20
15:07
G3MFO
80m
SSB
59
59
Peter
26/09/20
15:05
G0RLN
80m
SSB
59
59
Keith
26/09/20
14:59
M0WYB
80m
SSB
59
59
Russ
Peasdown Bath
26/09/20
14:58
GB5BOB
80m
SSB
59
59
Operated by members of the Braintree and District ARS to commemorate the 80th anniversary of the Battle of Britain
26/09/20
14:57
G7RRQ
80m
SSB
59
59
Vic
26/09/20
14:52
G4CUS
80m
SSB
59
59
Antony
26/09/20
14:50
2E0LLD
80m
SSB
59
59
Edwin
26/09/20
14:39
G4BSC
80m
SSB
59
59
John
26/09/20
14:38
G0EHR
80m
SSB
59
59
Mike
Isle Of Wight
26/09/20
14:34
DM30RSV
20m
PSK31
599
599
JO42lu
26/09/20
14:34
G0DTX
80m
SSB
59
59
John
Glossop
26/09/20
14:30
2E0WCJ
80m
SSB
59
59
Will
Stratford On Avon
26/09/20
14:24
G6UUR
80m
SSB
59
59
Sam
26/09/20
14:17
G0HFL
80m
SSB
59
59
Nick
Branston
26/09/20
14:16
M0WID
80m
SSB
59
59
David
26/09/20
14:09
G3VWH
80m
SSB
59
59
Brian
Shrewsbury
26/09/20
14:04
G7AEY
80m
SSB
59
59
Dave
Kemsley
26/09/20
14:00
G4ZWA
80m
SSB
59
59
George
26/09/20
13:56
F4EQE
20m
PSK31
599
599
Serguei
Strasbourg, France
JN38uo
26/09/20
13:52
M0DFW
80m
SSB
59
59
Dave
26/09/20
13:50
GW0HYU
80m
SSB
59
59
Keith
Cardiff
26/09/20
13:47
DM30RSV
20m
PSK31
599
599
KN87ux
26/09/20
13:46
G4AWF
80m
SSB
55
59
David
26/09/20
13:42
G2FT
80m
SSB
59
59
Dave
26/09/20
13:39
F4VPL
80m
SSB
59
59
Dave
Brittany
26/09/20
13:36
G0LJU
80m
SSB
59
59
Dimitri
26/09/20
13:32
G3OKA
80m
SSB
59
59
John
Wirral
26/09/20
13:29
G4RAC
80m
SSB
57
57
John
26/09/20
13:22
G4CJY
80m
SSB
59
59
Brian
26/09/20
13:17
2W0JMK
80m
SSB
59
59
Mark
26/09/20
13:08
G0OUC
80m
SSB
57
59
Roland
Barnsley
26/09/20
13:08
MX0WGS
80m
SSB
59
59
Bernie
26/09/20
13:04
M0GIB
80m
SSB
57
59
David
26/09/20
12:59
G3VMT
80m
SSB
59+10
59+10
Terry
Newbury
26/09/20
12:55
GB1CR
80m
SSB
59
59
Simon
Corris Railway
Aberystwyth And District Amateur Radio Society
26/09/20
12:45
G8IYS
80m
SSB
59
59
John
26/09/20
12:38
MW0KST
80m
SSB
59
59
Steve
26/09/20
12:26
IZ2KXB
20m
PSK31
599
599
JN45rg
26/09/20
12:24
G7CRQ
80m
SSB
59
59
Adam
Sutton London
26/09/20
12:16
G6GWR
80m
SSB
59
59
John
26/09/20
12:12
GW4GNY
80m
SSB
59
59
Martin
26/09/20
12:09
M6XXD
80m
SSB
59
59
Paul
26/09/20
12:07
M1DDD/M
80m
SSB
59
59
Nick
26/09/20
12:03
2E0DIQ
80m
SSB
59
59
Andy
26/09/20
11:57
2E0KKA
80m
SSB
59+10
59+10
26/09/20
11:56
G0WKK
80m
SSB
59
59
Cliff
26/09/20
11:52
G3VCG
80m
SSB
59
59
Don
Chelmsford
26/09/20
11:49
G6GXO
80m
SSB
59
59
Charlie
26/09/20
11:45
GB0NDR
80m
SSB
59
59
Shillingstone Station North Dorset Railway
F R A R S
26/09/20
11:44
F4IFQ/P
20m
PSK31
599
599
JN19rj
Best 73's from France
26/09/20
11:41
G8FRS
80m
SSB
59
59
Keith
Stratford On Avon
26/09/20
11:36
G4BXM
80m
SSB
59
59
Roger
Kingston
26/09/20
11:30
2E0WPL
80m
SSB
59
59
Peter
26/09/20
11:26
G4ADR
80m
SSB
59
59
Nigel
Thame
26/09/20
11:18
GB2WSR
80m
SSB
59
59
Richard
West Somerset Railway
Richard Newton
26/09/20
11:14
G3OBX
80m
SSB
59
59
Derek
Romford
26/09/20
11:09
G8IJM
80m
SSB
59
59
Howard
26/09/20
11:07
GB4VBR
80m
SSB
59
59
Owen
Vale Of Berkeley Railway
Thornbury And South Gloucestershire A R C
26/09/20
11:02
G0LQI
80m
SSB
59
59
Mike
Weymouth
26/09/20
10:59
2E0CSQ
80m
SSB
59
59
Neil
26/09/20
10:56
M0JCE
80m
SSB
59
59
26/09/20
10:52
GW0JAI
80m
SSB
59
59
Glian
26/09/20
10:50
G3LUA
80m
SSB
59
59
Alan
26/09/20
10:46
G3OZN
80m
SSB
59
59
Ted
Worksop

All Original Website Content is licensed under a Creative Commons Attribution-NonCommercial-ShareAlike 4.0 International License.