GB2BLE Lundy Island DXpedition 2014
Location
Lundy Island is situated in the Bristol Channel about 12 miles off the coast of Devon, specific details are:
Lat/Long: 51.165213°,-4.664307°
IARU IO71qd
IOTA EU-120 (English Coastal Islands)
WAB (Worked All Britain) SS14 England

North Light: NATS (Navigational Aid to Shipping)/ALLRN (Admiralty List of Lights Reference Number) A5616
Old Light: NATS (Navigational Aid to Shipping)/ALLRN (Admiralty List of Lights Reference Number) A5617 (Not Operational)
South Light: NATS (Navigational Aid to Shipping)/ALLRN (Admiralty List of Lights Reference Number) A5618
Jetty Head: NATS (Navigational Aid to Shipping)/ALLRN (Admiralty List of Lights Reference Number) A5619

WWFF (The World Wide Flora and Fauna Programme) GFF-103
The Team
This years Lundy DXpedition took place from 14/06/2014 – 21/06/2014, with the station being operational from 15/06/2014 – 20/06/2014.
The operators this year were:
Peter G0DRX;
Matt G0ECM;
Julja SWL;
Mike G0MEM;
Steve G0UQT; and
Henryk M0HTB
This year your scribe was not part of the DXpedition team due to personal circumstances. Consequently others must be relied upon to provide the words and pictures for your delight, delectation and entertainment this year.
Until such times as a more prosaic account of activities on the island is provided by the protagonists you, dear reader, will have to make do with a little of the logistical background to mark out the page.
Friday 13 June 2014
We don't normally start our account the Friday before the departure, and the question should be asked as to whether or not such an inauspicious date should have been picked for the key logistics of collecting the mini-bus. After all, any problems at this end of the operation could have a dramatic effect on the rest of the week.
Never the less our story opens on Friday the thirteenth. This year Andy (G7KNA), who has been a member of the last 5 DXpeditions couldn't make the trip. He was recruited, therefore, to the role of bus driver and transport coordinator. He also had to work the club end of the planned Contact Lundy evening, but more of that later.
The plan was good, but like all plans it didn't survive first contact with the enemy. The enemy in this case was clients wanting fee proposals. Friday morning saw Andy (G7KNA) drive into his usual place of work in Bristol, ideally he would have taken the bus but an engagement mid-morning made it necessary to be able to drive from work to another venue so the car had to be brought into Bristol. The morning went to plan and the appointment went off without a hitch as did the journey home to drop the car and pick up a bus to get back into work ensuring that vehicles were in the correct place.
It all began to go wrong in the afternoon. The plan was to get out of work early and catch either the harbour ferry or the bus through to Temple Quay/Temple Meads and from there walk to the mini-bus hire depot. Good plan, the boat was due to depart at 16:00 and offered the benefit of terminating its journey closer to the depot than the bus would. However, it was a bit too early to comfortably sneak away for so it was far more likely to be the Wessex Connect Bus 506 which leaves from the Maritime Museum at around 16:30.
Sadly, at 16:30 Andy (G7KNA) was still ensconced in a meeting to discuss the fee levels on a potential project. As an upshot it was a high speed and sweaty 1.7 mile walk to Temple Meads and the mini-bus hire depot to just make it before they closed and it became impossible to collect the mini-bus.
But it didn't end there, oh no. Andy (G7KNA) had an engagement that evening, he was attending the CIOB dinner and awards evening which was bound to go on to the small hours of the morning, so having picked up the bus he had to get home, change into black tie and get back into Bristol then spend the evening meeting, greeting and eating before returning home grabbing a few hours sleep and setting out at 04:00 to pick everyone up.
Talk about everything happening at once!
Saturday 14 June 2014
Today went to plan despite some hic-ups on the way. First pick up was Henryk (M0HTB) at his QTH in Backwell at 04:10. This went exactly to plan, Henryk was ready and waiting outside his house with his baggage which was deftly thrown into the mini-bus for later re-arrangement as others were collected. From there it was off to Gordano Services at Junction 19 on the M5 to pick up Pete (G0DRX), Matt (G0ECM), Julja (SWL) and Mike (G0MEM) who was freshly returned from China. Again no big problems every one was where they should be at the appointed time and the mini-bus was loaded with time to spare.
At this point Henryk realised he had left one of his kites at home. With some slack in the travel programme the journey plan for getting to Steves (G0UQT) QTH was thrown out the window with abandon and instead of getting onto the M5 at Junction 19 and barrelling south to Bridgwater, the van was taken back to Backwell from whence it came, stopped at Henryks QTH and then taken to the M5 along the A370 joining the motorway at Junction 21.
Despite this the mini-bus was at Steves QTH more or less on programme and with some slack remaining in the journey plan.
Just as well there was a bit of slack as, although the rest of the journey was trouble free, there was one small detour required where some overnight resurfacing works were being completed on the North Devon Link Road. Despite this the team were at Ilfracombe Quay by 07:40, about 20 minutes ahead of schedule and leaving plenty of time to unload, transfer luggage to the MS Oldenburg and get a spot of breakfast. Next year we might depart just a little bit later to give everyone that little bit more time in bed!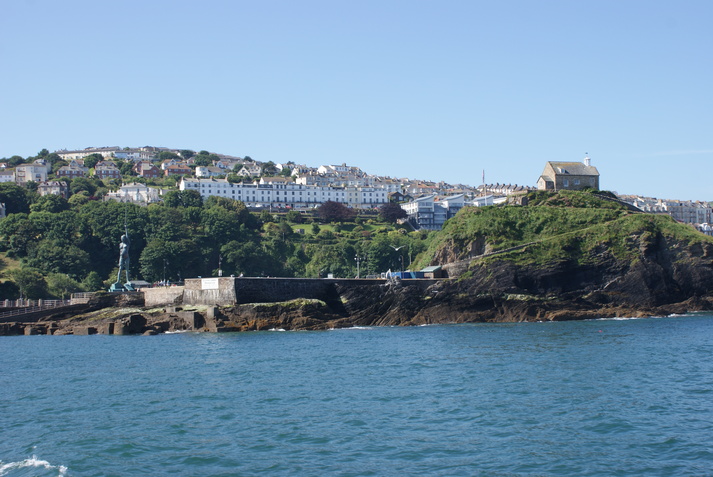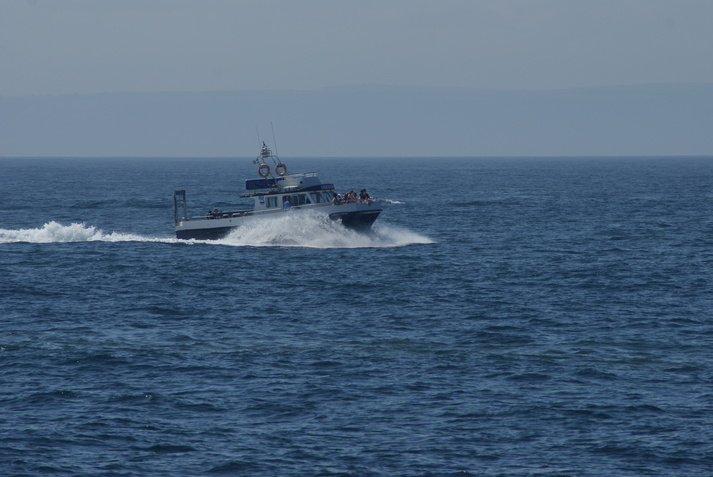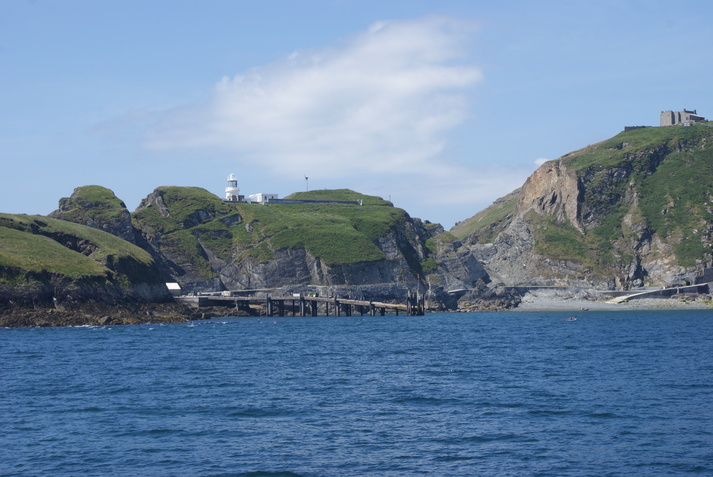 Sunday 15 June 2014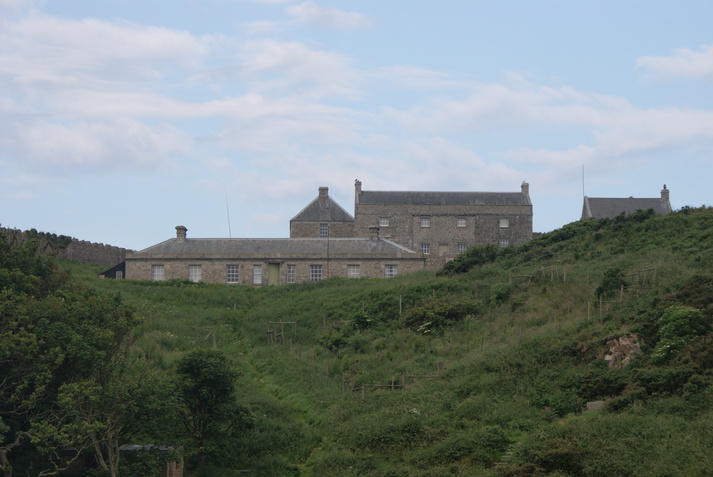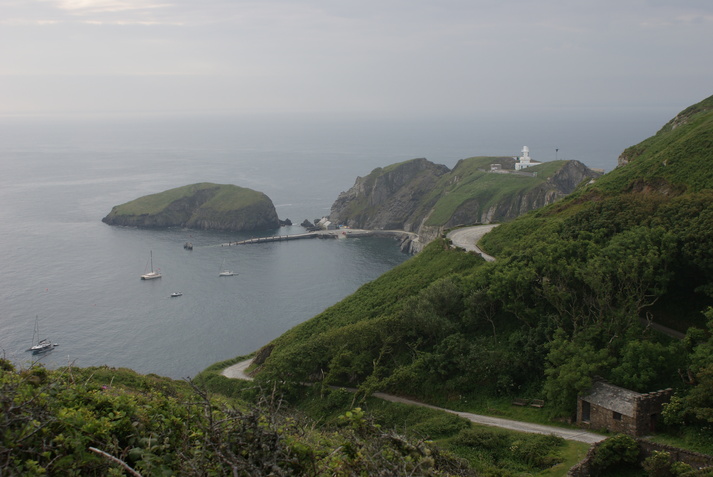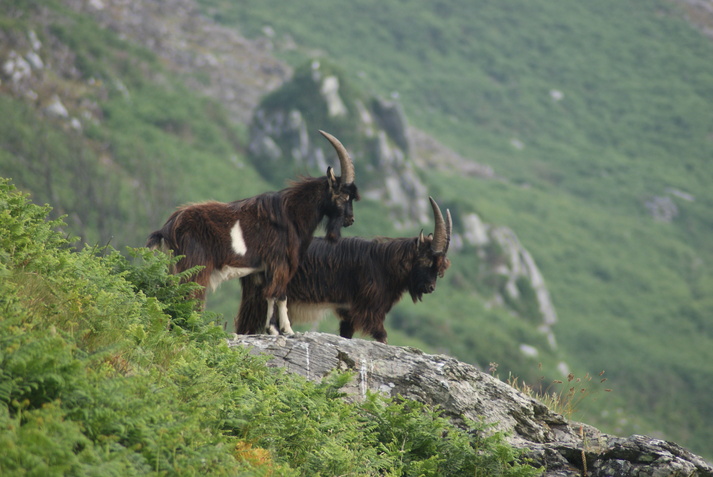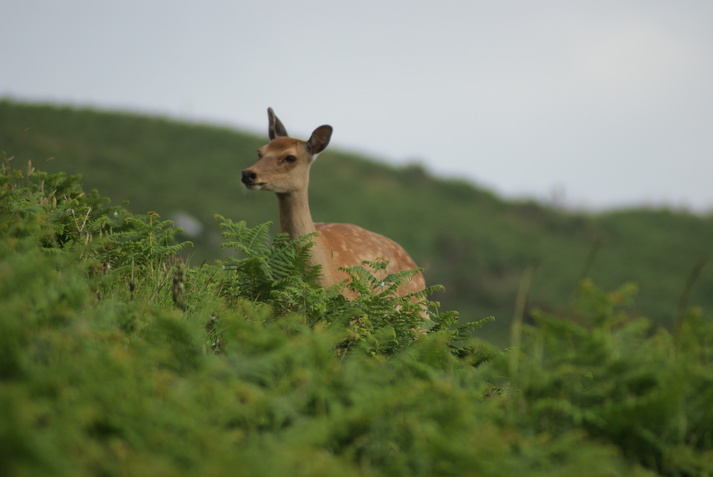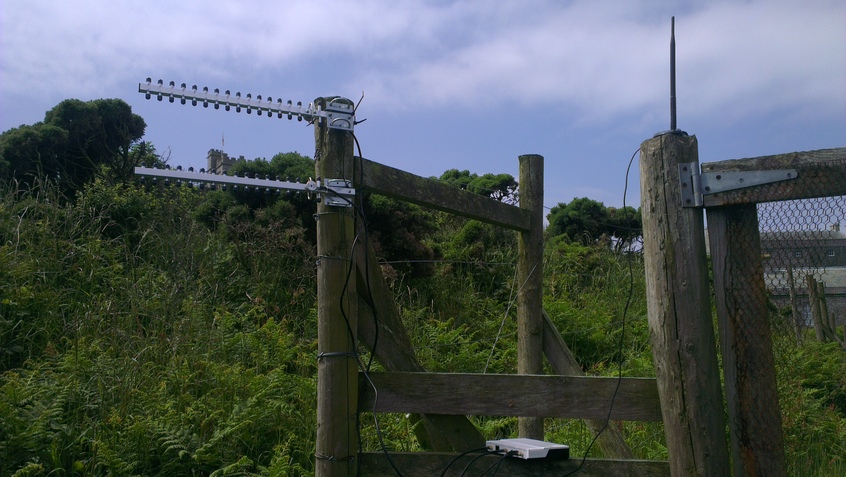 Monday 16 June 2014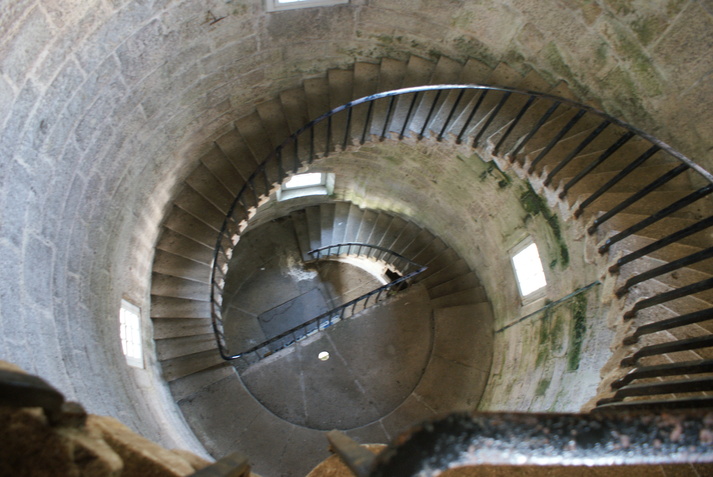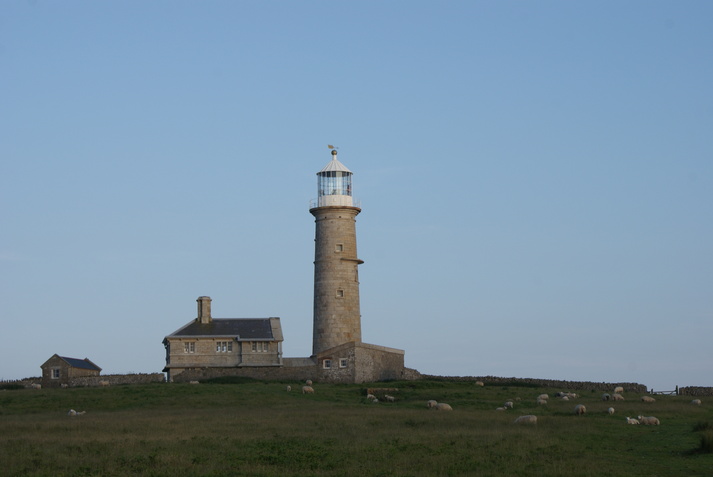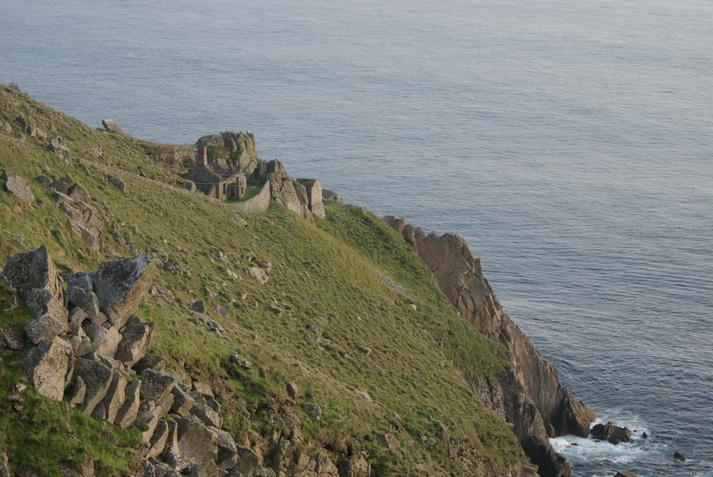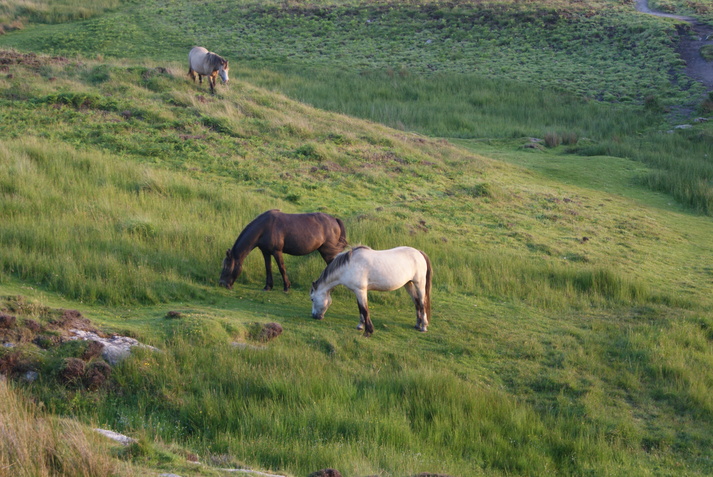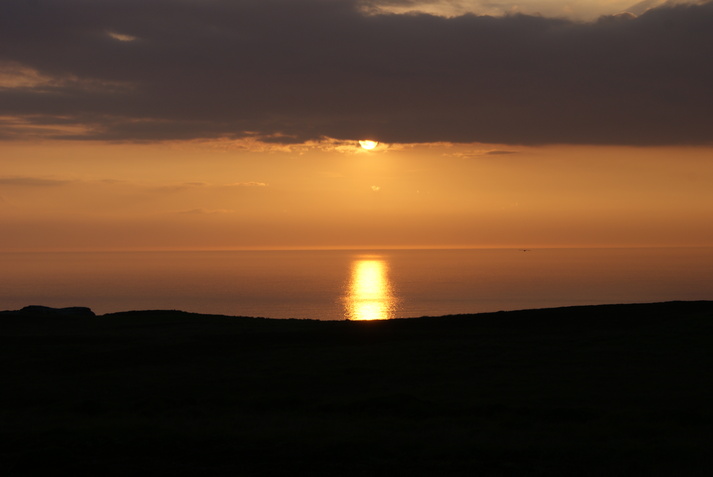 Tuesday 17 June 2014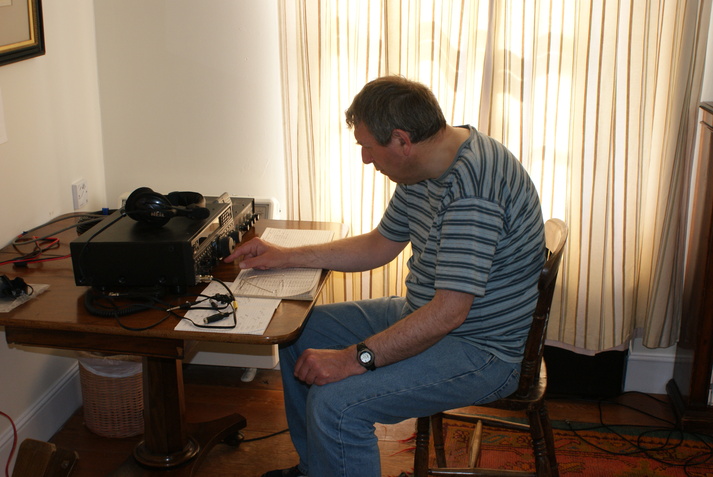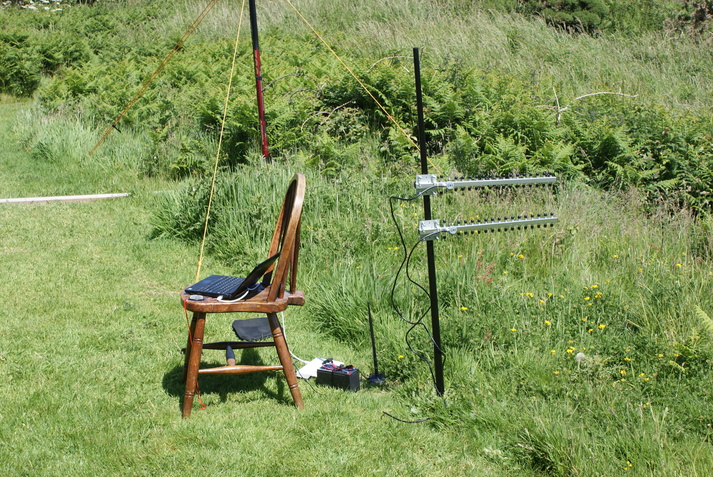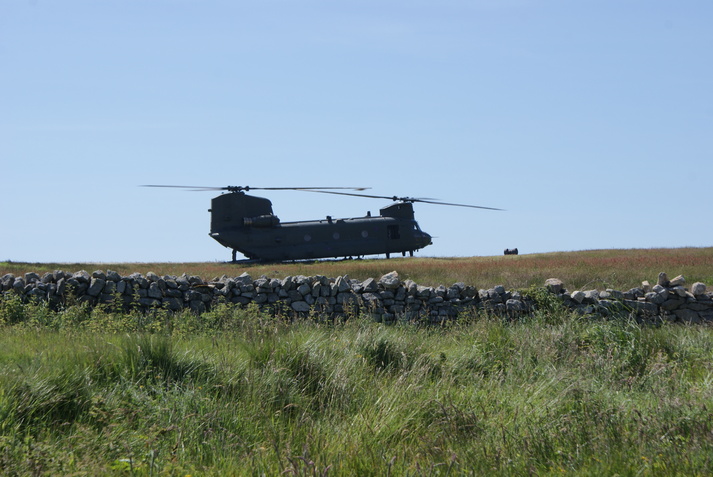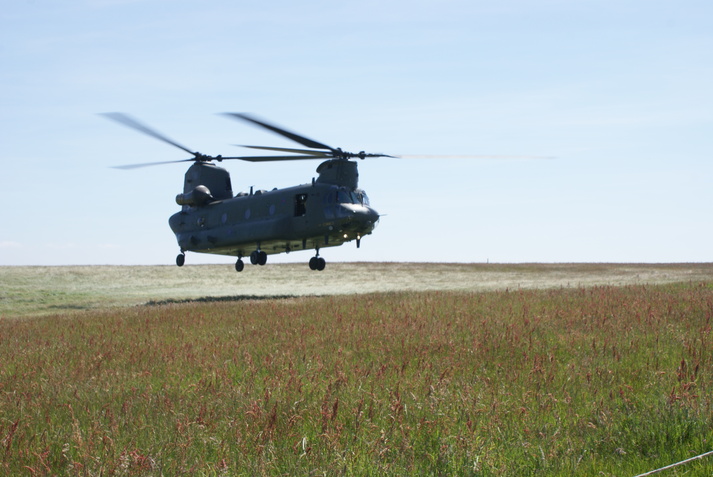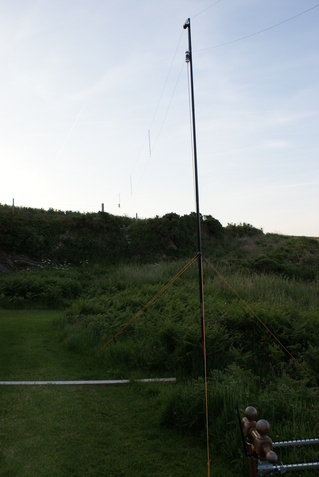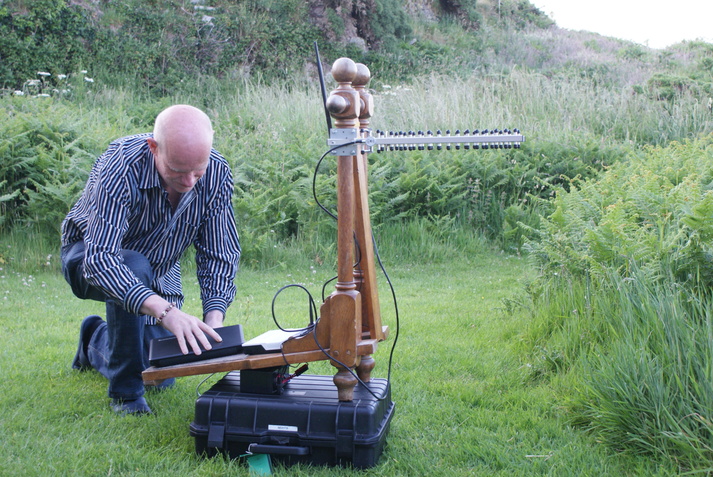 Wednesday 18 June 2014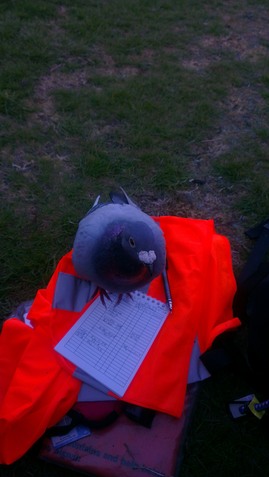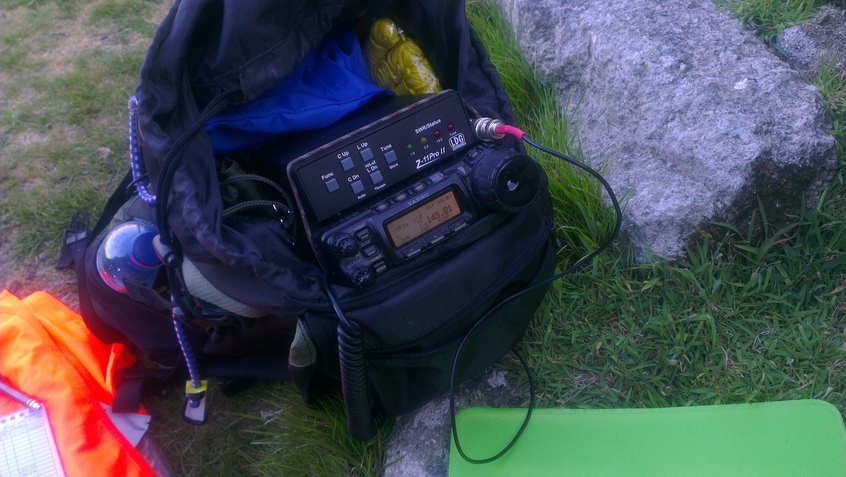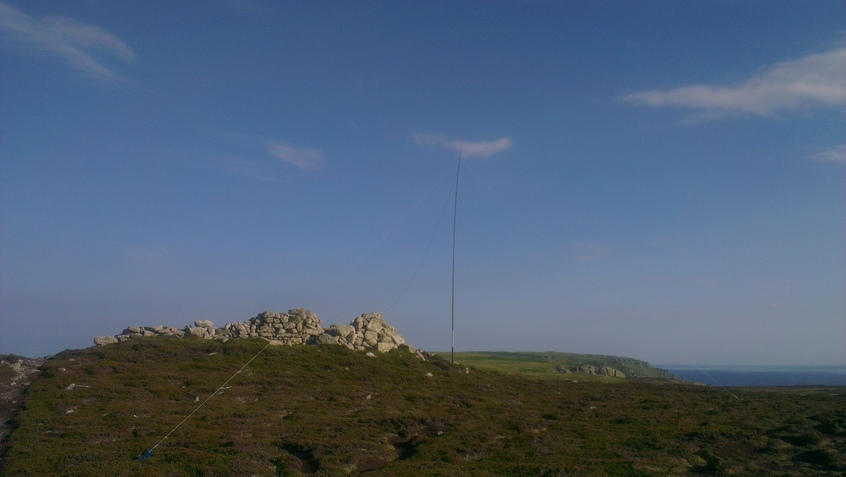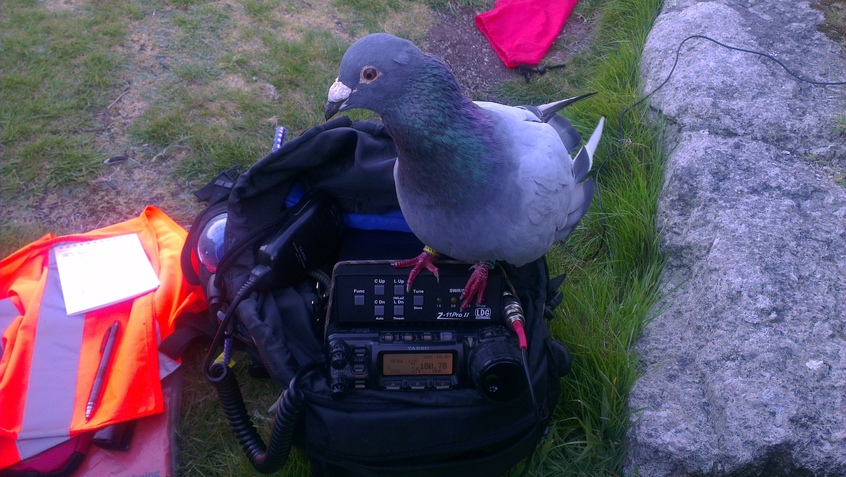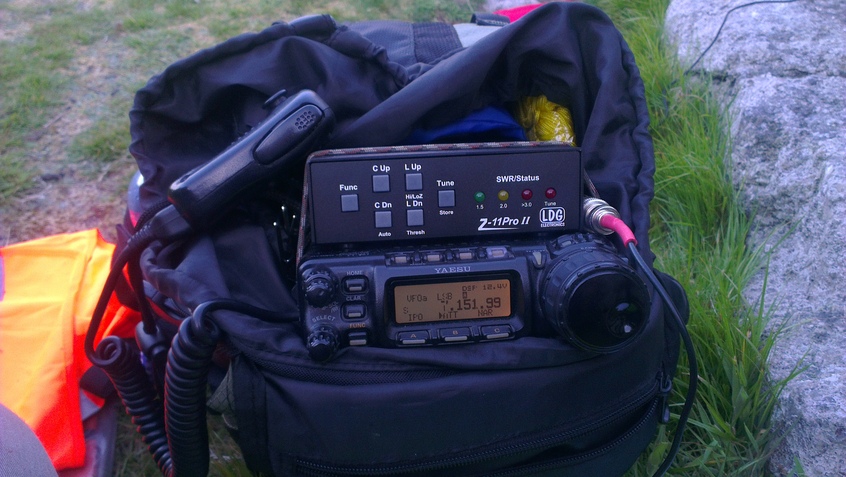 Thursday 19 June 2014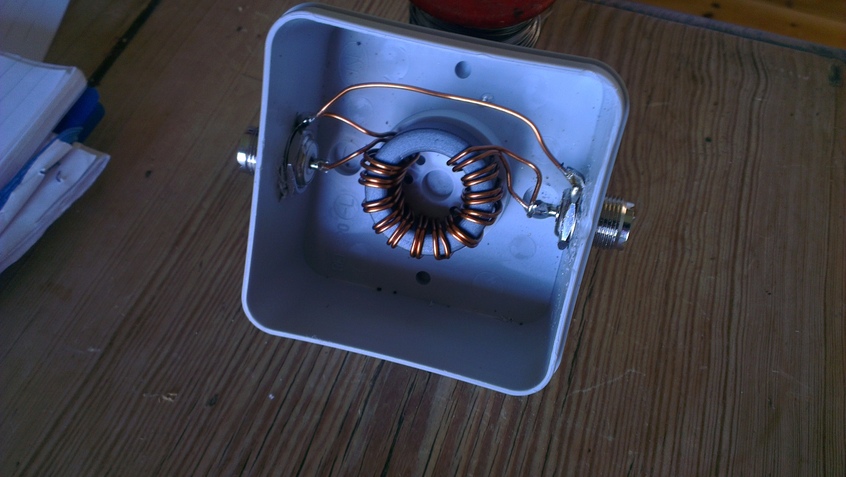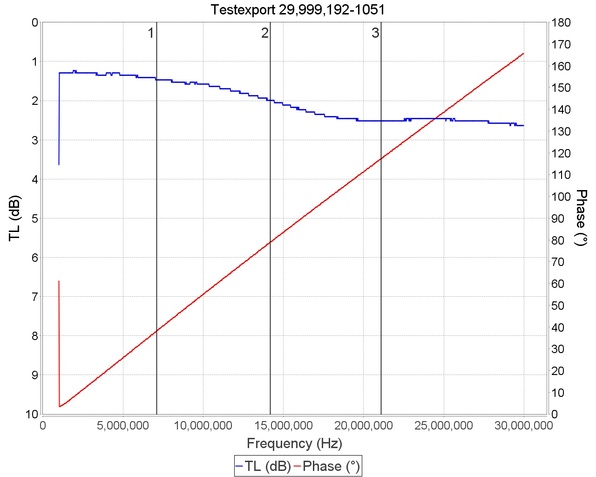 Today is the annual attempt for the club to contact the GB2BLE team. In recent years, noticeably since our relocation to the Novers Park Community Centre, this has been a rather unsuccessful activity. This year a little bit of research by Henryk (M0HTB) had suggested that NVIS would be a more reliable propagation method. As the clubs HF antenna is a vertical that is unsuited to NVIS a temporary antenna was constructed employing a half size G5RV that was erected a mere 2.5m – 3.5m off the ground using the boundary fence and a roach pole as the principal means of support.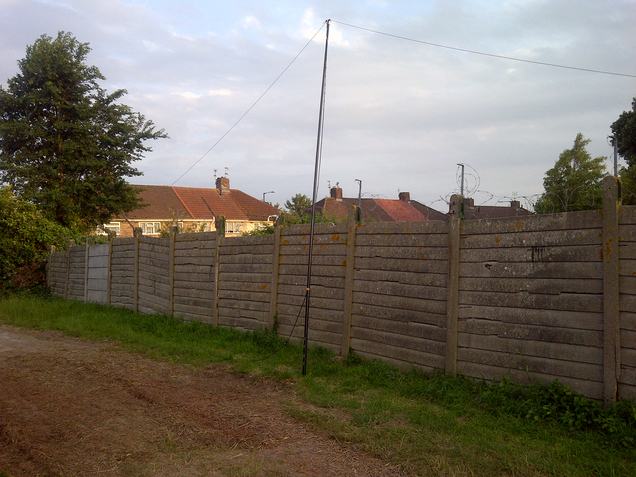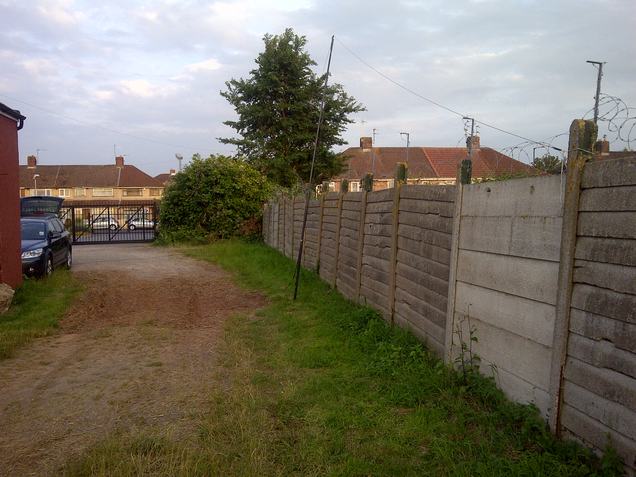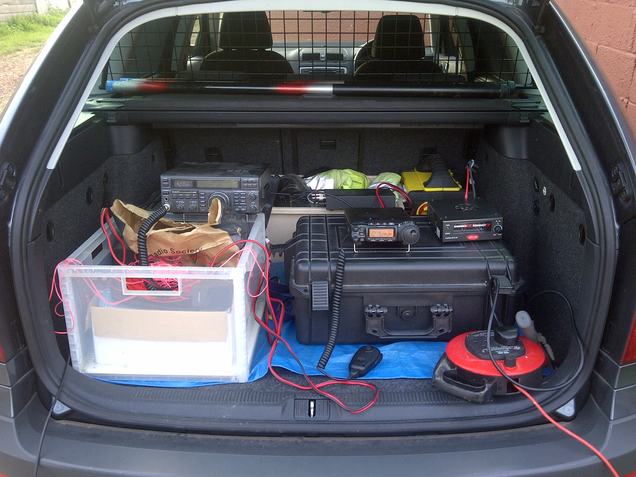 Sadly despite talk back on 900MHz and trying two different rigs: the club FT840 and a FT857, contact wasn't made. GB2BLE reported hearing GX4WAW but the reverse condition didn't happen. The club does suffer from a high noise floor which perhaps doesn't help but we will try again next year I suspect.
Henryk (M0HTB) did run some post event propagation simulations which seem to indicate that the 40m path was marginal and that we might have been better served using 160m. Better luck next year perhaps?
Friday 20 June 2014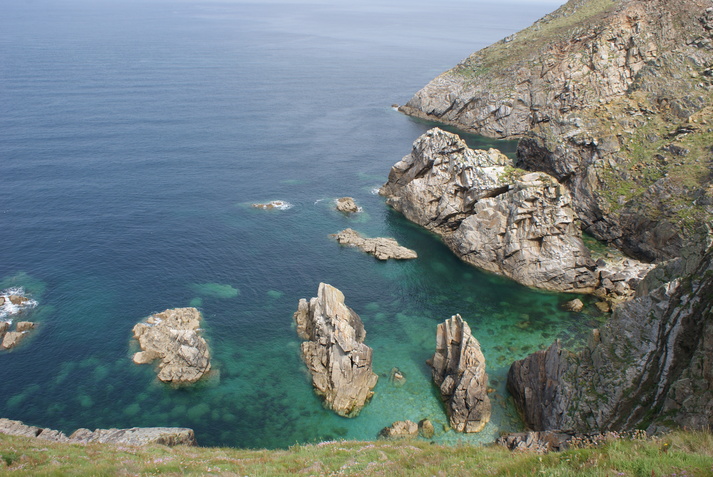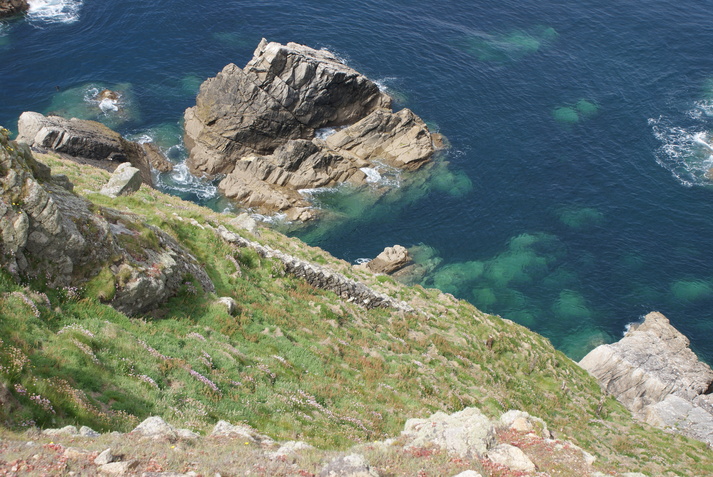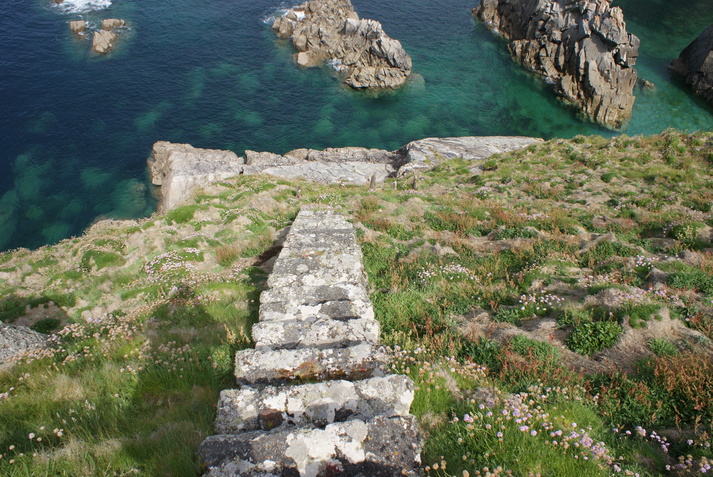 Saturday 21 June 2014