Location
The Somerset and Dorset Railway Heritage Trust are based at the former Midsomer Norton South Railway Station. The postal address is Midsomer Norton Station, Silver Street, Midsomer Norton, BA3 2EY. However, there are some specific details that will be of interest to radio hams:
Lat/Long: 51.281077°,-2.482759°
IARU: IO81sg
IOTA: EU005 (UK Mainland)
WAB: ST65 – England
Introduction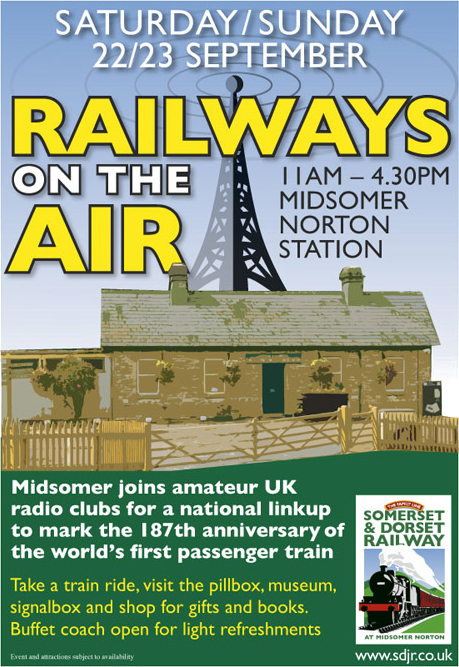 This year the Railways on the Air commemorative weekend took place over the 22nd and 23rd of September. As last year the South Bristol Amateur Radio Club was invited to operate from the Somerset and Dorset Railway Heritage Trust at the Midsomer Norton South Station
Although it was only 12 months since we had operated from here, the Trust had plainly been working hard having extended the length of operational track and acquired a Diesel Multiple Unit that ferried passengers up and down the working line. This provided a much more comfortable ride than last years brake van and was a welcome warm and dry haven on Sunday when the weather turned wet and cold.
Station Setup
After the obligatory search for dead bodies that are seemingly de rigeur in a town with the name Midsomer anything we decided that there was absolutely no need to contact Chief Inspector Barnaby and we got on with the serious business of putting an Amateur Radio station on the air.
Either because of last years learning experience, or because we elected to keep things simple this year and almost certainly because we had plenty of bodies on Saturday morning, setting up the station was a relatively quick 45 minutes from arrival to first CQ. The Trust had kindly placed a table in the platform shelter in readiness for us.
This years station comprised:
Manson EP-925 25A Linear Power Supply
Yeasu FT-840 HF 100W HF Transceiver
MFJ-934 Manual ATU
10m Pro Whip Antenna
Dell Laptop running HRD (only used for logging)
Saturday 22 September 2012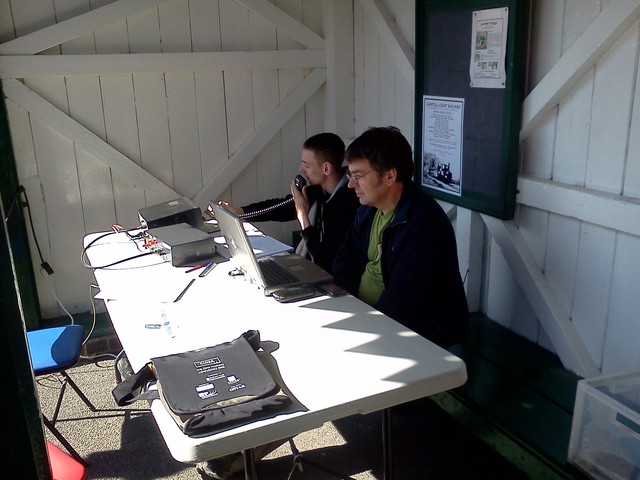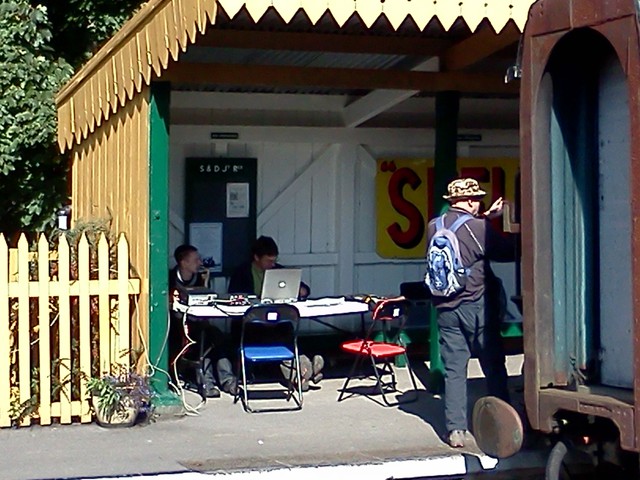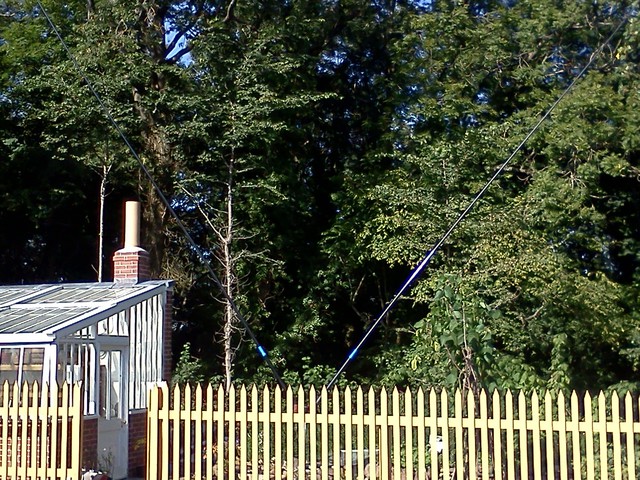 As can be seen from the photos above and immediately below Saturdays weather was fine, plenty of sunshine giving a pleasant operating environment. First contact was with GM3TKV at the Keith Dufftown Railway, followed only 3 – 4 minutes later by GB0DMR the Belfast and County Down Minature Railway. The Special Event Stations continued to roll in with GX3ERD/P operating from the Princess Royal Class Locomotive Trust. By the end of the day we had worked 53 Radio Stations with 10 of these being Special Event Stations. Overall we felt this was a good start to the weekend.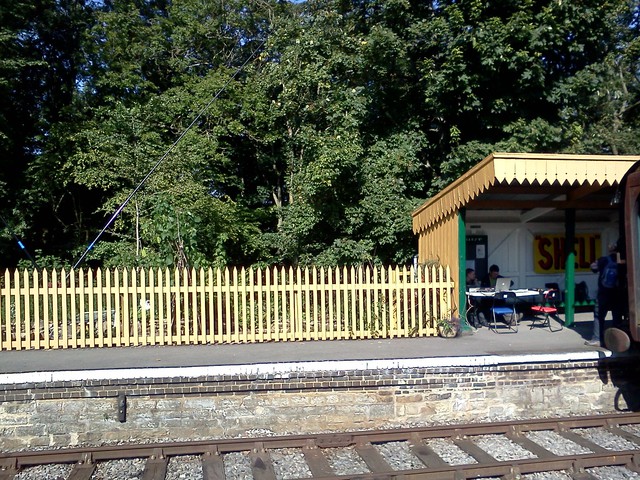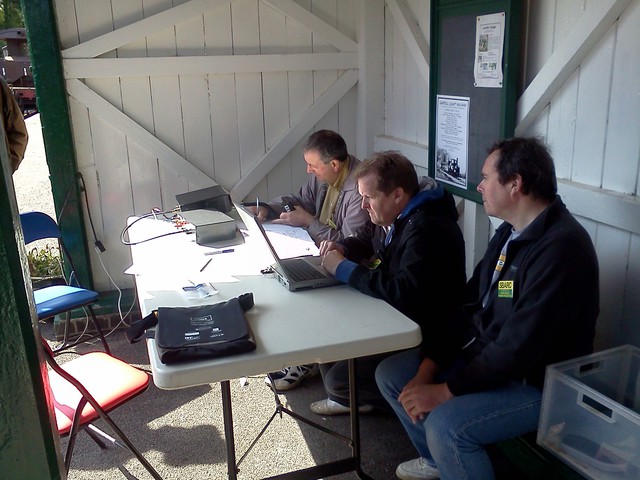 We had a number of visitors on the Saturday, many were local hams dropping by to have a look at our station and chat about things generally. We were also visited by the local paper and a few photos were taken so we may have some minor celebrities amongst our number.
Members of the club came and went throughout the day so I'm sure to miss someone or put them on the wrong day, but thanks should go in no particular order to: Fred G7LPP, Henryk M0HTB, Tom M3TWJ, Chris M6CXB, Ashley M6USP, Julian M6JCE, Peter G0DRX, Ben 2E0RCG and Dave M3JDK.
Sunday 23 September 2012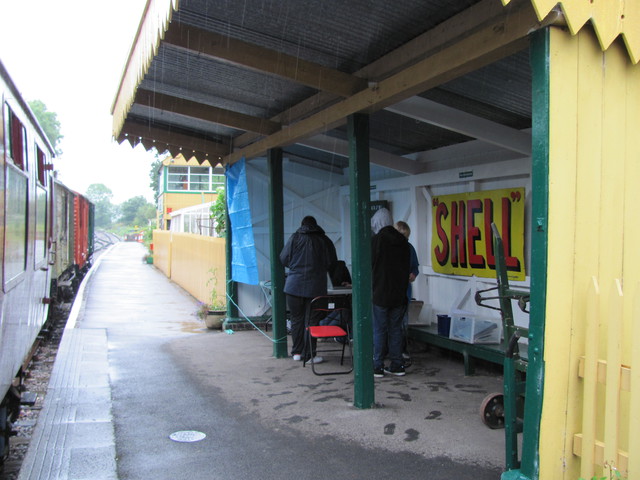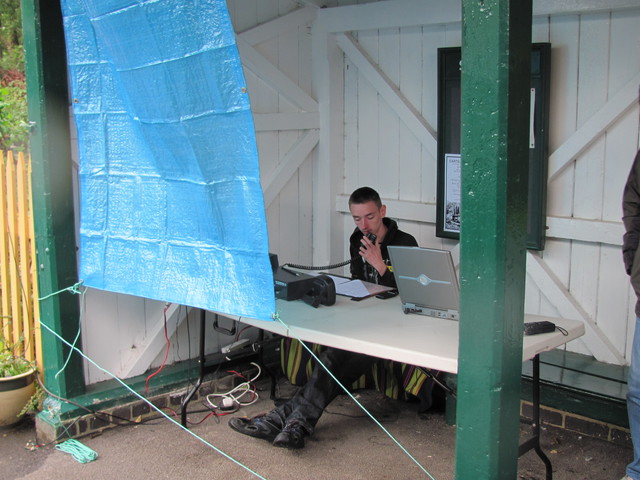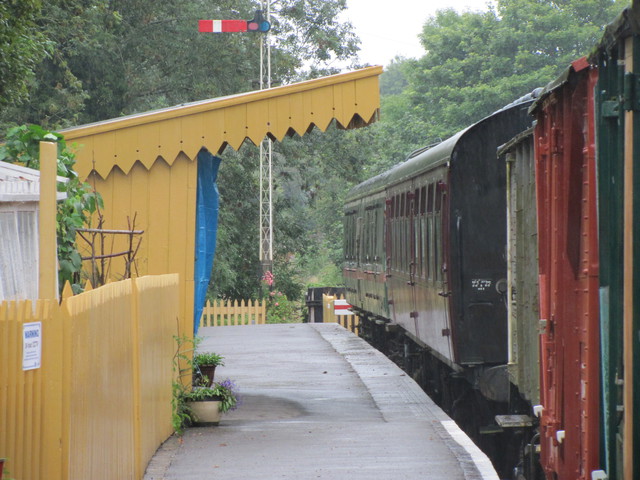 The weather forecast had been for a turn to the worse in weather conditions, and what do you know? For once the weather forecasters got it right. Typical when you actually think about it, the one time we would have happily accepted an incorrect forecast they got it right.
So faced with wetter and colder conditions we pressed on with the event, our only concession to the conditions being the removal of the chairs from in front of the operating table and the addition of a small tarpaulin rain/wind screen in front of the operating table. This was more to protect the equipment than the operators, after all we are real Hams and the equipment is more valuable than we are!
The event started more slowly than on the Saturday, partly we suspect because Sunday morning is often the time for regular nets and partly because we heard the HMS Belfast Special Event Station GB2RN and were keen to take our turn in the long list of stations trying to work the ship. We succeeded and GB2RN made the first entry in todays log.
We worked fewer Special Event Stations this time, Foxfield Light Railway were amongst the RotA registered stations that we bagged on Sunday morning along with the Ribble Steam Railway. We worked GW0VSW in Skewen who is the author of the HF Highlights column in Practical Wireless. Details of our event will be sent to him directly and may appear in Practical Wireless.
The last railway we worked was Bredgar and Wormshill Light Railway. The afternoon didn't end there for us however. Ashley M6USP took the mic for the closing hour of the event. He is a new operator having passed his Foundation Licence with the club only 6 months previously in February and had very little HF experience under his belt. Initially a little apprehensive he quickly warmed to his time on the mic and was welcomed by many stations. In fact when it became apparent that he was a new HF operator it seemed as though stations made an effort to work us and he found himself the target of a small pile-up which was quite daunting although he handled it very well. It was great that so many stations took the time to queue up and work us during the last hour of our operation.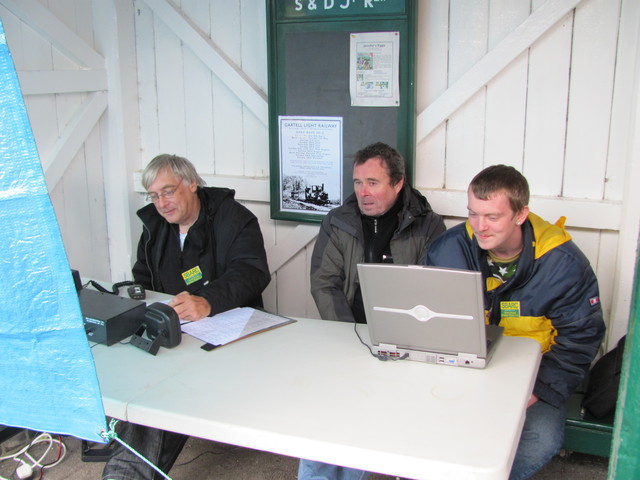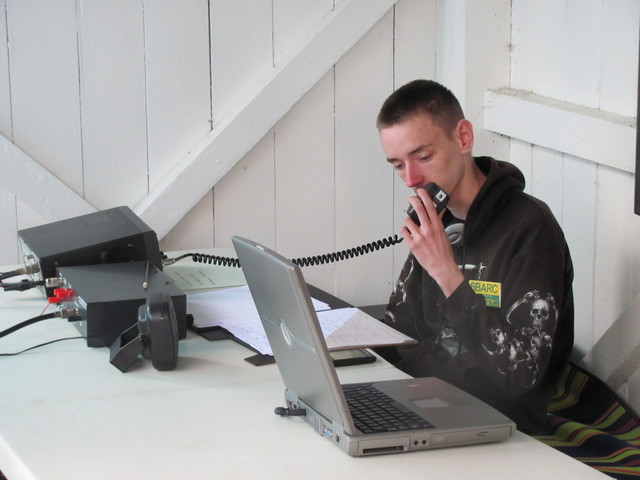 By the end of the day we had worked 44 stations bringing out total to 97 for the weekend. We added 4 Special Event stations to Saturdays total leaving us with 14 for the weekend.
Again members of the club came and went but thanks should go to Tom M3TWJ, Ashley M6USP, Dave G7BYN, Julian M6JCE, Tania M6LUA and Josh M6TYK.
Event Log
Date (UTC)
Time (UTC)
Station Worked
Band or Frequency
Mode
RST
Operators Name
QTH
Notes
Sent
Rec'd
22/09/12
09:40
GM3TKV
40m
LSB
59
59
Jim
Keith Dufftown Railway
22/09/12
09:44
GB0DMR
40m
LSB
59
59
Keith
County Down
Belfast and County Down Minature Railway Society
22/09/12
09:57
G7TCW/P
40m
LSB
58
59
Tim
Cannock
22/09/12
10:02
GX3ERD/P
40m
LSB
59+
59+
Dave
Princess Royal Class Locomotive Trust
22/09/12
10:14
MU0GSY
40m
LSB
59
59
Lionel
Gurnsey
22/09/12
10:17
G0BFJ
40m
LSB
59
59
Brian
Huddersfield
22/09/12
10:22
G0TPK
40m
LSB
59
59
Tony
Berkhamsted
22/09/12
10:28
MW0IML/P
40m
LSB
59
59
Barry
Caernarfon
22/09/12
10:30
G6YMB
40m
LSB
59+
59
Bob
22/09/12
10:39
G1PIE
40m
LSB
59
59
Mark
Preston Lancashire
22/09/12
10:42
M3NHA
40m
LSB
59
59
Tony
1/2 Mile from Manchester Airport
22/09/12
10:44
M6NHA
40m
LSB
59
59
Sara
Manchester
22/09/12
10:47
GW4BKG
40m
LSB
59
59
Stephen
Porthcawl
22/09/12
10:49
GM3MRV
40m
LSB
59
59
George
Gretna
22/09/12
10:50
G3YOU
40m
LSB
59
59
John
Tonbridge Kent
22/09/12
10:53
G8CBU
40m
LSB
59
59
Ray
Luton Bedfordshire
22/09/12
11:04
GB5WRS
40m
LSB
59
59
Paington Devon
Special Event Station
22/09/12
11:06
2E0GBA
40m
LSB
59
59
Ian
Darlington
22/09/12
11:09
M0JCD
40m
LSB
59
59
John
Nantwich
22/09/12
11:14
M3KPY
40m
LSB
59
59
John
Port of Rye
22/09/12
11:16
2E0CJA
40m
LSB
59
59
Lee
Hull
22/09/12
11:20
G7GYM
40m
LSB
59
59
Richard
22/09/12
11:23
G3HQS
40m
LSB
59
58
Cyril
22/09/12
11:25
M6BMB
40m
LSB
59
59
Keith
South West London
22/09/12
11:35
G4GEW
40m
LSB
59
59
Peter
Coulsdon
22/09/12
11:45
G6UBM
40m
LSB
59
59
Les
Tonbridge Kent
22/09/12
11:49
G6LKB
40m
LSB
59
59
David
Ulverston
22/09/12
11:53
M1BYQ
40m
LSB
59
59
Rob
Grimsby
22/09/12
12:18
G1NCZ
40m
LSB
59
59
Bob
22/09/12
12:29
GB2NMR
40m
LSB
59
59
Paul
Normanby Hall
Normanby Park Minature Railway
22/09/12
12:48
GB2MBS
40m
LSB
59
59
Kevin
Market Bosworth
22/09/12
12:58
GB2NNR
40m
LSB
59
59
North Norfolk Railway
22/09/12
13:10
GB0CVR
40m
LSB
59
59
John
Castle Headingham
Coln Valley Railway
22/09/12
13:13
GB4OST
40m
LSB
59
59
Margaret
Tintern
22/09/12
13:22
M3JFM
40m
LSB
59
59
Paul
University Of Oxford
22/09/12
13:26
M0XLT
40m
LSB
59
59
Kevin
Skipton
22/09/12
13:29
G3NGX/P
40m
LSB
59
59
Harry
South Oxfordshire
22/09/12
13:35
F/G4ISK
40m
LSB
59
57
Dave
North Brittany
22/09/12
13:37
G0FEX
40m
LSB
59
59
Ken
Leicester
22/09/12
13:41
2E0CEZ
40m
LSB
59
57
Derek
22/09/12
13:46
GB0NVR
40m
LSB
35
59
Dave
Nene Valley Railway
22/09/12
13:51
GB4LBR
40m
LSB
59
59
Paul
North Devon
Lynton and Barnstaple Railway
22/09/12
13:55
M0RMW
40m
LSB
59
59
Roger
Farnham
22/09/12
13:58
HB9BQR
40m
LSB
59
59
Roland
Switzerland
22/09/12
14:03
M6ESS
40m
LSB
59
57
Mark
Luton Bedfordshire
22/09/12
14:08
GW3LNR
40m
LSB
59
59
Arthur
Merthyr Tydfil South Wales
22/09/12
14:14
M0HEM
40m
LSB
59
57
John
Dagenham Essex
22/09/12
14:21
2E0ZDX
40m
LSB
59+
59
Phil
Garstang
22/09/12
14:35
G4AYO
40m
LSB
59+
59+
Mike
Sheffield
22/09/12
14:39
G4TJY
40m
LSB
57
57
Lawrence
Norwich Norfolk
FT875 @ 100w
22/09/12
14:43
G1JGT
40m
LSB
59
59
John
Huntingdon Cambridgeshire
22/09/12
14:47
GB1NNR
40m
LSB
59
59+
Bob
Norfolk
North Norfolk Railway
22/09/12
14:50
G3NGX/P
40m
LSB
59
59
Harry
Oxfordshire
23/09/12
10:20
GB2RN
40m
LSB
57
59+
Tom
HMS Belfast London
Operators home QTH – Taunton G0PSE
23/09/12
10:28
G4EZV
40m
LSB
57
59+
Mike
Torquay Devon
23/09/12
10:35
M6ESS
40m
LSB
47
59+
Mark
Luton Bedfordshire
23/09/12
10:45
GW3XRM
40m
LSB
59
59
Dave
Angelsey
23/09/12
10:50
GW4DWN
40m
LSB
59+
59+
Hugh
Briton Ferry
23/09/12
10:54
G4KVI
40m
LSB
59+
59
Chris
Midsomer Norton
No QSL Card
23/09/12
10:57
GB2FLR
40m
LSB
59
59
Foxfield Light Railway
23/09/12
11:03
G0VPY
40m
LSB
59
59
Eric
Tunbridge Wells
23/09/12
11:31
PC5Z
40m
LSB
57
57
No QSL Card
23/09/12
11:36
G3KAG
40m
LSB
59
59
Tony
Derbyshire
23/09/12
11:39
M3MKM
40m
LSB
59
59
Davey
Hertfordshire
No QSL Card
23/09/12
11:42
F/G4ISK
40m
LSB
59
59
Dave
South Brittany
Second contact. No QSL Card this time.
23/09/12
11:46
G3KYG
40m
LSB
59
59
Robin
Timsbury Southampton
23/09/12
11:50
G0FZI
40m
LSB
58
59
Brian
Wells Somerset
23/09/12
11:53
G0AYZ
40m
LSB
59+
59+
Andy
Gosport Hampshire
Running QRP
23/09/12
11:59
M6FMC
40m
LSB
58
59+
Mike
Wakefield Yorkshire
23/09/12
12:04
G1JGT
40m
LSB
59
59+
John
Huntingdon Cambridgeshire
23/09/12
12:13
M6IRP/P
40m
LSB
59
59
Ian
Shrewsbury
23/09/12
12:21
M0HEM
40m
LSB
59
59
John
Dagenham
Second contact- No QSL Card
23/09/12
12:24
GB5RSR
40m
LSB
59
59
Steve
Preston Lancashire
Ribble Steam Railway
23/09/12
12:31
G7JZD
40m
LSB
59
59
Mike
Beverley Yorkshire
No QSL Req'd
23/09/12
12:34
GB2THR
40m
LSB
57
59
Tom
Newcastle
23/09/12
12:37
M3USW
40m
LSB
53
53
Penny
North Kent
23/09/12
12:41
G0KNM
40m
LSB
59
59
Geoff
Rowley Regis North Birmingham
No QSL Card
23/09/12
12:45
G6GWR
40m
LSB
59
59
John
Lambourn Newbury and Swindon
No QSL Card (worked in 2011)
23/09/12
12:54
GW0VSW
40m
LSB
59
59
Carl
Skewen
Send photo for PW HF Highlights
23/09/12
12:55
M0GHQ
40m
LSB
59
59
Max
Christchurch
23/09/12
12:58
G0DOQ
40m
LSB
59
59
Peter
Dorchester
23/09/12
13:06
M6EUS
40m
LSB
59
59
Sue
Pullborough West Sussex
23/09/12
13:08
MW6GWR
40m
LSB
48
57
Ricky
Towas Wales
23/09/12
13:10
G0WGP
40m
LSB
59
58
Ron
North of Brighton
23/09/12
13:14
G0EVV
40m
LSB
55
59
David
30 Miles North of Newcastle upon Tyne
23/09/12
13:26
G7VAK
40m
LSB
57
57
Paul
Crystal Palace London
No QSL Card Req'd
23/09/12
14:02
G0BRC/P
40m
LSB
58
57
Paul
Sittingbourne
Bredgar and Wormshill Light Railway
23/09/12
14:41
GW3KJW
40m
LSB
59
59
Pat
Pwllheli Wales
No QSL Card Req'd
23/09/12
14:54
G0LHX
40m
LSB
59
59+
Harry
Langport
No QSL Card Req'd
23/09/12
14:58
G4HAP
40m
LSB
59
59+
Fred
Wigan
No QSL Card Req'd
23/09/12
15:01
G3PRU
40m
LSB
59
59
John
Norfolk
23/09/12
15:04
G3XIV
40m
LSB
59
54
Geoff
Near Southampton Hampshire
23/09/12
15:09
MW3VJN
40m
LSB
59
59
Tristan
West Wales
23/09/12
15:11
M0PAX
40m
LSB
59
59+
Graham
Essex
23/09/12
15:15
G4RVG
40m
LSB
59
59
Ian
North Devon
23/09/12
15:18
G1GZI
40m
LSB
59
59
Andre
North Devon
23/09/12
15:19
2E0BGD
40m
LSB
59
59
Brian
Bath