Location
Click on the map pins for further information.
Operating Location:

Lat/Long (WGS84 Geoid): 51.387907, -2.622044
OSGR: ST 56812 65613
What3Words: ///dogs.free.mute

Site Entrance:

Off Wells Road south of the Carpenters Tavern
Lat/Long (WGS84 Geoid): 51.388996, -2.624985
OSGR: ST 56608 65736
What3Words: ///farmer.duke.rams

IARU: IO81qj
IOTA: EU005 (UK Mainland)
WAB: ST56 – England
The Best Laid Plans of Mice and Men
The astute amongst you will have spotted that we have returned to the older Dundry location for our Field Day activities this year. We received a request from the Bath and District ARC to use the facilities at last year's Clutton venue and agreed to refresh our acquaintance with the farmer in Dundry who allowed us onto his field in 2018 and before so that BADARC could use the other site and participate in the contest.
The THird THursday meeting in June had been used as a planning session and the necessary equipment and individual responsibilities had been identified. Due to changes in membership generator power was something of a problem until one of our members decided to "pull the trigger" on a new generator that he'd been looking at to augment his own "/p" activities, so problem solved (or so we thought).
---
The rules for VHF Field Day preclude any form of set-up until 24 hours before the contest start time, so the earliest that anything could be done was 15:00 BST on Friday 1 July 2022, however for a variety of reasons this wasn't practical for us. In truth, we don't have a lot to setup and are experienced enough that we can usually manage to complete setup on the Saturday morning, accordingly it was agreed to meet at the field day site on Saturday at 11:00 BST.
At just a few minutes before the agreed 08:30 BST Andy G7KNA picked up his sister and ferried her to the stable yard to collect the horsebox that was to be our base of operations for the weekend. This was completed with time to spare and the convoy left the yard 10 minutes ahead of schedule. This time, and more, was lost when a road closure on the A38 forced a u-turn and a re-route via the A370 with the horsebox arriving on site around 20 minutes after the planned time of 09:45.
The choice of a horsebox might be considered, by some, to be unusual however this particular vehicle, or class of vehicle as we have used a couple of horseboxes over the years, is eminently practical offering both an operating position in the rear equine section of the vehicle that can accommodate two stations and a front "social" area with catering facilities. We even had a TV ready for those not operating or logging to watch the British Grand Prix qualifying live on Channel 4, with the Mendip TV transmitter visible from our operating position there would be no problem getting a signal!
Back to the narrative, now running late Andy G7KNA returned his sister home and also took advantage of being only 10 minutes from his own QTH to collect a few forgotten items! He returned to the Field Day site around 11:15 BST by which time the weather had turned to rain and Ken G4XCB, Greg MW7BUF, Norman M7BBZ and Mark M0SKV were already on site sheltering in their respective vehicles.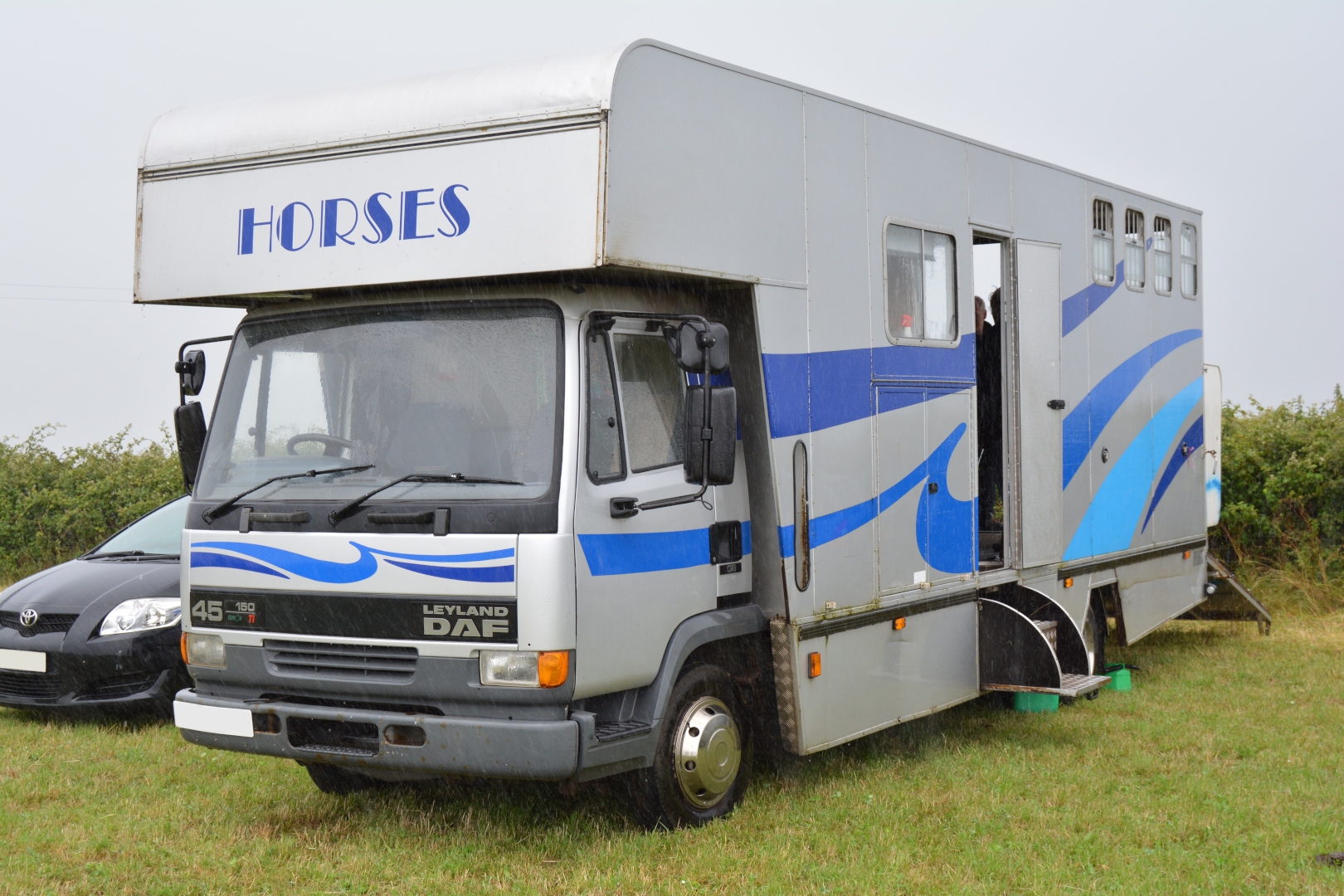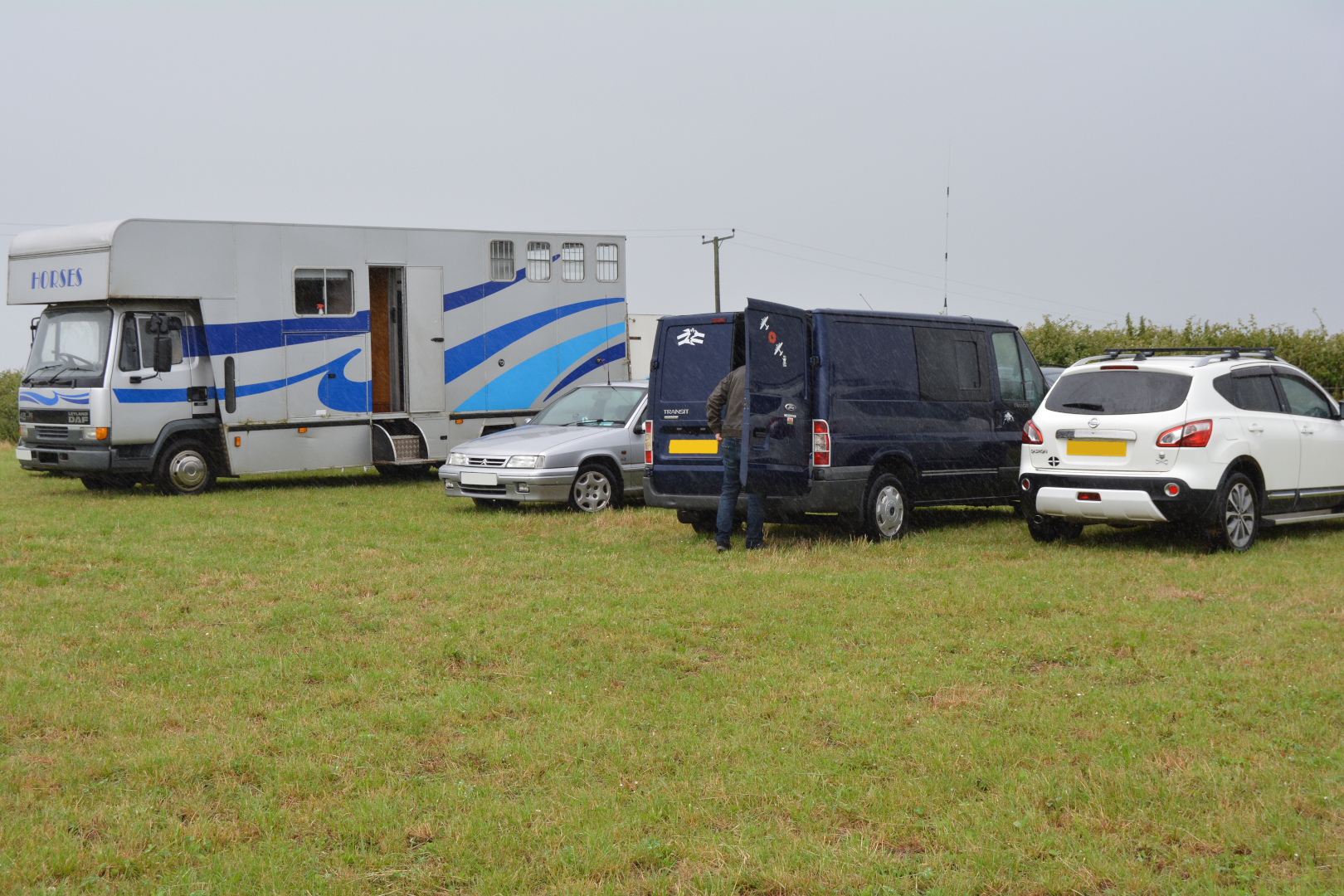 Despite the weather, equipment was transferred to the horsebox and internal setup began in earnest. Antenna construction was left until the morning rain had more or less subsided. The stations comprised:
The 2m Station

Club 14 Element Yagi
Club 8m Mast
Club Tripod Stand
Club Rotator and Controller
Club Yaesu FT-991
Club Nissei DPS-300 Linear Power Supply
Club Behringer 302USB audio mixer (used to provide separate headphone feeds to operator and logger)
Club Acer Aspire 8942G Laptop running Ubuntu Studio 22.04 LTS, logging with MINOS

The 6m/4m Station

Club DB-46M8EL Dual Band, 4/6 Metre Yagi (donated by Ray G3IOI)
Club 6m Mast (donated by Dave M7BBN)
Members drive on tilt-over base
Members Rotator and Controller
Members Yaesu FTDX10
Members Watson Power-Mite NF Switchmode Power Supply
Members Headphone splitter
Members Toshiba C660D-19X Laptop running XUbuntu 22.04 LTS, logging with MINOS
Power for the whole setup was to be provided using a brand new 1.7kVA pure sine wave inverter generator kindly loaned by a club member who was hoping to use this piece of kit to augment their /p operations.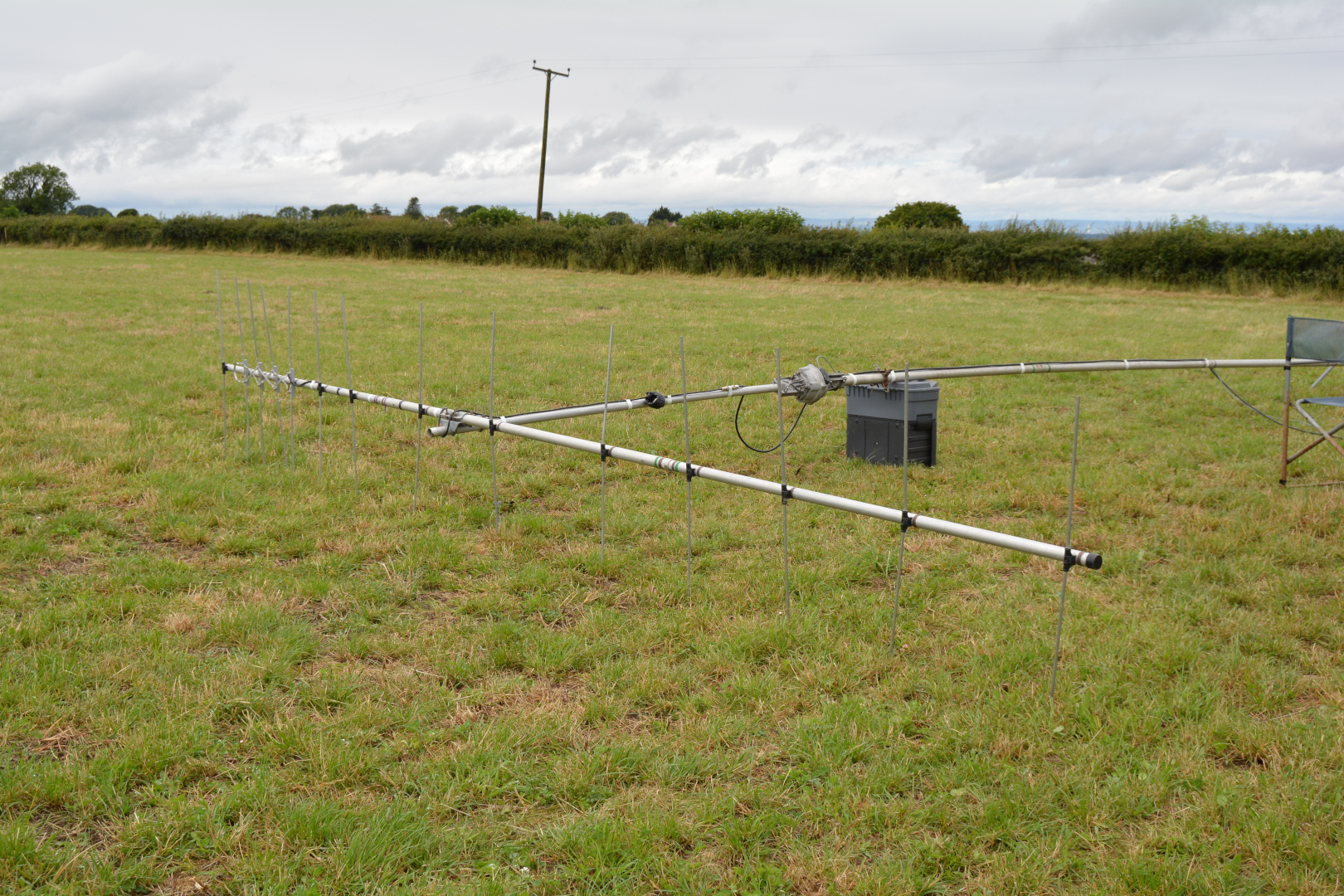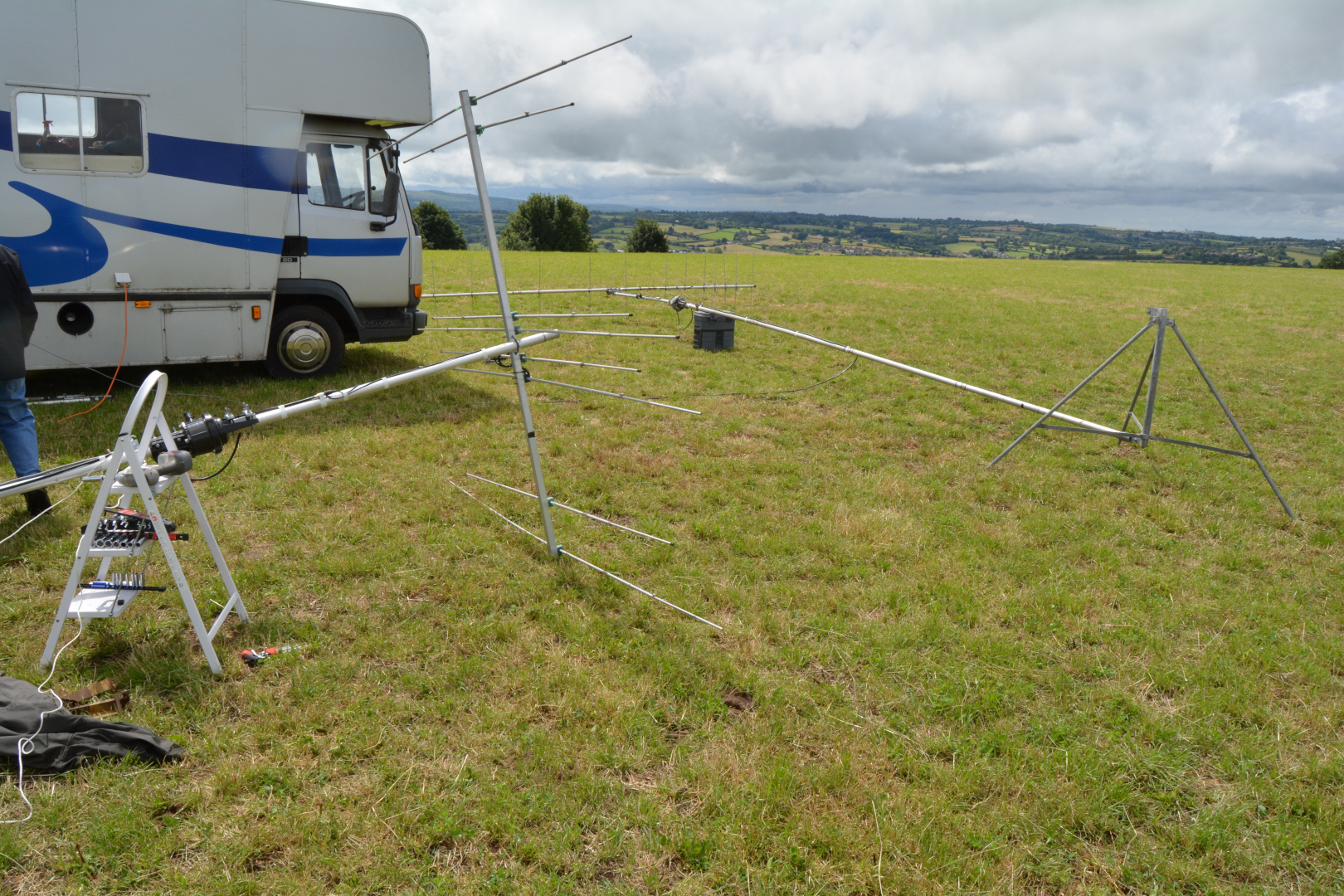 The setup went more or less to plan, the weather delayed the antenna work a little but we were in a position to start testing equipment about an hour before the contest start time.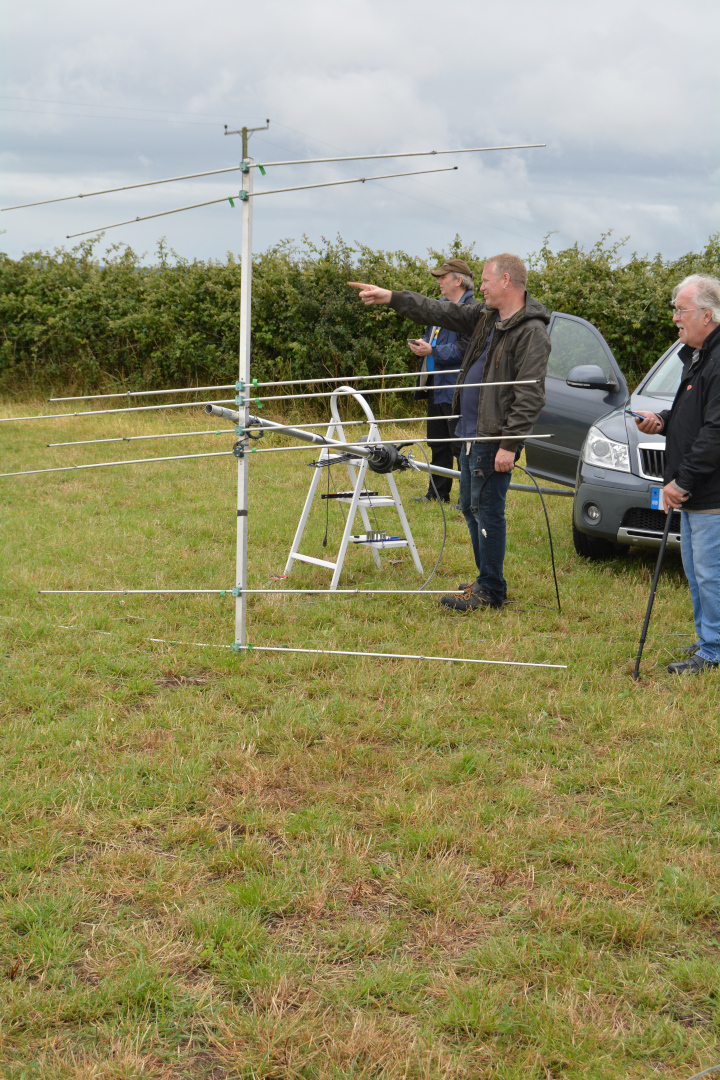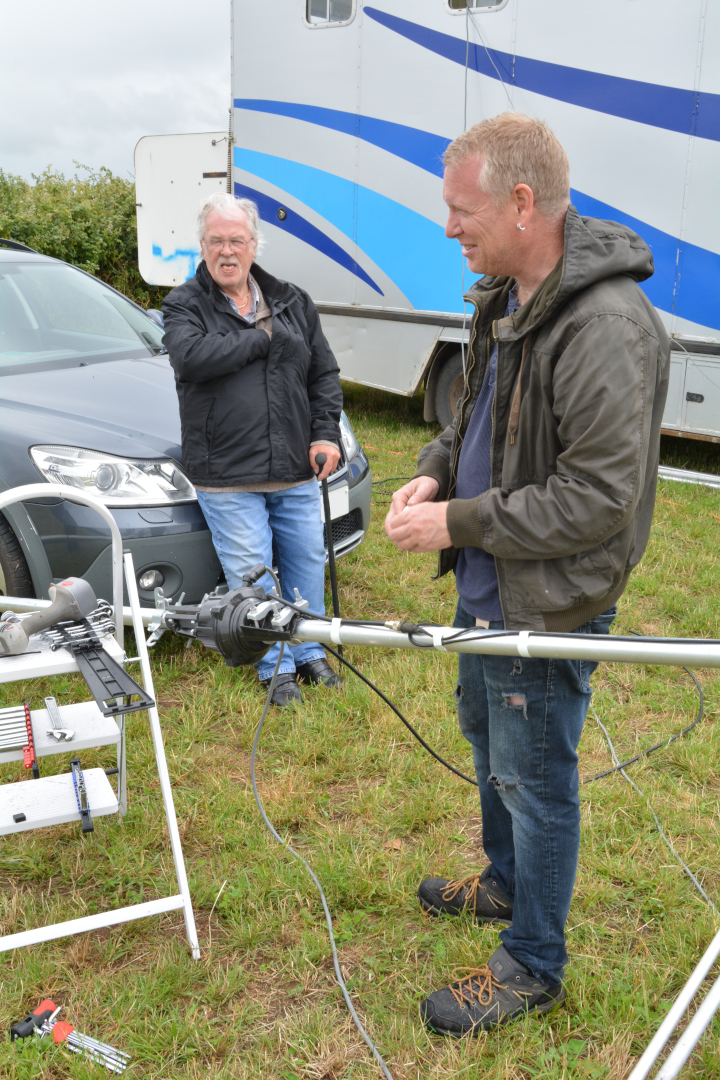 The brand new generator, which had been run up earlier in the week to check it out, was started and everything looked good, then disaster. We spun the rotator on the 2m beam, it traversed one full 360° rotation and then the mains hookup on the lorry tripped. No big deal, a little odd that something as mundane as a rotator should cause it to trip but hey let's reset the trip and try again. Problem, even when reset no power was reaching the equipment!
So let's start unplugging things until we get a working system and reintroduce other loads until we either have a fully working station or we find out what is causing the trip to activate, except with no power coming in we can't do that.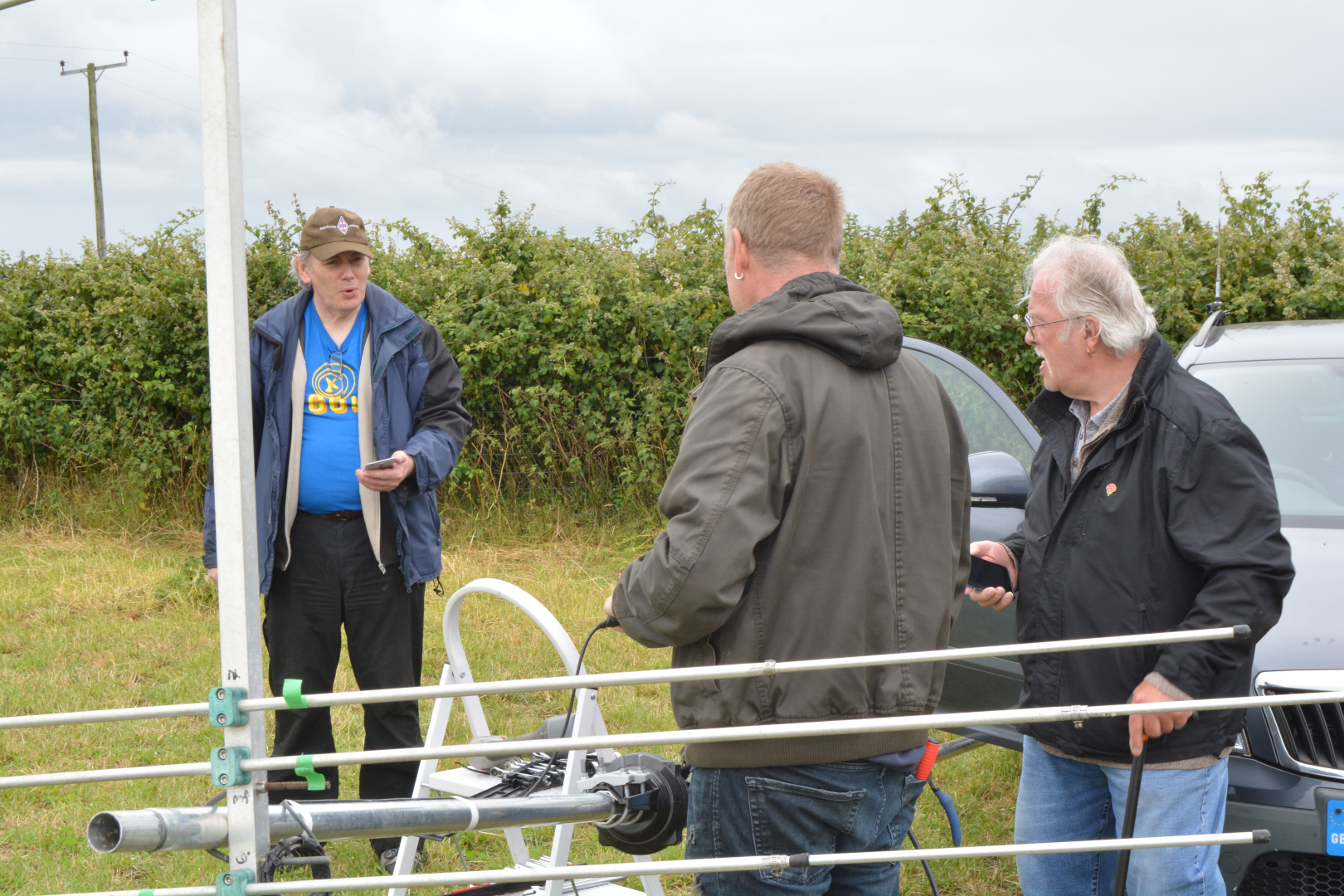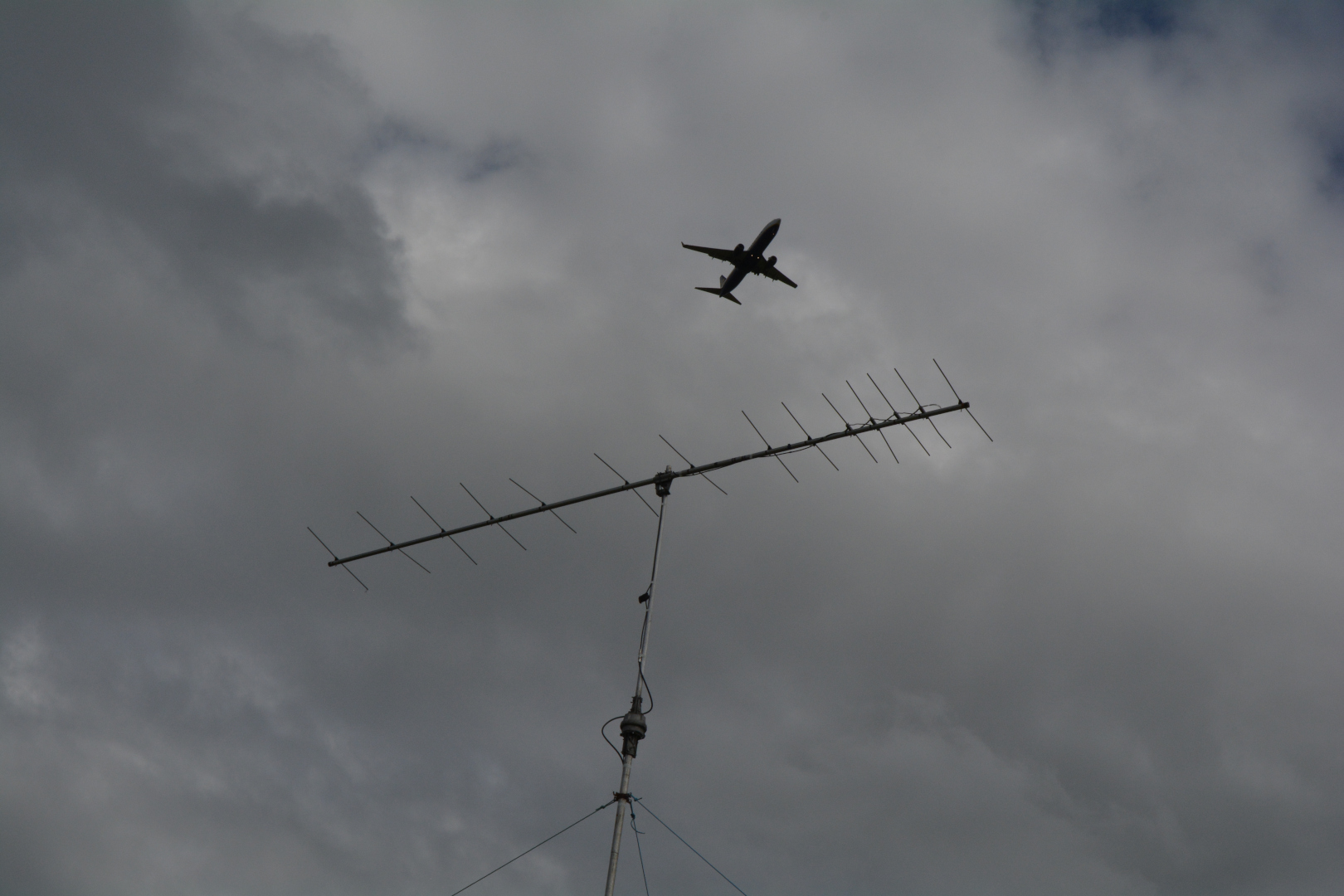 Even bypassing the horsebox mains hookup and going direct to the equipment made no difference, the brand new generator insisted it was overloaded. Just to remind you this is a brand new 1.7kW generator that is being asked to power 2 no. 25W transceivers via 230V – 13.8V PSUs, 2 no. rotators and 2 no. laptops. Without doing a detailed assessment it is unlikely that the total draw was more than 1kW based on a 25W radio requiring 75W on Tx and a laptop needing between 300W – 460W maximum (one is rated at 1.3A and the other at 2A on the input side), the remaining accessories such as the mixer and rotators certainly aren't going to add anything approaching 700W to the peak demand so there should have been plenty of headroom in the generator's capacity.
Even without any load present once started the brand new generator would insist that it was overloaded and nothing would be generated at the 230V outlets. The 12V outlet did appear to be functional but this was delivering well over 12V and any free standing 12V batteries that we had did not seem to tame the supply and were incapable of driving an inverter for the laptops.
It seemed that we were doomed at this point and although no one wanted to admit it we were all privately considering that Field Day was over.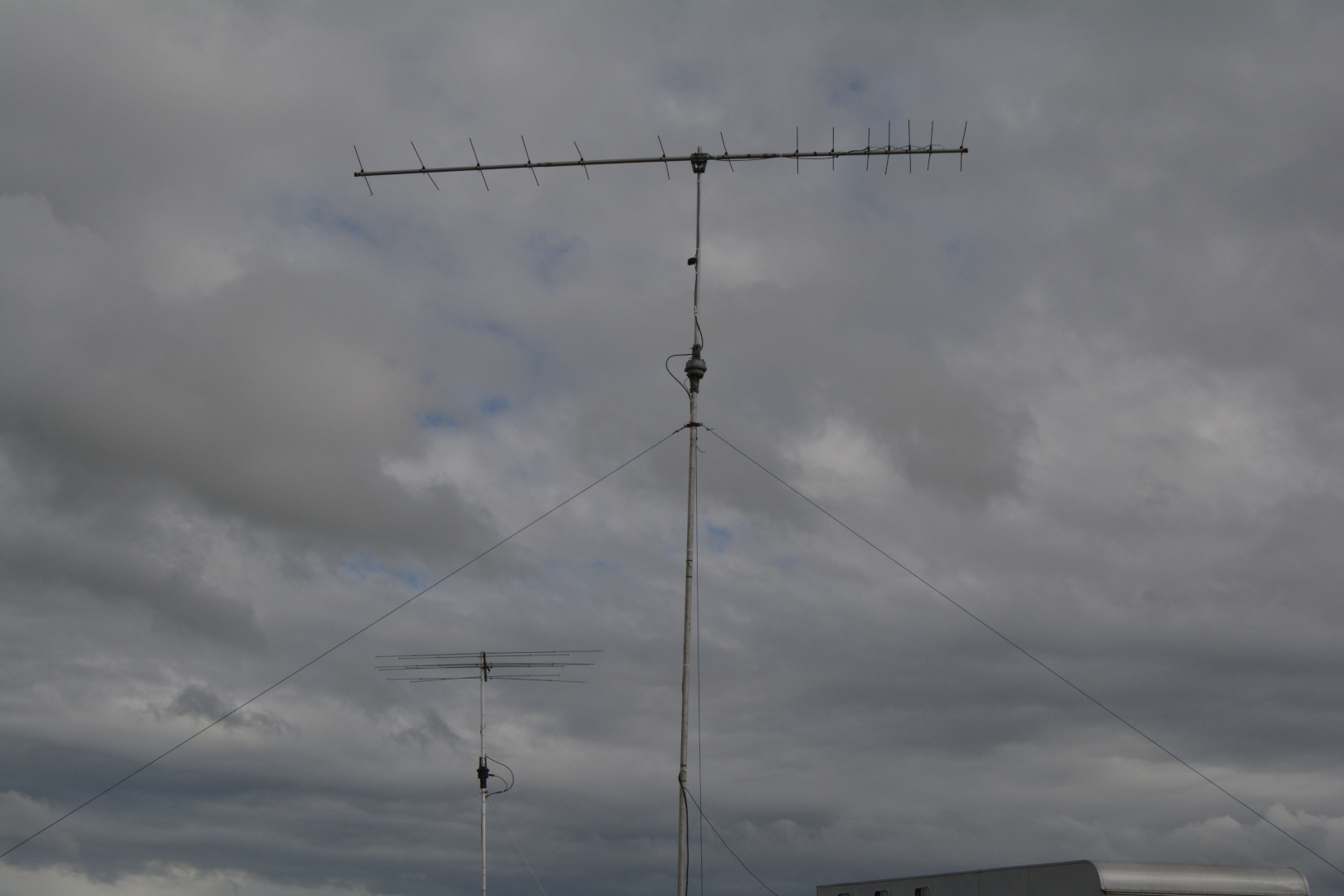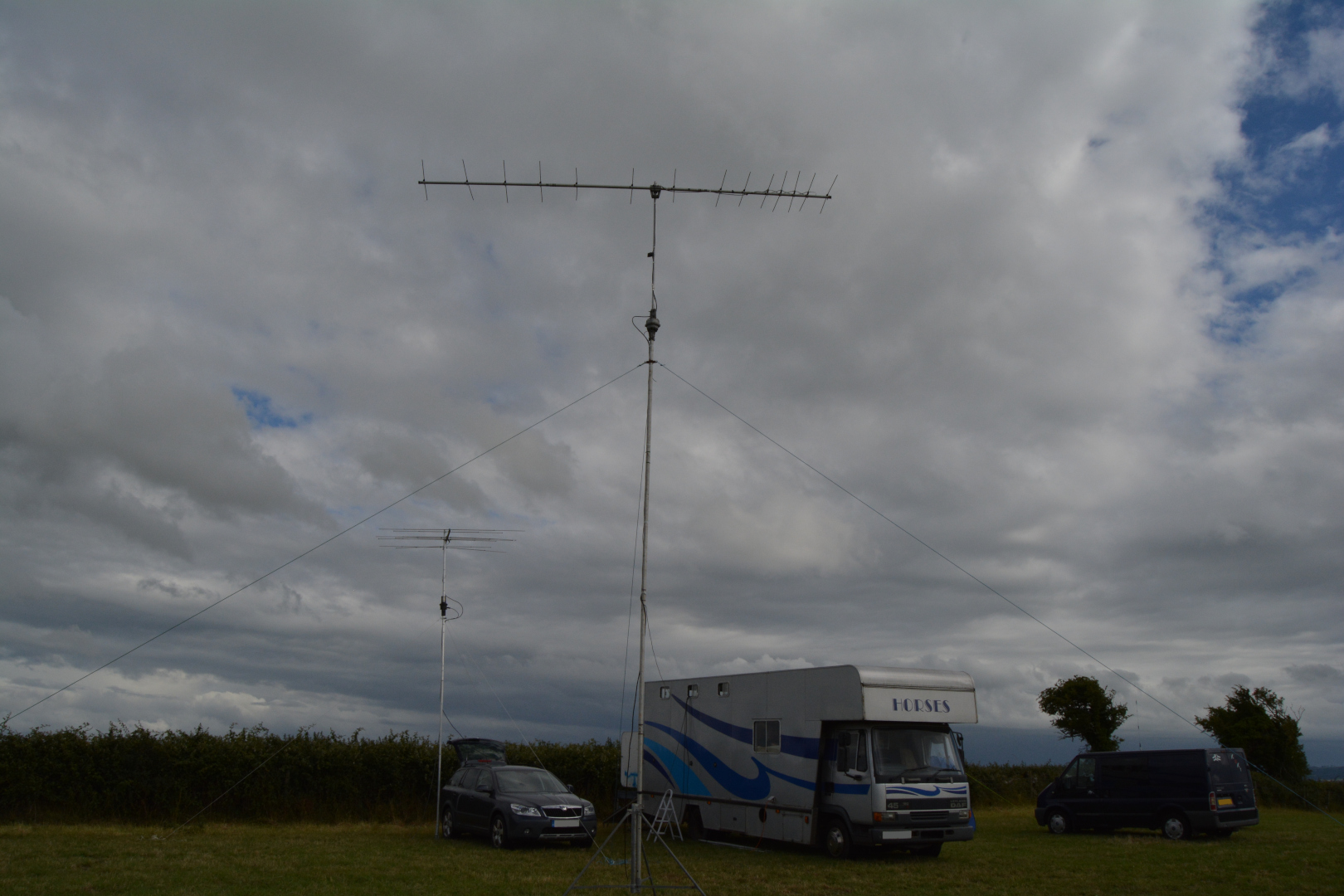 Then, savior of saviors, the farmer whose field we were occupying dropped by to have a chat and, it transpired, had an old petrol generator that he was prepared to lend to us although we were warned that he hadn't spun it up for several years. He departed swiftly with a promise to return in 10 minutes or so. After something a little closer to 30 minutes he returned with the aforementioned generator, not as fancy as the pure sine wave inverter unit we had planned to use but, hey, any port in a storm. This unit was driven by a Briggs and Stratton 5HP petrol engine and, joy of joys, it started after a few pulls. The reason for the delay in returning was that the farmer found he had to repair some rat damage to the electrical wiring, a real west country reason.
Back in business, all be it now late to the party, we quickly connected the generator to the horsebox mains hook up and, joy of joys, life returned to the equipment. What's more spinning the rotator did not cause the horsebox mains hookup to trip so things were looking good. Being noisier than the brand new inverter generator that had failed we had to reposition the older generator further away from the horsebox at which point we couldn't restart the generator. Greg MW7BUF became the "generator whisperer" or perhaps the "choke fettler" as he seemed to be able to divine through touch alone the exact point that the choke needed to be set to to allow the engine to start and keep running.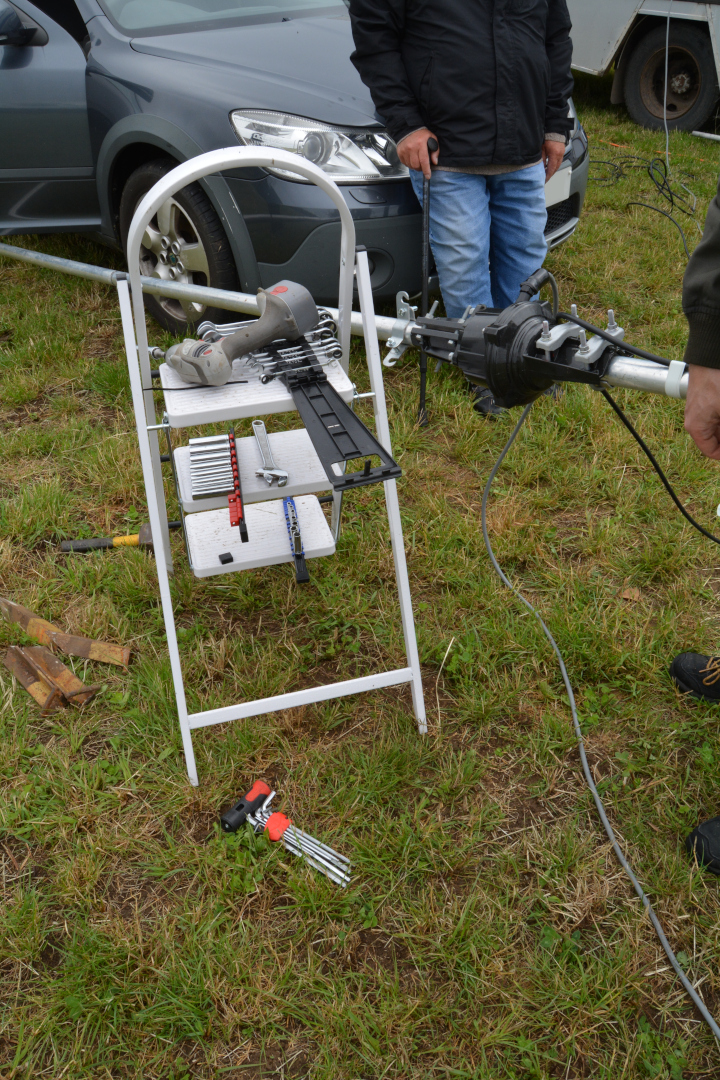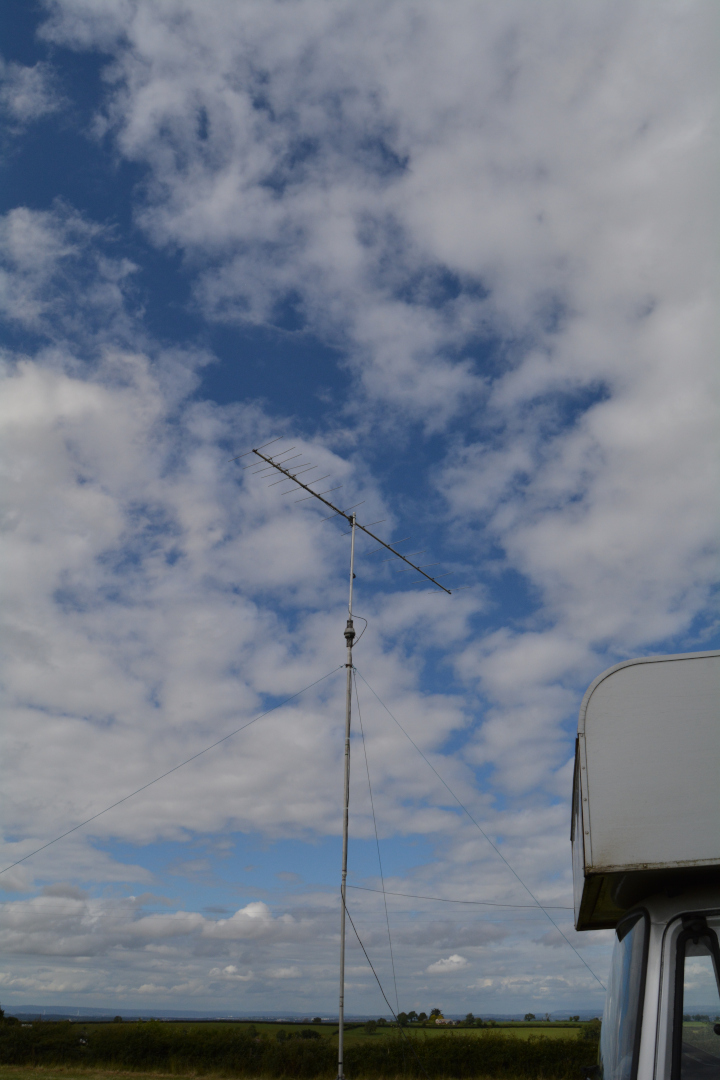 Testing and checking moved at pace when suddenly the Nissei PSU started chattering or buzzing. There was no apparent fault but the 2m station was shutdown pending further investigations. We never discovered the cause of this and plugging it into a normal mains socket back at the clubhouse could not recreate the fault. It was decided that we should run both transceivers off the Power Mite switchmode supply, after all at 25W each the combined draw shouldn't be more than, say, 11A and the Power Mite switchmode supply should be good for twice that. However running both transceivers on transmit together the Power Mite's output voltage would slowly drop from 13.8V to low enough for the FTDX10 to cut out. Mark decided to return to his QTH and collect a replacement PSU. The Power Mite has not been tested on a stable wall outlet since returning from Field Day to determine if this was something to do with the PSU itself or simply a function of unstable field power.
During this period we actually managed 1 no. 6m QSO with the Swindon Radio Club about 60km away, little did we know that this was to be our one and only contest QSO this year! Propagation did seem quite poor, in our initial setup we pointed the beam towards the GB3VHF 2m beacon on 144.430MHz located on the North Downs in Kent (JO01EH), signal strength was much lower than we normally receive in this part of the world so we were expecting a slog on 2m.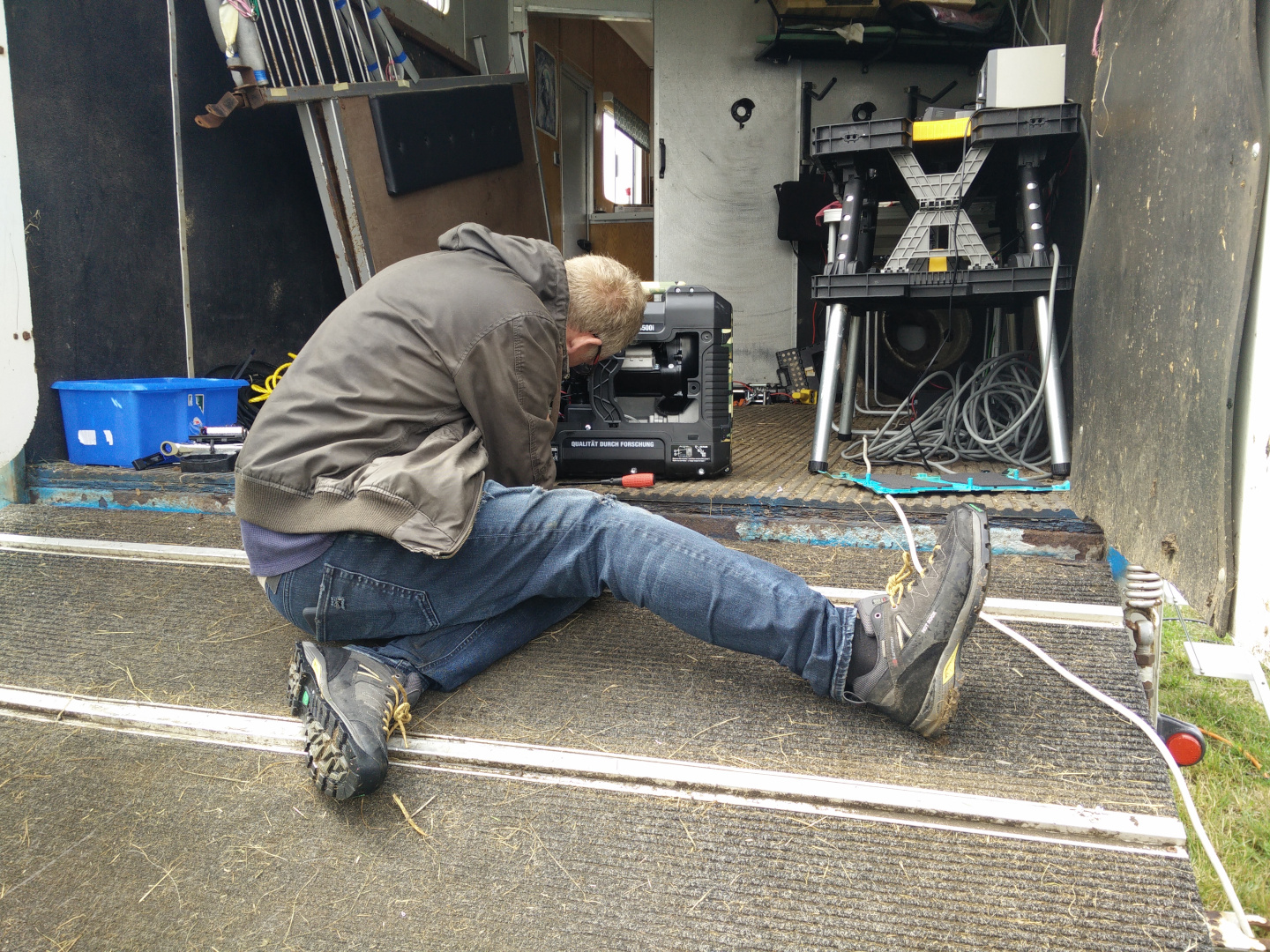 Whilst Mark M0SKV was off-site obtaining an alternative PSU for the 2m station the generator once again gave up the ghost. Greg MW7BUF once again began to coax life from the poor dumb animal but this time was unable to do so, fuel was found in the air filter, not a good sign, and after much "fettling" it was felt that the float in the float chamber was perforated and was not allowing any fuel into the engine. Whilst the repair could be made simply it required a Briggs and Stratton float kit including a replacement gasket which was both unobtainable at that time of day and not in our possession.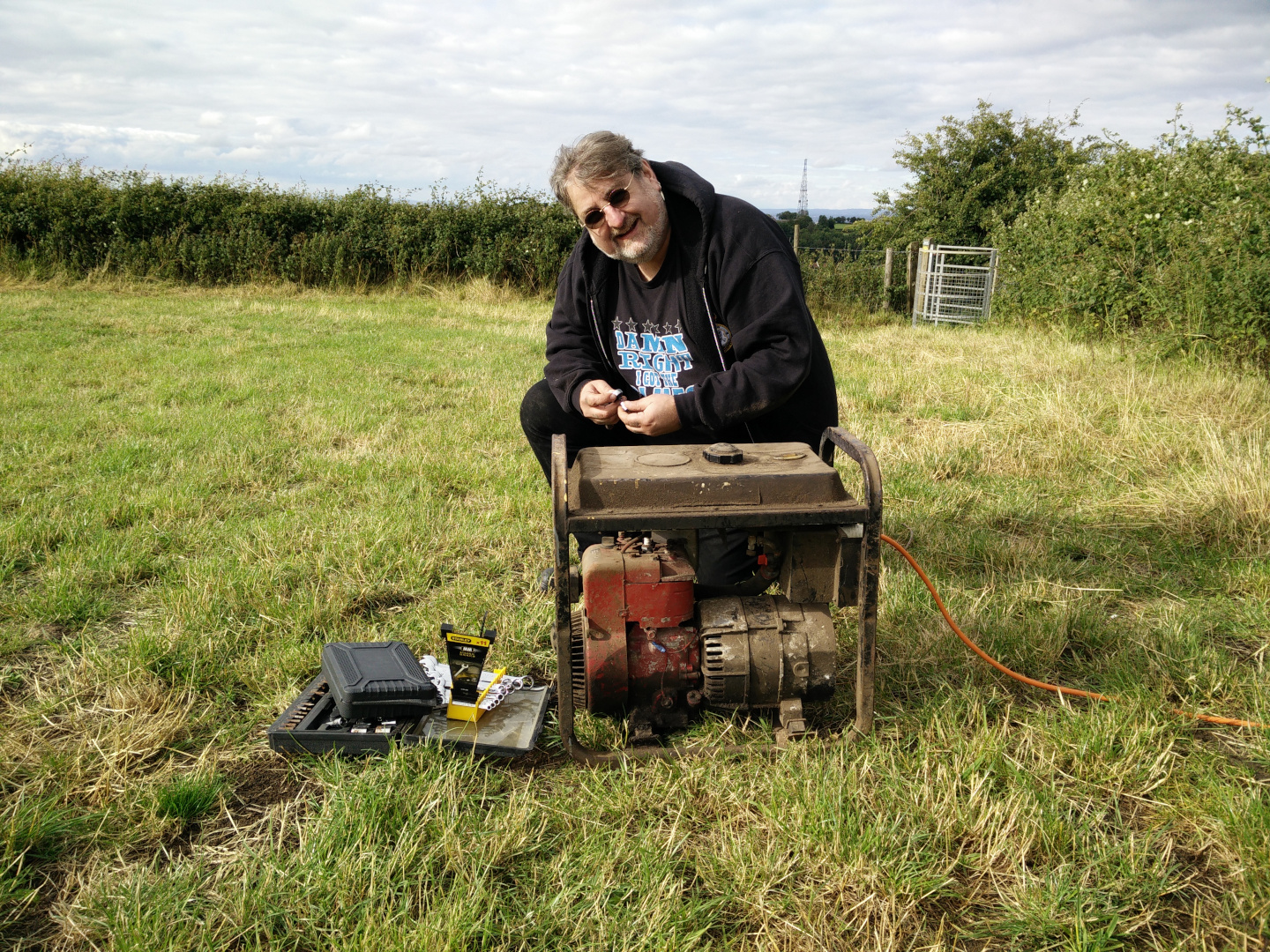 Although spirits were lifted thanks to Greg MW7BUF's partner Rachel making a run to the best chip shop in South Bristol we nevertheless reluctantly concluded that there were no other power options open to us and we would have to dismantle the station and call it a day for this year. The generator was returned to the farmer the following day but we can go back next year and try again.