Location
Saltford Brass Mill is situated on the banks of the River Avon in the village of Saltford, 5 miles west of the City of Bath in the South West of England. Its postal address is Saltford Brassmill, The Shallows, Saltford, BS31 3EY. However, there are some specific details that will be of interest to radio hams:
Lat/Long (Brassmill): 51.401219°,-2.451116° – label "S" on map
Lat/Long (Operating Position): 51.401754°,-2.451437° – label "O" on map
IARU: IO81sj
IOTA: EU005 (UK Mainland)
WAB: ST66 – England
Introduction
The 9th and 10th of May saw the stalwart members of the club returning once again to Saltford Brass Mill to set up and operate GB0SBM as part of the Annual Mills on the Air event.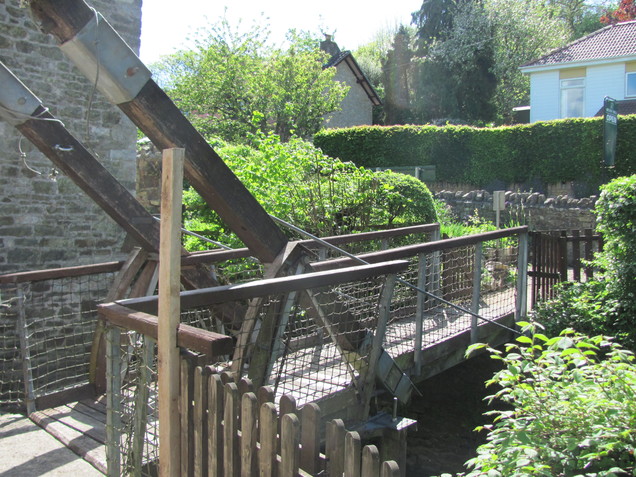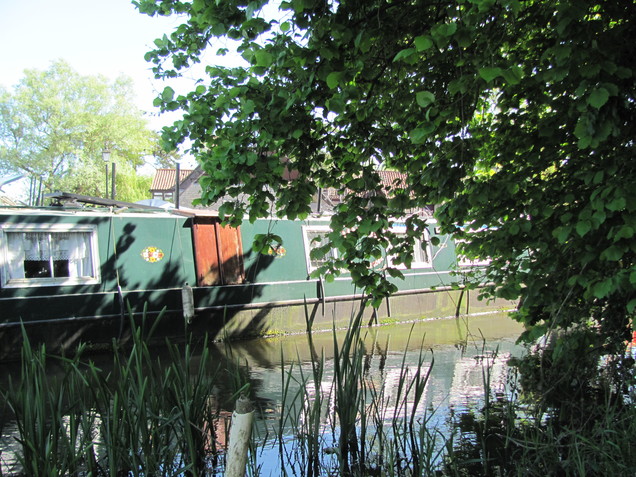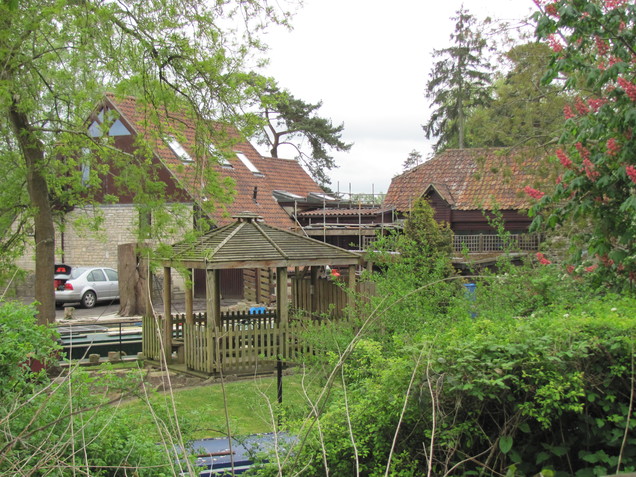 The Mill is tucked away in a side street of Saltford and not perhaps the most obvious place to get to. If you are interested in visiting please use this link to jump to a "live" Google Map which will assist you with route planning.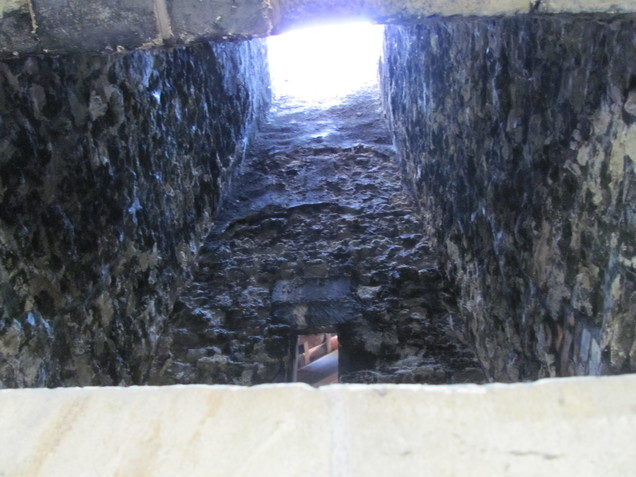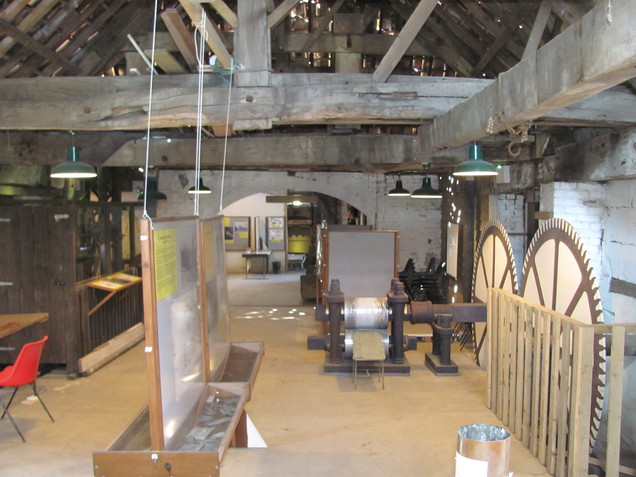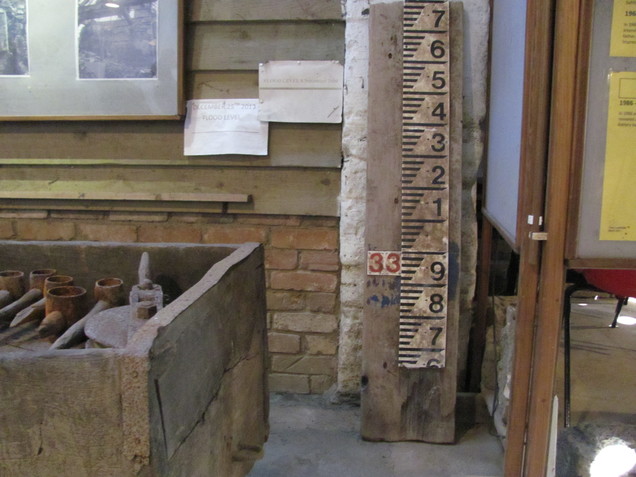 This year the Mill was to reopen to the public following nearly 2 years of closure whilst volunteers and Bath and North East Somerset Council restored and repaired the Mill following damage caused by a falling tree. The £50k repairs resolved the damage caused by the tree and addressed problems with the buildings wiring and structural repairs to attend to timber members that had lost strength over the years.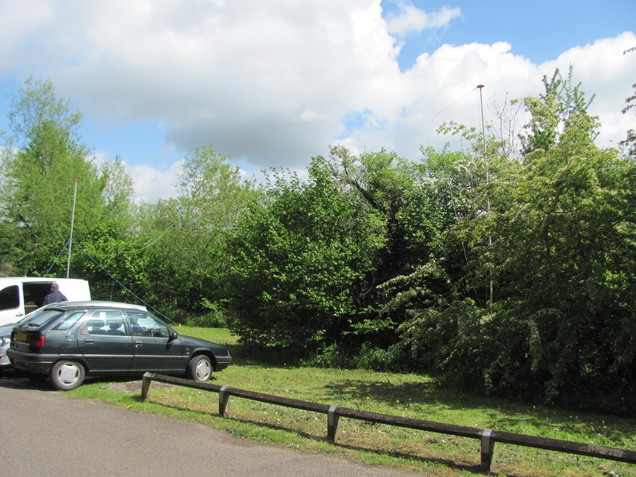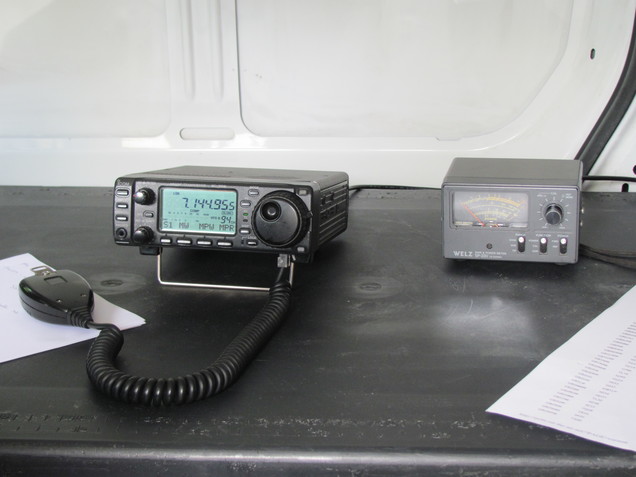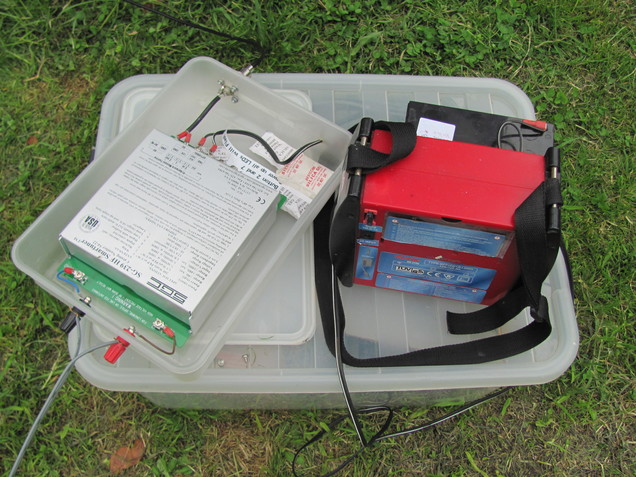 The station comprised: Icom IC-706Mk1 HF Multimode transceiver fed to a 70' doublet antenna at about 20' above ground fed with ladder line via an SGC auto ATU. Power was supplied from a 12V leisure battery. The antenna was supported by 2 aluminium flag poles, one strapped to the mills fence and other guyed into a freestanding position on the open ground adjacent to the mill. This choice of equipment has been the result of year on year evolution of our operation at this location. In particular the choice of a balanced horizontal antenna close to the ground has proven to be most effective in radiating a signal beyond the confines of our river valley using NVIS type propagation as one of the downsides of supporting a watermill is that it is, by definition, situated alongside a waterway which in turn is usually at the bottom of a valley.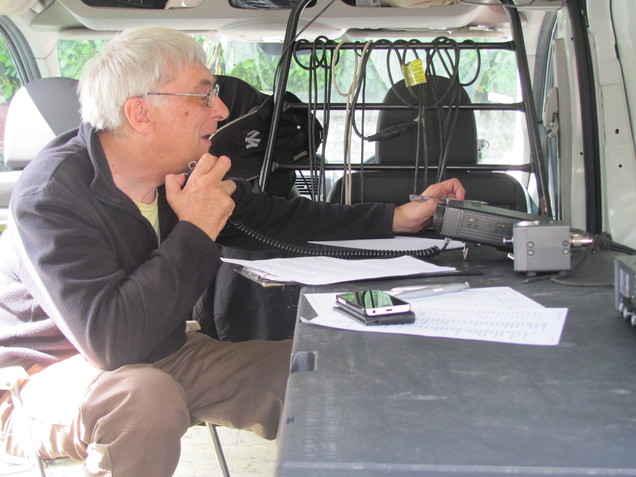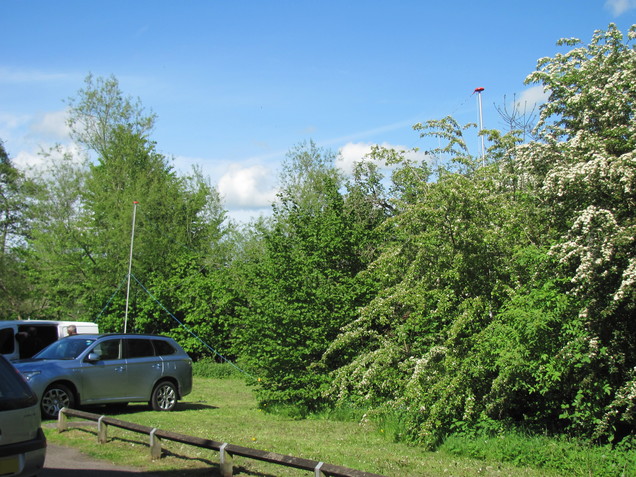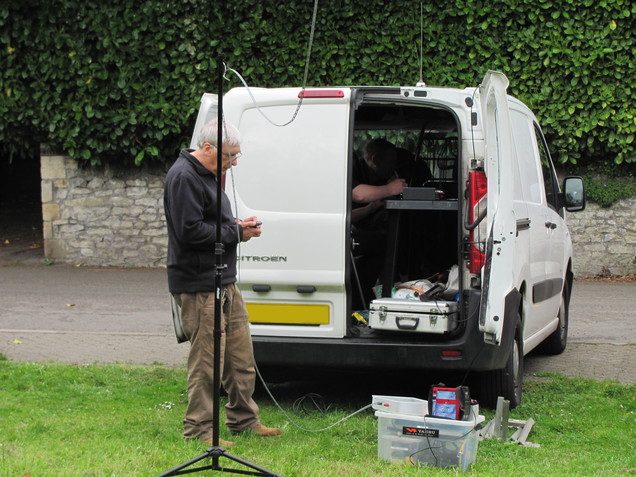 Saturdays operation was undertaken by David G7BYN, Andy G7KNA, Julian M0JCE and Eddie M0LJT and we initially set out to bag the 10 mills required to qualify for the events certificate and so operated more in "hunt and pounce" mode. In our first hour we managed to work 4 other mills special event stations along with a couple of other non mills special event stations. We stuck to 40m SSB and successfully worked all over the country and into near European countries, the Dutch are usually particularly active for this event having a significant number of windmills at their disposal. Although there were many good and interesting contacts one that sticks in the mind is with Declan who was operating EI100MFA a commemorative station for the Cunard Line Lusitania; the Blue Ribbon liner sunk off the coast of Ireland on 7 May 1915. EI100MFA had been operational from Monday 4 May and had logged over 3,500 QSOs by the time we worked them.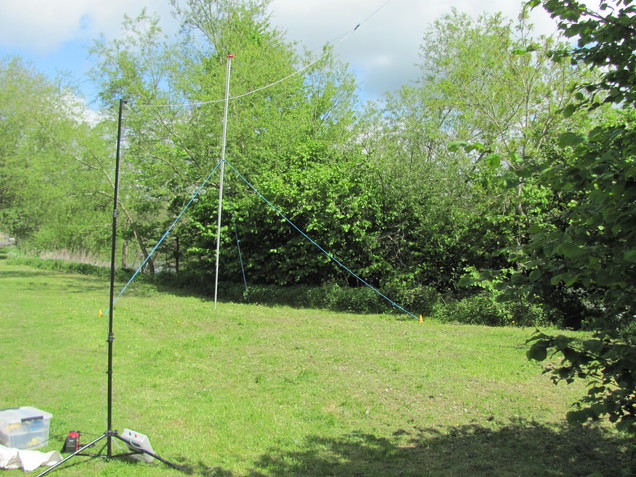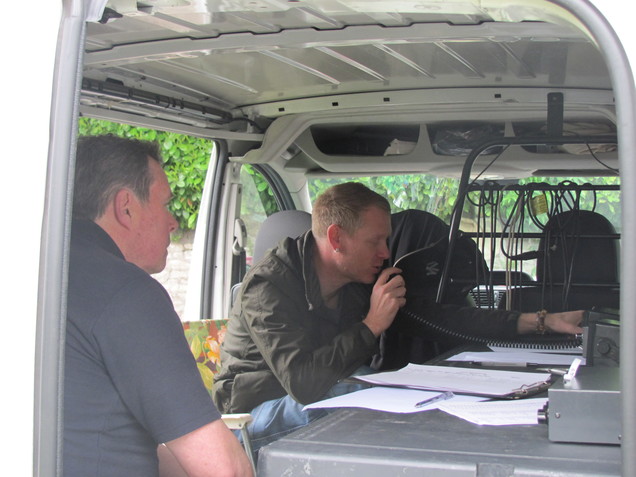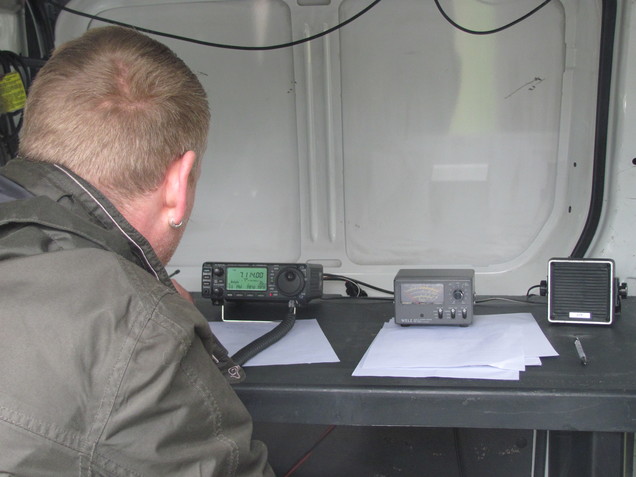 On Sunday Eddie M0LJT was replaced by Mark M6FKV who had only passed his Foundation exam with the club less than a fortnight before the event. Despite this he happily took over the microphone and proceeded to work 20 or so stations on Sunday afternoon.
Logbook
GB0SBM – South Bristol ARC (Operating from Saltford Brassmill)
Date
Time (UTC)
Station Worked
Band or Freq'cy
Mode
RST
Name
QTH
Notes
Sent
Rec'd
09/05/15
10:12
PA6MK
7.1220
LSB
59
59
Elmar (PD3EM)
Wisboomgemaal Kinderdijk
Mill on List: Unesco World Heritage Site
09/05/15
10:21
GB2EM
7.1254
LSB
59
59
Farnborough and District RS
Mill on List: Elstead Mill
09/05/15
10:31
GB1VE
7.1320
LSB
59
59
Dave (Milton Keynes ARS)
Bletchley Park
T S Invincible
09/05/15
10:50
GB0JAJ
7.1400
LSB
59
59
Sue (Mid Sussex ARS)
Mill on List: Jill Post Windmill
09/05/15
10:58
GB0BWM
7.1440
LSB
58
59
Jeremy (Chesham and District ARS)
Mill on List: Brill Windmill
09/05/15
11:10
EI100MFA
7.1490
LSB
59
59
Declan
Commemerative station for the Lusitania torpedoed by a German U-Boat off Ireland on 7 May 1915
09/05/15
11:35
GB6AC
7.1380
LSB
59
59
Abergelly Castle
Abergelly Castle
09/05/15
11:49
PA6DYCK
7.0800
LSB
54
55
Fred (PA3GDG)
Mill on List: Stagemill Kyck over den Dyck
09/05/15
12:00
GB0HPM
7.0710
LSB
59
59
James (Lowestoft District and Pye ARC)
Mill on List: Holton Post Mill
operating TS2000 into Doublet
09/05/15
12:04
PH15MILL
7.0680
LSB
59
59
Jan
Mill on List: De Hoop
09/05/15
12:24
GB1GSM
7.1180
LSB
59
59
Linda (Bittern DX Group)
Mill on List: Gunton Sawmill
09/05/15
12:34
GB2RAF
7.1200
LSB
58
59
Terry
Norfolk
Radar Museum
09/05/15
12:42
GB4WMM
7.1430
LSB
59
59
Robert (Denby Dale ARC)
Barnsley
Mill on List: Worsborough Mill
09/05/15
12:47
GB2UW
7.1500
LSB
59
59
Dave (Havering ARC)
Mill on List: Upminster Windmill
running 400W
09/05/15
13:09
GB0BM
7.1630
LSB
59
59
David (Mid Somerset ARC)
Mill on List: Burcott Mill
09/05/15
13:24
OR4D/P
7.1440
LSB
59
59
Dominique (ON7NZ)
Club Station
09/05/15
13:33
GB4VED
7.1380
LSB
59
55
Terry
Burnham on Crouch
09/05/15
13:44
GX4CW/P
7.1350
LSB
59
59
Kevin (North Kent RS)
09/05/15
14:04
GB2AWM
7.1300
LSB
59
59
Melvin
Mill not on List: Alderford Watermill
09/05/15
14:12
GB2RM
7.1330
LSB
59
59
Dave (Dudley and District ARS)
Mill not on List: Ruiton Windmill
10/05/15
09:17
GB0LKM
7.1140
LSB
59
59
Ian (Bishop Aukland RAC)
Mill on List: Alston Killhope Lead Mine
10/05/15
09:24
GB5EM
7.1140
LSB
59
59
Andy
Lincoln
Mill not on List: Ellis Mill
10/05/15
09:26
M0HEM
7.1140
LSB
59
59
John
Dagenahm Essex
10/05/15
09:28
2E1AVX
7.1140
LSB
58
59
James
10/05/15
09:31
2E0CSO
7.1140
LSB
57
55
Colin
Plymouth
10/05/15
09:33
GB0WWM
7.1140
LSB
57
59
Colin (G4GBP)
Mill on List: Wilton Windmill
10/05/15
09:40
G7LSR
7.1140
LSB
Ken
Poor Contact
10/05/15
09:53
GB2MOP
7.1140
LSB
57/59
57
Lloyd
"Internal Fire Museum of Power (see QRZ.com)"
10/05/15
09:58
2E1TAF
7.1140
LSB
59
59
Dave
Norwich
10/05/15
10:02
G8GRS
7.1140
LSB
59
59
Richard
Dundry Highridge Common Bristol
10/05/15
10:03
G7LSR
7.1140
LSB
Ken
Duplicate contact
10/05/15
10:04
GW1FKY
7.1140
LSB
57
59
Ken
Bridgend
10/05/15
10:06
PB7JOS
7.1140
LSB
57
Jos
Netherlands
Mill not on List: Windmill
10/05/15
10:11
M0VUE
7.1140
LSB
59
59
Chris
10/05/15
10:14
GW6STK
7.1140
LSB
59
58
Robert
North Wales
10/05/15
10:17
GB4BM
7.1140
LSB
59
59
Laura (South Cheshire ARS)
Mill on List: Bunbury Mill
10/05/15
10:20
2E0EDL
7.1140
LSB
59
59
David
West Yorkshire
10/05/15
10:22
M0ZEB
7.1140
LSB
59
59
David
Ely
10/05/15
10:26
M0BAW
7.1140
LSB
59
59
Don
Bremtwood
10/05/15
10:28
M0GLP
7.1140
LSB
59
59
Garry
Nottingham
10/05/15
10:30
G8JUT
7.1140
LSB
59
59
Steve
Downend Bristol
10/05/15
10:34
PA3EMN
7.1140
LSB
59
59
Roel
Amsterdam
10/05/15
10:37
GM7KXZ/P
7.1140
LSB
59
59
Kevin
10/05/15
10:41
M0TRJ/P
7.1140
LSB
59
59
Simon
Acle
10/05/15
10:44
GX0BRA/P
7.1140
LSB
57/58
57
Simon (Banbury ARS)
Mill on List: Balscote Mill
10/05/15
10:50
GB4NHM
7.1140
LSB
59
Jamie (Sutton Coldfield RS)
Mill on List: New Hall Mill
10/05/15
10:52
G3WBB
7.1140
LSB
59
59
Ted
Blackpool
10/05/15
10:57
GI4DYE
7.1140
LSB
59
58
Eamon
North West Ireland
10/05/15
11:01
GB2CW
7.1140
LSB
59
59
Harry
Mill on List: Chesterton Windmill
10/05/15
11:06
GB2WBM
7.1140
LSB
59
57
Keith
East Sussex
Mill not on List: East Sussex
10/05/15
11:07
G4ACS
7.1140
LSB
59
58
Geoff
Kinver South Staffordshire
10/05/15
11:09
GI0ZAK
7.1140
LSB
59
59
Fred
1 mile north of Bedford
10/05/15
11:13
G8CKK
7.1140
LSB
59
59
Tony
10/05/15
11:16
M0DFW
7.1140
LSB
57/58
58
Dave
Cambridge
10/05/15
11:20
2E0XFF
7.1140
LSB
58
58
Mark
North of Luton
10/05/15
11:24
F5NPS
7.1140
LSB
59
59
Dennis
Verron
10/05/15
11:26
G6INU
7.1140
LSB
59
59
Doug
Sidcup
10/05/15
11:29
G0NKZ
7.1140
LSB
59
58
Ken
Quantock Hills
10/05/15
11:32
GB0CHW
7.1140
LSB
59
59
Bob (Downland Radio Group)
Mill on List: Chailey Heritage Windmill
10/05/15
11:40
PH7GIS
7.1140
LSB
56
Jeffrey
Rotterdam
10/05/15
11:45
PB15?LL
7.1140
LSB
Technical Difficulties – Station Lost
10/05/15
11:51
ON4DN
7.1140
LSB
59
57
David
30km east of Brussels
10/05/15
11:54
M0LJT
7.1140
LSB
47
59
Eddie
Bristol
10/05/15
11:56
M1DUC
7.1140
LSB
58
59
John
Tilbury London
10/05/15
12:01
2E0ZXW
7.1140
LSB
59
59
Mike
Eastbourne
10/05/15
12:07
G4HAP
7.1140
LSB
59
59
Fred
Wigan
10/05/15
12:27
G4CHD
7.1140
LSB
59
59
Terry
Westward Ho! North Devon
10/05/15
12:37
GB2PW
7.1140
LSB
59
59
Henry
Mill not on List: Polegate Windmill
10/05/15
12:39
M0HEM
7.1140
LSB
59
59
John
Dagenham
Duplicate contact
10/05/15
12:41
M6NBJ
7.1140
LSB
59
57
Paul
5W QRP – QSL Requested
10/05/15
12:46
G0NGE
7.1140
LSB
59
59
Bill
Leyland near Preston Lancashire
10/05/15
12:53
G4DUL
7.1140
LSB
59
59
Martin
Doddington south Bedfordshire
10/05/15
12:56
2E0AYQ
7.1140
LSB
57/58
59
Martin
Orpington Kent
10/05/15
13:00
2E0HPI/P
7.1140
LSB
59
58
Carl
Hartlepool
Lighthouse – 2.5W QRP
10/05/15
13:05
GB2LM
7.1140
LSB
59
59
Rich (Cwmbran and District ARS)
Mill on List: Llanyravon Mill
10/05/15
13:09
G8HBS
7.1140
LSB
59
59
Peter
Great Yarmouth
10/05/15
13:12
GB2RWM
7.1140
LSB
57
Lost reception with station
10/05/15
13:15
GB2GG
7.1140
LSB
59
59
David (South Nottinghamshire ARC)
Mill on List: Greens Windmill
10/05/15
13:18
G3YZY
7.1140
LSB
59
59
Howard
Portsmouth
10/05/15
13:21
GB0BWM
7.1140
LSB
59
59
Phil (Chesham and District ARS)
Buckinghamshire
Mill on List: Brill Windmill Buckinghamshire
Duplicate mill with different operator
10/05/15
13:24
G4RAC
7.1140
LSB
59
59
John
Burton on Trent Staffordshire
10/05/15
13:40
M3WRB
7.1140
LSB
59
59
Robert
10/05/15
13:42
DJ1BWH
7.1140
LSB
59
59
Bridgette
Hemer