Location
The Somerset and Dorset Railway Heritage Trust are based at the former Midsomer Norton South Railway Station. The postal address is Midsomer Norton Station, Silver Street, Midsomer Norton, BA3 2EY. However, there are some specific details that will be of interest to radio hams:
Lat/Long: 51.281077°,-2.482759°
IARU: IO81sg
IOTA: EU005 (UK Mainland)
WAB: ST65 – England
Introduction
The weekend of 27/28 September, aside from being the weekend of the National Hamfest, was the weekend set aside for Railways on the Air. This is one of our bigger special events and it is our fourth year of operation.
We were blessed with good weather on both days and a good turnout of members and visitors throughout the weekend.
As last year we set up our HF SSB station in the carriage adjacent to the buffet car. The carriage had been altered since our last visit and allowed us to face the door whilst operating so as to be able to greet any visitors, although this meant that visitors first perceptions of us, aside from our sunny demeanour, was the back of the rig, ATU and PSU and its associated cabling which is not, perhaps, the most attractive view and something that even our youngest members were unable to fully compensate for.
Setting up on the Saturday morning went more or less to plan until it came time to put up the antenna. Last year had shown us that a half size G5RV at 15.55m (51 feet) in length fitted nicely between roach poles strapped to either end of our railway carriage, with the standard railway carriage length being 19.5m (64 feet) and our plan was to repeat this arrangement this year.
Unfortunately, and unbeknown to us, the vertical "handrails" at either end of our carriage had been removed as part of the refurbishment/restoration/conversion process. This was a shame as last year the carriage had formed a really useful prop to the end of antenna supports.
This year we had to resort to using the rail on the adjoining buffet car at one end and on a locomotive a couple of wagons away at the other end. In and of itself not a major problem, but it did mean that the roach poles had to do much more work this year as instead of having the full height of the operating carriage to resist the tension from the antenna self weight and wind load, this time they had to rely on their own tensile properties and a couple of velcro staps at the base and about 1500mm above the base.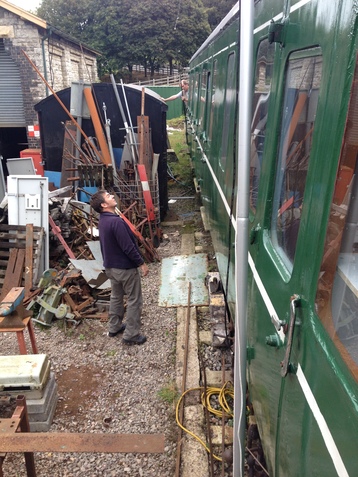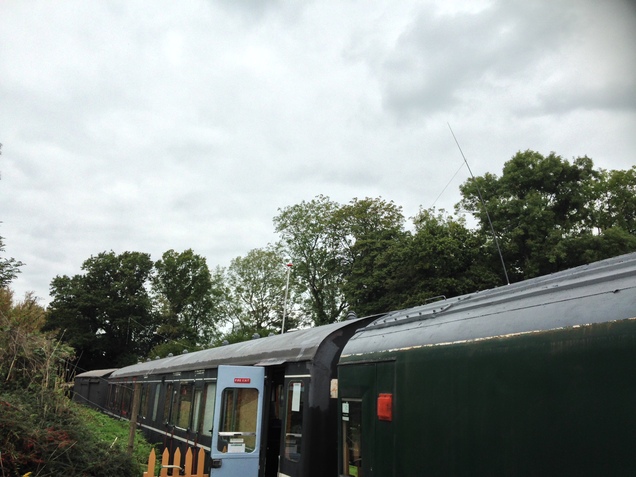 The inevitable happened, and as the antenna was drawn up to provide something approaching a horizontal line the tension was too much and the roach pole at the buffet car snapped its second telescopic section.
It wasn't the end of the world, collapsing that section into the base restored sufficient structural integrity all be it at the expense of some height which if Louis Varney is to be believed is of little importance over the last sixth of the antennas length in any case. But it did make us more circumspect about tensioning the antenna with the result that this year our antenna was a bit of a droopy affair!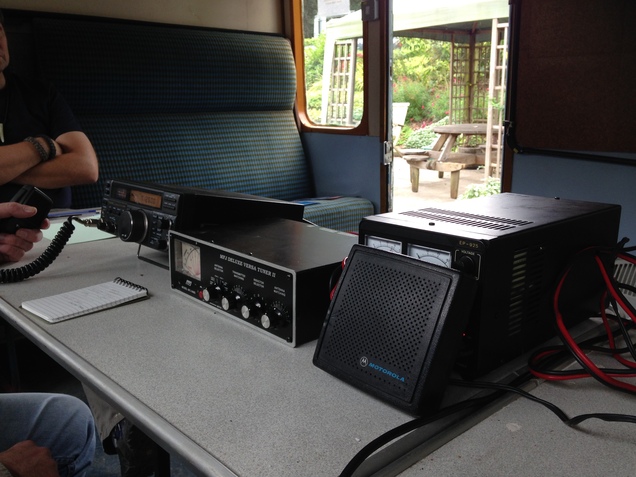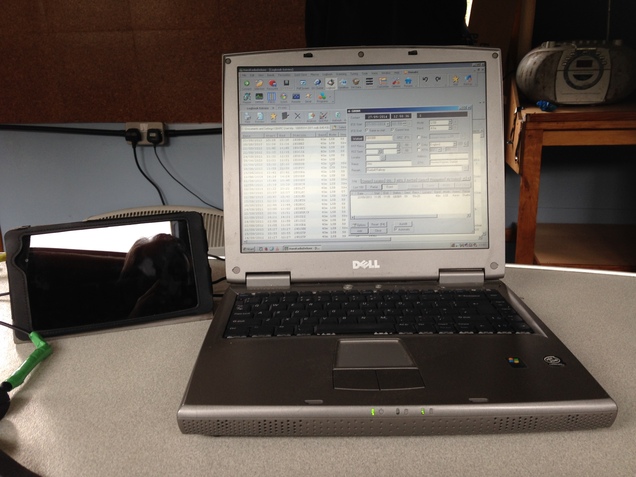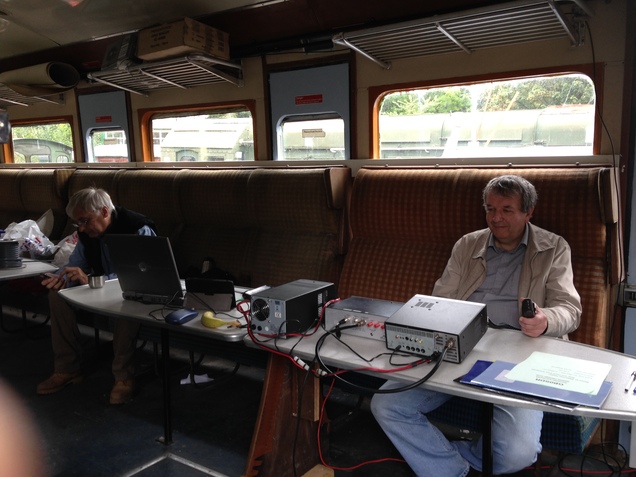 Never the less, aside from this setback we were on air. Our first contact at around 11:45 BST was GB5ABA the Special Event Station for the West Midlands Air Ambulance, they are fund raising through their QSL cards and donating proceeds to the West Midlands Air Ambulance. There was a small pile-up trying to work Neville but we managed to crack through it on the first or second call so we felt our station was fine even if the aesthetics could have done with a bit more work. A similar result occurred with our first RotA contact of the day with GB1BAS the Bickershaw and Abram Railway Station when we punched through the pile-up there too!
Not all pile-ups were as easy to crack, Pete G0DRX initially failed to emulate the success of both Andy G7KNA and Dave G7BYN although he made many contacts and is to be congratulated for having reserves of feeder which was to prove invaluable through the weekend.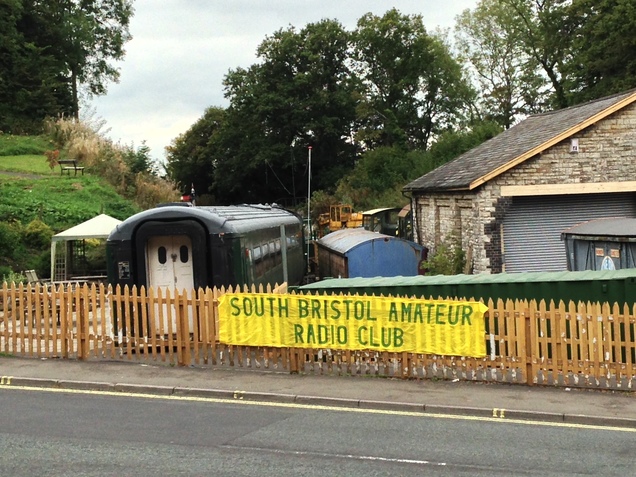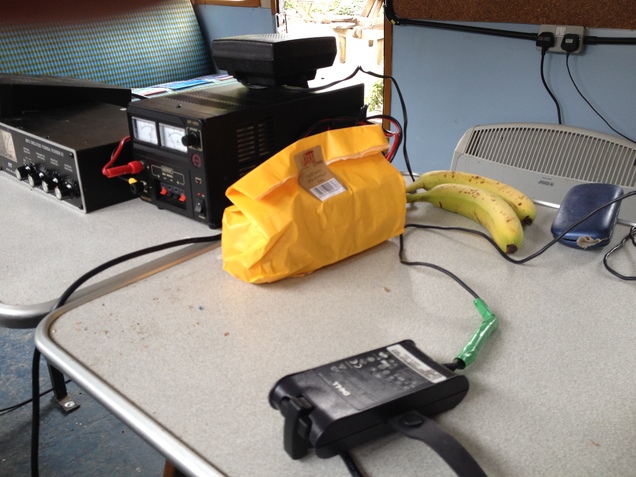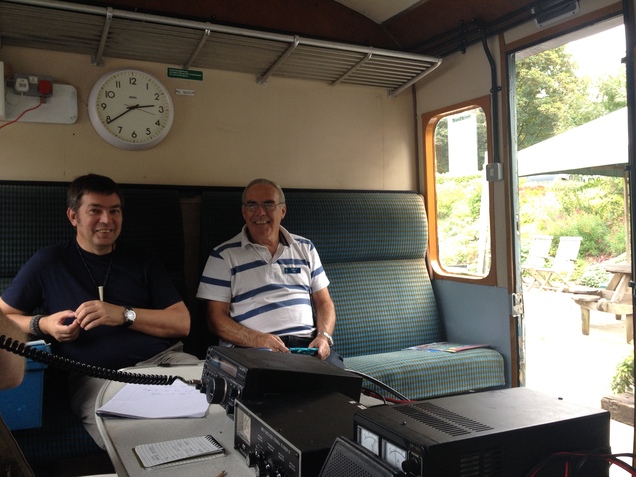 The day moved on in this fashion as we took turns between operating, logging, chatting to visitors, many of whom were lapsed hams, touring the station. By the end of the first day we had logged 42 contacts including 14 other RotA registered operations, 5 other Special Event Stations and 2 members of the Somerset and Dorset Railway Heritage Trust who used Amateur Radio to pass their apologies for not being able to get to the AGM.
Thanks should go to the members of SBARC who turned up and supported and helped, in no particular order: Andy G7KNA, Dave G7BYN, Henryk M0HTB, Peter G0DRZ, Eddie 2E0LJT, Tania 2E0TUK, Josh 2E0DSR and Doug G1TYK and anyone I may have inadvertently forgotten
On the Sunday we were joined by a couple of our younger Foundation Licensees who took the opportunity to operate the Special Event Station.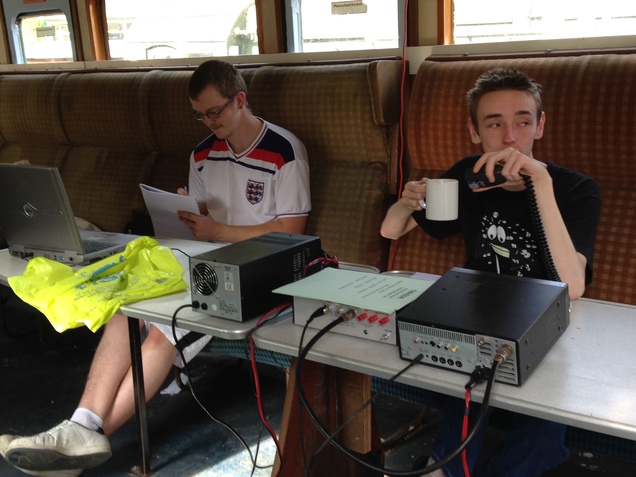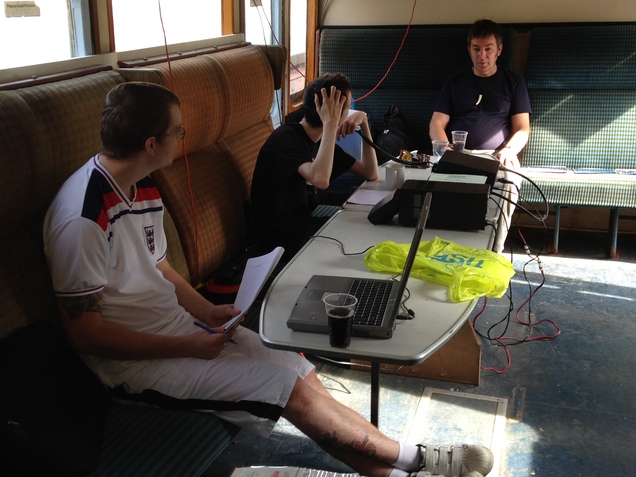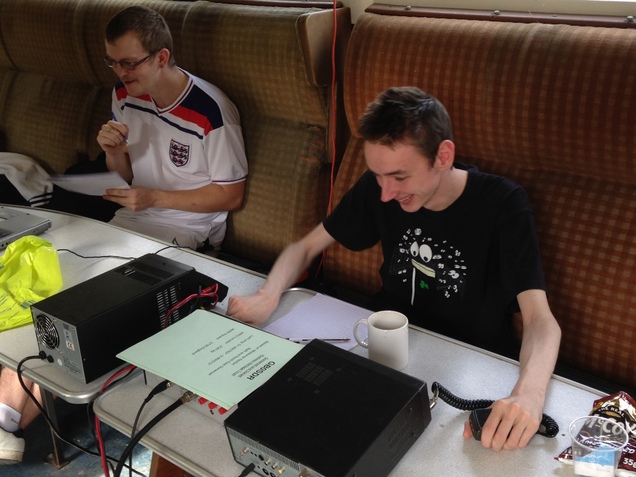 As the antenna had been left up overnight setup on the Sunday was more efficient and we opened our account shortly after 10:00 BST with a QSO with North Norfolk Railway to set the tone for the day. We found that new RotA registered stations were thinner on the ground today, although we had changed our operating method a little and were working less Special Event stations as we were calling CQ rather than hunting and pouncing. As a result our early work rate was quite high with 15 QSOs in the first hour.
As things were ticking along quite nicely in the afternoon as a "proof of concept" experiment we decided to try to set up a PSK31 station. This consisted of:
Yaesu FT-857 HF/VHF/UHF Multi-mode 100W transceiver;
20m Full Wave Delta Loop Antenna with ability to work 30m as a loaded full wave loop, 40m as half wave inverted V-dipole and 15m as a 1.5 wave inverted V-dipole;
Watson Power Mite NF25 Switch Mode Power Supply;
LDG Z-11 Pro Mk I Auto ATU;
Signalink USB Digi Modes Adapter;
Diamond SX600 SWR/Power Meter; and
Acer Aspire 1 Intel Atom Netbook running Elementary OS (a combination of Ubuntu and Enlightenment Desktop) using FLDigi for PSK31.
It took a little while to get set up, the antenna was constructed around the static goods wagon that forms a feature near the Trust's museum, and the station itself was set up in the gazebo outside out operating carriage and adjacent to the buffet car.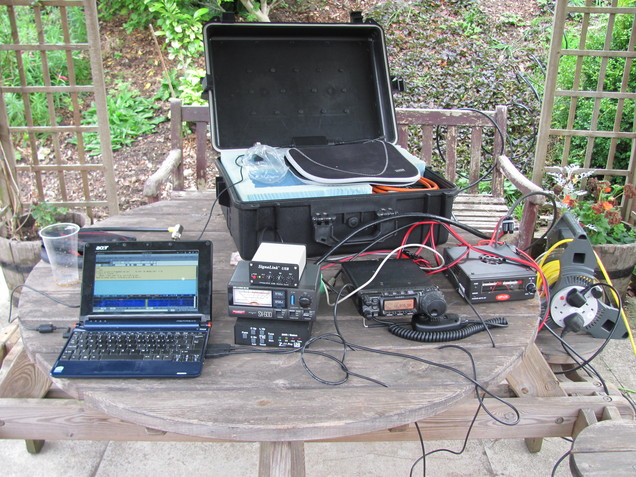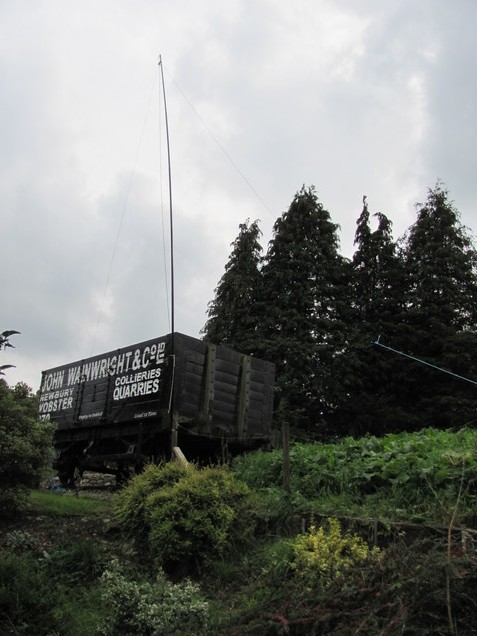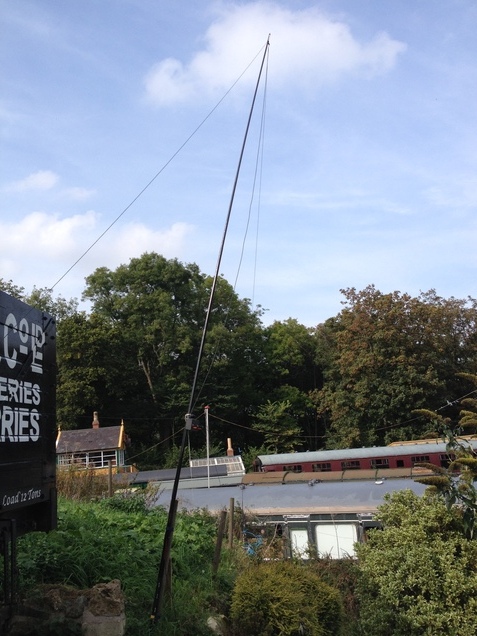 30m wasn't really that active for data so we switched to 20m. Conscious that we were now working two stations with antennas in close proximity on harmonically related bands we were expecting some issues with interference but nothing manifested itself. Part of this might have been the fact that the antennas were cross polarised, that is the half size G5RV was horizontally polarised whilst the top fed Delta Loop was vertically polarised plus the G5RV was radiating more or less north-south whilst the Delta Loop was more or less east-west.
We didn't have a great deal of operating time on PSK31 but we managed to have 6 QSOs in PSK31 with stations in Italy, Norway, Germany, Austria and Spain. Most enjoyable was the contact with IN3GNV Giovanni who went away from the standard macro driven rubber stamp QSOs for a personal keyboard to keyboard QSO. Andy G7KNA was operating the PSK31 station at the time and was more than willing to reciprocate with equally non-macro responses and information. In fact the two had worked before, on 17 September 2010 Andy G7KNA operating as GB2BLE from Lundy Island had an equally enjoyable and unscripted QSO with IN3GNV just before the station was packed up for the year. It was memorable precisely because it was personal and not macro driven.
Thanks for help and support on the Sunday go, in no particular order, to Andy G7KNA, Dave G7BYN, Henryk M0HTB, Tom M3TWJ, Ashley M3USP and anyone else who might have been forgotten.
GB0SDR Log
Date (UTC)
Time (UTC)
Station Worked
Band or Frequency
Mode
RST
Operators Name
QTH
Notes
Sent
Rec'd
27/09/14
10:47
GB5ABA
40m
LSB
59
59
Nevil
Walsall
27/09/14
11:13
GB1BAS
40m
LSB
59+20
59
Jason
Bickershaw
RotA Bickershaw and Abrham Railway Station
27/09/14
11:17
GB14NH
40m
LSB
59+20
59
Jamie
Newark Radio Rally
27/09/14
11:35
GB0GNA
40m
LSB
59
59+
Carl
Hartlepool
A013 International Air Ambulance Week WW1 Gun Battery Museum
27/09/14
11:47
GB0ELR
40m
LSB
57-59
Steve
Ramsbottom
RotA East Lancashire Railway
27/09/14
11:56
GB2LHR
40m
LSB
59+20
59/59+10
Bill
RotA Lakeside and Haverthwaite Railway (WAB: SD38)
27/09/14
12:06
GB5RSR
40m
LSB
57-59
45
Peter
Preston Lancashire
RotA Ribble Steam Railway
27/09/14
12:13
GB2RGM
40m
LSB
55-57
59
John
Waltham Abbey
RotA Royal Gunpowder Mills
27/09/14
12:20
GB1PCA
40m
LSB
58
59
Andrew
Special Event station run by Llanelli ARS to promote the awareness of Prostate Cancer in men in conjunction with Prostate Cancer UK – see QRZ.com (IARU: IO71wq, WAB: SN51)
27/09/14
12:25
GB2EVR
40m
LSB
59
59
Mike
Appleby Cumbria
RotA Eden Valley Railway (Extension to Stockton and Darlington Railway)
27/09/14
13:10
GB0BR
40m
LSB
59
59
Mike
Horsted Keynes Station
RotA Bluebell Railway (IARU IO91xb)
27/09/14
13:11
F5VIG
40m
LSB
59
59
Mike
Brittany
27/09/14
13:20
G8NEO
40m
LSB
59
59
David
Cromer
27/09/14
13:24
MX0NBC
40m
LSB
59
59
Dave
Bitton
RotA Avon Valley Railway Oldland Common Bitton by North Bristol Radio Club
27/09/14
13:26
GB2AA
40m
LSB
59
59
Ben
Widness and Runcorn ARC Special Event for Air Ambulance
27/09/14
13:28
GB2WS
40m
LSB
59+
59+
David
RotA Princess Royal Class Locamotive Trust
27/09/14
13:31
G4STP
40m
LSB
59
59
Tony
Durham
WAB: NZ23
27/09/14
13:33
2E1VAR
40m
LSB
59
56
Richard
Exeter
27/09/14
13:36
G4SZST
40m
LSB
59
58
Dave
27/09/14
13:37
GB2DMR
40m
LSB
59
59
Bill
RotA Drumawhey Miniture Railway Bangor Northern Ireland
27/09/14
13:39
F4VPL
40m
LSB
59
59
Dave
South Brittany
Member of the Somerset and Dorset Railway Heritage Trust
27/09/14
13:43
GB1NNR
40m
LSB
59
59
Bob
Norfolk
RotA North Norfolk Railway
27/09/14
13:45
M0XLT
40m
LSB
59
58
Kevin
Skipton
27/09/14
13:46
G4RAC
40m
LSB
59
59
John
Burton on Trent
27/09/14
13:47
M0SRS
40m
LSB
58
59
Sid
27/09/14
13:49
2E2KJ
40m
LSB
59
59
Adrian
27/09/14
13:51
M5AEO/P
40m
LSB
59
57
27/09/14
13:54
GB0TLR
40m
LSB
59
59
Mike
RotA Tyttenhanger Light Railway
27/09/14
13:58
M0DFW
40m
LSB
59
59
Dave
Member of the Somerset and Dorset Railway Heritage Trust
27/09/14
14:03
G4PEK
40m
LSB
58
59
Les
Gloucester
27/09/14
14:05
M0KLK
40m
LSB
59
59
Bill
Isle of Sheppy
27/09/14
14:11
G8YPL
40m
LSB
59
59
Pete
Liverpool
Use eQSL or QSL card
27/09/14
14:15
M0RLK
40m
LSB
59
58-9
Brian
Trowbridge
No QSL Card
27/09/14
14:16
GB2MHR
40m
LSB
59
59
James
27/09/14
14:20
2E0GBK
40m
LSB
59
59
Keith
Leatherhead
27/09/14
14:21
M0SSF
40m
LSB
59
57
Peter
27/09/14
14:24
GB2FLR
40m
LSB
59
59
Ian
RotA Foxfield Light Railway
27/09/14
14:31
2E0TVV
40m
LSB
59
58-9
Scot
West Bromwich
27/09/14
14:35
GB2CR
40m
LSB
59
57
Derek
RotA Corris Railway Snowdonia National Park
27/09/14
14:39
M6CYN
40m
LSB
56-7
59
Tony
QRP Station
27/09/14
14:42
G3KAG
40m
LSB
57
59
Tony
Derbyshire
27/09/14
14:42
G3VCN
40m
LSB
59
59
Paul
Plymouth
28/09/14
09:05
GB2NNR
40m
LSB
59
59
Paul
RotA North Norfolk Railway
28/09/14
09:16
G3YSW
40m
LSB
59
59
Nigel
28/09/14
09:16
G1KPK
40m
LSB
59
59
Nigel
28/09/14
09:19
F8DRA
40m
LSB
59+20
Normandy
28/09/14
09:208
GB2KAA
40m
LSB
Patrick
28/09/14
09:21
G4GTX
40m
LSB
58
Stuart
Sunderland
28/09/14
09:21
M3FEH
40m
LSB
Cornwall
28/09/14
09:23
F8FLK
40m
LSB
Therri
North France
28/09/14
09:24
PA1AT
40m
LSB
58
58
Gerry
28/09/14
09:27
GB0DR
40m
LSB
53
John
RotA Dartmoor (Okehampton Station)
28/09/14
09:28
G4WIA
40m
LSB
59+20
58
Ivan
Cornwall
28/09/14
09:30
G0TRB
40m
LSB
59
Roger
Tamworth
28/09/14
09:31
G0IJM
40m
LSB
59+10
59+10
Jen
Leicester
28/09/14
09:34
M0PJD
40m
LSB
Peter
28/09/14
09:39
2E0CCF
40m
LSB
57
55
Gerry
Yorkshire
28/09/14
10:07
M0DDU
40m
LSB
27
Lost contact due to noise
28/09/14
10:17
G8ISI
40m
LSB
59
57
Francis
QSL Card Requested
28/09/14
10:24
G0AJH
40m
LSB
59
59
John
Hornchurch Essex
QSL Card Requested
28/09/14
10:27
G4CIB
40m
LSB
59
59
Brian
28/09/14
10:29
M0KRP
40m
LSB
58-9
59
Rod
Yeovil
28/09/14
10:42
G4EJQ
40m
LSB
59
59
Rob
Plymouth
28/09/14
10:43
G4SQA
40m
LSB
59
59
Dave
Peterborough
28/09/14
12:42
G8NT
40m
LSB
59
59
Malcolm
28/09/14
12:44
F4VLP
40m
LSB
59
59
Dave
28/09/14
12:47
2M0RBM
40m
LSB
59
59
28/09/14
13:03
GB0HBL
40m
LSB
59
59
Cliff
RotA The Helston Railway
28/09/14
13:10
2E0PGS
40m
LSB
59
58
Peter
Bristol
28/09/14
13:18
G0DMH
40m
LSB
59
59
Bruce
Loughborough
No QSL Card
28/09/14
13:30
IN3GNV
14.068896
PSK31
599
599
Giovanni
Bolzano
28/09/14
13:32
MW0GYV
40m
LSB
59
59
Peter
Bridgend
28/09/14
13:42
GI0AZB
40m
LSB
59
59
Ian
NW Northern Ireland
28/09/14
13:43
2E0ZAP
40m
LSB
57
37
Rob
Tamworth
28/09/14
13:45
G4YYD
40m
LSB
59
59
Alan
Bury
28/09/14
13:48
M0TFY
40m
LSB
59
59
David
28/09/14
13:51
M6NAQ
40m
LSB
47
47
Andy
28/09/14
13:55
G0SYF
40m
LSB
59
59
Bob
Wooton Under Edge
28/09/14
14:00
M1AYI/P
40m
LSB
59
47
Tom
Lincoln
28/09/14
14:02
2E1TAF
40m
LSB
59
59
Dave
Norwich
28/09/14
14:06
M1EYA
40m
LSB
59
59
Richard
Liechester
28/09/14
14:08
2E0ZYL
40m
LSB
59
59
Sue
Paulborough
28/09/14
14:14
M0ZPZ/M
40m
LSB
59
59
Lee
Stockport
28/09/14
14:18
G1NEU
40m
LSB
59
59
Alan
Brixham
28/09/14
14:19
LB2M
14.06994
PSK31
599
599
Nils
IARU: JO59gw
28/09/14
14:21
2E0NER
40m
LSB
59
59
Mike
Wakefield
28/09/14
14:26
DL1HRN
40m
LSB
59
59
Eurkin
28/09/14
14:27
G4NUJ
40m
LSB
57
59
Ken
North Devon
28/09/14
14:32
DG2VW
14.069614
PSK31
599
599
Werner
Pirna
IARU: JO60xx
28/09/14
14:33
G4AFJ
40m
LSB
59+10
59
Geoff
28/09/14
14:40
M0DFW
40m
LSB
59
47
28/09/14
14:42
OE1JEW
14.069614
PSK31
599
Hans
IARU: JN88ee
28/09/14
14:42
G1FHR
40m
LSB
57
59
Reg
Gillingham
28/09/14
14:43
MX0HFC
40m
LSB
59
59
John
Paull
28/09/14
14:50
DF1GB
14.069614
PSK31
599
599
Gerd
Neuhofen
IARU: JN49fk
28/09/14
14:50
GI0OND
40m
LSB
59
59
Jim
Armagh
28/09/14
14:52
GW3OAJ
40m
LSB
59
59
Cess
Cardiff
28/09/14
14:54
M0MTJ
40m
LSB
59
59
Mike
Perton Near Wolverhampton
28/09/14
14:57
GB3PFM
40m
LSB
59
59
Terry or Tony
28/09/14
14:58
EA3HOE
14.069614
PSK31
Ton
IARU: JN11bl