Location
The Somerset and Dorset Railway Heritage Trust are based at the former Midsomer Norton South Railway Station. The postal address is Midsomer Norton Station, Silver Street, Midsomer Norton, BA3 2EY. However, there are some specific details that will be of interest to radio hams:
Lat/Long: 51.281077°,-2.482759°
IARU: IO81sg
IOTA: EU005 (UK Mainland)
WAB: ST65 – England
Event Details
Late September and we return, once again, to our good friends at the Somerset and Dorset Railway Heritage Trust in Midsomer Norton. Saturday is the big set-up day, as we have to put the antennas up as well as establish the stations within the operating carriage.
Mark M0SKV, Andy G7KNA and Julian M0JCE established antennas in the upper car park area. the choice of antennas followed the patterns of previous years and other Special Events with our, by now ubiquitous, 80m doublet fed with 450Ω ladder line. A deviation from previous years was the addition of a Hustler 4BTV 4 band vertical which was used by the data station on 20m.
In the carriage the SSB station comprised:
Yaesu FT-991 HF/VHF/UHF multi-mode transceiver;
Manson EP-925 25A linear power supply;
Barker and Williamson VS300A manual ATU; and
Dell laptop running CQR Log under XUbuntu 16.04LTS.
The data station comprised:
Yaesu FT-857D HF/VHF/UHF multi-mode transceiver;
Watson Power Mite NF-25 22A switch mode power supply;
Signalink USB Interface; and
Toshiba laptop running FLDigi under Ubuntu Mate 18.04LTS.
We noted some interaction between the two stations. Transmitting on the Datamodes station on 20m produced some noise on the 80m SSB station. Similarly the SWR on the 20m Datamodes station would deteriorate when the 80m SSB station was transmitting at the same time.
This was resolved by re-siting the vertical antenna and increasing the separation.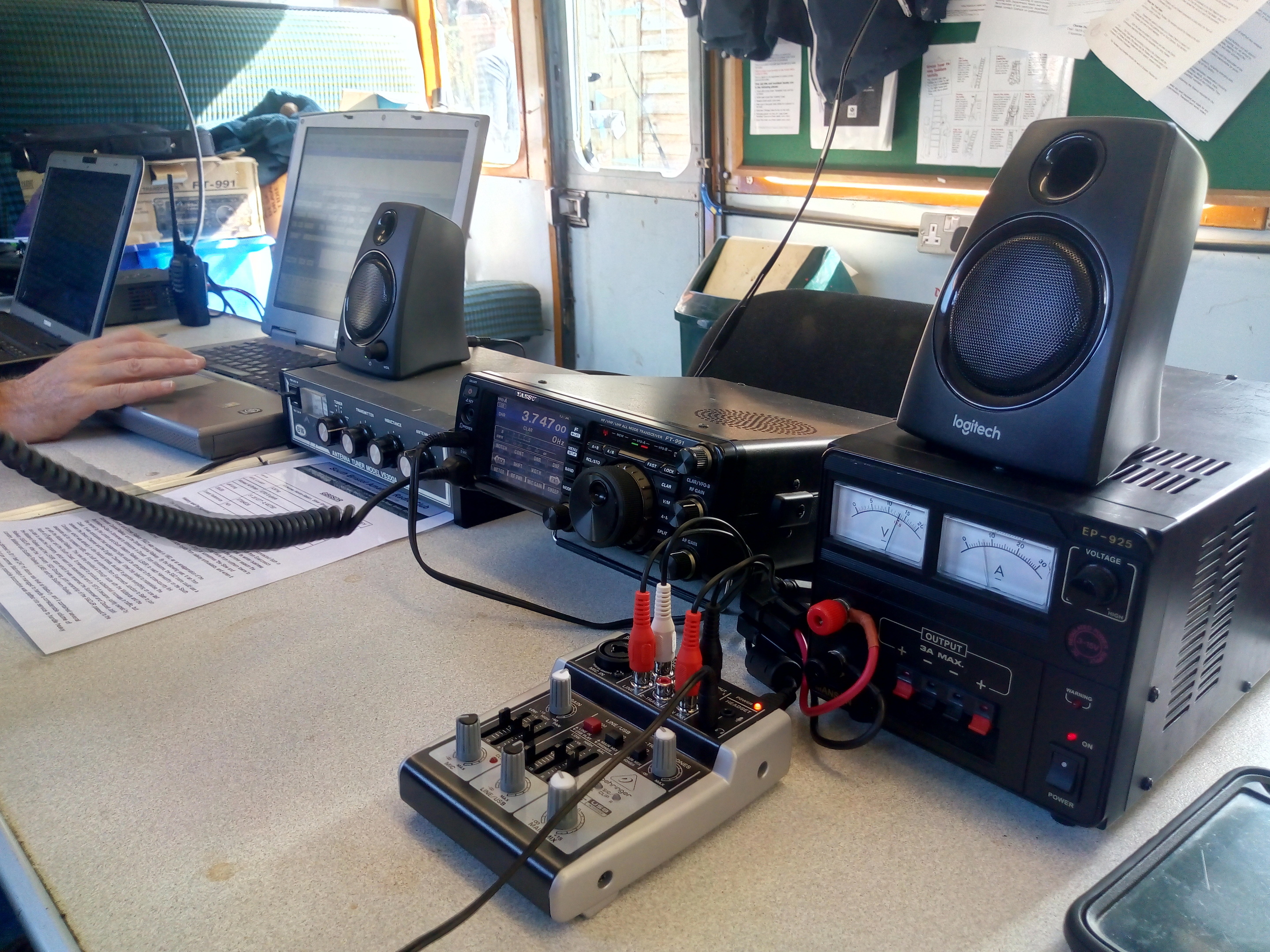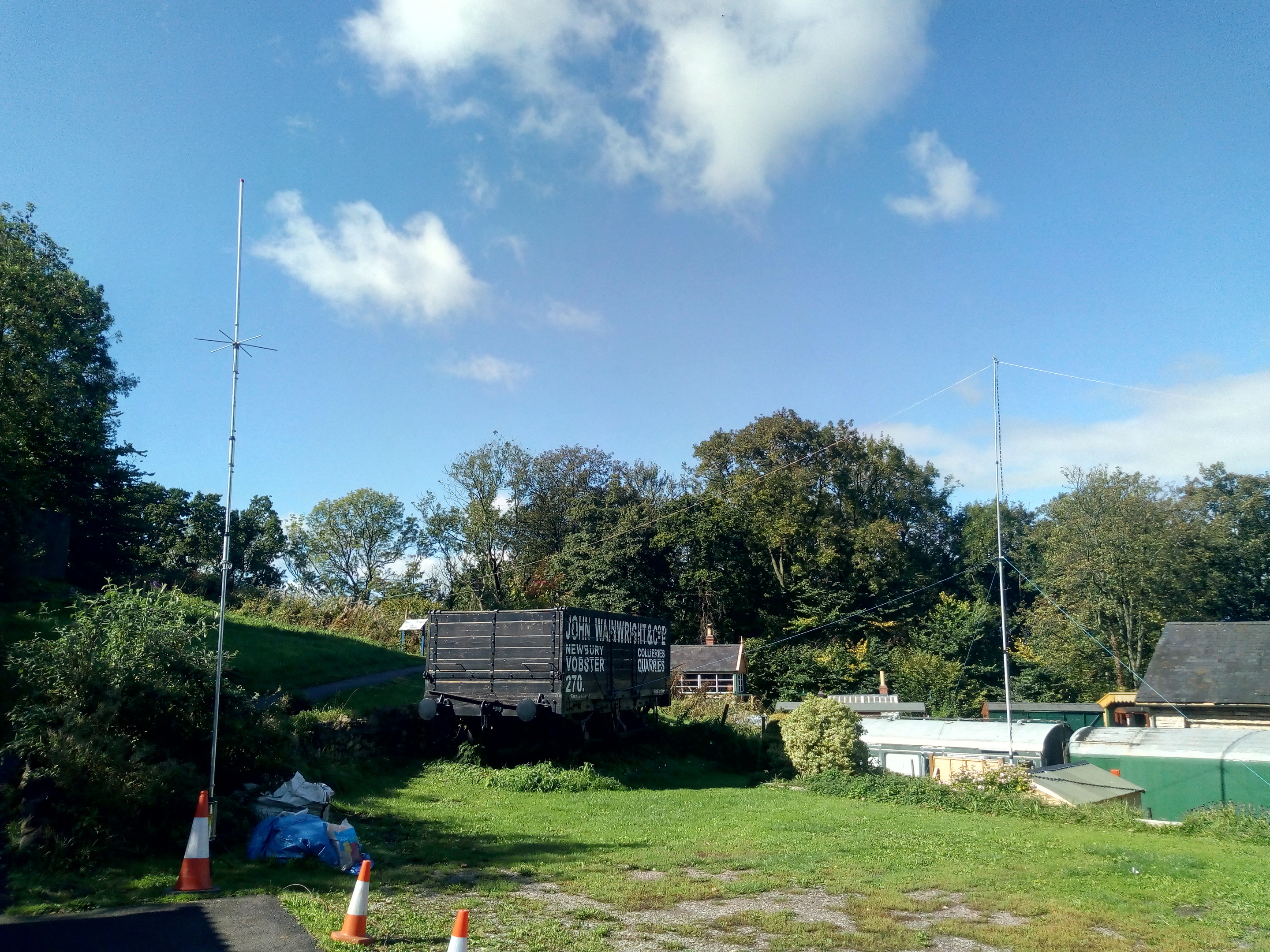 The setting up was more or less straightforward, the SSB station was on air first working 80m and with inter-G propagation behaving itself quickly ticked off a number of contacts before a QSO with the Bluebell Railway in Sussex got our count of participating RotA stations off the mark.
Working at a considerably less frenetic pace the datamodes station on 20m also started to make QSOs. The advent of FT8 has clearly drawn operators off of PSK and similar modes and into the realms of the 90 second strict form QSO. Data-mode QSOs have always, with a few exceptions, been very formulaic with a reliance on standard macros which are seen time and again word for word but at least PSK31 and similar modes have the ability to go off script when required to as was demonstrated by our QSO with IN3GNV. FT8, by contrast, does not possess this flexibility at the moment, and whilst many report fantastic numbers of contacts in a short space of time with exotic locations using FT8 it is unclear exactly how much they have gleaned about the other operator, their country or culture. It is perhaps to be expected in the day of "59 QRZ" style SSB contacts that FT8 would prove popular but is it really in the true spirit of amateur radio? Time will undoubtedly tell how enduring this method of communication is outside of the necessary reliable transfer of weak signals in poor conditions, although future alterations to the format to provide greater flexibility will undoubtedly improve the mode.
Despite this a number of PSK31 and PSK63 QSOs were achieved into Europe on 20m, particularly enjoyable were the QSOs with Kurt OE1KYA in Vienna who followed up with a number of truly lovely photos of Vienna sent by e-mail and another QSO with Giovanni IN3GNV who we have worked in previous years.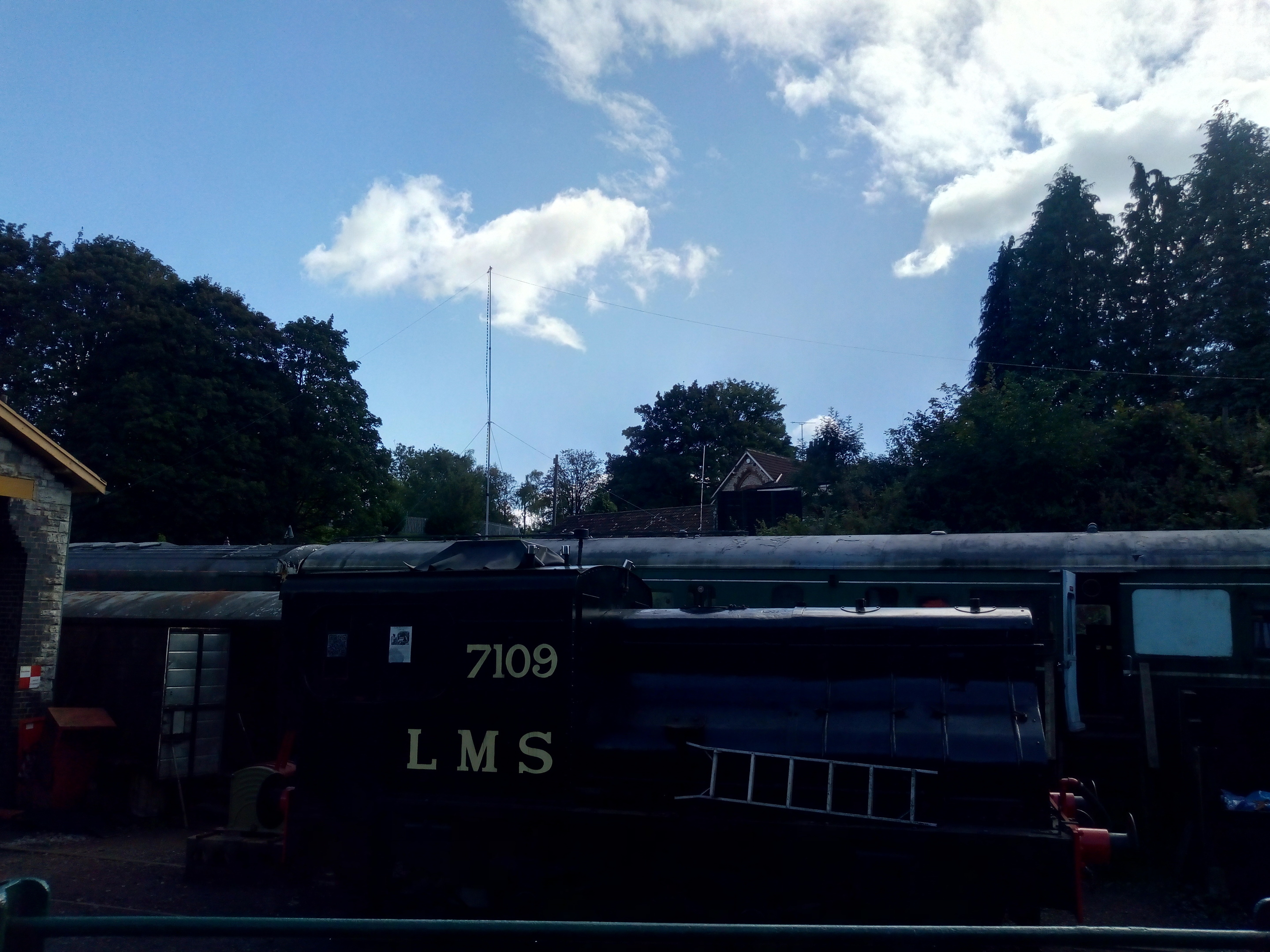 Sunday saw a few changes to the operating crew. Ken, one of our Foundation students, joined us as did Vince who was visiting from Scotland. The format of the day continued in the same vein as Saturday, and by the end of the weekend we had made 131 contacts including 16 (38%) of the participating 43 (42 discounting ourselves) Railways on the Air operations. 15 (11%) out of the 131 QSOs were made using data-modes.
GB0SDR Log
Date (UTC)
Time (UTC)
Station Worked
Band or Frequency
Mode
RST
Operators Name
QTH
Notes
Sent
Rec'd
22/09/18
10:51
G0GWY
80m
SSB
59
59
Geoff
22/09/18
10:55
2E0PTZ
80m
SSB
57
59
Paul
Andover
22/09/18
10:57
M5HFJ
80m
SSB
599
599
John
22/09/18
10:59
G3XDS
80m
SSB
59
59
Peter
Mansfield
22/09/18
11:00
G6UWK
80m
SSB
599
599
John
22/09/18
11:03
G4BHD
80m
SSB
599
599
Trevor
Cambourne Cornwall
22/09/18
11:06
2E0ERX
80m
SSB
599
599
Mark
Kent
22/09/18
11:09
OE4BHF
20m
PSK31
599
579
Franz
Rudersdorf
22/09/18
11:10
G2BKZ
80m
SSB
59
59
Rob
Hertfordshire
22/09/18
11:12
G0ERS
80m
SSB
58
59
Rod
22/09/18
11:16
G1YPG
80m
SSB
59
59
Steve
Stafford
22/09/18
11:20
GB0BR
80m
SSB
59
59
Gavin
Bluebell Railway
Bluebell Railway operated by Downland Radio Group (M0XSE)
22/09/18
11:23
GB0AVR
80m
SSB
599
599
Dave
Ammon Valley Railway
Avon Valley Railway operated by North Bristol ARC
22/09/18
11:23
EA3DUI
20m
PSK31
599
599
Marti
Caldetas
JN11gn
22/09/18
11:36
GB4EKR
80m
SSB
599
599
Peter
Dover
East Kent Railway operated by Dover Amateur Radio Cllub
22/09/18
11:40
GB0GCR
80m
SSB
599
599
Stephan
Great Central Railway (Nottingham) operated by Nunsfield House Amateur Radio Group
22/09/18
11:42
M0KKM
80m
SSB
599
599
Kevin
Norfolk
22/09/18
11:46
M0DFW
80m
SSB
599
599
Dave
Cambridge
22/09/18
11:47
GB4MHR
80m
SSB
57
57
Russ
Medstead Alton
Mid-Hants Railway (The Watercress Line) operated by Horndean and District ARC
22/09/18
11:53
GB1WVR
80m
SSB
599
599
Derek
Keighley and Worth Valley Railway operated by Otley ARS
22/09/18
11:54
GB1FLR
80m
SSB
57
57
Ron
Kent
Fenland Light Railway operated by PADARC
22/09/18
11:57
M3FEH
80m
SSB
56
58
Cornwall
22/09/18
12:01
G8GWK
80m
SSB
59
59
Chris
22/09/18
12:05
GX0SOA
80m
SSB
59
59
Harri
Stratford on Avon
22/09/18
12:06
G0WWD
80m
SSB
57
57
22/09/18
12:09
GW0JAI
80m
SSB
59
59
Glynn
22/09/18
12:09
SP2HXY
20m
PSK31
599
599
Stefan
Rumia
JO94en
22/09/18
12:12
MW6IEU
80m
SSB
59
59
22/09/18
12:17
GW4RLP
80m
SSB
59
59
Terry
Caernarvon
22/09/18
12:18
M0TMD
80m
SSB
57
57
Helen
Glossop
22/09/18
12:19
OE1KYA
20m
PSK31
599
599
Kurt
Vienna
JN88fd
22/09/18
12:22
GB4VBR
80m
SSB
59
59
Owen
Berkeley
Vale of Berkeley Railway operated by Thornbury and South Gloucestersshire ARC
22/09/18
12:25
G3OKA
80m
SSB
59
59
John
Wirral Liverpool
22/09/18
12:25
G4SJX
80m
SSB
57
59
Mike
Leicester
22/09/18
12:30
M1DEN/M
80m
SSB
59
56
Lee
Hull
TS-690
22/09/18
12:38
G0ALI
80m
SSB
59
59
Alison
Congresbury
22/09/18
12:38
G4EZV
80m
SSB
59
57
Mike
Torquay Devon
22/09/18
12:40
OM1AD
20m
PSK31
599
599
Dusan
Nitr
JN98ai
22/09/18
12:42
G4RAC
80m
SSB
57
57
John
Burton on Trent
22/09/18
12:46
G4ZTQ
80m
SSB
59
59
John
Chichester
22/09/18
12:51
IK2IAQ
20m
PSK31
599
Angelo
Castellucchio
JN55hd
22/09/18
12:55
M0ALD
80m
SSB
59
58
John
Leeds
22/09/18
13:05
G4CUS
80m
SSB
59
59
Antony
Hastings
22/09/18
13:07
G3YCH
80m
SSB
59
59
John
Paignton
22/09/18
13:24
G0RYL
80m
SSB
59
59
Rob
Portland
22/09/18
13:30
2E1RBH
80m
SSB
59
59
Carol
22/09/18
13:30
G4ICC
80m
SSB
59
58
Mike
Northampton
22/09/18
13:38
IN3GNV
20m
PSK31
599
599
Giovanni
Bozano
JN56pl
22/09/18
13:40
G0IJM
80m
SSB
59
59
Jen
Leicester
22/09/18
13:42
GB2BNM
80m
SSB
59
52
Former Bishops Nympton and Molland Station on the Devon and Somerset Railway operated by Exmoor Radio Club
22/09/18
13:50
GB2CPM
80m
SSB
59
59
Ed
Amberley
Amberley Narrow Gauge Railway operated by Amberley Museum and Heritage Centre
22/09/18
13:53
M0HFY
80m
SSB
59
57
Barry
Gloucester
22/09/18
13:59
GB4HMR
80m
SSB
59
59
David
Hoddeston
Hoddesdon Model and Railway Club operated by Southgate ARC
22/09/18
14:00
G8BPY
80m
SSB
59
59
Peter
Kingston Surrey
22/09/18
14:04
G4EHT
80m
SSB
59
57
Bill
Litchfield
IC-7300 Butternut Vertical
22/09/18
14:11
G4TXF
80m
SSB
59
59
Colin
Pershore
22/09/18
14:14
G4RUJ
80m
SSB
59
59
Paul
Clacton on Sea
22/09/18
14:15
G6BDV
80m
SSB
57
59
Rob
Bedfordshire
22/09/18
14:19
GW6VEI
80m
SSB
59
59
Doug
NE Wales
22/09/18
14:23
M0PER
80m
SSB
59
59
Alan
Chester
22/09/18
14:24
M6LWO
80m
SSB
59
59
Tony
Bedford
22/09/18
14:31
2E0DUE
80m
SSB
59
57
Ian
Margate
22/09/18
14:37
2E0TGF
80m
SSB
59
59
Alastair
Cambridgeshire
22/09/18
14:38
M6XXD
80m
SSB
59
57
Paul
Shrewsbury
22/09/18
14:40
G0OFD
80m
SSB
59
58
John
Brancaster Norfolk
Yaesu 200w Amp IC-746
22/09/18
14:40
UT0IM
20m
PSK31
599
599
Vasily
Makeevka
KN98bc
22/09/18
14:46
MW6URI
80m
SSB
59
55
Mel
Fishguard
22/09/18
14:49
G0VXM
80m
SSB
59
59
Greg
Pontefract
22/09/18
14:53
G3XMB
80m
SSB
59
59
Bob
Chelmsford Essex
22/09/18
14:56
M3LDS
80m
SSB
59
59
Reg
Paulton
22/09/18
14:57
G0BFJ
80m
SSB
59
59
Brian
Huddersfield
22/09/18
15:02
G6LXK
80m
SSB
59
59
Howard
North Essex
Windmill
22/09/18
15:07
GB0CVR
80m
SSB
59
59
Melvin
Castle Headingham
Colne Valley Railway operated by Braintree and District ARS
22/09/18
15:10
G3YZY
80m
SSB
59+
59+
Howard
Portsmouth
400w
22/09/18
15:13
M1FFP
80m
SSB
59
59
Brian
Castle Cary
22/09/18
15:16
M3OZP
80m
SSB
57
58
Chris
Folkstone
22/09/18
15:19
GW4GNY
80m
SSB
59
59
Martin
Welshpool
22/09/18
15:20
G7LEU
80m
SSB
59
58
Mark
23/09/18
09:12
EI3GO
80m
SSB
59
59
23/09/18
09:14
GB0SD
80m
SSB
54
44
23/09/18
09:17
G0WBG
80m
SSB
59
59
Andrew
Dover
23/09/18
09:34
EI7CC
80m
SSB
59
59
Pete
Dublin
23/09/18
09:37
SQ9LFQ
20m
PSK31
599
599
Jozef
Mordarka
23/09/18
09:38
G4BQ
80m
SSB
59
59
23/09/18
09:40
G4ZJO
80m
SSB
59
59
Doc
Morecambe
23/09/18
09:43
UA3AJZ
20m
PSK31
599
599
Mike
Moscow
23/09/18
09:45
M0TLX
80m
SSB
59
59
David
Sunderland
23/09/18
09:50
G0NOV
80m
SSB
59
59
Mike
Weymouth
23/09/18
09:52
DL6UMF
20m
PSK31
599
599
Olaf
Werben
JO71ct
23/09/18
09:55
G0GCJ
80m
SSB
55
59
Ron
Manchester
23/09/18
10:01
G3TGB
80m
SSB
59
59
Brian
Braintree
23/09/18
10:03
G0GWY
80m
SSB
59
59
Geoff
Scunthorp
23/09/18
10:08
G4LTM
80m
SSB
59
59
Greham
23/09/18
10:19
OK1AYM
20m
PSK31
599
559
Vlada
Varnsdorf
JO70hv
23/09/18
10:35
G3SZO
80m
SSB
59
59
John
23/09/18
10:45
G3ZPS
80m
SSB
59
59
Steve
23/09/18
10:59
G3XVX
80m
SSB
59
59
Howard
23/09/18
11:03
G0WWD
80m
SSB
59
59
Dave
Newton Abbot
23/09/18
11:06
G8GWK
80m
SSB
59
58
Chris
23/09/18
11:07
G3LUA
80m
SSB
59
59
Alan
Solihull
23/09/18
11:16
M0JZH
80m
SSB
57
58
John
Telford
23/09/18
11:23
GJ3WMR
80m
SSB
59
59
Frank
St Brelade
23/09/18
11:25
G0UOO
80m
SSB
59
58
Rob
Folkestone
23/09/18
11:31
G0AWV
80m
SSB
59
59
Thatcham
23/09/18
11:31
M0SKV/M
80m
SSB
59
59
Mark
Midsomer Norton
23/09/18
11:35
M0KKM
80m
SSB
58
59
Kevin
Kings Lynn
23/09/18
11:37
GB2MOP
80m
SSB
59
59
Mike
Museum of Power
23/09/18
11:40
F5VIG
80m
SSB
59
59
Mike
Brittany
23/09/18
12:30
2E0VKM
80m
SSB
57
59
Stefan
Nottingham
23/09/18
12:33
G0ERS
80m
SSB
57
54
Rod
Portsmouth
23/09/18
12:34
DL1MBV
20m
PSK31
599
Michael
23/09/18
12:35
G0FEX
80m
SSB
59
59
Ken
Leicester
23/09/18
12:38
G0PPQ
80m
SSB
59
59
Peter
Pontefract
23/09/18
12:42
G3RZF
80m
SSB
59
59
David
Slough
23/09/18
12:44
G8MIA
80m
SSB
59
59
Andy
23/09/18
12:46
G3WFK
80m
SSB
59
59
John
Manchester
23/09/18
12:50
2E0MNG
80m
SSB
59
59
Neal
23/09/18
12:54
GB9TMB
80m
SSB
59
59
Pete
Gloucestershire and Warwickshire Steam Railway operated by Bromsgrove and District ARC
23/09/18
12:57
M0NAS
80m
SSB
59
59
Neil
Colchester Essex
23/09/18
13:01
2E0UAC
80m
SSB
59
59
Martin
Coventry
23/09/18
13:07
UR4MLS
20m
PSK31
599
599
Sergey
Krasnodon
23/09/18
13:15
GW1DTA
80m
SSB
59
59
Mark
Swansea
23/09/18
13:17
G0KSS
80m
SSB
55
57
Keith
23/09/18
13:25
G0OGS
80m
SSB
59
59
Steve
23/09/18
13:32
G8RZA
80m
SSB
57
59
Andy
Illford
23/09/18
13:34
2E0DQL
80m
SSB
59
59
David
London
23/09/18
13:37
M0ZGB
80m
SSB
59
59
Johnathon
23/09/18
13:53
GB2RDR
80m
SSB
57
59
Eddie
Banchory
Royal Deeside Railway operated by Aberdeen Amateur Radio Society
23/09/18
14:18
GB0MVR
80m
SSB
59
59
Graham
23/09/18
14:29
GB0SCR
80m
SSB
59
59
Colin
Blunsdon Station
Swindon Cricklade Railway operated by Colin
23/09/18
14:36
SV2FPI
20m
PSK63
599
599
Sakis
KN10ku