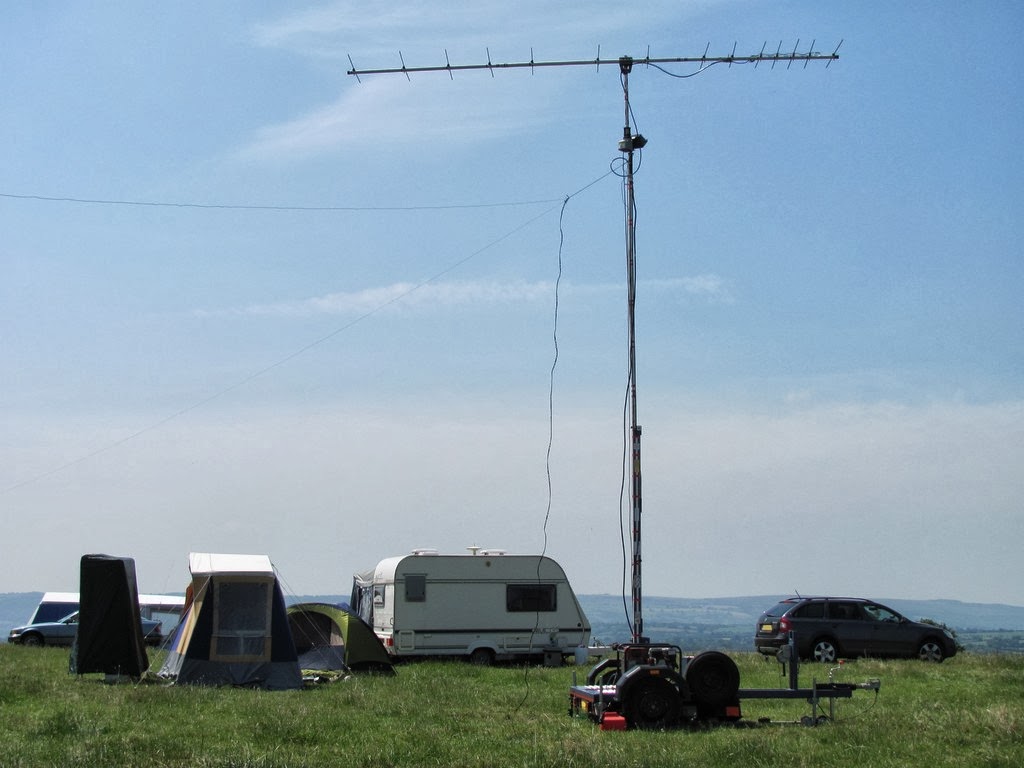 THird THursday: VHF Field Day Briefing 2022
VHF Field Day Briefing 2022
VHF Field Day 2022 occurs on 2/3 July 2022, the contest period will be 14:00 UTC (15:00 BST) on Saturday 2 July 2022 through to 14:00 UTC (15:00 BST) on Sunday 3 July 2022. Setup will occur on the Saturday morning and tear down will occur on Sunday evening, the outline programme is:
11:00 BST on 02/07/2022 – Arrive on site and commence setup primary station on 2m and secondary station on 6m
14:00 BST on 02/07/2022 – Commence station testing
15:00 BST (14:00 UTC) on 02/07/2022 – 2m/6m Contest starts
23:00 BST (22:00 UTC) on 0207/2022 – End of 6m contest
01:00 BST (00:00 UTC) on 03/07/2022 – Commence 8 hour shutdown on 2m, subject to activity
08:30 BST (07:30 UTC) on 03/07/2022 – Return to site switch 2nd station to 4m operations
09:00 BST (08:00 UTC) on 03/07/2022 – Resume 2m contest operations (actual start time on 2m dependent on previous finish time as 8 hour shutdown must be observed) and commence 4m contests operations
15:00 BST (14:00 UTC) on 03/07/2022 – End of 2m and 4m contest. Commence tear down
17:00 BST on 03/07/2022 – Leave site
This meeting will need to discuss and agree certain aspects of the operation to allow the contest entry to be completed by the deadline of 26 June 2022, namely:
Entry Class, SBARC usually enters the Low Power Class limited to 25W on 2m and 6m and 10W on 4m
Location (subject to permission), previously SBARC has operated from:

Dundry IO81qj ///caged.hurry.copper
Clutton IO81ri ///wobbles.scrubbing.wide

Equipment and sources, previously SBRAC has used:

Club FT991 for 2m
Club Nissei DPS-300 30A linear power supply for FT991
Club Rotator for 14 element 2m beam
Club 14 element 2m beam
Club tripod mast
Club Acer laptop running MINOS for contest logging
M0SKV FT891 for 6m and as transverter drive for 4m
Club Manson EP-925 25Amp PSU (needs checking)
Rotator for 4m/6m beam. Previously we used a rotator belonging to Paul G4PDC
Club 4m/6m beam
Mast for 4m/6m beam. Previously we employed the disused telegraph pole at Clutton
G7KNA Toshiba Laptop running MINOS for contest logging
G7KNA 4m Transverter, takes 10m drive from FT891 at 10W max to produce 10W

Catering arrangements
Arrangements for collecting equipment from Clutton if an alternative operating location is promoted.

If you want to participate in this contest, where we have secured first place in the Low Power class in 2019 and 2021, this is the evening you want to attend.

We are dependent on the technology working this month. If you can't get to the Novers Community Association to attend in person, you can join us over ZOOM. Steve G0UQT is our ZOOM coordinator and usually opens the virtual room between 19:00 and 19:30. The meeting starts at 20:00 as shown in the calendar entry.

All of the foregoing is subject to the vagaries of technology and the stability of the various internet connections, which cannot be taken for granted!

Join Zoom Meeting

https://us06web.zoom.us/j/98411712853?pwd=OVE0cGtHcm9TNmJEajBVU2tqM0dWUT09

If the link above doesn't work, you can copy and paste it into a new tab in your web browser of choice

Alternatively head to https://zoom.us/join and join with the following credentials

Meeting ID: 984 1171 2853
Passcode: 73009700

A note on etiquette:

This will be a hybrid meeting, which means that there will be people physically present and present via a video link. Can everyone please respect that this means we won't know who is within earshot, therefore please behave accordingly; moderating language used to that deemed appropriate for polite mixed company that might include younger people and don't shout over those who are not present in person. Remember to look to the screen in the room as well as the people physically in the room and avoid interrupting someone on screen.

These virtual meetings can work and provide a way for those unable to attend in person to continue to participate but only if everyone adapts to this new style of working.