Actually this is really two months in review! April snuck out under the cover of darkness and with the excitement of Mayday Bank Holiday and Mills on the Air weekend before anyone realised it the middle of May had arrived and a month in review from over a fortnight ago seemed a little, well, inappropriate so having saved all the good stuff up without further ado lets have a quick recap of events.
5 April 2018: Club administration was taken care of at the Committee meeting which proceeded without anything untoward.
12 April 2018: Gary 2E0HCC showed the hints and kinks in programming memories and updating firmware on the FT-991 which, it would appear, is far from straight forward. Rather than try to demonstrate this live with the Clubs rig with the possibility of something not going to plan, and let's be honest how many times have we all thought something ought to be easy to do live and run into problem after problem, Gary prepared a useful video on the subject and played that and answered questions. It turned out that Gary has a definite hidden talent for making informational videos.
And so May arrived with the excitement of 2 bank holidays and the first of our regular Special Events, Mills on the Air.
Following our briefing on 10 May 2018 we duly arrived at Saltford Brass Mill on Saturday and Sunday 12 and 13 May 2018. With our new portable mast and a refurbished 80m doublet using Flexweave we were operational from the Mill grounds for the first time. Over the weekend we made over 100 contacts including 25 other Mills stations; words and pictures have been submitted to RadCom.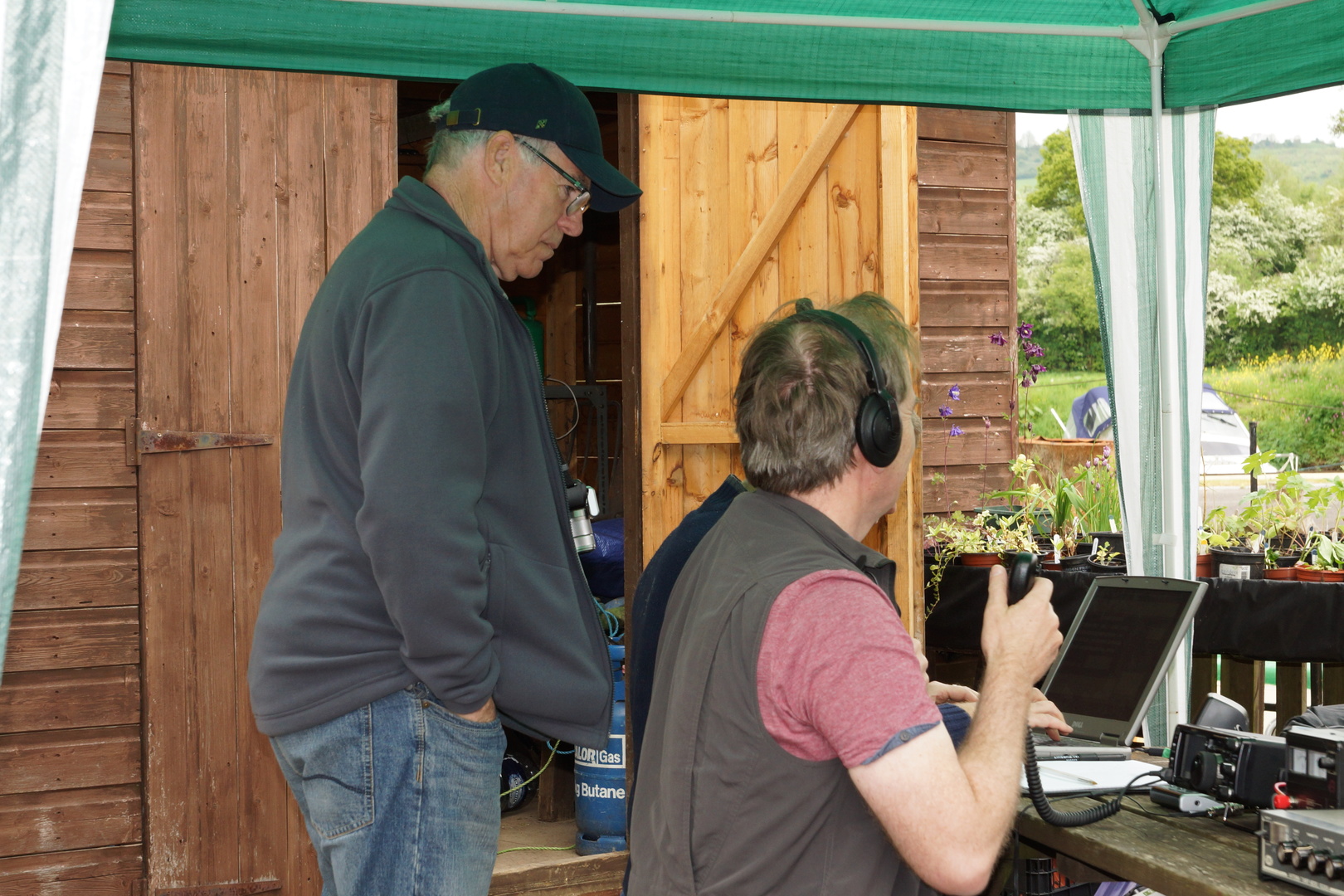 The month was rounded off with one of our collaborative fox hunts on 31 May 2018. These are documented elsewhere on our website however in essence members of the club collaborate by using directional antennas from a variety of locations to try to determine the location of a "hidden" operator relaying their position and bearing back to HQ for plotting on a central map. This was one of our better evenings and we were fairly accurate in locating Mark M0SKV in Whitchurch.
Works at the Club also took place, Eddie M0LJT, Gary 2E0HCC and John M0JFO spent a day at the Club HQ to construct and erect the Clubs directional 2m Quad Beam, this is currently vertically polarised for the recent "fox hunt" but will be switched to horizontal soon to allow use on VHF SSB.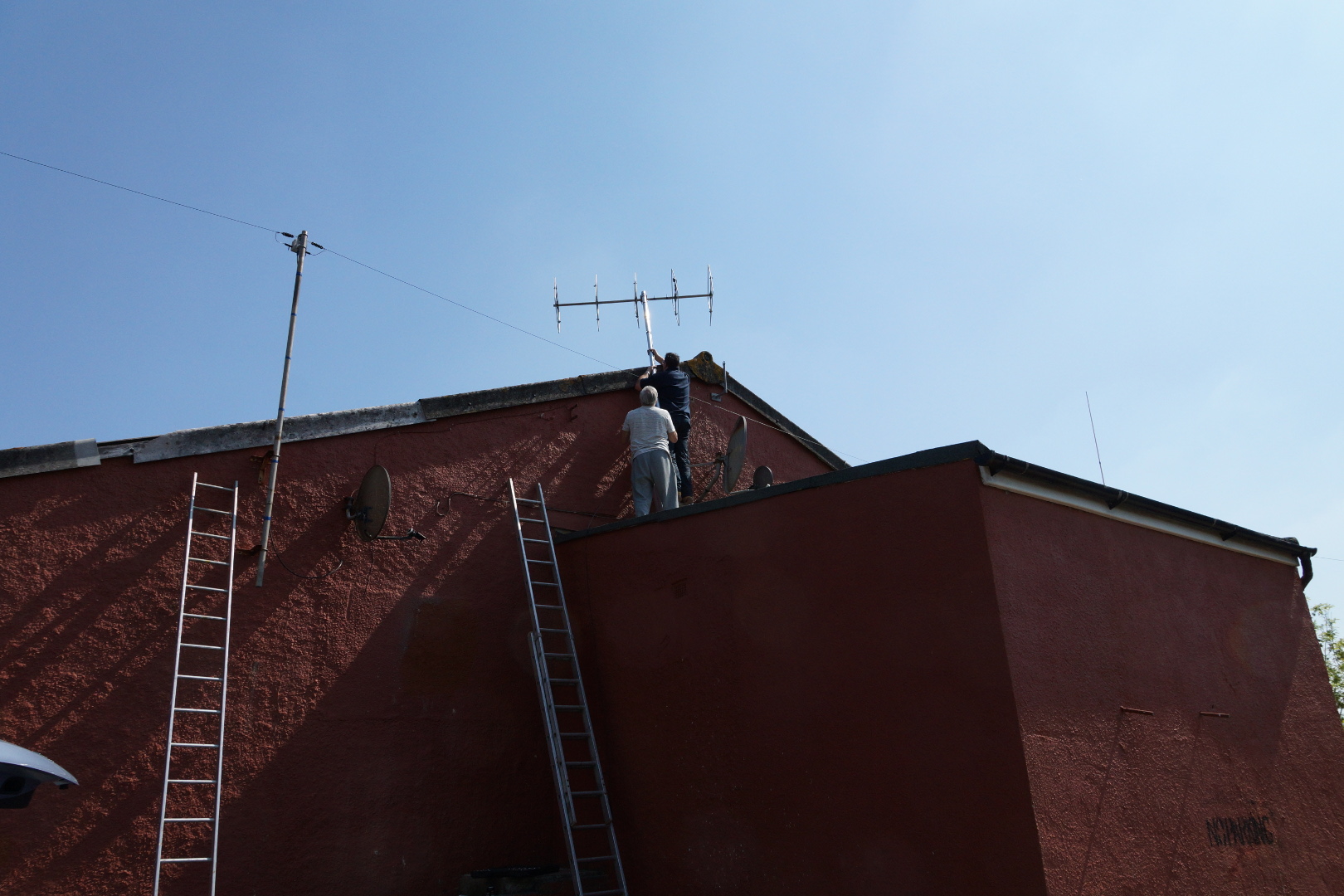 The Club has started the process of migrating its information email dissemination to Groups.io. If you haven't already applied to be a member of our Public Group please go to our list registration page. It is hoped that over the next couple of months all Club communications will be solely via the Public or Private members mailing lists rather than direct from the Secretary to the Members. The Groups.io mailing list allows 2 way communication with everyone taking part or at least being aware of the discussion or conversation whereas the present direct email system discourages such discourse since to maintain privacy Club e-mails are sent out "blind" to Club Members and those who have "opted in" to Club e-mail preventing anyone from knowing who else has been included in the e-mail.
Personal reports from members have been a little thin on the ground, Eddie M0LJT worked a new country and Andy G7KNA had a go at a SotA activation in mid-Wales, but although bagging a summit to summit contact the rest of the operation was rather unsuccessful and the summit wasn't activated.